Typhoon Hagibis inflicted some real damage when it made landfall. As of this article, it has claimed four lives, and rescue efforts are still ongoing.
https://mothership.sg/2019/10/typhoon-hagibis-death-toll/?fbclid=IwAR2pqf1HB3w6HDOHY5NL0TFxVW4RPe9kOelsGUHI0EurQbpCkPP8QXndqH0
Yet some Japanese dealt with what is being called the "worst storm in 60 years" in the quirkiest ways possible.
Push-ups and lip syncs
Understandably, much of Japan was rather subdued on Saturday (Oct. 12), with even perpetually bustling locations like the Shibuya crosswalk eerily empty.
If you've ever been to the Shibuya Scramble, this should be eerie for you: not a single person in sight. pic.twitter.com/DcKikQT1DV

— Unseen Japan @ BLM だよ (@UnseenJapanSite) October 12, 2019
Shibuya Crossing. Normally 1500 people at a time. Today, not so many. #TyphoonHagibis pic.twitter.com/vZjTeUDTYo

— John Day (@John_Day_) October 12, 2019
Which one man took as a scenic change in his daily 100 push-ups.
渋谷スクランブル交差点の定点カメラにて筋トレしてた猛者がいたってマジ!? #台風19 pic.twitter.com/WKsQ4YrXnv

— ヨモギまる (@DEAN_a07) October 12, 2019
The two safety officials looking on quizzically are a nice touch as well.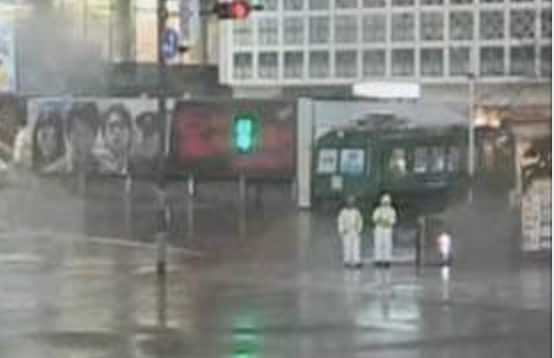 Not to be outdone, some other guy decided that the typhoon was the perfect opportunity to play in a swing by himself, which if you think about it, is kinda true.
https://twitter.com/ASMR_fukkun/status/1183001619216003072
Others saw it as more of a chance for group activities.
武蔵小杉駅前が冠水してます…。

浮輪で遊んでる人がいる…。
気をつけて😭#台風 #武蔵小杉 #冠水 #氾濫 #多摩川 pic.twitter.com/w2ceVI65Yt

— せーさん (@sei84s) October 12, 2019
While others danced the night away.
【現在の秋葉原の様子】

秋葉原は、非常に強い雨、風となっております。

近隣の方、歩行者の方、メイドさん、こうならないように、お気を付け下さい。 pic.twitter.com/nd47WsgAY6

— 秋葉原メイドカフェ🎠マジカルロリポップ🍭 (@maid_Magical_L) October 12, 2019
Perhaps the most perplexing trend to emerge, though, was this dance-themed one being carried out in the sloshing rain.
For context, this is the song Hot Limit, by TM Revolution.
Here are some of the people dancing while the typhoon was either making landfall or right before it.
数十年に一度の台風の中
HOT LIMITをヲタ芸で表現してみた。 pic.twitter.com/WoDsxUR0f2

— ゆうちゃま 【AXIS】 (@YUCHAMA34) October 12, 2019
HOT LIMIT pic.twitter.com/T9dE5Z6WGz

— 先っちょだけ倉田悠人 (@CaptM1a1) October 12, 2019
※良い子は真似しないでね。#台風19 #台風19号 pic.twitter.com/lMbmeiMbAn

— NoRA君 (@No_x_RA) October 12, 2019
And arguably the first dance video a day before the typhoon made landfall.
台風が過ぎるまでは
私のTMレボリューションごっこ見て
外に出るのは我慢してね
お兄さんとの約束だよ pic.twitter.com/ssa3hVmeGw

— ラブマツ(LOVEMATSU) (@Matsu_Kusarine) October 11, 2019
Next level.
Also here's an adorable rat seeking shelter in a desolate Shibuya station.
https://twitter.com/yaoyasansitemas/status/1183008615256358912
Awww.
Top images via Twitter accounts @matsu_kusarine and @DEAN_a07
If you like what you read, follow us on Facebook, Instagram, Twitter and Telegram to get the latest updates.