Wild animals do not always have an easy life in Singapore.
Especially young ones who are left to fend for themselves after losing their parents to accidents.
Here's the story of one baby pangolin named Stardust, who was recently orphaned.
Baby pangolin found beside dead mother
Animal Concerns Research and Education Society (Acres) was alerted by some mountain bikers who had come across the critters and made a call.
The orphaned pangolin was subsequently rescued by Acres along a mountain bike trail in a Singapore nature park.
Tragically, her mother was found dead, with little Stardust still clinging on to her lifeless body out in the open.
Acres elaborated in a Facebook post on Oct. 7 that they named the young pangolin "Stardust" due to her small size, and how she seemed "all alone in the vast universe".
And in the accompanying photo Acres uploaded, Stardust truly looked quite forlorn.
The baby pangolin lay on the carcass with her claws in a semi-hug, perhaps wondering why her mother wasn't moving.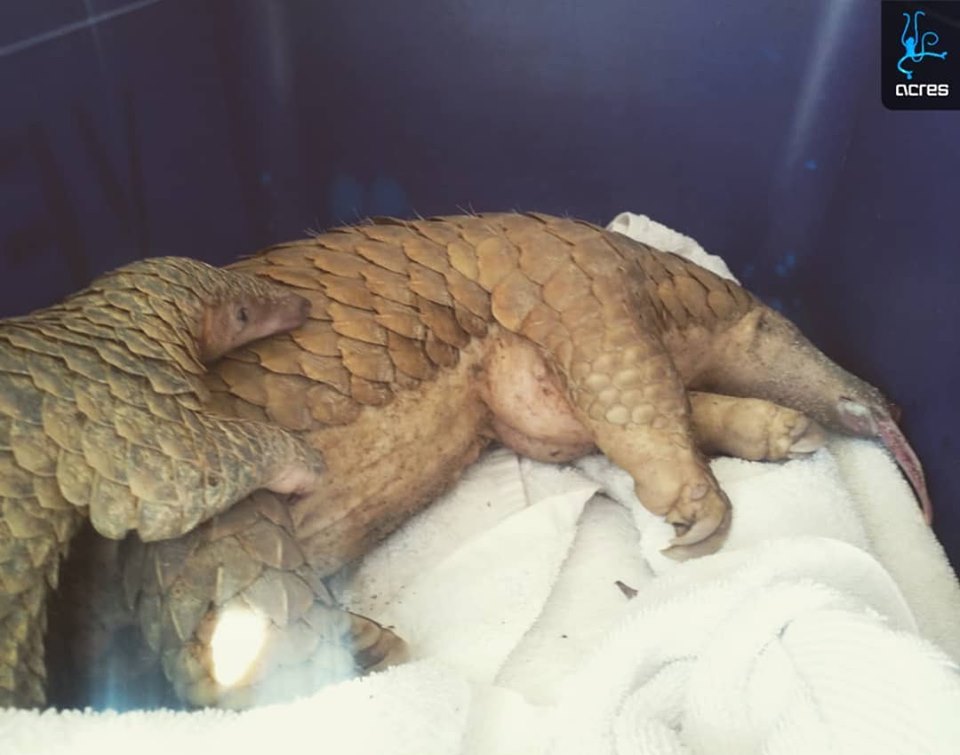 Deputy chief executive officer of Acres, Kalai Vanan, told Mothership that the organisation would prefer not to disclose the exact location where Stardust and her mother were found.
This is likely to protect the pangolins from potential external threats, such as poaching.
Unfortunately, pangolins in Singapore are also common roadkills, as the slow-moving animals sometimes wander onto the roads.
Kalai added that the adult pangolin was likely hit by something prior to her death, even though the cause of death has yet been confirmed.
Stardust is now under the care of Wildlife Reserves Singapore (WRS).
Mothership understands that Stardust, a two-month-old female youngling, was found to have small skin abrasion on one of her claws.
According to the assistant director of veterinary services, Abraham Mathew, Stardust is partially weaned and onto semi-solids. The WRS staff members offered ants and ant eggs to her but she did not consume. She is, however, taking to bottle milk well and the vet care team will settle her into a feeding routine.
You can view Acres' Facebook post here:
Related Stories:
Top photo from Acres / FB
If you like what you read, follow us on Facebook, Instagram, Twitter and Telegram to get the latest updates.