On Thursday (Oct. 10), local singer Nur Sarah Aqilah Sumathi, better known as Sarah Aqilah, was fined S$30,600 for fraudulent evasion of Goods and Services Tax (GST) on branded goods she brought into Singapore.
These goods were brought into Singapore between 2015 and 2017.
Former 'Anugerah' winner
The 35-year-old, who won the Suria reality singing competition 'Anugerah' in 2009, was convicted of two charges of fraudulent evasion of GST.
Another five charges were taken into consideration in sentencing.
In a statement, Singapore Customs confirmed that Nur Sarah did not declare a total of 141 pieces of branded goods, worth over S$205,980 ,for GST payment.
She had bought the branded goods from overseas between June 2015 and November 2017.
Pay fine or go to jail
According to CNA, Nur Sarah paid S$10,000 on Thursday.
She was given until Dec. 10 to pay the rest of the fine.
If she fails to do so, she will have to serve 55 days' jail.
Business on Instagram
After receiving a tip-off, Singapore Customs launched an investigation into Sarah's business activities of selling branded goods purchased from overseas on Instagram.
She has over 35,000 Instagram followers.
It was revealed that Sarah had travelled to Europe to purchase branded goods such as handbags, wallets and shoes.
She later brought the items back to Singapore for sales, without declaring the goods and paying GST.
The total amount of GST evaded on the goods amounted to about S$14,460.
Branded goods for sale
Here are two examples of branded goods for sale posted on Sarah's Instagram account: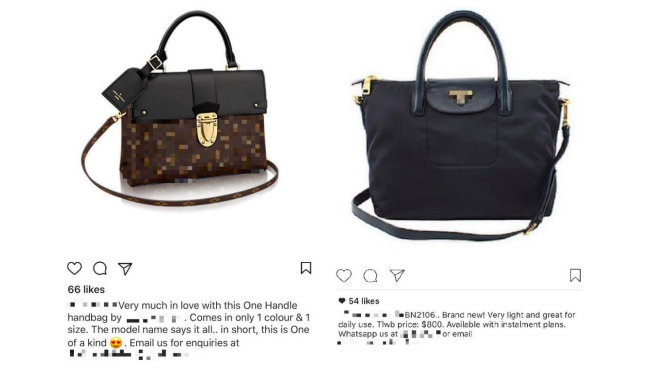 In 2017, Sarah expanded her business and started to provide personal shopping and concierge services for her clients during her travels overseas via social media platforms.
She neither declared nor paid GST on the goods purchased overseas when she returned to Singapore.
CNA reported that she was stopped by Customs officers on Jan. 23, 2018 when she returned from an overseas trip and her purchased items were seized.
Still running business
Her GST evasion scandal was first reported on CNA on Sep. 26.
Sarah took to Instagram on Sep. 30 to express her feelings when the news broke out:
In her post, she said that she is still running her business with support from her clients.
Reminder from Singapore Customs
In its statement, Singapore Customs said:
"It is the responsibility of all arriving travellers to make accurate and complete declaration of the dutiable and taxable items in their possession of duty and GST payment."
Under the Customs Act, any person found guilty of fraudulent evasion of GST will be liable to a fine up to 20 times the amount of tax evaded, be jailed for up to two years, or both.
Top photos via Sarah Aqilah's Instagram & Singapore Customs.
If you like what you read, follow us on Facebook, Instagram, Twitter and Telegram to get the latest updates.