A photo of a newspaper apology was uploaded to Facebook on Oct. 7, 2019.
Here is the photo, which was reportedly published in a Singapore newspaper: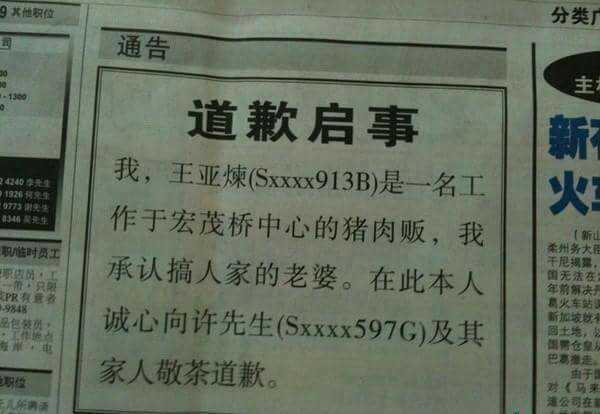 Here is a translation of the message:
"I, Wang Yalian (Sxxxx913B), a pork seller at Ang Mo Kio Centre, admit to having an affair with another man's wife. I hereby sincerely offer tea to Mr Xu (Sxxxx597G) and family as apology."
No other context was provided.
Context
A search on the internet showed that the incident happened in 2010, according to multiple reports quoting Shin Min Daily News (SMDN).
However, SMDN previously reported the apology as:
"I, Wang Yalian (Sxxxx913B), am a pork seller at Ang Mo Kio Centre. I hereby apologise for my inappropriate behaviour towards Mr Xu's wife, and express my sincere apologies as well as offer tea."
For the uninitiated, tea is sometimes offered by the Chinese as a sign of respect and/ or deference.
Admitted to affair
The same report revealed that prior to the apology, an incident had allegedly occurred at a wet market in Ang Mo Kio Avenue 6.
The vegetable seller, a married woman, was accused of having an affair with the butcher.
The butcher was later scolded by the vegetable seller's husband, who reportedly brandished a knife at the third party.
The vegetable seller later admitted to the affair, but expressed her regret.
Husband and wife later called SMDN to say that they have reconciled and will not be getting a divorce.
Closed stall for a period
While the saga was ongoing, the butcher reportedly closed his stall for a period of time and fled to Taiwan.
When SMDN visited a couple of weeks later, the butcher had resumed his business and agreed to be interviewed.
He revealed that the public apology was requested by the other party and expressed that he did not wish to say anything else, as he had already apologised.
When customers asked the butcher if he had been away for a holiday, the butcher would answer an honest "no" but quickly switch to another topic.
Top image via Alfred Fan on Facebook and Rudy Herman on Flickr
If you like what you read, follow us on Facebook, Instagram, Twitter and Telegram to get the latest updates.