When you hear Sebastian Tan, the first thing that comes to mind might be his Hokkien-spewing persona, Broadway Beng.
But here's one little known fact about the 46-year-old: Prior to Broadway Beng, he has performed at West End theatre.
But if he already made it to United Kingdom's equivalent of Broadway, why did he come back to the much smaller and warmer Singapore?
Tan gamely caught up with us in a quiet eatery at Seletar after what we imagined would be a long day of rehearsal for "Lim Boon Keng - The Musical".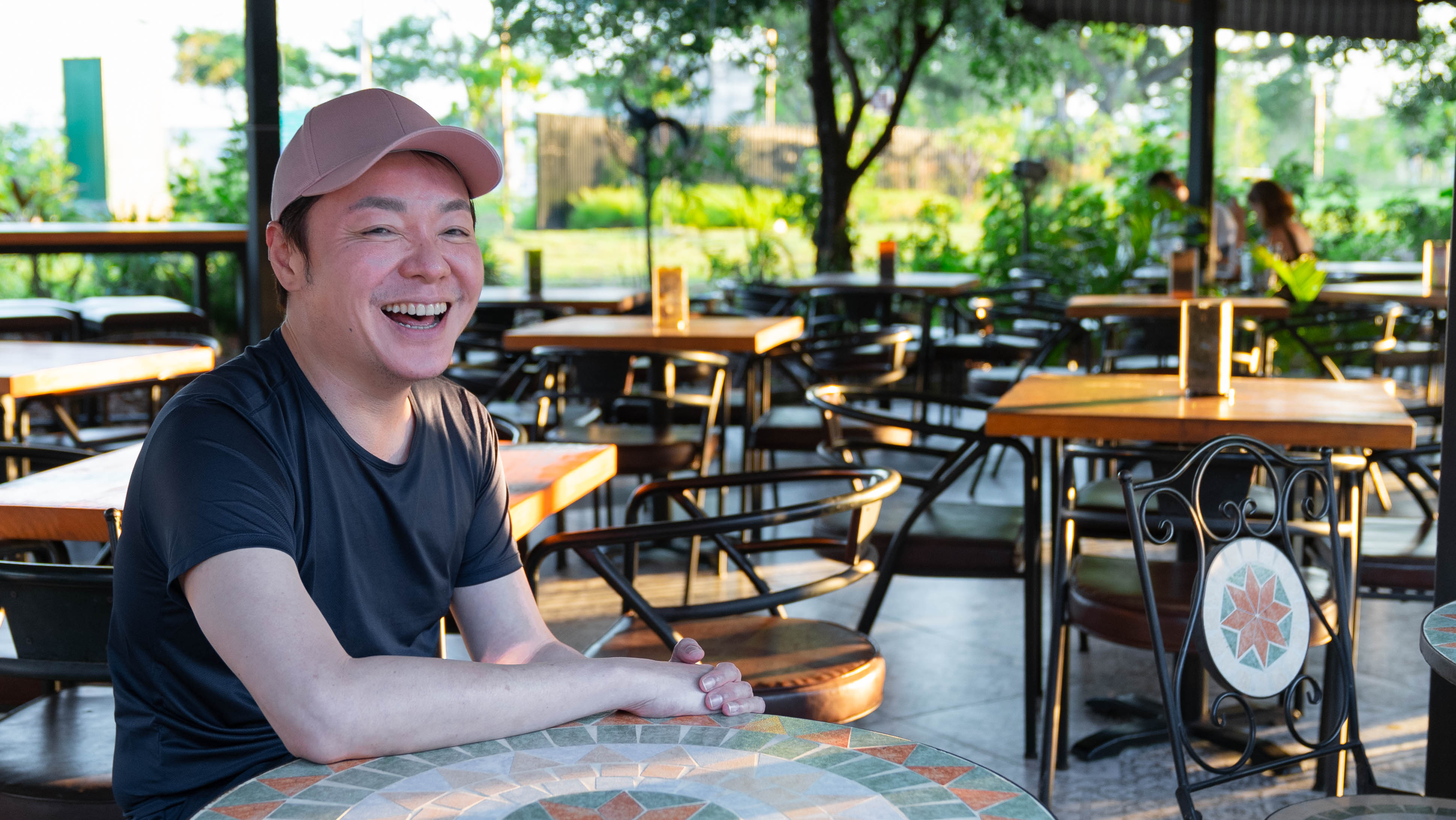 The legal life
As a young boy, Tan has always been fascinated by court cases and had ambitions to become a lawyer one day.
He was so enamoured by the scene that at 14 years old, he would attend cases at the Supreme Court (which is now the National Gallery).
But his admiration for the world of law was short-lived.
After attending a hearing for what he thought would have been an interesting murder and rape trial, he realised how mundane these hearings actually are.
"It was so boring! I thought to myself, 'What happened to "Matlock", what happened to "Perry Mason"?'"
For the uninitiated, "Matlock" and "Perry Mason" are both U.S. legal drama series that Tan enjoyed watching.
That's when he realised that it wasn't the legal life that he was attracted to — it was the drama.
Caught theatre bug at 15
He got his first taste of acting just a year later when his school was part of a youth theatre festival.
As it was his very first play, the Si Ling Secondary School alumnus took on just a supporting role.
But he apparently did it so well, he won the "Best Supporting Actor" award.
"I caught the theatre bug at my very first play. From then on, I set my mind to it. This is what I want to do, I want to be an actor."
No formal training
What some people may not know is that Tan was part of the Singapore Armed Forces' Music and Dance Company (MDC).
There, he learnt three things that would help him pave his way towards acting: Dancing (including difficult routines like ballet and jazz), acting, and singing.
Apart from his stint in the MDC, however, Tan admits that he had no other "formal training"
In fact, he considers on-the-job training to be an asset to him, especially since he gets to work with many "fantastic people" locally and abroad in a variety of productions.
"You learn much more when you are doing it. Even after 28 years in the business, I'm still learning because you can only get better."
A decade of struggle
Tan joined Mediacorp's (then called TCS, or Television Corporation of Singapore) inaugural Talent Search in 1996 in a bid to start his career.
While he did eventually win the competition at the tender young age of 23, building his career in this industry wasn't always as smooth sailing.
The first ten years of his career was especially difficult, describing it as a "very hand to mouth" situation.
"My parents have always been supportive of  what I do but they were also concerned. 'Can you cari makan (find food in Malay)? Can you make a living or not?' I couldn't get enough jobs and didn't have regular work."
But the hungry (both passionately and physically) actor wasn't going to give up.
Once, he had to juggle three different jobs: Hosting an infotainment show with Kym Ng (this was his first stint in television, by the way), acting in a musical and singing in a night club.
Of course, this hectic lifestyle took a toll on his health and he burnt out very, very quickly.
"I thought I could perform, but I eventually burnt out. That was my first lesson in life: Just pace yourself."
This, however, wasn't the biggest hurdle in his life.
The year he turned 28 happened to be the "lowest point in his life".
On top of having irregular gigs, he was also debt-ridden.
And as if things weren't already bad enough, his father died that year.
"I did everything I could to earn money and I remember having to work at the transit lounge in the airport. After I paid off the debt, I was burnt out again."
Yes chef?
Ready to give up everything he has worked for, he used his last S$3,000 to buy a ticket to London to be with his brother who was running a restaurant there.
There, he helped out at his brother's restaurant and even considered a career switch to become a chef.
He didn't end up cooking up a storm in the restaurant, after all, thanks to his good friend, Anthony Drewe.
The British lyricist who has worked on West End plays like "Mary Poppins" gave him the following advice:
"Just because one can cook doesn't mean everybody becomes a chef. You have to find the fire that's burning in you."
West End performer
After much thought, he realised that the fire in him is -- and has always been -- performing.
This advice came at an especially good time because that happened to be the period for "Miss Saigon" auditions in London.
"When I returned to Singapore, they called me up and said 'We're going to fly you back for more auditions'."
Six internal auditions later, Tan landed himself the role of Thuy, one of the main antagonists for the play.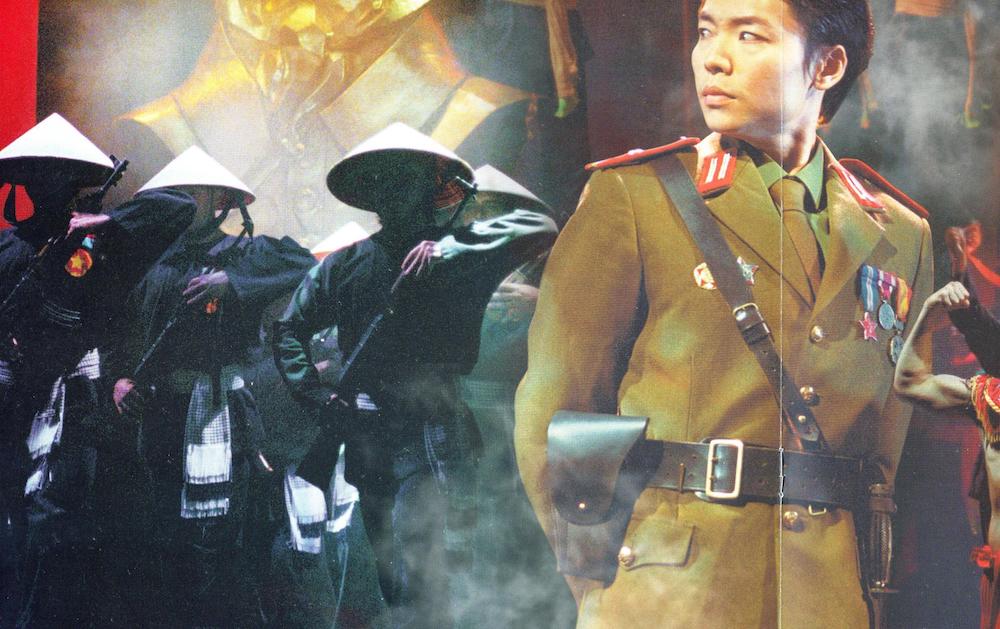 The two-year-long tour that lasted until 2006 jumpstarted his career and he never looked back.
"From that point, I had a career. I never stopped working until now."
This is home, truly
Following the successful run of "Miss Saigon" many people wondered why Tan returned to Singapore when he could probably do better in the West End.
Here's why:
"I don't want to work as a waiter while waiting for another job. There's nothing wrong with being a waiter or bartender, but I really wanted to pursue my passion that is performing."
Furthermore, in a place where Tan was the minority, he said that he would have to wait for the token role of an Asian or an Asia-based play like "Miss Saigon" to stand a chance to perform on stage again.
He believes that being in his own home turf, he'd stand a better chance since Singapore is, after all, a melting pot of cultures.
"The opportunities here are varied. In London, shows go on for one to two years. But in Singapore, the longest run would usually be three weeks. That gives me a chance to perform in many, many different shows."
And of course, the easily homesick and true blue Singaporean had to come back to Singapore because finally, he finally feels at home again.
Last beng standing
Tan truly made his mark in Singapore when he started personifying himself as the well-loved "Broadway Beng".
You'd be surprised to know that the character was, well, created by accident.
In 2005, he thought he would surprise his good friend and founder of Dream Academy, Selena Tan, with a performance at her wedding.
His grand plan was to sing a Hokkien song to her and her husband.
However, that task wasn't as simple as it seemed.
While waiting for his turn to take on the stage, Tan happened to have had one too many drinks that night.
"I got soooo drunk that I started talking rubbish in Hokkien. Eventually I started singing the song but people were just laughing and laughing."
Seeing the potential in this sketch, Selena encouraged him to have his own one-man show.
He used to find performing solo to be the "scariest thing ever", so he put that suggestion on a pedestal until he returned to Singapore from London in 2006.
Fast forward to today, "Broadway Beng" celebrated its 10th anniversary in 2016 and has had seven successful shows to date.
Thought Boon Keng was just an MRT station
"Broadway Beng Concert: Last Beng Standing" recently concluded its run on Aug. 4 this year but that doesn't mean Tan is slowing down.
He plays the antagonistic role of Rickson Goh in "Fried Rice Paradise - The Drama Series", going full circle after playing his son Hennessy Goh in the 2010 musical with the same name.
Most recently, however, he is playing the titular role in a play called "Lim Boon Keng - The Musical".
In case Singapore history isn't your greatest strength, Lim was the physician who co-founded the Singapore Chinese Girls School, among many other things.
Also, here's another fun fact that you probably already know: He has a North-East Line MRT station named after him.
Prior to being roped into the musical, Tan didn't even know that the MRT station was named after a real man.
"I nearly bought a place near Boon Keng MRT. I guessed that he's some historical figure in Singapore but never really did my research about it."
The play follows the life story of Lim, who was accused of being a spy and collaborator of the Japanese during the Second World War.
Tan has some big shoes to fill, especially since the play is written by Lim's great-granddaughter, Stella Kon.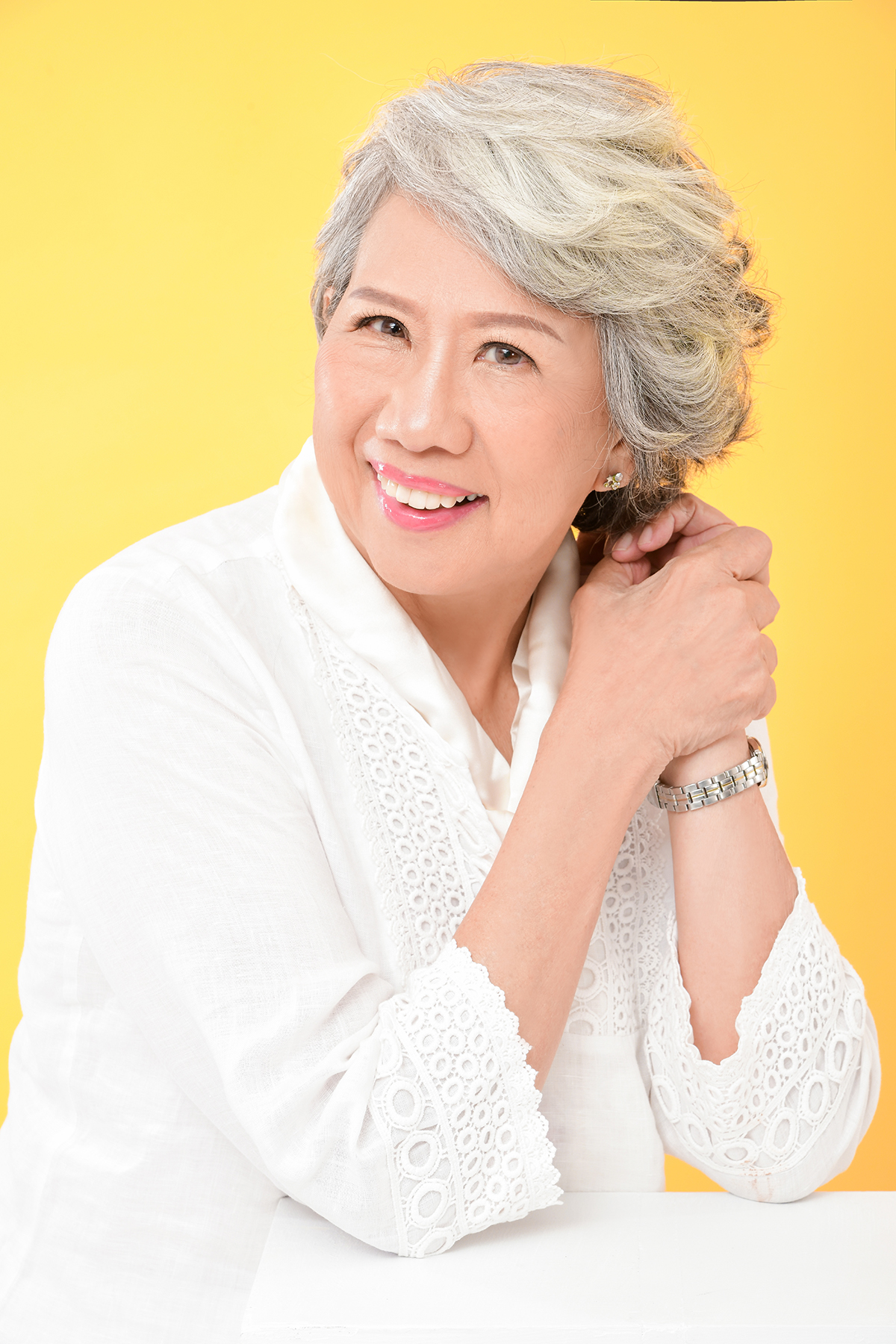 However, he maintains that he is given the space to be more creative with the role.
"Part of theatre is also to let the audience decide what is good and bad. Trying to play the different sides of him, from young to old, is something different for me."
Theatre scene in good hands
Despite having a cut-throat experience breaking into the industry, he still encourages young Singaporeans to pursue a career a theatre.
In fact, he feels that the theatre scene is going to be in good hands in the near future with younger talents like fellow actress Sharon Sum, for example.
"When I first started, it was just a handful of us. And full-timers? That's an even smaller pool. But now, with schools like Lasalle and Nanyang Academy of Fine Arts (NAFA), they're churning out a lot of talent. It's bustling. Now, let's hope we get more support from the audience too."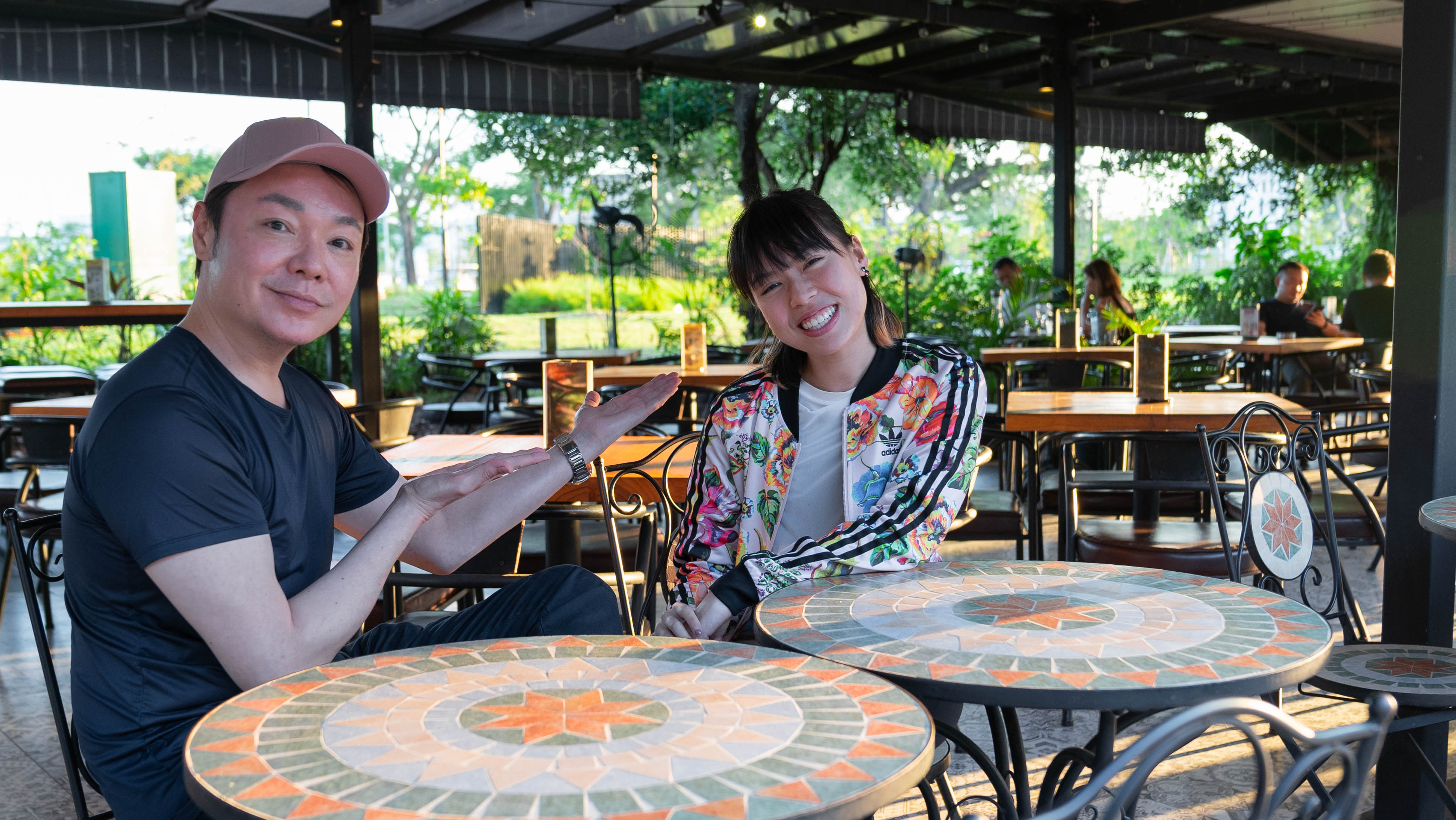 To the evergreen performer, with patience and passion, one can definitely "see the light one day".
"It took me 10 years before I could say I'm a working actor. I always tell the younger actors, you have to persevere. Really, performing in Singapore takes passion. If you're committed to what you do, you will see the light one day."
Top image by Ng Kah Hwee
If you like what you read, follow us on Facebook, Instagram, Twitter and Telegram to get the latest updates.