In September 2016, Olivia Chen received a phone call that would change her life.
On the other end of the line was national sailor Griselda Khng — who earlier that year competed at the 2016 Rio Olympics — with an interesting proposition for the 24-year-old Chen.
Khng's Olympic sailing partner had decided to call it a day on her sporting career and return to studying, leaving the 28-year-old in need of a partner.
She still had her sights set on the next Olympics in 2020, and Chen — who had been introduced by a mutual friend — fit the bill because her height and weight would complement Khng's.
Giggling as she told me that she's "not so tall", Khng (1.55m and 54kg) explained why Chen's height and weight (1.76m and 76kg) made her the perfect crew member:
"In sailing you actually have to find the right physique (in a partner). And since I'm small I was looking for someone a lot bigger so that we can be of competitive weight… there is an ideal combined weight."
The only problem? Chen had never sailed before.
In fact, she didn't even know what a 49er FX — the boat that Khng sailed on — looked like.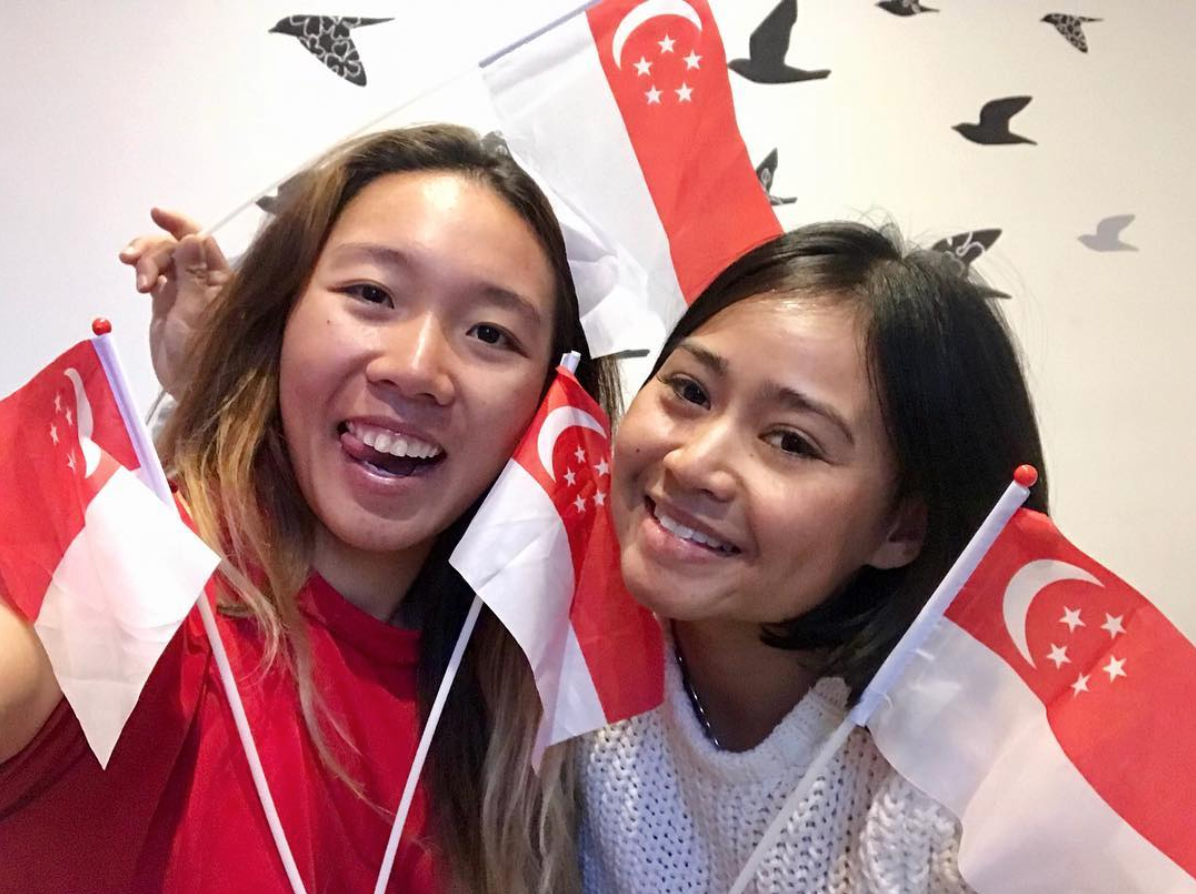 Too good to turn down
However, Chen, a former national under-21 netballer who had always held aspirations of competing at the Olympics, felt the opportunity too good to turn down.
Remembering that first conversation when Khng asked if she would like to give sailing a go, Chen told me that she had no reservations despite her lack of sailing experience:
"I just trusted that I would be able to go to the Olympics with her.

You only have such a chance at such an age. So why not just take it and see where you go."
Two months later, Chen found herself on a plane en route to Perth to meet Khng, who was working in the Australian city, for the first time.
Over the course of five days, they would participate in some basic training and formulate a plan to get to the 2020 Olympics.
By the time she'd boarded the plane on the way back home, Chen had already decided to quit her job as a logistics administrator in a shipping company.
"I tendered my resignation right after I came back (laughs). I was pretty much settled on sailing. I knew it was going to be tough, but I knew I wasn't going to be in Singapore anyways, so I wasn't going to be keeping the job."
Tough life
Talking to the pair three years and eleven international competitions on, there's a real sense that it has not been an easy journey thus far.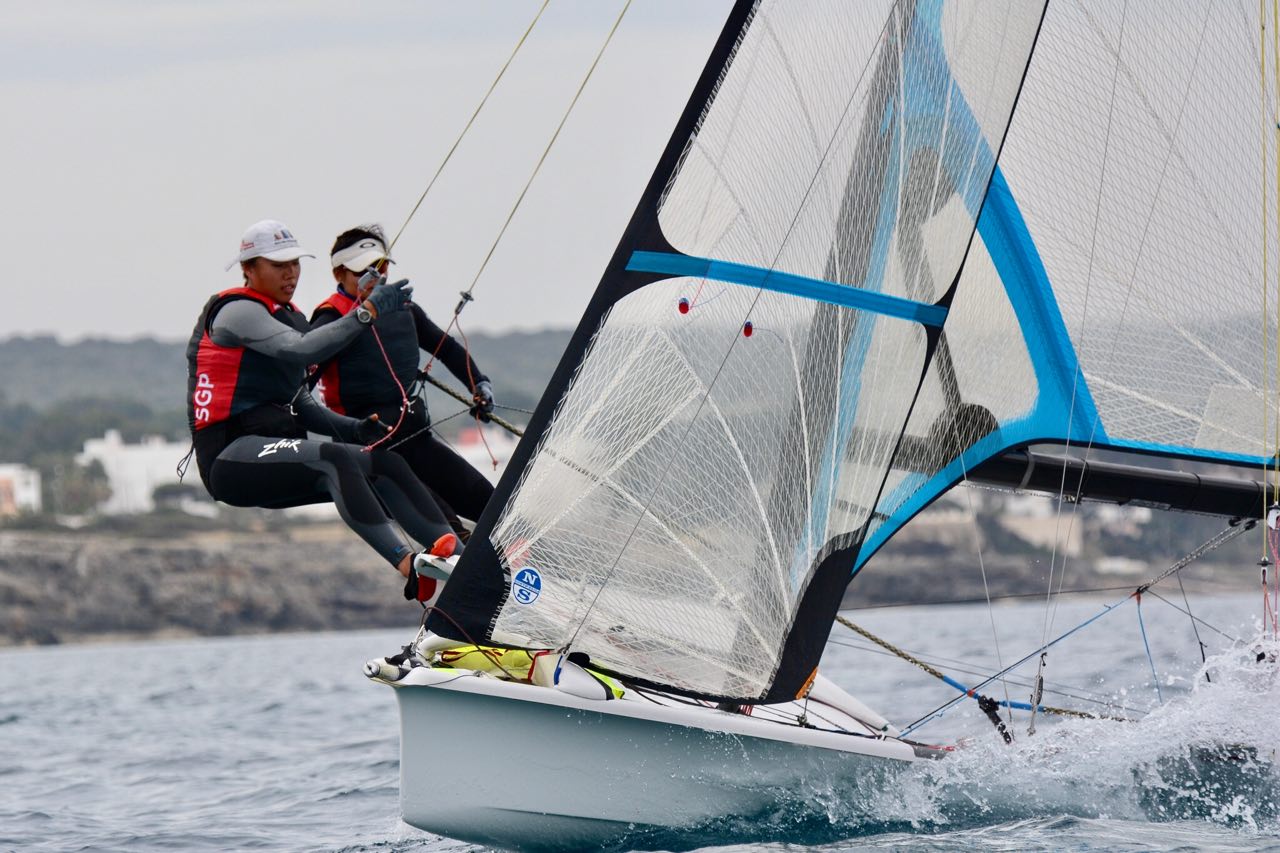 To begin with, until April of last year when Chen and Khng received a sponsorship with DBS Bank, funding has been scarce.
Lack of finances can make life for anyone tough, let alone full-time athletes.
For sailors like Khng and Chen, travelling around the world to train and compete is a must for their Olympic dream.
The pair has attended training camps in Europe, Australia, and New Zealand — where they are training now.
These places are where international competitions and Olympic qualifiers are held, and allow the duo to prepare and acclimatise in conditions similar to the actual race.
Depending on the kindness of strangers
However, as you can imagine, getting to these places and staying there for a period of time can be an extremely expensive exercise, one that has helped Khng and Chen to sharpen their budgeting skills.
In order to stretch each dollar, the pair often depend on the Couch Surfing community — an online platform whereby strangers house travellers free of charge — for accommodation while training for competitions.
This allows the pair enough money to pay for a hotel during competitions, when they need to rest properly and "be in the zone".
It might not be the most ideal way to live while training but according to Khng, it has its upsides:
"That itself is very heartwarming — people actually accepting you in their homes and trusting that you're not a weirdo or that you're not going to do anything stupid. It's great and it makes the world go round.

A lot of them have become really good mates… it's nice that true friendships can actually develop from there."
The pair remember one especially encouraging experience in Barcelona when a delay in the delivery of a used car they were purchasing saw them wandering the streets of the Spanish city late into the night.
They'd already checked out of their previous accommodation and had no money in the budget to pay for another place to stay.
Thankfully, a last-minute appeal on the Couch Surfing platform saw the duo taken in at 2am that night.
Sleeping in their car
The aforementioned used car was to serve as their transportation/accommodation for the next few weeks as the pair travelled from competition to competition around Europe with their boat in tow.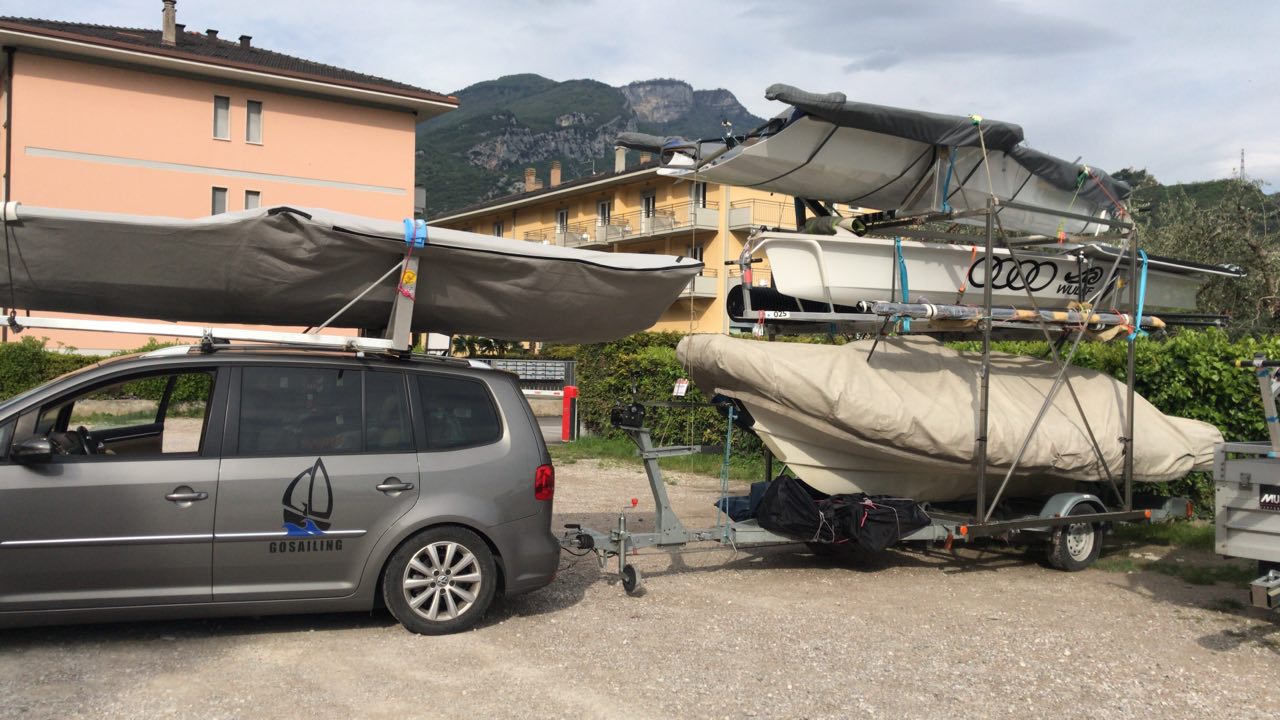 All in all, the pair estimated that they must have spent at least 40 nights sleeping the car; an experience that Khng described as one of the most challenging aspects of their journey thus far:
"That tires you out a lot. When you actually have to travel from country and as usual we don't have enough money to spend on a road-side motel, so we would just sleep in the car.

And for us that's really tiring because we don't get to a good rest or a proper rest. And as an athlete I think that's really important."
Getting stronger
When I asked Chen what she's found the hardest over the last three years her reply was simple: "Every. Single. Thing."
"There's no part that was easy at all," said Chen, who has had quite the steep learning curve over the last three years.
Apart from the technical aspects of sailing — like tying knots, getting a feel for the boat, and learning the rules of racing — Chen had a lot to improve on physically as well.
"She looked like a very regular person to me," said Khng, describing an evergreen Chen (circa late-2016).
"I think it was very soon after that she realised how much stronger and fitter and tougher that she had to be. Throwing a 200g netball is very different from sailing a 90kg boat.

A lot of the (other girls sailing) are—"
"As strong as a guy," interjected Chen.
Dreamers and idealists
If you're a filial Singaporean son or daughter, there is undoubtedly one question sitting at the back of your mind thus far — "what the heck do their parents think of it all?"
According to Chen, they weren't immediately on board.
"My parents reaction was the usual. They thought that I was crazy, that I wasn't thinking. And that maybe I should just study and not do sports and spend so much money. The usual Asian parents talk."
The usual Asian parents talk of practicality and pragmatism.
It flies in the face of what millennials are often derided for — being idealists, dreamers without substance, and bruise-easy strawberries.
And yes, of course Khng and Chen are idealistic in chasing their dreams.
An Olympian training up a complete newcomer in a four-year quest to compete with the very best at the pinnacle of competitive sports — it's the stuff of fairy tales.
Yet for the duo in the thick of it, their lives are anything but fairytales.
The grit and hard work they are putting in to achieve their dreams belie the stereotypical labels lazily applied to any millennial romantic.
Far from being strawberries, these girls are chasing their dreams through clenched teeth and elbow grease.
"It's part of me"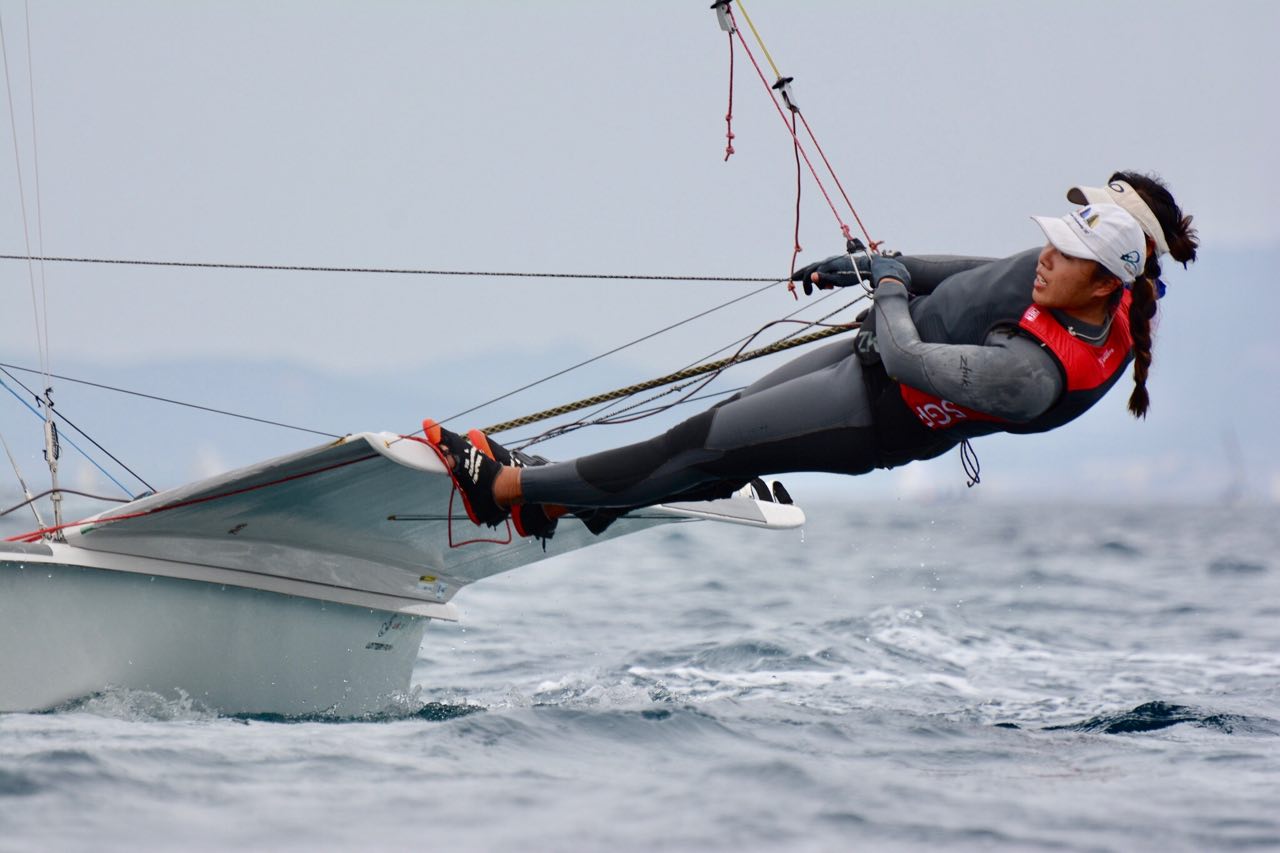 Chen told me that this attitude isn't something new, but rather "just the way that (she's) been brought up".
That life-long determination might explain why, despite their initial reservations, her parents were ultimately "really supportive" of Chen's decision.
"They were like, 'Okay, since you're going to do this, you better do this well'."
For Khng, having already competed at the Olympics before, her ambition is to go one step further and make it to the podium. I dare say that it's become an obsession:
"I've always been someone who is very driven to achieve all the goals that I've set out to accomplish. It's part of me."
And that means, that for both Khng and Chen, they're happy to tough it out, as they prepare for their next competition in New Zealand at the end of the year.
The 2019 World Championships will be yet another opportunity for them to qualify for the 2020 Olympics.
Keep sailing
Until that's accomplished, neither are too keen to stop and smell the roses.
"Honestly when you start out it's not easy at all. You don't get many high highs, you know?" said Khng.
"I bet half the time Libby is thinking why did she even join this sport."
While Chen didn't confirm if she second-guesses her decision 50 per cent of the time, she did tell me of one incident from their last competition in Enoshima, Japan, when rough conditions out at sea caused the pair some difficulty:
"When we capsized it hurt like hell. That was the point I was questioning myself, 'Why on earth am I doing this to myself? I could be at home drinking a cup of coffee and it would be fine'.

But then I got over it and thought 'No no no no no'. This is the path that I chose, so we kept sailing."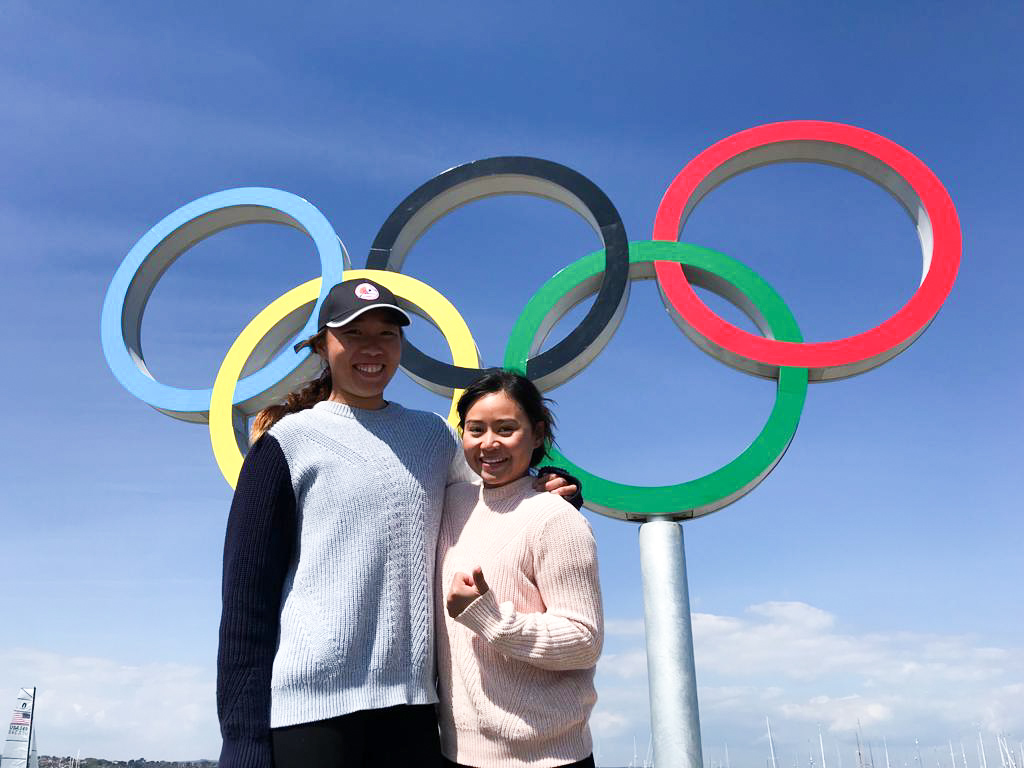 Khng and Chen are currently running a crowd-funding campaign to support their training ahead of the 2019 World Championships in New Zealand. You can check out their campaign here.
Top image from GOSailing49erFX Instagram page and courtesy of Griselda Khng and Olivia Chen
If you like what you read, follow us on Facebook, Instagram, Twitter and Telegram to get the latest updates.