A young mainland Chinese living in Melbourne, Australia, said Hongkongers should not be allowed to complain about the government as it is unfair to those who cannot do so.
Chinese government can do no wrong
She was among a group of mainland Chinese who were interviewed by Israeli-Australian activist Avi Yemini at a protest staged by Hong Kong activists in Melbourne on Saturday, Sep. 28.
The group expressed their ardent loyalty towards the Chinese Communist Party (CCP), saying the Chinese government can do no wrong.
"No wrong at all," a young woman with an Australian accent said when asked if they think the Chinese government is "a little bit dodgy" for locking people up because of their religion.
The interviewer was referring to the internment camps in China's Xinjiang, which Beijing called "re-education centres", where a million Uighurs and other ethnic minorities are reportedly detained.
The Chinese woman smiled and said "thank you" when told by the interviewer that she had an Australian accent.
Okay to lock people up for practicing religion
When asked if it was alright to "put people in jail for practicing religion", the Chinese woman said it is "okay".
While another mainland Chinese in the same group acknowledged there is no freedom of religion in China, he appears unperturbed by that fact, saying he does not care about that.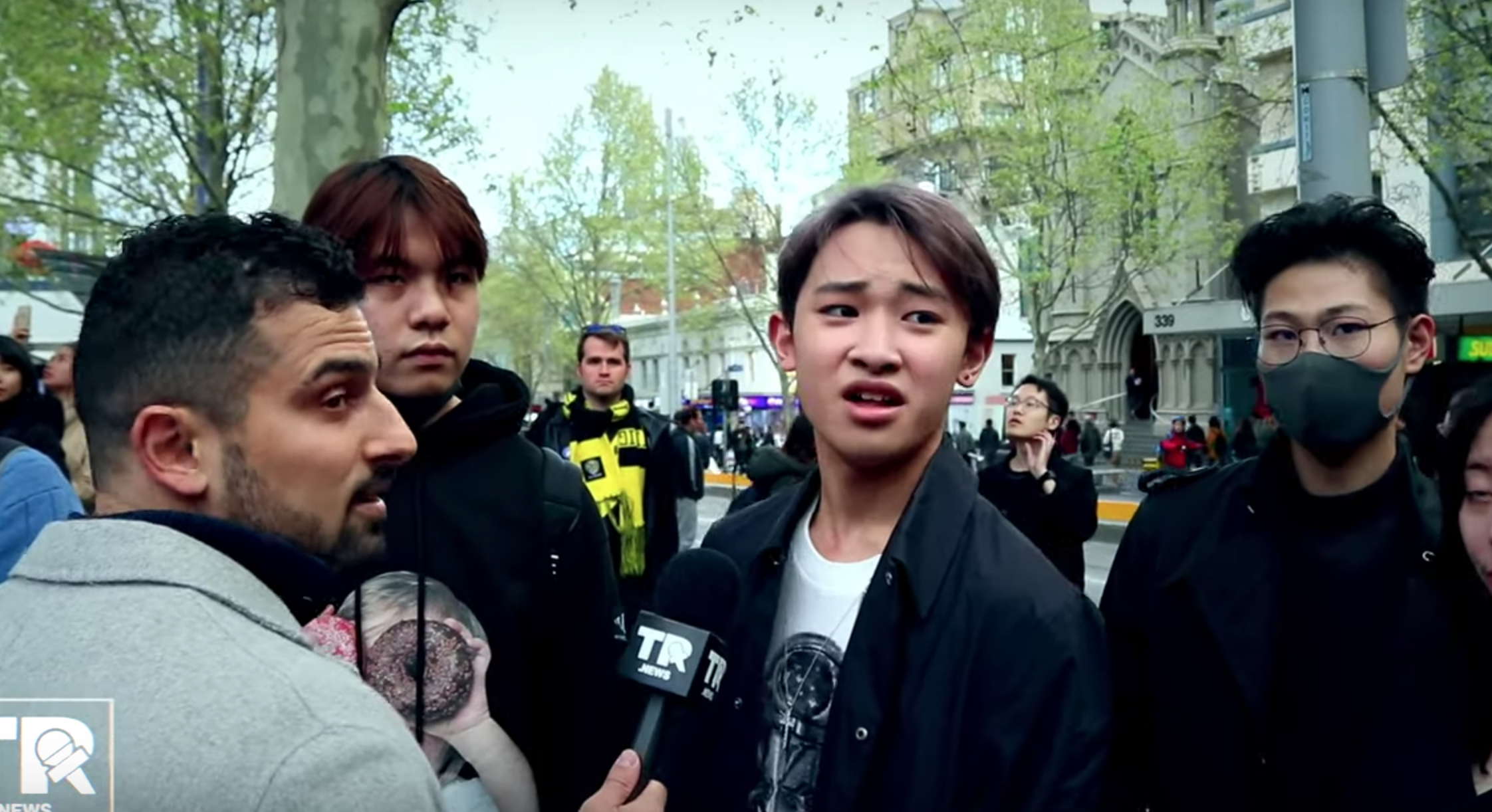 A lady from the same group then explained that while it is okay to believe in whatever one wants to believe, it is a different matter if one does "something weird" like suddenly going, "Yeah, Muslims", while walking on the street.
They also said it is okay to stop people from protesting.
Not fair to others who can't complain
Furthermore, they thought the protesters should believe in the Chinese government as well if they view themselves as "Chinese".
When asked if it is alright for them to complain about the government as it is "not good", one of them said, "No, because if they complain, and then everyone else would complain."
"But nobody else complained except for them."
She continued, "It's not fair to the one that doesn't [complain] about China, and only they do."
Prefers Communism
And when asked if they prefer capitalism or Communism, they all replied, "Communism".
They said they would definitely go back to China after they are done studying in Australia.
When asked again if they truly prefer Communism, they repeated "yes" without a shadow of a doubt.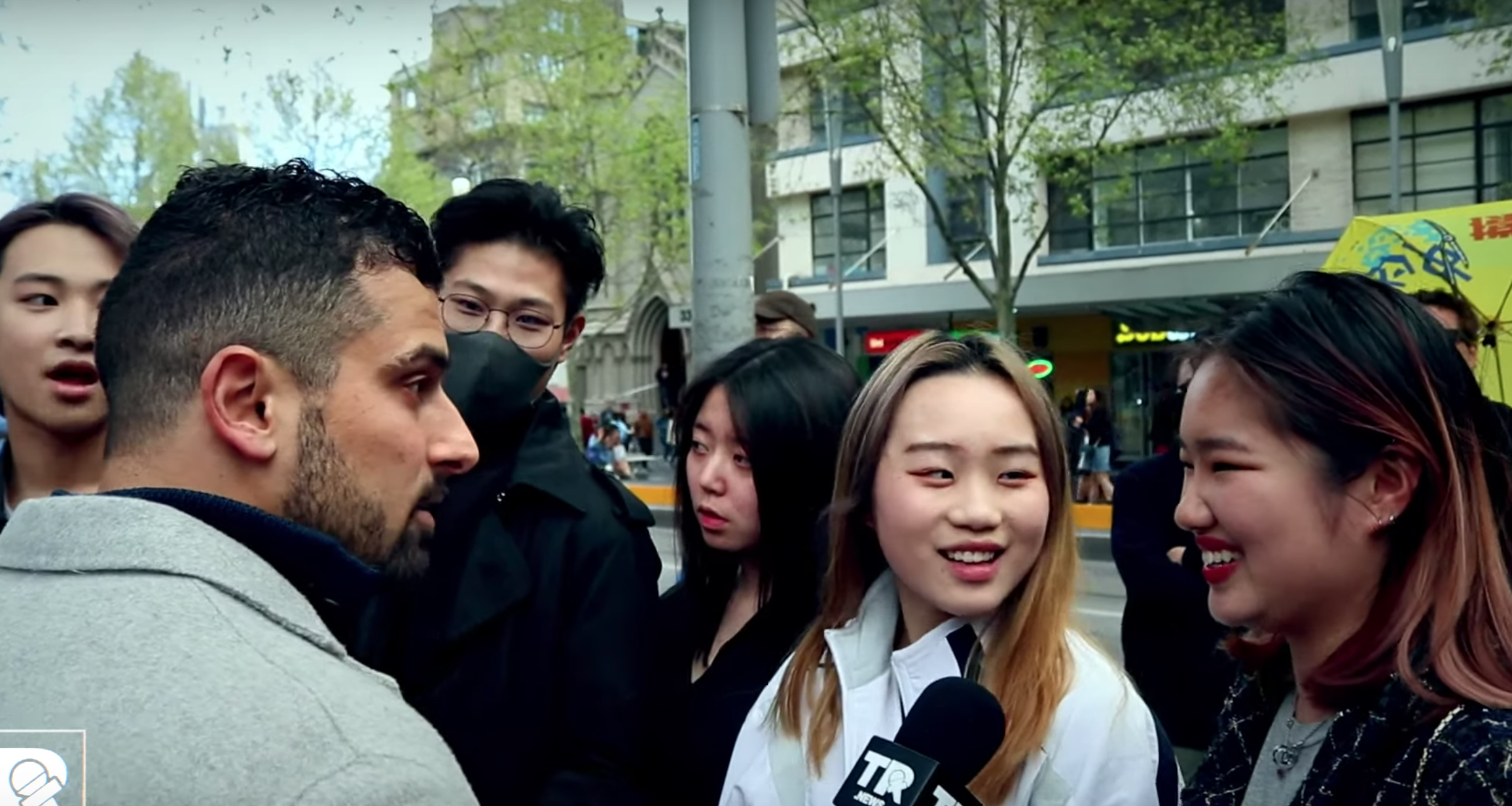 Hong Kong people asking for Hong Kong to be "separate" from China
The interviewer also approached a different group of young mainland Chinese.
A young man in the group first replied, "No", when the interviewer asked if they were from mainland China, saying instead that there is "only one China".
He then said "stupid" in an agitated tone when he was asked what he thought the Hong Kong protesters were asking for.
"They are saying that Hong Kong and Taiwan belong to other nations," he said, before flashing the flag of the People's Republic of China on his phone to the interviewer.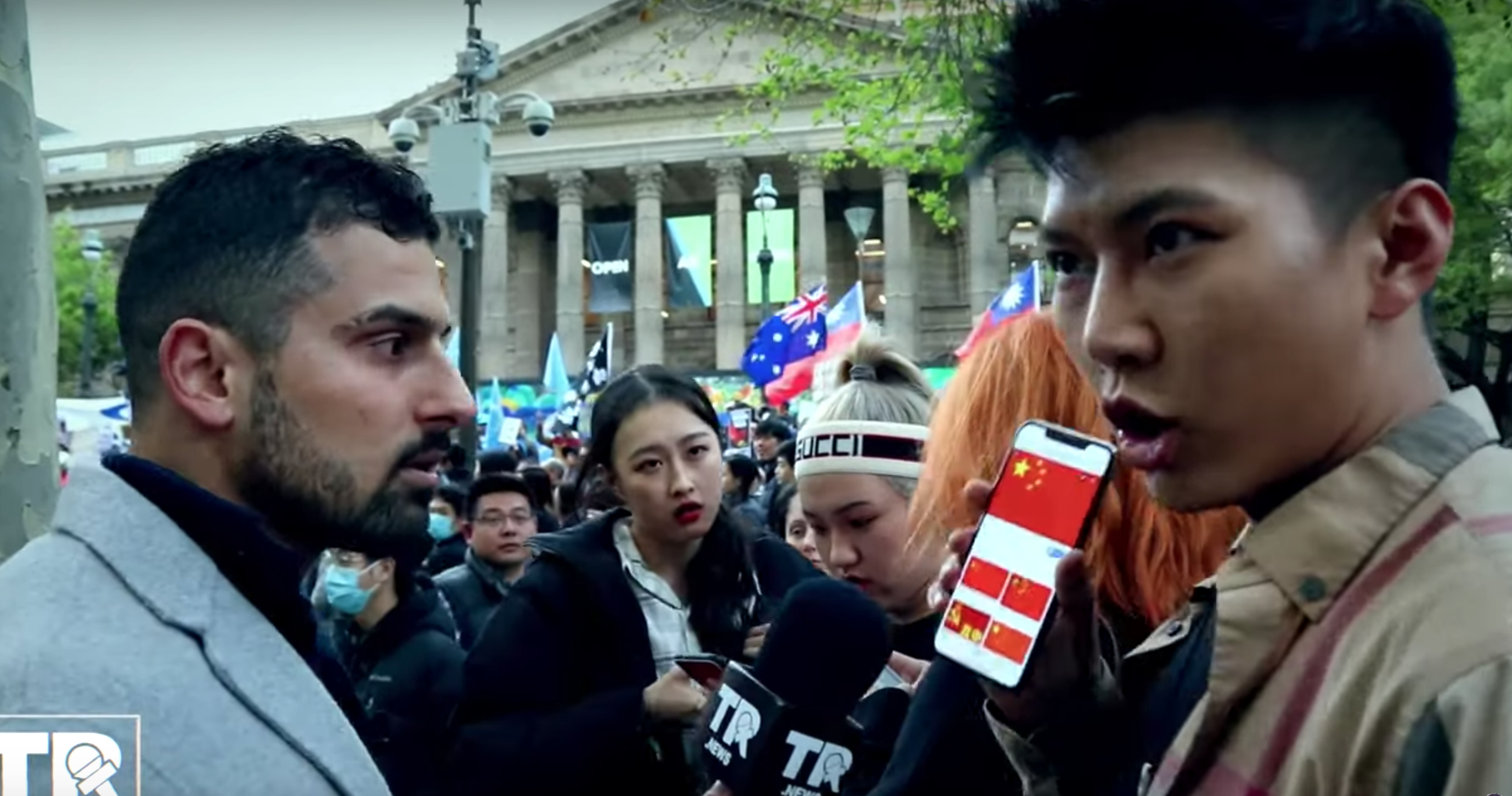 A woman in the group then warned him in Mandarin not to "speak carelessly" for the interviewer might twist his words and use it against him.
The interview was then cut short when a middle-aged man gestured for them to leave -- a development which did not sit well with the interviewer as he later said to the camera, "Gives you a little taste of what Communist China is really like".
"Safety at risk" if I talk bad about the Chinese government
However, another mainland Chinese person separate from the group voiced a different opinion.
The person, whose face was masked to keep his identity hidden, said "many people are afraid of the Chinese government", and that if he says something bad about the government, his "safety is at risk".
When asked what would happen if he chose to do that, he said he "might get arrested", or that his father or his mother might get "blackmailed".
"All these, I don't know, everything's possible," he said.
"People are selfish"
He also said the CCP clamps down on religion because their religion is "Marxism and Maoism".
When asked for reason why the rest of the world are keeping their silence over the Xinjiang internment camps, he said "people are selfish".
"They don't care about this."
You can watch the interviews here:
Commonly thought that protesters are asking for separatism
Previously, in an earlier interview with mainland Chinese living in Melbourne, those interviewed said they were against the "five demands" that the Hong Kong protesters had, despite not being aware of what those demands are exactly.
Instead, the ones interviewed in the video thought the protesters were asking to be independent from China (at 1 minute 03 seconds mark):
Related articles:
Top image via Avi Yemini/YouTube
If you like what you read, follow us on Facebook, Instagram, Twitter and Telegram to get the latest updates.