A list of alternative media sites have been identified as being potentially vulnerable to foreign influence.
This is according to Nicholas Fang, managing director of Black Dot Research, who spoke as one of the panellists at the Conference for Foreign Interference Tactics and Countermeasures on Sep. 25, 2019.
Fang is currently the director of security and global affairs at the Singapore Institute of International Affairs and previously worked for The Straits Times and Channel News Asia, before it was rebranded as CNA.
He also served as a Nominated Member of Parliament (NMP) from 2012 to 2014.
Identified activism in S'pore as possible foreign influence operations
During Fang's presentation, he spoke about how Singapore could come under threat of foreign influence operations.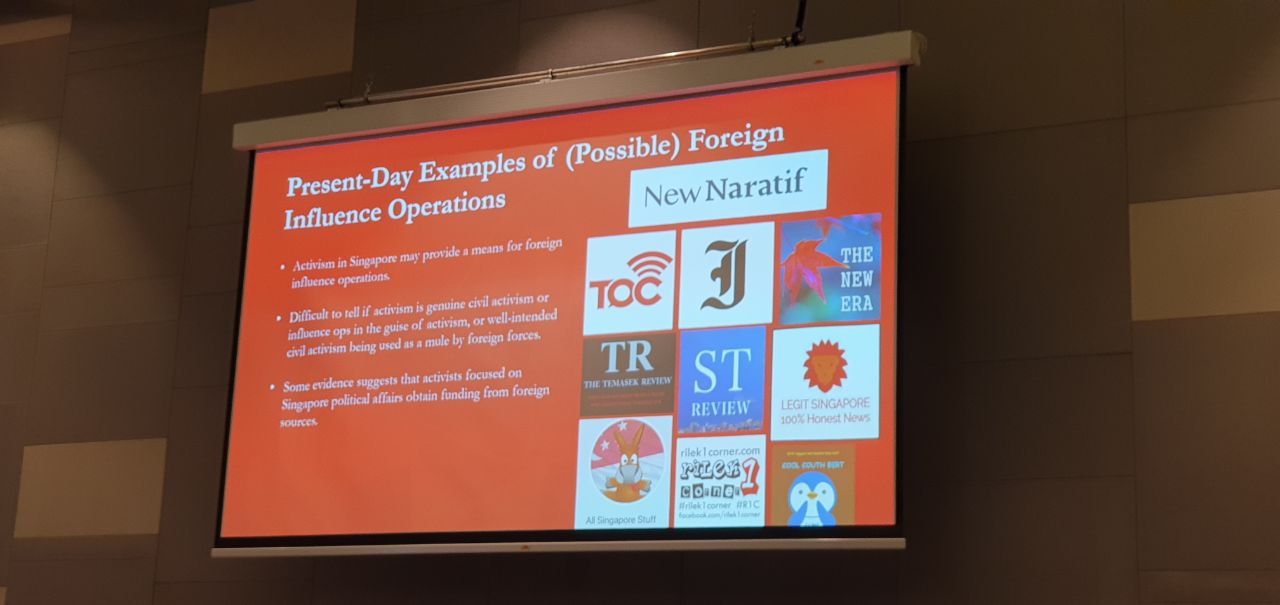 Alternative media sites such as The Online Citizen, New Naratif, The Independent SG, All Singapore Stuff, as well as a number of other online platforms were cited as examples.
He explained that evidence suggested such media sites have either received foreign funding, or have page managers or administrators who are located in other countries.
Fang cited the example of New Naratif receiving foreign funding and having memberships from 400 individuals in 17 foreign countries, and All Singapore Stuff having admins and page managers from various foreign countries.
No evidence to make a conclusion, but potentially vulnerable
Speaking to Mothership, Fang emphasised that there has been no evidence to suggest that such sites are agents of foreign influence, but are simply prone to such vulnerabilities.
He also speculated that the reason for page managers and admins having foreign locations could be due to them using a VPN to mask their location.
Fang said: "So, to be quite clear, we wanted to establish that nothing has been proven that these guys are agents of foreign influence, or that they're trying to carry out."
"I think we were quite careful to say that this represents a potential vulnerability."
He added: "We have seen that some of them have taken funding overseas, some have members that are overseas, some of them have reporters and journalists who are overseas, and some of them, when you look at their admins, you can use the Facebook functions to do so, the country of origin is always some kind of funny places, like Kazakhstan, which I'm guessing is a VPN."
"But I think there's not enough transparency in the data yet, for us to say yes or no."
Fang added that once social cohesion is broken by hostile, foreign-backed campaigns, it is difficult to rebuild confidence in the country's institutions.
Likely for Singapore to face foreign influences in coming GE
In response to a question regarding the threat of foreign influences in the coming General Elections, Fang mentioned that it was "definite" that Singapore would face this possibility.
He said: "If you just go by the global trends, it would be a surprise if nobody bothers to try."
He cited the example of French president Emmanuel Macron's election campaign in 2017 being one of the few successes that managed to defeat information manipulation by foreign influences.
However, he also added: "If you look at the example of Macron's campaign, they're very proud to say that they did it."
"But how many can say that they've been successful? There have been so many more negative examples than positive ones."
Fang urged Singaporeans to stay alert and protect themselves against fake news, and added that it was not just the government's job, but "everybody's responsibility" to guard against fake news.
Related story:
Top image via Julia Yeo
If you like what you read, follow us on Facebook, Instagram, Twitter and Telegram to get the latest updates.