With the recent tensions over the highly controversial brownface advertisement still lingering, race has been a pretty tenuous issue in Singapore.
And one photo posted by local influencer Sheena Phua of two Sikh men sparked anger online.
"2 huge obstructions"
Sheena Phua is an influencer who specialises in beauty and travel content. She has over 76,000 followers on Instagram.
https://www.instagram.com/p/Bw9v3z7hEwL/
On Sep. 21, 2019, Phua, who was at the F1 Grand Prix, uploaded a photo to her Instagram stories.
The photo showed two Sikh men in white turbans standing in front of her, and the caption stated "Dang! 2 huge obstructions decided to appear out of nowhere."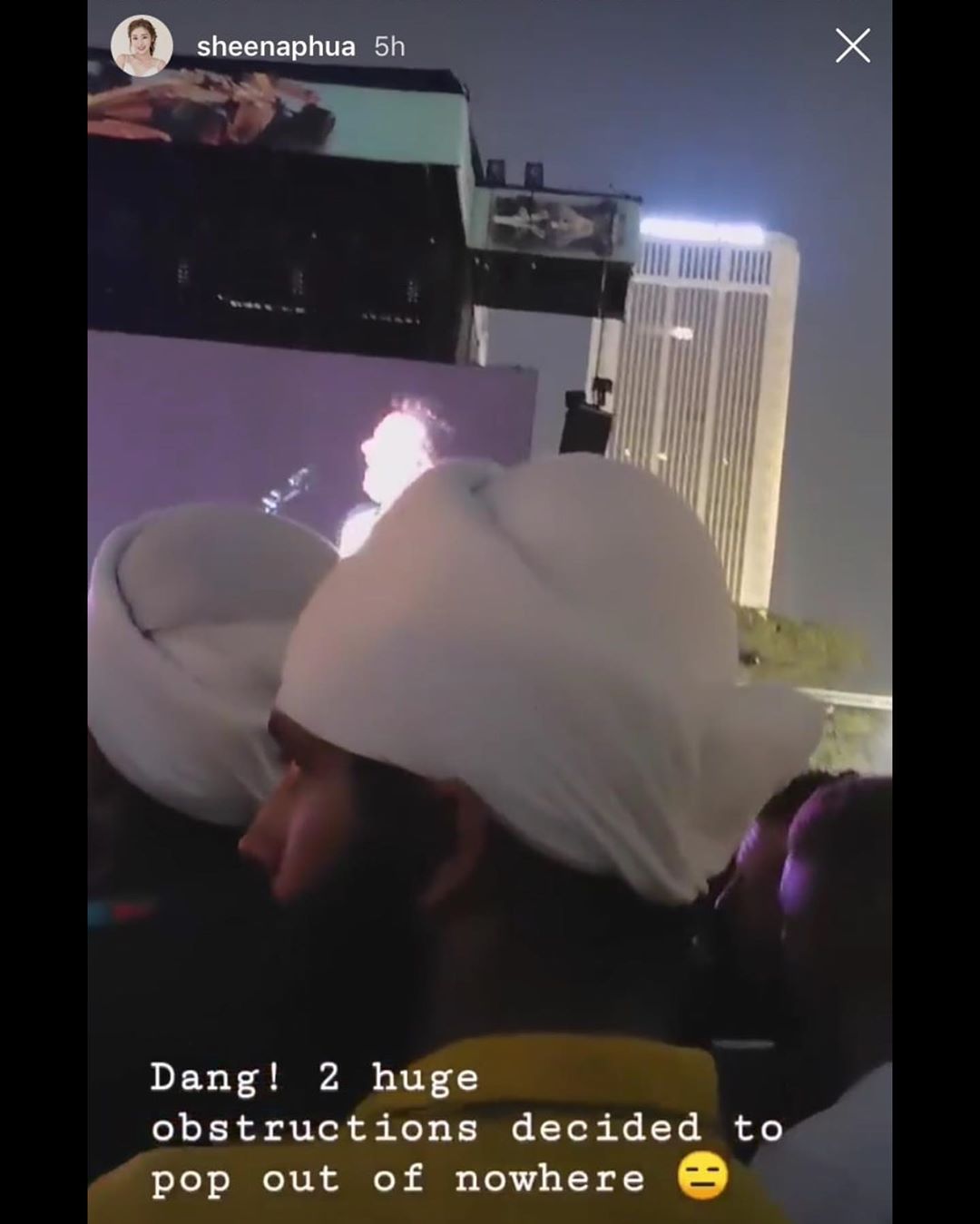 Huge backlash, accused of racism
Screenshots of Phua's story was subsequently reposted to Twitter and Instagram by other users, including local musician, Subhas Nair.
Nair even tagged the various brands that appeared to sponsor Phua, such as Changi Recommends, Charles and Keith and Yotel Singapore, asking them if they "endorse[d] this?"
https://www.instagram.com/p/B2tWHF0FtK1/
Phua received huge backlash for the IG story.
Social media users immediately starting expressing their discontent with Phua's photo, with some taking aim at Phua's sponsors.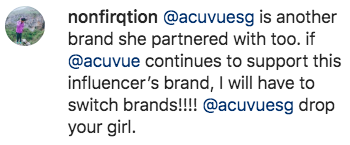 Meanwhile, most criticised Phua and accused her of being racist, saying that Phua would not have acted in such a manner if the two men were of any other race.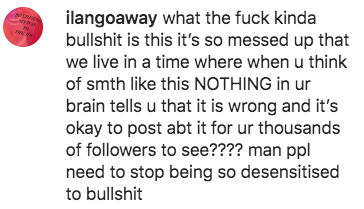 Preetipls reacts
On the same day, fellow influencer and YouTuber Preeti Nair a.k.a. Preetipls, who most recently courted controversy after releasing a vulgar rap video in response to the brownface ad, weighed in with her opinions as well.
On Twitter, Preetipls called out Phua for her "privilege", adding in a subsequent tweet that it "really isn't that hard" and that Phua could have simply moved to a different position with a better view, instead of airing her dissatisfaction online.
hm it's kinda some form of privilege when you have the audacity to take a picture of someone, call them an obstruction when u r at a concert & post it up for ur 70k followers on IG instead of moving to a better spot, like life really isn't that hard imo when the solution is: move https://t.co/aP5dFuZ8lL

— prEEtipls (@plspreeti) September 22, 2019
Preetipls also clarified that she had been calling out Phua's "privilege" and not "racism".
She then took aim at the language used by Goodyfeed in their article.
haha thought it was pretty clear in my last tweet about this that I was "calling out" her privilege not "racism" also it's kinda cute that sheena thinks this is an UNBIASED article.

read some of GOODYFEED's most iconic lines from the article here: pic.twitter.com/RqJH4PD46N

— prEEtipls (@plspreeti) September 27, 2019
Apologised, said the Sikh men were just tall
Following the anger and criticism from social media, Phua then posted another Instagram story apologising "for the upset the video has caused".
Phua explained that the "obstructions" she had been referring to was a "physical obstruction" due to how tall the Sikh men were.
She said that the two men were much taller than her and thus blocked her view of the show in front.
Phua stated her message had been "misinterpreted" and that "this would have been the same were they any other race or gender".
She then reiterated that she had not meant it as a "racist or derogatory remark toward [the Sikh] community and culture".
"I have made it a point never to insult or belittle any race or religion in any of my postings before, and never had the intention of doing so."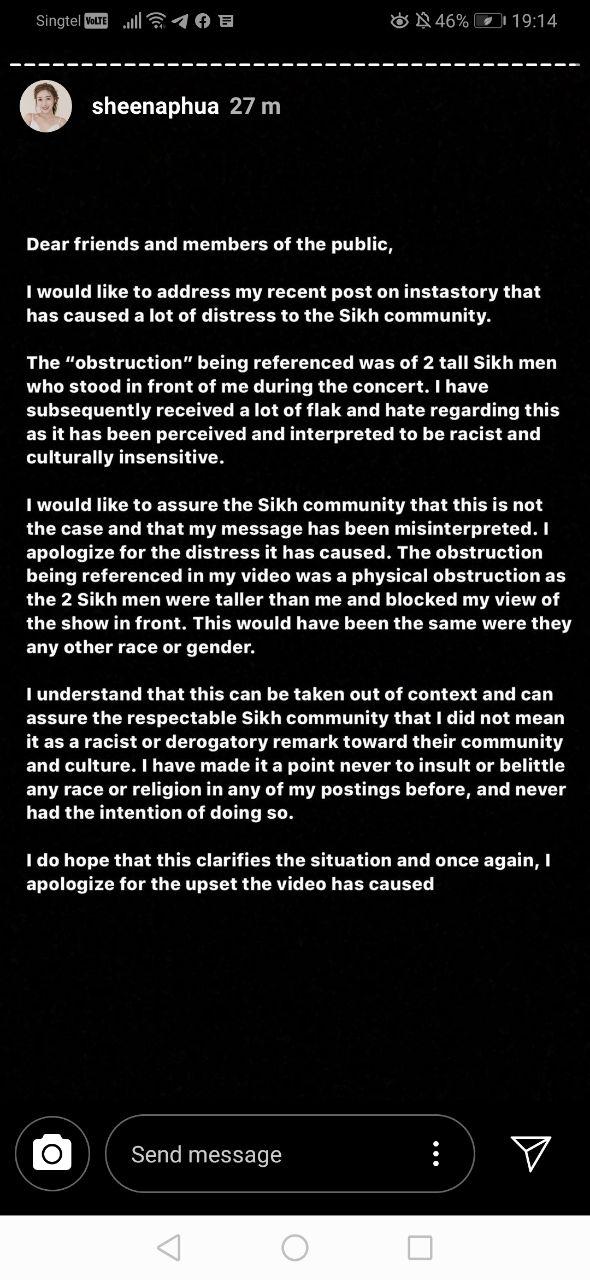 Netizens however, were not satisfied with her apology.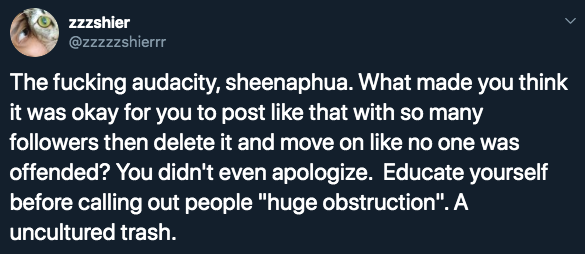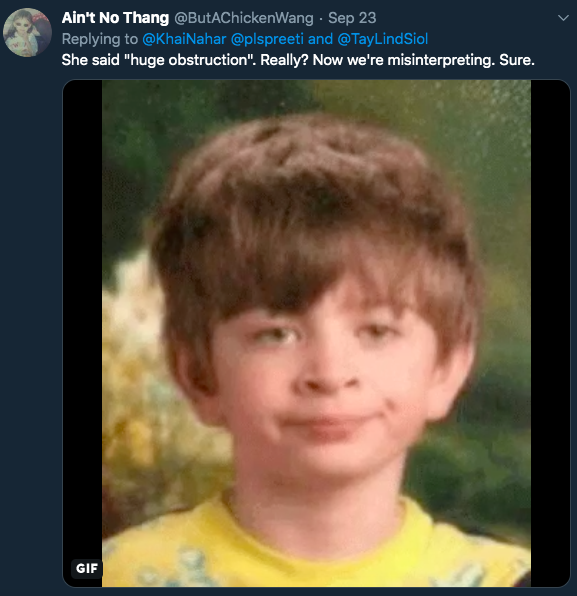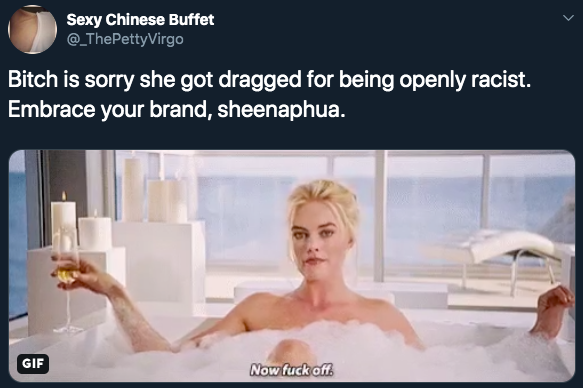 Preetipls has since revealed that she has been blocked on Twitter by Phua as well.
highlight of my week:
getting blocked by Sheena Phua even tho she was the one getting blocked by "2 obstructions" at F1 💁🏽‍♀️

— prEEtipls (@plspreeti) September 27, 2019
Welp.
Top photo from @sheenaphua / IG and @subhasmusic / IG
If you like what you read, follow us on Facebook, Instagram, Twitter and Telegram to get the latest updates.