The police are investigating a 54-year-old man after he punched a driver at the junction of Jurong West Avenue 2 and Corporation Road on Aug. 31.
The police confirmed a report was lodged.
They are investigating the man for his suspected involvement in a case of road rage.
What happened
A video of the incident was posted on the Road.sg Facebook page and has been viewed over 241,000 times.
The incident came to light after this video was shared on the platform by another driver who witnessed what happened and had captured it on his vehicle's dashboard camera.
What happened
A black Hyundai changed lanes before stopping at a red traffic light.
The driver of a yellow Suzuki got out of his vehicle and walked towards the Hyundai to confront the other driver.
The Hyundai driver punched the Suzuki driver before returning to his car.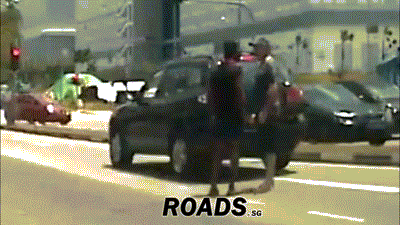 The Suzuki driver did not retaliate.
He returned to his car to get hold of what appeared to be his phone and started taking images of the Hyundai.
Assaulted driver identifies himself
The Suzuki driver has identified himself as Vinod Kumar.
He shared his own video with Roads.sg, which showed the Hyundai driver.
Vinod wrote about what happened:
"I'm the guy in the yellow car. This guy was trying to cut my lane and I honk back. He called me out and within two seconds the swing happened. I'm was with my two little ones. No point retaliating and showing my kids to do the wrong thing. Anyways police are on the case. Please watch out for this car plate."
If you like what you read, follow us on Facebook, Instagram, Twitter and Telegram to get the latest updates.