New York City-based videographer Tyler Fairbank specialises in timelapse, hyperlapse, aerial, and slow-motion videos.
Without entering into the technicalities of each term, here is what he can do after two visits to Singapore:
(You can watch a higher-res version here. Remember to select 4k.)
In case you're not convinced to watch the video, here's a sneak (although it's best to watch it with sound):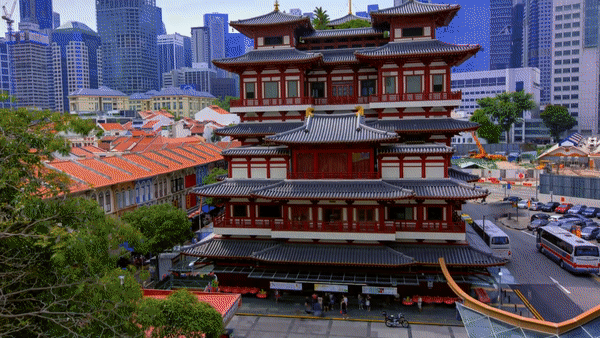 He describes the video, and Singapore, as such:
"The island nation of Singapore is one of the smallest countries in the world. It is also one of the most technologically advanced. Lead by an environmentally conscious mindset, it is now regarded as being among the cleanest and safest places on Earth - a feat from which other countries could take note.

This two-minute video takes us on a multifaceted tour through Singapore, seamlessly connecting the city's many attractions - from the Downtown Core to the temples of Chinatown and through the famously picturesque Marina Bay. Captured entirely with still images, it is an immersive glimpse into the fast-paced life of this unique nation."
According to Fairbank, the video uses raw, still images in 6k to 8.6k resolution (read: very high resolutions).
For editing, he used used LightroomTL, Lightroom, After Effects, Premiere Pro, and Photoshop.
The video uses natural background sounds, which Fairbank edited in Premiere Pro.
Hyperlapse technique
Although the video was first published to YouTube in January this year, it received widespread interest after being uploaded to Singapore's Reddit community on Aug. 13.
Hyperlapse is a "technique in time-lapse photography that allows the photographer to create motion shots".
This is achieved by moving the camera a short distance between each shot.
The movements we see in the video are motion blurs, created with long exposures.
Post-production is used to stabilised the image sequence.
Here's a similar video of Hong Kong:
Cool.
Top image by Tyler Fairbank
If you like what you read, follow us on Facebook, Instagram, Twitter and Telegram to get the latest updates.