Twitter has suspended nearly 1,000 accounts, citing a "state-backed" disinformation campaign originating from within the People's Republic of China (PRC) that was targeting the Hong Kong protests specifically.
"Seeking to sow political discord in Hong Kong"
The accounts were "deliberately and specifically attempting to sow political discord" in the Special Administrative Region (SAR), Twitter said in a blog post on Monday, Aug. 19.
Such attempts sought to "undermine the legitimacy and political positions of the protest movement on the ground", it added.
Twitter, which said "covert, manipulative behaviours" have no place on their service, has also identified "large clusters of accounts behaving in a coordinated manner" to amplify messages related to the protests.
In addition, it revealed that some accounts accessed the platform using VPNs as Twitter is blocked in mainland China.
However, some others accessed Twitter from "unblocked IP addresses originating in mainland China".
Twitter then went on to provide examples of some posts from the accounts it has suspended.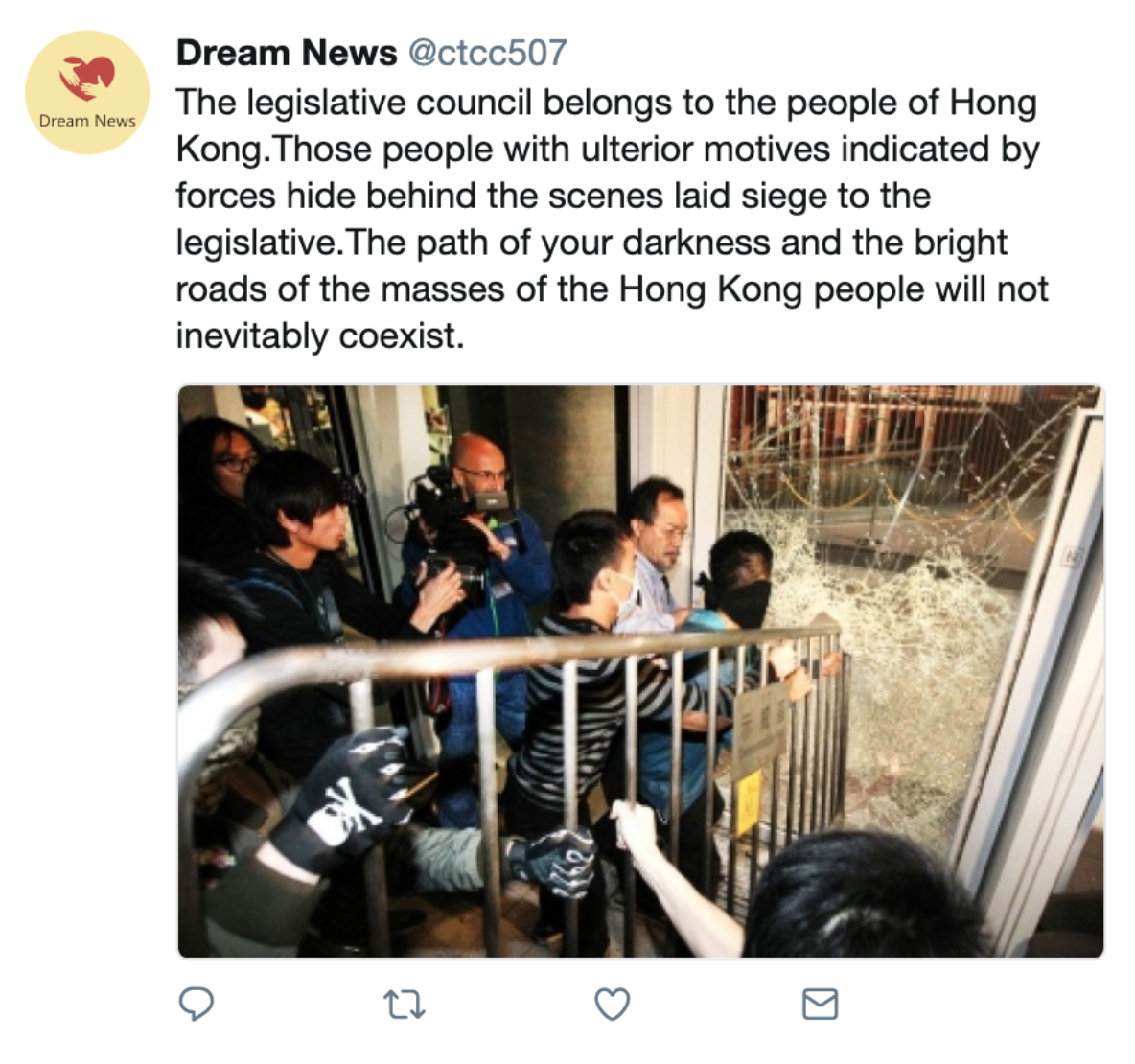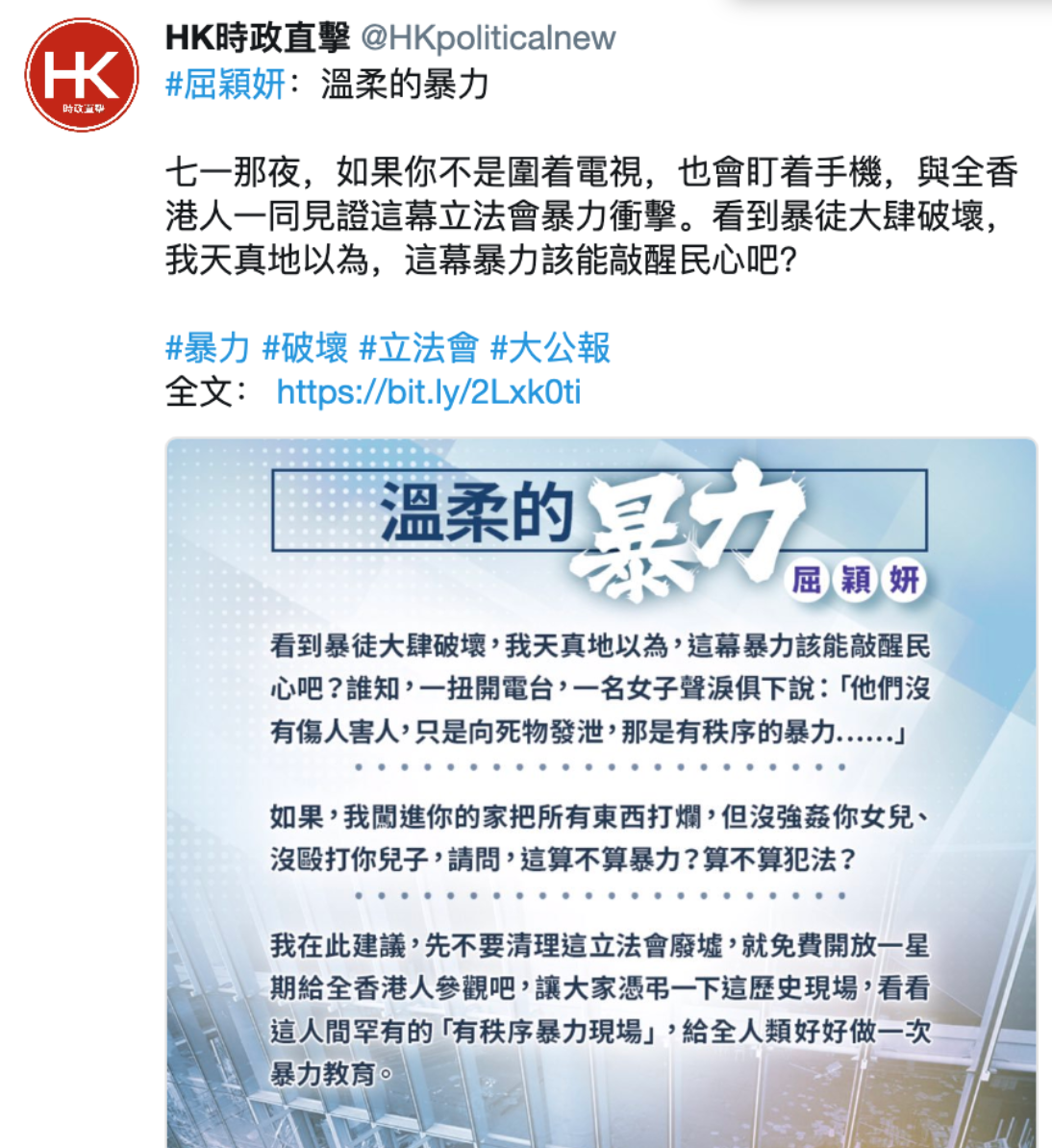 "On the night of July 1, even if you were not watching your TV, you must have been looking at your phone, witnessing this violent storming of the Legislative Council building with the rest of Hong Kong. Seeing the violent destruction wrought by the rioters, I naively thought, surely this violent scene would stir the hearts of people and wake them up?"
Banned advertising from state-owned media firms
In addition, Twitter has banned advertising from state-owned media companies.
The company encountered a similar issue in 2016, when they found that Russia Today (RT), which the United States has deemed as a propaganda arm of the Kremlin, had bought about US$1.9 million (S$2.6 million) in ads over a span of eight years.
It banned advertising from those accounts in 2017.
Disinformation campaign sought to discredit the protesters & movement
Lee Foster of FireEye, a California-based cybersecurity firm, told The Washington Post such disinformation campaigns propagated narratives that praise the Hong Kong police, criticise the protesters, and blame the unrest on Western agents who seek to interfere in China's "domestic affairs".
Graham Brookie, director of the Washington D.C.-based Atlantic Council's Digital Forensic Research Lab, even said the disinformation campaign are meant to be a "test case" for China as they prepare for incoming major events, such as the Taiwan elections.
Disinformation campaigns are not unique to any country.
Russia first adopted disinformation techniques on social media to spread inflammatory messages during the 2016 United States presidential election.
Thereafter, other governments, including Bangladesh and Venezuela, have followed suit, with Twitter and Facebook both removing accounts with links to state-sponsored actors in December 2018.
Facebook removing accounts too
Facebook has also taken similar actions, saying that following a tip-off from Twitter, it was removing five Facebook accounts, seven pages and three groups that use "a number of deceptive tactics, including the use of fake accounts".
It further said its investigation has found "links to individuals associated with the Chinese government".
Here are some examples Facebook provided: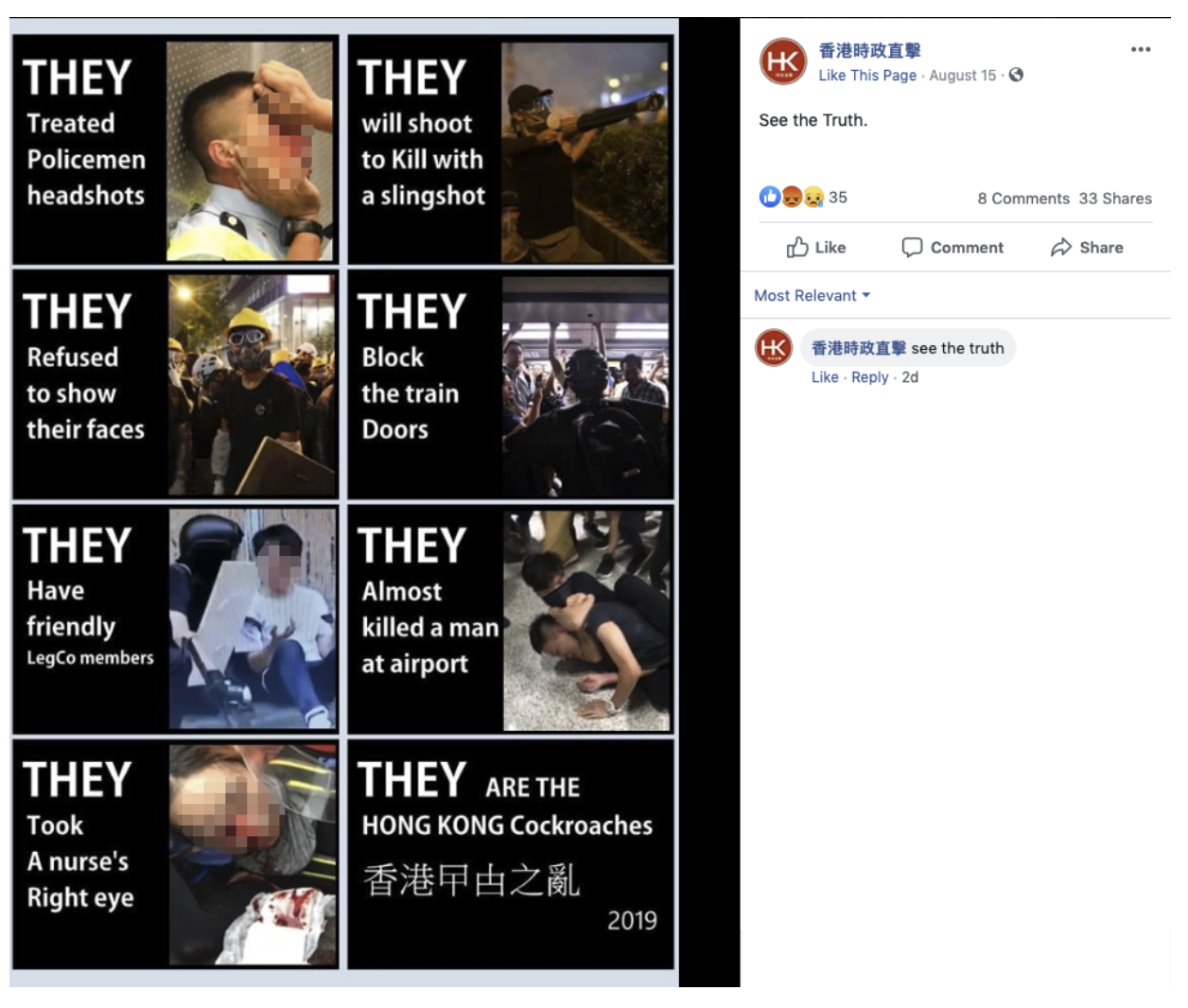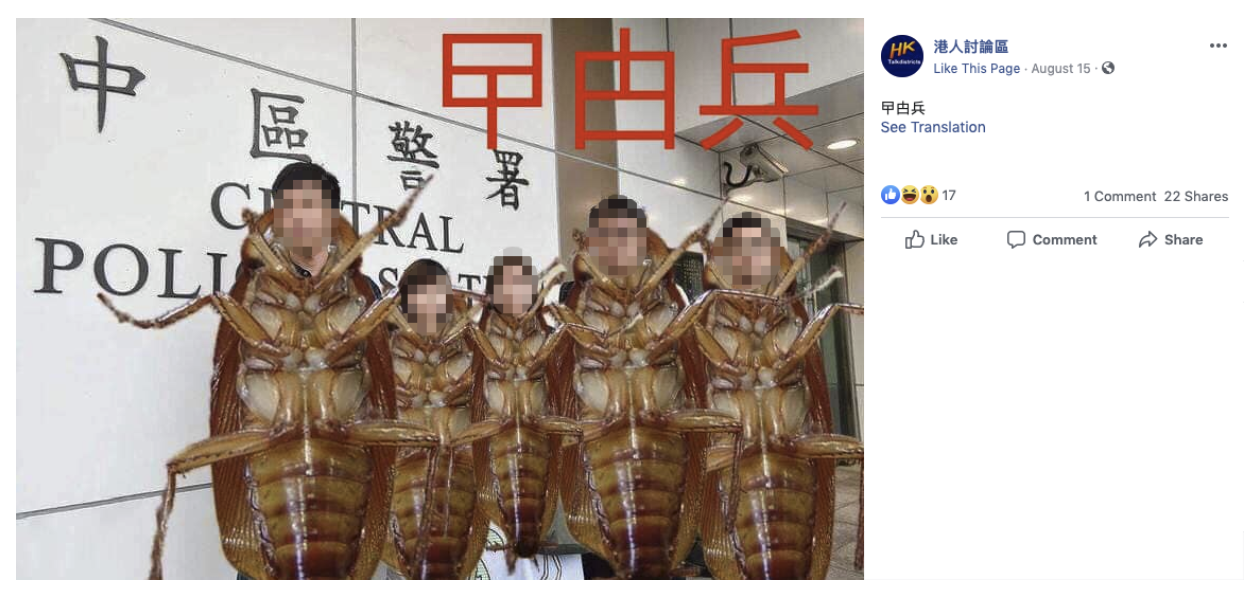 "Cockroach soldiers."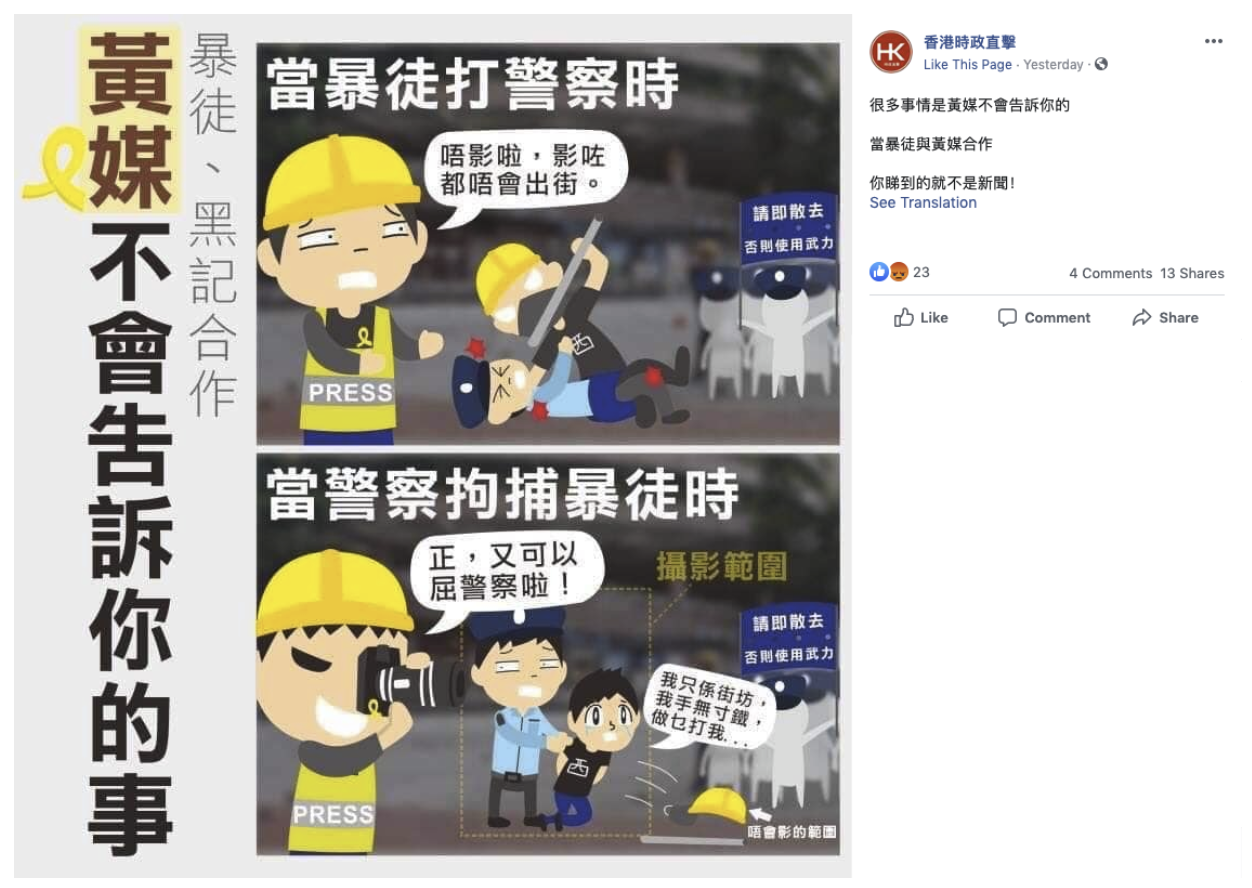 What the yellow press wouldn't tell you: Rioters and "black reporters" are working together.

(Illustration depicting the press only taking photos of police arresting the "rioters", not when the "rioters" are attacking the police.)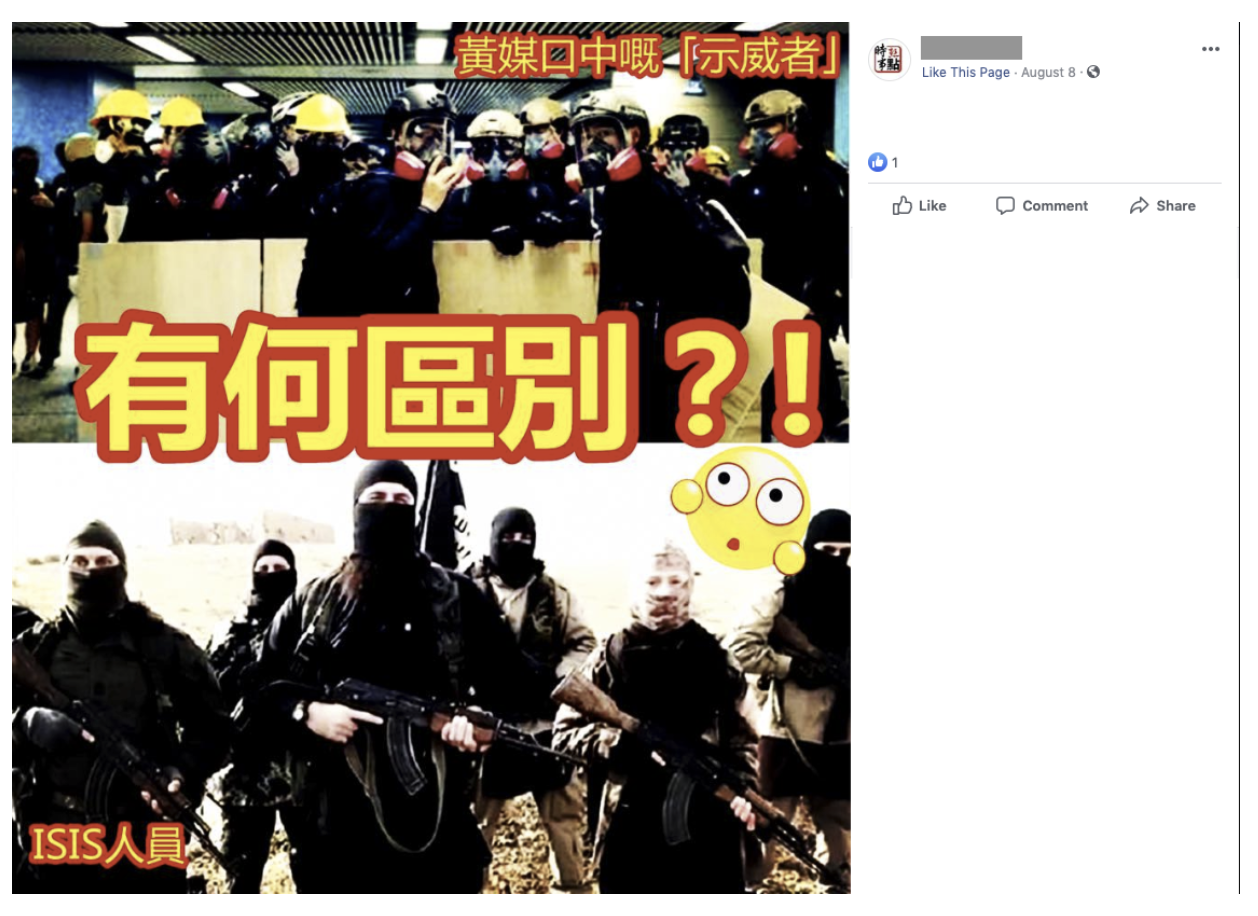 "Yellow press says these are protesters.

ISIS fighters.

What's the difference?"
If you like what you read, follow us on Facebook, Instagram, Twitter and Telegram to get the latest updates.