Hong Kong's anti-extradition bill protests have spread beyond the city -- to other parts of the world.
Overseas Hong Kong residents have staged rallies of their own in countries including the United Kingdom, Canada and Australia.
And they have in turn attracted pro-Beijing demonstrations to the same locations, putting Chinese ultra-nationalism on full display.
Such demonstrations in response to the ones staged by Hongkongers include the revving of high-end sports cars in Vancouver and Toronto, the singing of the Chinese national anthem, the harassment of Hong Kong protesters in Australia, as well as the use of crass messages in London.
London
How Chinese ultra-nationalists made their point
In London, a Chinese nationalist has become the talk of the town for a sign he held up during a demonstration -- that made lousy use of Bart Simpson, who is actually the symbol for subversion and real rebels.
"Kneel Down and Lick your Master's A**"
According to Hong Kong Free Press (HKFP), the message was part of a larger counter-protest that had been organised against a Hong Kong pro-democracy protest in London on Aug. 17.
In total, both protests attracted about a thousand people.
Other messages seen on placards held up at the counter-rally included "traitor", "one nation, one China" and "Hong Kong is part of China forever".
Many Chinese nationalists were also seen waving the national flag and heard chanting, "One nation, one China".
British Police deterred violent pro-CCP group from attacking pro-democracy protestors in London#BoycottChina #BoycottMulan #StandwithHK #ShameOnChina pic.twitter.com/TE5DBF1och

— Awawa🐾😷 (@laserbeam_hk) August 18, 2019
Hundreds of Chinese in both Edinburgh and London voluntarily gather together today to show their love to both Hong Kong and mainland China, and to protest against the behavior of isolating Hong Kong from the mainland China.@CGTNOfficial @HongKongFP pic.twitter.com/uxQzq0TmYt

— Shirley Yang (@Shirley59909749) August 17, 2019
Pro-democracy Hong Kong protests
Hong Kong protesters, on the other hand, held up signs that read "Will Britain hold China to its promise on Hong Kong's freedom?", "Power to the people: stand with Hong Kong" and "Will Boris surrender to China?"
Highlights from the #StandWithHongKong rally in London at the weekend. 🇬🇧✊

'Will the UK government stand by its word to never let Hong Kong walk alone?'#antiELAB #FreedomHK #HongKongProtest #StandWithHK #FreeHongKong #TrafalgarSquare pic.twitter.com/8XxlIvLASe

— LennonWallHK (@lennonwall_hk) August 19, 2019
Also seen was the flag of Tibet, as well as that of the Union Jack.
Hong Kong rally in London. Live. #antiELAB #FreedomHK #HongKongProtest pic.twitter.com/t61oenlIax

— Ataraxis (@ataraxisfinch) August 17, 2019
Stand with Hong Kong rally in London's Parliament Square earlier today. pic.twitter.com/uGS9L7f9vM

— 马建 Ma Jian (@majian53) August 17, 2019
The protests were organised by groups known as StandwithHK and D4HK.
Coverage in Chinese state media
Meanwhile, Chinese state media portrayed the counter-protests as a rally by overseas Chinese associations protesting against ongoing violence in Hong Kong.
Overseas Chinese and Chinese students gathered in London's Trafalgar Square Saturday morning in support of police and condemn violence in #HongKong after a group of protesters staged a rally to back the radical demonstration in #HongKong pic.twitter.com/d41ADLge80

— CGTN (@CGTNOfficial) August 17, 2019
Vancouver and Toronto
Luxury cars and scuffles
In the Canadian cities of Vancouver and Toronto on the same day, the South China Morning Post (SCMP) reported that multiple Chinese nationalists showed up at pro-Beijing counter-protests in sports cars such as Ferraris, McLarens, Porsches and Aston Martins.
Both cities are the choice of residence for tens of thousands of Chinese millionaire immigrants.
Footage of the cars in both cities were circulated online, including one where multiple luxury sports cars, adorned with the Chinese national flag, could be heard revving their engine.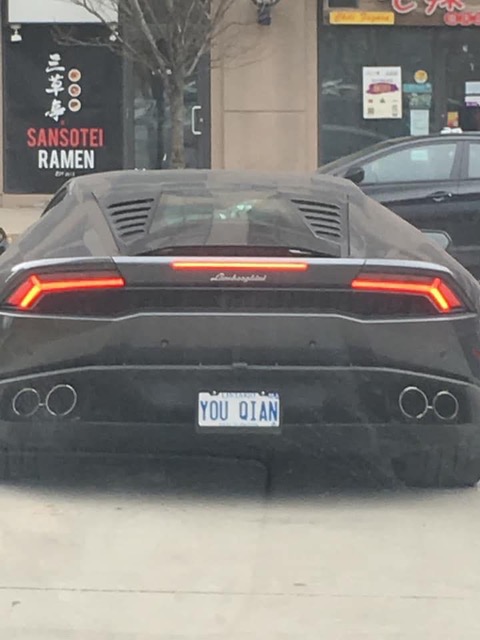 The driver of a sports car in Vancouver also played the Chinese national anthem.
Toronto also saw scuffles break out between both camps.
Clashes break out in Toronto between Hong Kong solidarity protestors and pro-CCP group. pic.twitter.com/J3f9tHXARz

— mitch st.hilaire 😷 (@worldwidemitch) August 17, 2019
Church surrounded
According to another SCMP report, pro-Beijing demonstrators surrounded a church in Vancouver on Sunday, Aug. 18, when a prayer meeting for Hong Kong was underway.
Over 80 attendees for the meeting found themselves confronted by more than a hundred protesters.
The Vancouver Police Department was eventually deployed to guard the church and help escort the attendees to safety.
Happening now: Pro-Chinese government protesters have surrounded a Vancouver church. Vancouver Police have closed 10th Ave. east of Manitoba. Police officers are guarding the main door. #vanpoli #bcpoli #cdnpoli pic.twitter.com/cVa7SztYOm

— theBreaker.news (@theBreakerNews) August 18, 2019
Scenes of the mob of pro-Chinese government protesters that surrounded the church. Vancouver Police guarded the doors and gave the Hong Kong supporters an escort for their safety after their post-protest meeting. #vanpoli #bcpoli #cdnpoli #vanRE #FreeHongKong pic.twitter.com/GqL75zkNwP

— theBreaker.news (@theBreakerNews) August 19, 2019
Online intimidation & doxxing
Australian media The Age reported that ultra-nationalist Chinese internet users engage in online abuse in order to intimidate individuals with differing political views into silence.
Journalist and comedian Vicky Xiuzhong Xu received several online threats after she posted a video of pro-Beijing protesters chanting the word "traitor", and another clip where they were shouting at Hong Kong protesters in a Sydney rally to "get the f*** out".
Mainland protesters called me a traitor, whore & started on doxxing. They said I must have been gang-raped by white men & my parents are better off raising a piece of char siu (bbq pork) than me. Plans to egg me at https://t.co/fokGGa7B9B. Tix are $330 they are privileged indeed!

— Vicky Xiuzhong Xu (@xu_xiuzhong) August 17, 2019
Fergus Ryan, an analyst from the Australian Strategic Policy Institute's International Cyber Policy Centre told The Age that by doxxing individuals and threatening to harm their closed ones, these online nationalists aim to deliver a "chilling effect" to scare their targets into silence.
Nationalism is a double-edged sword
While the Chinese Communist Party lets nationalistic expressions have a free rein on the Chinese Intranet, Chinese nationalism can be a double-edged sword for the one wielding it.
If not kept under control, it can go out of hand, and even challenge the party, especially if the party is seen as not being assertive enough in its foreign policy when it comes to protecting China's interests.
Related articles:
Top image adapted via Ma Jian/Twitter & Hong Kong Edition/Facebook
If you like what you read, follow us on Facebook, Instagram, Twitter and Telegram to get the latest updates.