Chey Sua Carrot Cake stall located at Toa Payoh Lorong 1 is still selling handmade chai tow kway at a very affordable price of S$2.50 per plate.
The old-school carrot cake stall started out in 1950 and has maintained its traditional taste and low prices ever since.
Chey Sua Carrot Cake in Toa Payoh is managed by two sisters: Shirley Tay, 61 and Grace Tay, 55.
The duo recently spoke to Lianhe Zaobao about what makes them tick.
"White" version only
Their unique selling point is that they only serve "white" carrot cake.
The sisters have been running the stall since 1991 after taking over from their father.
Another aspect of the stall that has remained unchanged is the traditional signboard put in place by their father when he started the business.
At S$4 for the biggest plate, it is little wonder that the stall always sells out by 2pm when it opens from Tuesday to Sunday.
Business starts at 6.30am.
Recognised as one of the best
The carrot cake is widely recognised as one of the best in Singapore.
It has been listed in the Michelin guide since 2016 and is a crowd favourite among residents and those who travel to eat in Singapore.
This is despite the stall only selling "white" carrot cake, when almost all other stalls in Singapore having little qualms selling the "black" version as well, which is made by adding sweet soy sauce to the mix.
One reason why the "black" version is excluded is because the addition of sweet soy sauce causes the carrot cake to lose its crispiness, which is the hallmark of Chey Sua Carrot Cake.
After all, the sisters' father was the one who perfected that crispy texture.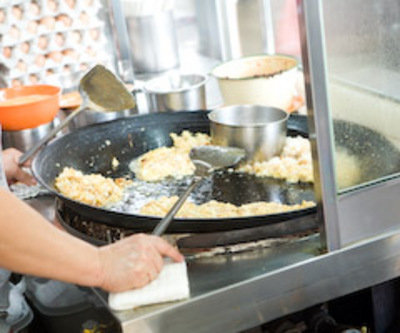 Humble beginnings in 1950
In 1950, the parents of the Tay sisters began their carrot cake business at Serangoon Gardens.
It operated out of a pushcart.
In 1972, the family relocated to Zhong Zhong Cooked Food Centre.
By 1973, they moved to their current location at Toa Payoh Lorong 1 Food Centre.
Frying technique finessed by father
Shirley said her father was a perfectionist who fried every plate of carrot cake "very well".
They were trained to only serve "beautifully fried" carrot cake as a result.
She recounted an incident where a customer made an advanced order of 30 packs of carrot cake, and informed them to just "anyhow fry" and not spend too much effort on it.
But the sisters replied they would do it to the best of their ability to ensure standards are maintained.
They have also been informed that their dedication to their craft might result in monetary loss as it slows the pace of cooking.
However, the sisters' claim their priority is the satisfaction of customers who purchase their carrot cake.
Not passing on costs to customers
The Tay sisters have always stuck to the traditional handmade preparation method, making the carrot cake from scratch and serving it with their own chilli sauce.
The carrot cake is known for having a crispy, eggy exterior and a soft interior.
The sisters said carrot cake stalls within the vicinity often tell them not to "spoil market", as they have maintained these low prices for a long time.
It was only after the hawker centre was refurbished did the sisters increase prices from S$2 to S$2.50.
But to mitigate the price hike, the carrot cake portions increased accordingly.
Stall manned by other family members
Members of the extended family do chip in to help out at the stall on weekends.
It appears that the stall will be passed down to the third generation hawkers.
Chey Sua Carrot Cake
Address: Toa Payoh Lorong 1 Food Centre, Block 127 Lorong 1 Toa Payoh #02-30 Singapore 310127
Opening Hours: Tuesday to Sunday, 6.30am to 2pm
Nearest MRT: Braddell Station
All photos via
If you like what you read, follow us on Facebook, Instagram, Twitter and Telegram to get the latest updates.