You're scrolling through Facebook and you come across a post by a friend.
He claims that he has an investment opportunity whereby you can double your investment in four months while guaranteeing the capital invested.
Sounds too good to be true?
Well, that's the exact scam that 31-year-old Alvin Ker Jia Jun pulled on unsuspecting victims from 2017 to 2018, according to Today.
In total, he managed to swindle S$503,988 from 62 victims, some of them his own friends and acquaintances.
On Aug. 19, the jig was up as Ker pleaded guilty to 40 cheating charges involving 23 people and about S$300,000.
The Straits Times reported that another 94 cheating charges and one count of dealing with the proceeds of his criminal activities will be taken into account during sentencing.
Each cheating charge involved between S$200 and S$40,000, with some of his victims falling prey to his schemes multiple times.
How he scammed his victims
According to ST, Deputy Public Prosecutor Kelvin Chong told the courts that Ker had first developed a gambling habit in 2017.
Needing more capital to feed his habit, the freelance IT consultant devised a plan to convince others to give him more money.
It involved him putting up various posts on his Facebook account, offering non-existent investment schemes with attractive guaranteed rates of return.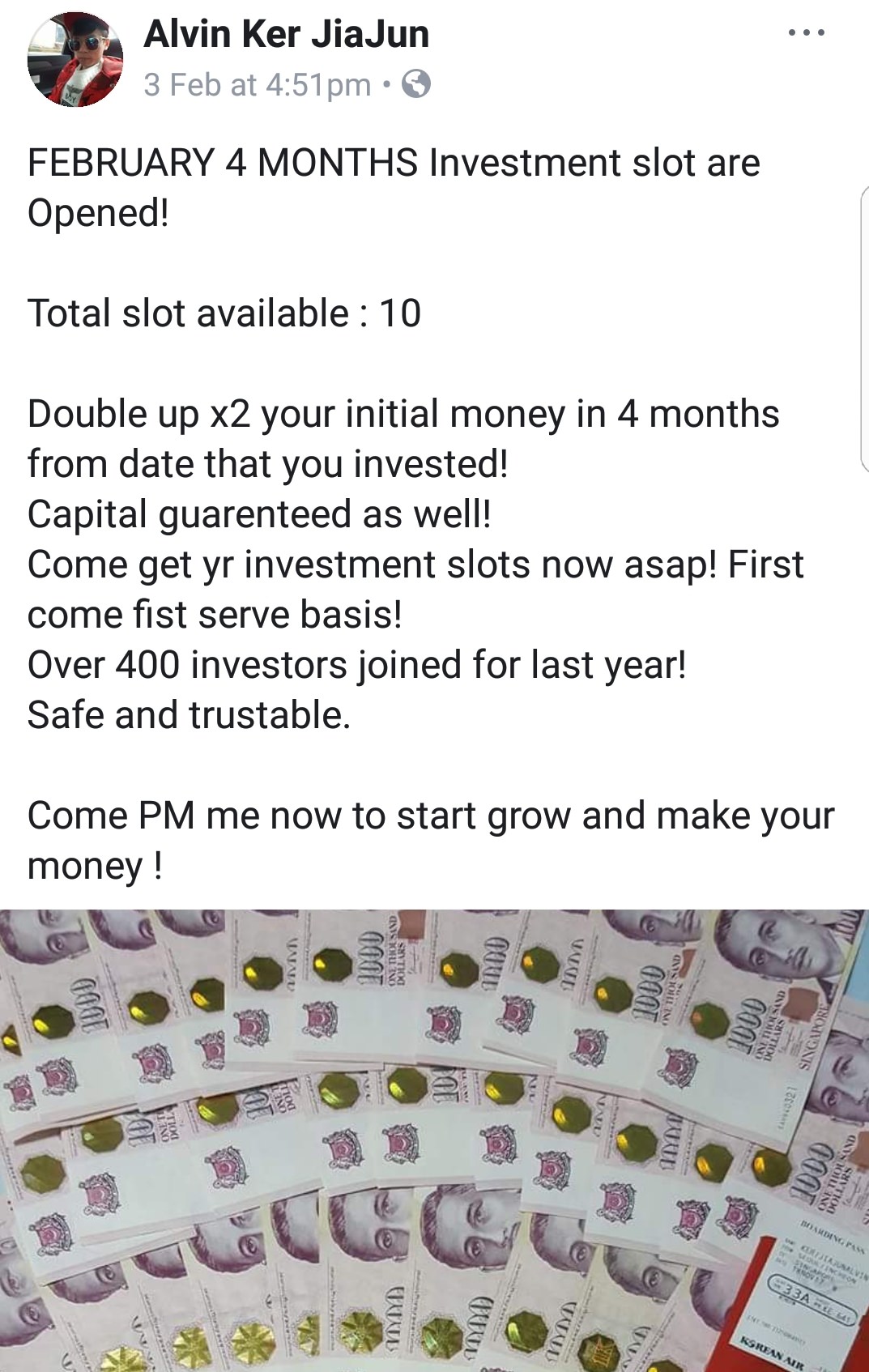 Today reported that Ker would offer his victims either a one-year or three-month scheme where investors would double their invested capital.
Chong added that Ker would also ask friends to share his posts on their own social media platforms to gain more visibility and publicity.
When contacted by those interested in investing, Ker would offer them a "litany" of explanations about how the "investments" worked.
According to Today, this included:
Investing in an educational institution

Investing in an opportunity related to the SkillsFuture Credit scheme

Using the money to provide loans to gamblers at casinos with interest, or to invest in casinos themselves

Investing in claims made by small- and medium-sized enterprises with government companies
Inspiring confidence
Instead, Ker used the money entrusted to him to gamble at casinos — both in Singapore and abroad.
He would then transfer some of his winnings to the bank accounts of his victims in order to cover his tracks.
Ker also posted screenshots of these transactions on Facebook, in an attempt to inspire confidence in his scam and attract more investors.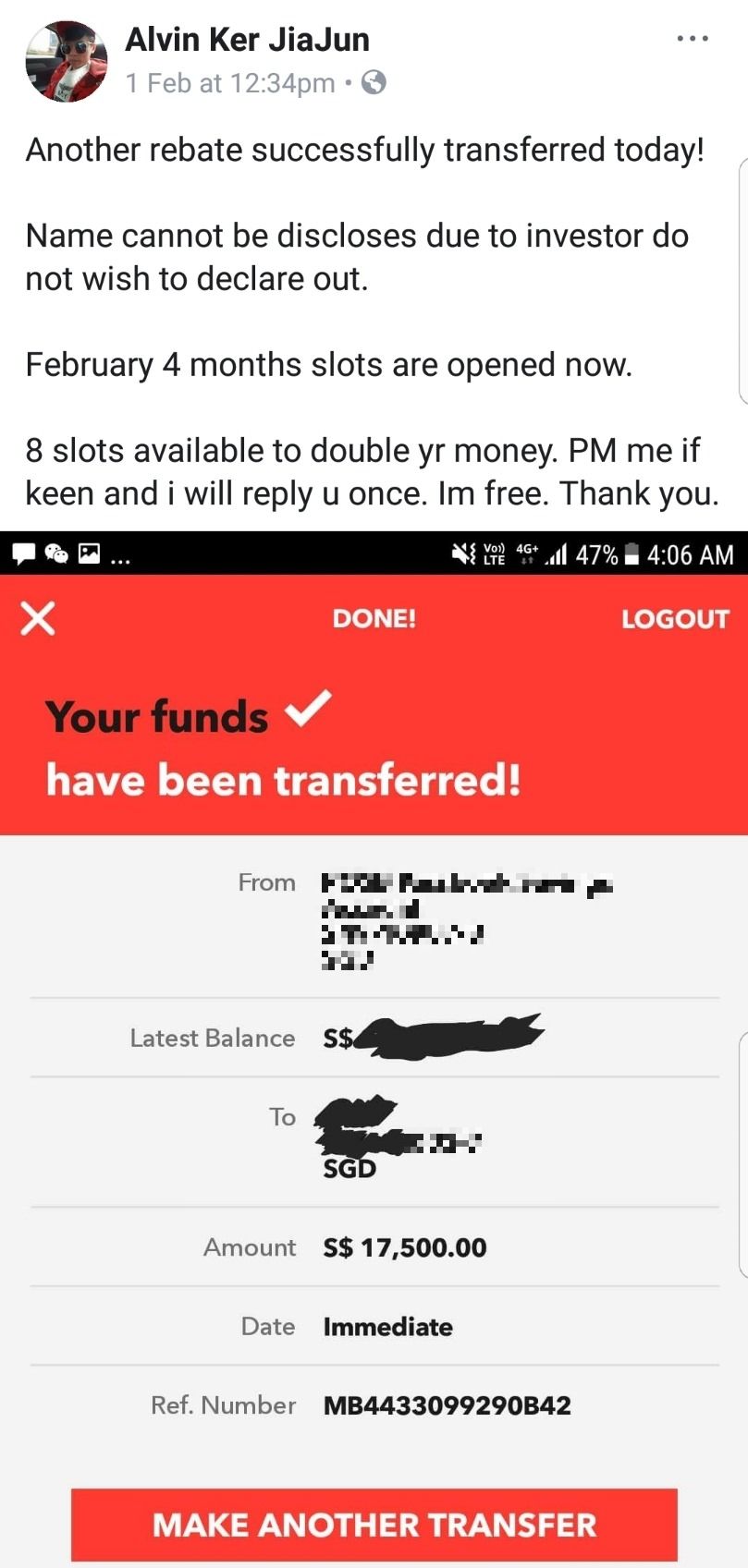 Today reported that friends and victims would often reshare these posts as well.
However, the scam turned out to be unsustainable as Ker's luck at the casinos ran out and he went on a losing streak.
To mollify his victims who were asking for their returns, Ker would feed them excuses -- one example being that he had reached his transfer limit.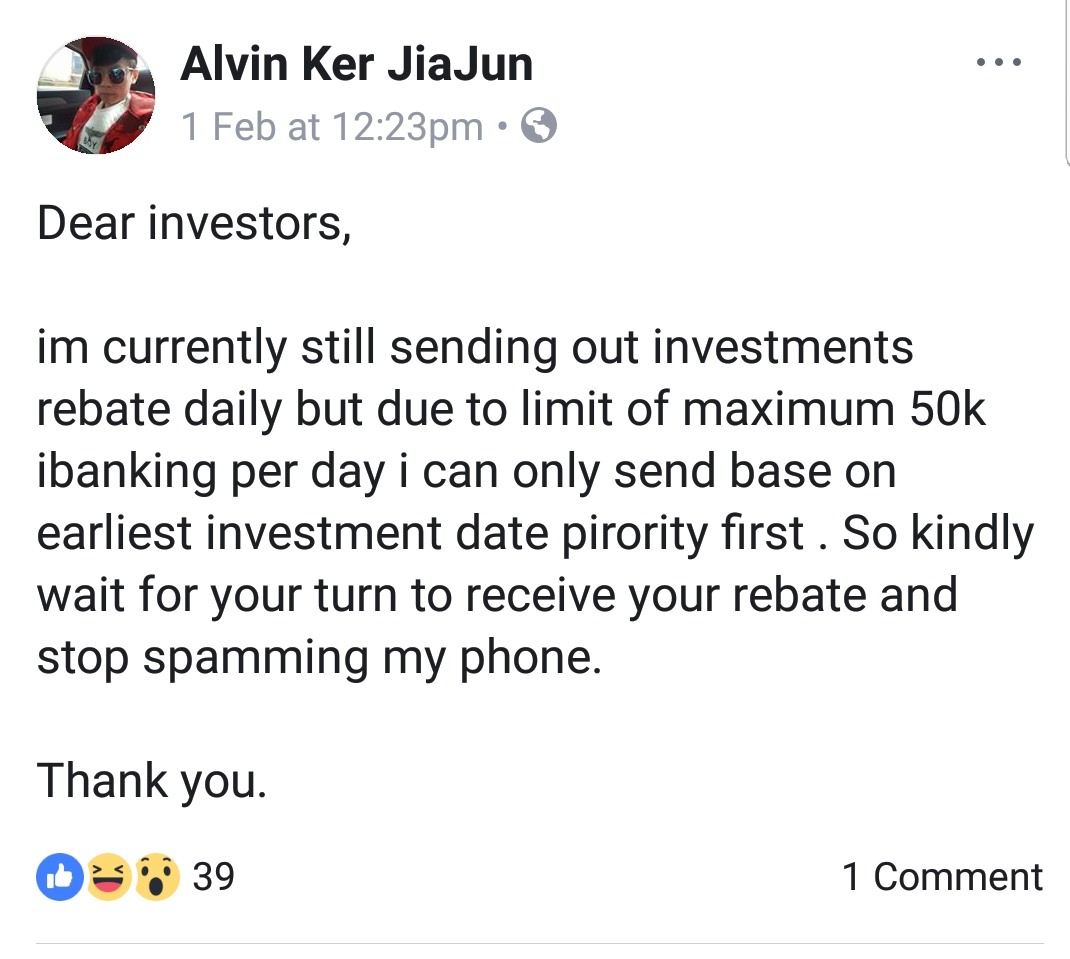 Arrested in March 2018
In the end, Ker succeeded only in losing all the money his victims had given to him.
He was subsequently arrested on March 5, 2018, upon his return from a gambling trip to Vietnam.
He has since paid more than S$100,000 in restitution.
For each cheating charge, Ker could be jailed up to 10 years and fined.
Top image from ftplah/Hardware Zone
If you like what you read, follow us on Facebook, Instagram, Twitter and Telegram to get the latest updates.