Phew.
Blogger Roy Ngerng managed to meet Wednesday's deadline with a first lump sum payment of S$30,000 made to Prime Minister Lee Hsien Loong for the costs of last July's Assessment of Damages hearing.
This is Ngerng's cashier's order to Drew and Napier, the law firm that PM Lee engaged.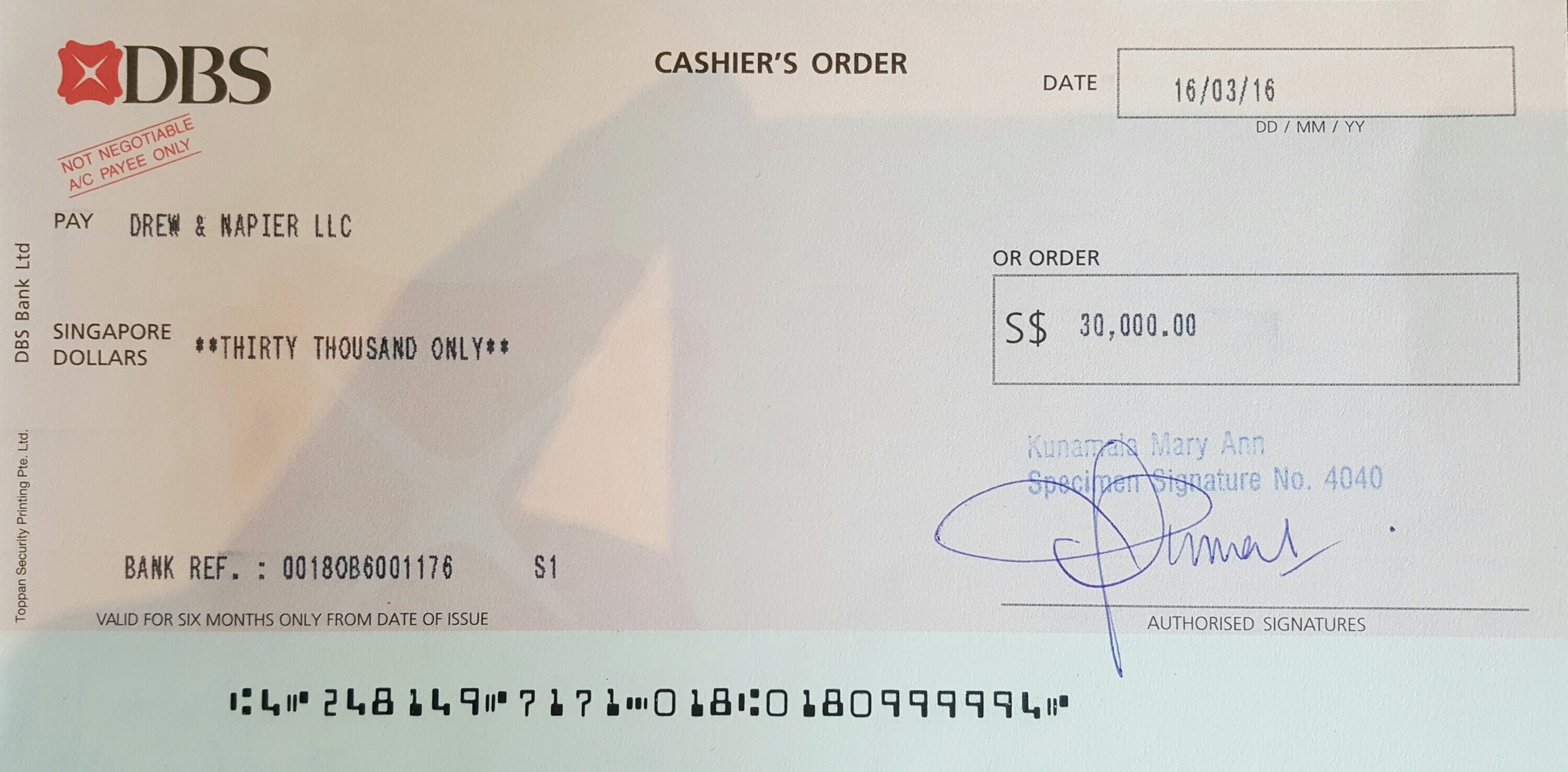 PM Lee's press secretary, Chang Li Lin, also told The Straits Times that Lee's lawyer has received $30,000 from Ngerng.
But Mothership.sg is curious.
If Ngerng only received S$17,618.12 in public donations over the past week, how did he manage to top up the additional money needed?
So, we contacted Ngerng, who told us:
"The money paid came from the funds raised, excess funds from the last rounds and savings".
"Excess funds from the last rounds" referred to Ngerng's first public appeal for donations to support his legal defence fund in June 2014.
In all, he raised more than S$110,000 during that round of crowdsourcing for money.
Ngerng added:
"I am happy that people who believe in my contributions to highlighting the issues about the CPF and which have resulted in positive changes, are contributing and I am very grateful. Thank you!"
Anyway, here is a breakdown of his $17k public donations
1. POSB Savings Bank Account (130-23068-7): S$17,128.12
2. PayPal ([email protected]gmail.com): S$140
3. Passerby on the street: S$150
4. Customer at dad's carrot cake stall: S$200
Yes, a customer donated S$200 to Ngerng's dad at his stall.
Uncle Ngerng, who will turn 66 this year, runs a famous carrot cake stall at Block 107 in Ang Mo Kio.
If you are keen to check it out, remember to visit the stall only on these following days: Monday, Tuesday, Thursday and Friday.
Food blog Makansutra praised the "most talked about carrot cake in Ang Mo Kio", saying that it is "perfectly fried to give it the evenly flavored, with generous bit of beaten egg added to enhance the taste; it tasted even nicer with chilli and extra preserved radish added."
It is so good that Henry Kwek, a first-term PAP MP, told Mothership.sg in a recent interview that he had "tried the carrot cake and it tastes good."
About the case
Ngerng was found guilty to have defamed Lee over a blog post that alleged that PM Lee had misappropriated the CPF savings of Singaporeans.
The offending blogpost juxtaposed a Channel NewsAsia chart detailing the relationship between City Harvest Church (CHC) leaders facing trial for misuse of church funds against his own chart detailing ties between the CPF, PM Lee and GIC, which PM Lee chairs.
The summary judgement was issued in November 2014. He was ordered to pay PM Lee S$150,000 in damages last December after a ruling by a High Court Judge.
This amount will be paid in installments over a 17-year period.
Related articles:
Blogger Roy Ngerng successfully raised S$420 of public donations on first day
Roy Ngerng to repay S$150,000 in damages to PM Lee over the next 17 years until 2033
Judge becomes social media expert for a day and analyses the influence of Roy Ngerng
Questions Roy Ngerng asked PM Lee Hsien Loong during 7-hour cross-examination
CPF blogger Roy Ngerng completes 7-hour cross-examination of PM Lee Hsien Loong in defamation damages hearing
Blogger Roy Ngerng breaks down twice in intense grilling by Davinder Singh as damages hearing concludes
Things that were said by Davinder Singh and Roy Ngerng on Day 2 of defamation damages hearing
Top photo from Roy Ngerng's blog, The Heart Truths.
If you like what you read, follow us on Facebook, Instagram, Twitter and Telegram to get the latest updates.