Photos by Jamie Chan for Mothership.sg.
Somewhere in Siglap's sprawling private housing estates, we met up with Edwin Tong — perhaps better known as Kong Hee's lawyer.
It was Monday morning, and we joined him on one of the pretty-much daily walkabouts he's been having, ever since being shifted to Marine Parade's new Joo Chiat constituency from the now-dissolved Moulmein-Kallang GRC.
As with all the walkabouts by the Marine Parade PAP candidates, we were in for a shock because while Minister Tan Chuan-Jin runs and ESM Goh Chok Tong brisk walks, Tong cycles.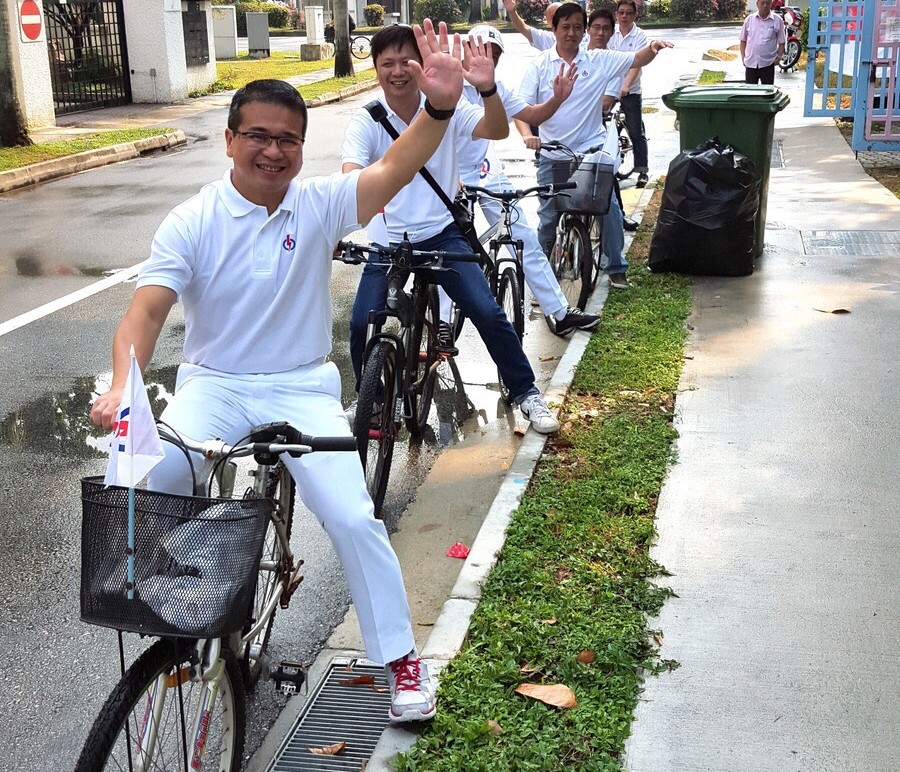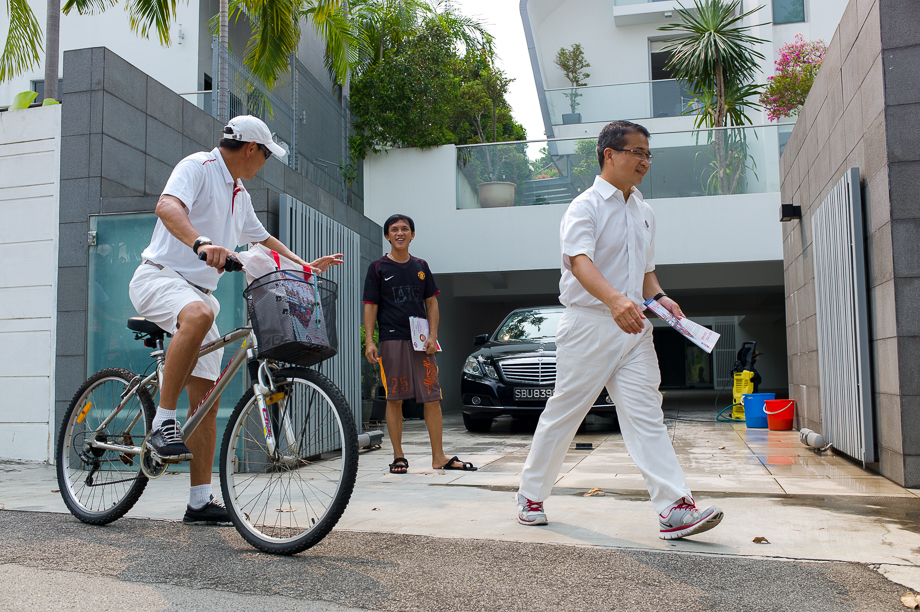 So if all of them were to race, he would definitely win by a mile — literally. (Does this mean that there will be a chance that Maliki Osman will do a swimabout around Pulau Ubin?)
He sat down with us afterwards at Dutch Colony Co., where he was fined a few months back (and in case you're wondering, no he doesn't drive there anymore!) and shared with us these six fascinating things about himself:
1. On being Kong Hee's lawyer:
His taking on the City Harvest case was through innocent-enough circumstances.
"Let me just say — I don't go to that church (Tong is Catholic, actually); I don't know him, his associates or his wife. They were all strangers to me until a lawyer from a smaller firm that was acting for them at that time referred them to us. The firm had felt that they were not well-sized enough to handle the matter so they referred it to our firm and I happened to be the one who picked it up. So that's how it started, back in 2010. It was before he was charged, when the investigations started."
It's just a job for him...
"My perspective (for picking up the case) was, it's the job I do — I act for a variety of people. So some may regard him (Kong Hee) to be immoral, but I'm not there to look after his morals, I'm there to look after whether he's guilty or not of an offence. And that's my job.

And I think it's really just this way for lawyers. It has to be because, if someone comes up to me and says "I've been charged with something, do I have a case?" I look at it not based on morals, but on legal standards. This is an offence he is charged with, is there a basis to defend him? And if there is, we'll act. And if you are truthful to the lawyers, and your case is defensible, there is a case to run, we'll do it. If you're not (honest with us), we'll discharge ourselves."
But he does acknowledge that it's affected his political standing somewhat:
"In 2012, people said that I should stop this case because it would affect my political career. It's true — I think I've taken some flak for it. But it's difficult (to drop the case), having acted for (Kong) for two years, so I decided to just carry on; it's just a job. People say I've been paid millions, but come on lah, I really haven't."
2. Contrary to what most might think, the CHC case really isn't memorable to him: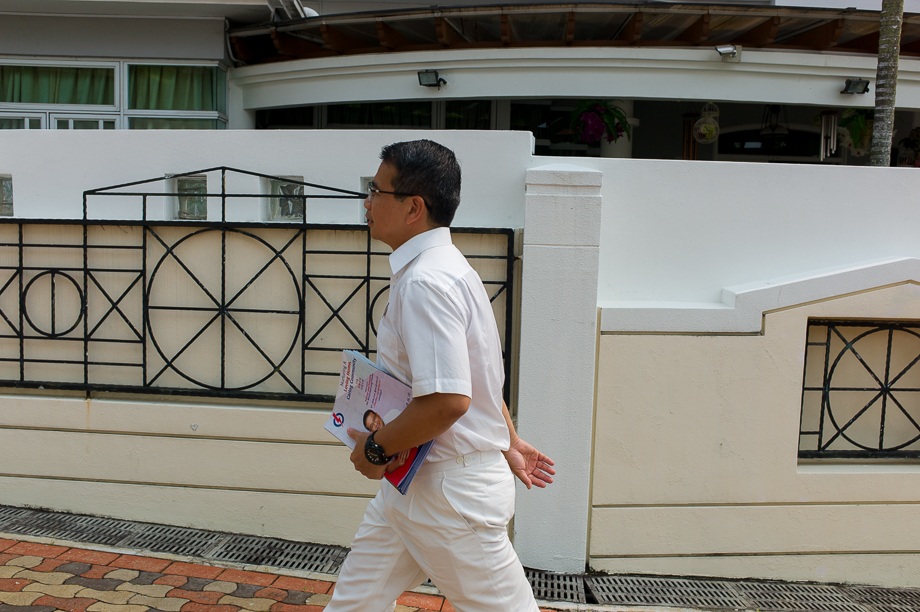 "Honestly, this case is actually not a complicated one. (People think it is because) the press keeps going on about it, finding all kinds of salacious angles, and with the tensions within the church, it makes for good reading. But legally speaking, it's not such a complicated case. The unforgettable ones are the human ones.

I've acted for many private doctors: a heart surgeon, an O&G specialist, and those cases are memorable because there's a very strong human dimension to it. Take the case of an O&G surgeon several years ago who delivered a baby who then had cerebral palsy because the baby was mentally and physically deformed due to a lack of oxygen to the brain during the critical period (when the baby is passing through the birth canal — he spent too long there)."
Because winning isn't everything for a lawyer — at least, not this one.
"(The parents sued for damages on charges of negligence, but) In the end (our case) was successful and we resisted the claim entirely. But it was still a very difficult thing to do, because the child was brought to court on some occasions, in the wheelchair, with the ventilator; those are the moments that make practice tough. CHC is not tough, it's a money case after all.

However, that case was tough. Because my interest was in defending the doctor, and I believe that medically, the doctor did everything possible. You can't guarantee the health of everybody. You can only guarantee good standards, which is what the doctor had done.

But on the other side of the equation, is a child who is going to suffer for the rest of his life; likewise, for his parents as well. I remember I was still quite young in my practice when I took this case, and I was assisted by these two girls, who when I finished my cross-examination (of the mother), I looked back at them and they were tearing. It had a big impact.

So we succeeded, but I still feel a lot for the other side. They were obviously very angry with me after that, but I had to do what I had to do... The least we could do, and we did, was to not ask for legal costs.... it was something my client was prepared to do."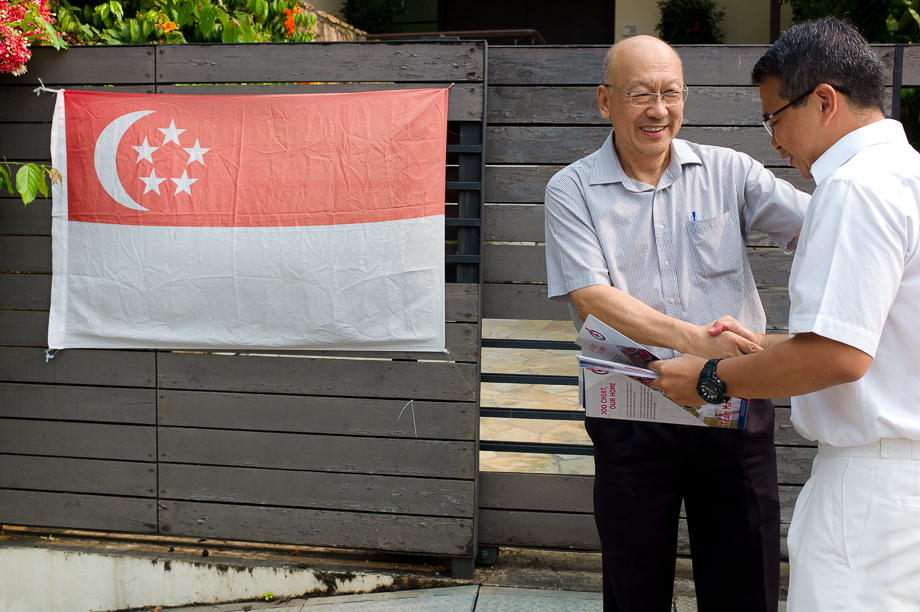 And just to make it clear, he's not going to complicate things by getting involved with a resident's legal case.
"I would try not to (pick up a case if a client is sued by a resident); I'll be in a conflict. I also generally try not to act professionally for a resident, they may consult me and I'll give (advice) – I mean a lot of people come and see me because I'm a lawyer so free legal advice right?

Instead, I have a team of volunteer lawyers behind me who sometimes represent them, often on a pro bono basis. But I don't act because I think it creates a conflict, and I don't want my public duty to conflict with my professional duty to a client."
3. He was "very upset" when his ward was dissolved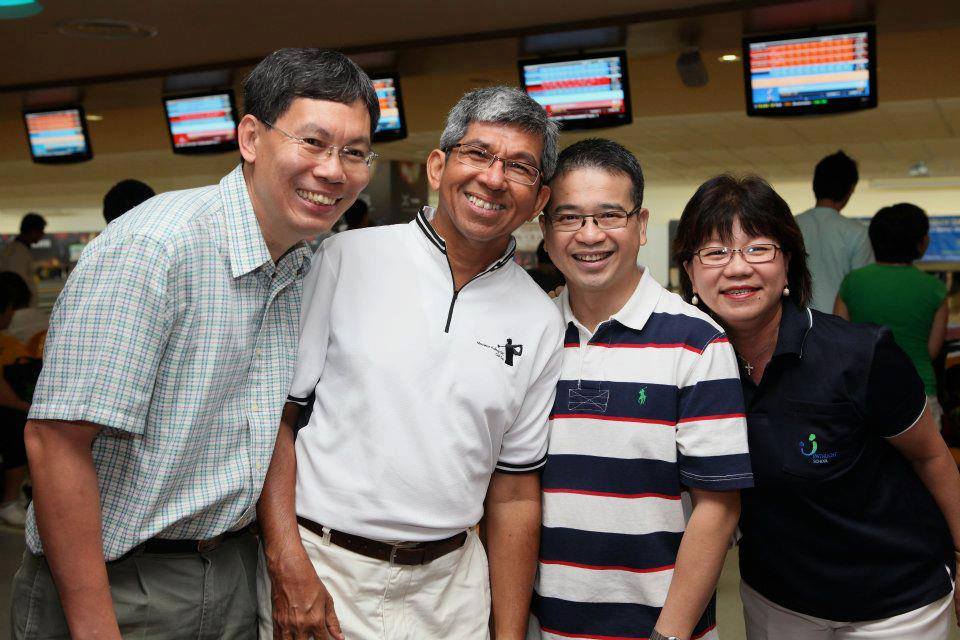 He says the PAP MPs weren't kept in the loop:
"I was actually told after the Electoral Boundaries report, so it was very recent. So, contrary to what people think, we, ruling party MPs did not know beforehand. Up to the period before I was told, I was actually planning for the elections with the thought of standing in Jalan Basar.
Honestly, I was very upset because I spent a term building up relationships with my team, which is very important because you will know who works with you well and who can deliver what based on his strengths. Now, I have to move to somewhere where not only do I not know the terrain and the people, I also do not know my own team. So, the last three weeks have been quite hectic."
Nevertheless, he managed to get the best advice from his predecessor.
"The first person I spoke to was Charles Chong, to get his perspective. His advice to me was to try and win by 389 votes (Chong won Joo Chiat in the previous elections by only 388 votes).

But I think the most important (piece of advice he gave me) is that all the solutions and issues that you had for residents that came to see you at Jalan Besar, toss it out because the paradigms have changed. The private estate residents have very different set of issues and concerns. And I've learned very quickly that the solution you can find for them is not something you can get from the government programmes."
4. He was classmates with Tan in RJC.
He certainly regrets telling us about this photo.
They bonded out of being the only two non-Rafflesians in class.
"Chuan-Jin was my classmate many years ago in RJC (Raffles Junior College). First day of class, in 1986, I walked in and the only other non-Rafflesian was Chuan-Jin. However, he obviously stood out more because he had blue pants (ACSI) while mine was white (SJI). So, everyone else already knew each other except us. That is why he was probably my first friend in class because we gravitated (towards each other), or more accurately the others 'shunned' us — because we were non-Rafflesians."
Although Tong is a lawyer, Tan was actually the better debater...
"He was a strong debater, he was on the debates team, I was not, but I supported it."
... and he hasn't changed much since his JC days.
"I think he has always had his heart in the right place — I know that sounds cliché but it's true of him. That is still his persona today. If you ask why he was in the military service, it is because he felt that is the best contribution he can make to Singapore, and the society.

Honestly, he could have gone anywhere in the private sector and he would've made a very good career but he chose the military service. And now, as he has said himself, politics is an extension of his public service, which in his case, because I know him personally, it is absolutely true."
Did he ever imagine that they would be fellow MPs?
Never. I always had an inkling at the back of my mind that he would be a politician — like I said, because of his persona — him having his heart in the right place and the fact that he was a debater.
5. His dark arms, watch and spectacle tan lines.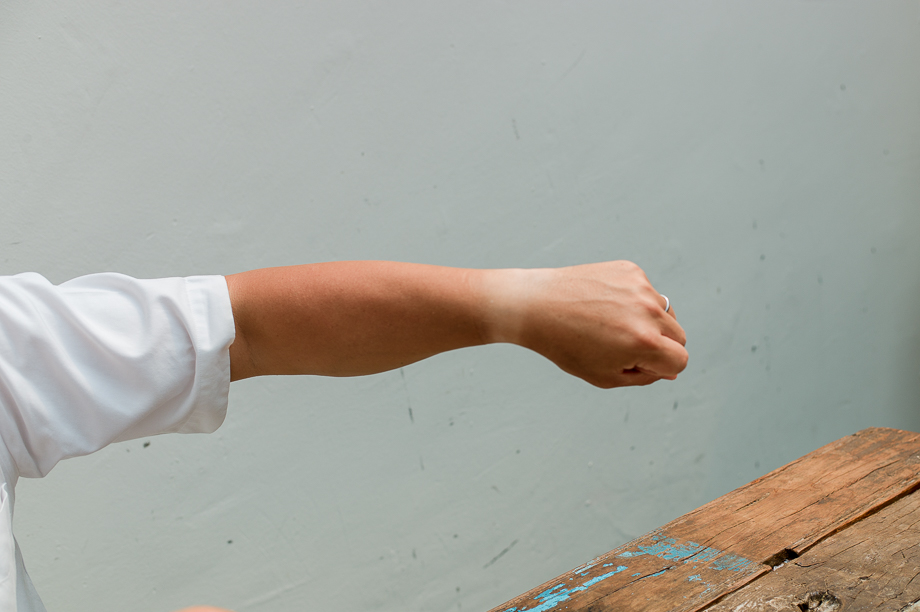 Nope, that watch tan isn't from sports.
"That (skin tone) is from before I started campaigning, just five days ago! I have a funny (spectacle tan) line here too, right?"
His newfound colours have also caused some concern at home.
My wife turned up the other day with SPF 100. She said, "You're going to get skin cancer!
6. He does not like hum (cockles)
When asked what hawker food he'd be, Tong said immediately he would be a plate of char kway teow with lots of chili (but no hum, please) because "it's iconic, it's not the same, and it's so sinful you can only have it once in a while".
How often is once in awhile? Once in about five or six months (whut, why so long between), he says.
In fact, he loves it so much that he couldn't help but recommend his favourite store to us.
There's a stall at Hong Lim, on the second floor, called Outram Char Kway Teow that is run by an old couple. There is always a queue and it stretches into the next lane, always, especially between 11am and 2pm.
Top photo by Jamie Chan.
Click here to go to our GE2015 microsite for the juiciest election-related news on Mothership.sg.