Want to feel the wind in your hair and sun on your face?
Or feel the intense pain on your hands when you ride through the rain as you get pelted by droplets of water?
Well, now you can without even owning a motorcycle because the real bike-sharing is here in Singapore.
Powered by Tribecar
Tribecar is a car rental company that rents out different types of vehicles.
They claim to be the only car-sharing model in Singapore equipped with the private hire insurance and complies with Land Transport Authority regulation, allowing their cars to also be used for commercial purposes.
This means that you can use their vehicles for food delivery jobs, for example.
Now, Tribecar has extended their fleet to include motorcycles, which, like bicycle-sharing services, allow users to rent one two-wheeler by the hour.
Nice lah! But please.. guys don't treat this like how you guys treat the ofo bikes 🤦🏻‍♂️ Not referring to everybody 💁🏻‍♂️ pic.twitter.com/mRxPo0s0ra

— رحمة هداية (@rahmatidayat97) September 12, 2018
This can be done cheaply, starting from less than S$0.50 an hour during the designated "super off-peak" hours.
To ride, one will have to sign up with the Tribecar website, browse for an available motorbike in the area, confirm their payment details before collecting the vehicle.
So far, the motorcycles are located throughout the island, though of course, this is subjected to availability.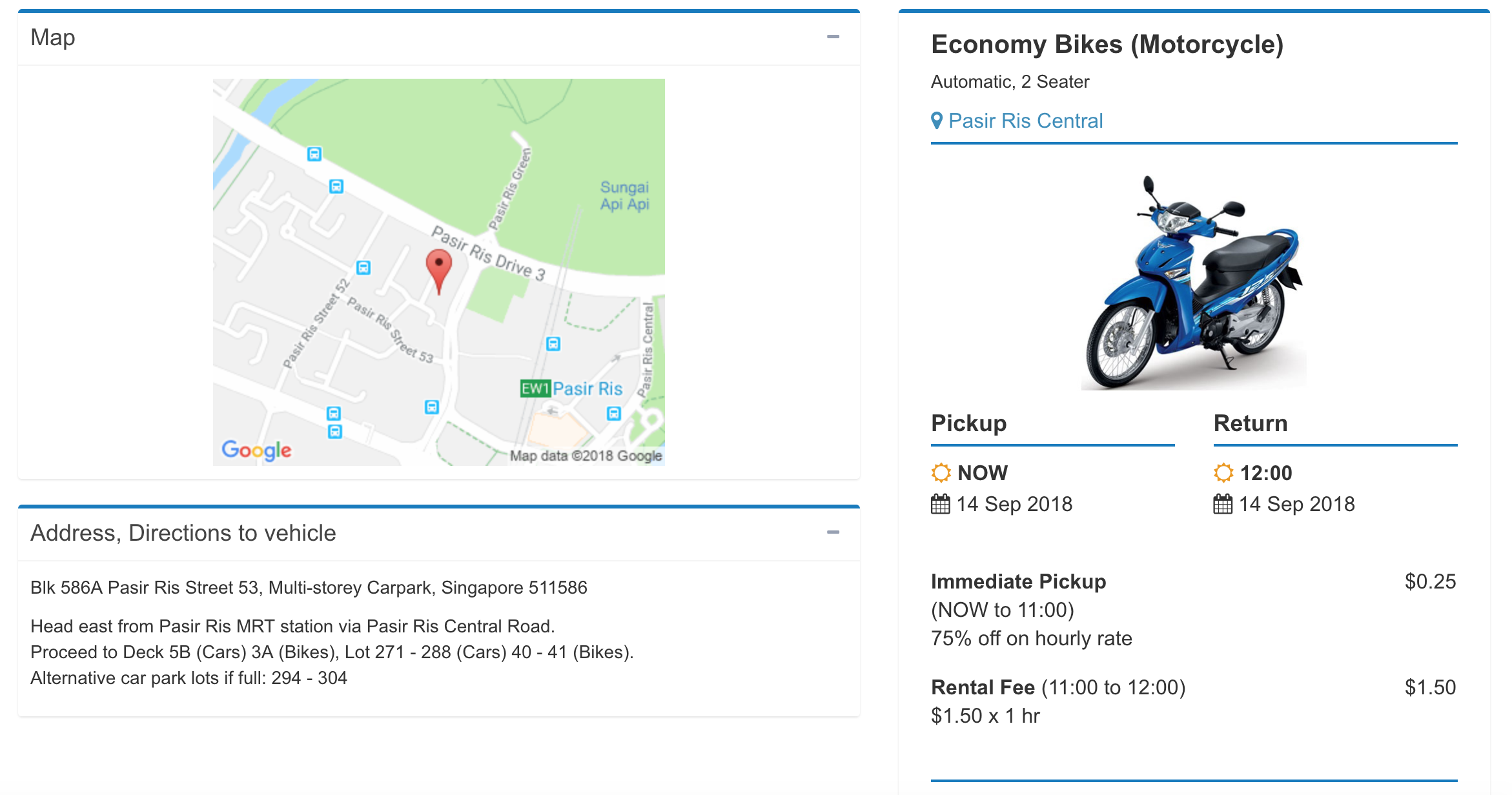 The vehicle can be unlocked using the web app on your phone, and the keys to the motorbike are located in the seat compartment.
Reservation will start exactly on the booking time made, and not when the motorbike is unlocked.
Conditions
Riders (or hirers, as referred to in the terms and conditions) need to fulfil a few requirements before renting and riding a motorcycle from Tribe car.
The rider must be
 Between 22 and 65 years old

Singaporean holding a valid Singapore Driving Licence with a valid debit or credit card

or

An individual holding an employment pass with at least six months of validity, holding on to a valid International Driving License (printed in romanised characters) with a valid credit card

At least two years of driving experience.
Singaporean riders will have to pay a deposit of S$100 via a credit or debit card, while those holding an employment pass will have to pay S$1,000 via local bank transfer only.
For approved New Drivers, an additional deposit of S$100 is needed.
[related_story]
Top image via Tribecar's Facebook post
If you like what you read, follow us on Facebook, Instagram, Twitter and Telegram to get the latest updates.