Singapore has always been an immigrant society.
Back in the day, at the turn of the 20th century, people who came here were mainly men from China and India. They sought out jobs at rubber plantations and tin mines or worked as rickshaw pullers, ever since Singapore started developing around the 1870s.
With so many men around, there was a need to maintain social order. The British colonial rulers at the time achieved that by allowing prostitution to thrive at designated brothels.
Singapore's gender ratio was very lopsided then, with only one female to 14 males between 1860 to 1930.
And the women who were allowed into Singapore in droves were Chinese and Japanese.
The four Japanese women showed in the postcard above, dated 1904, were prostitutes residing in Singapore.
Known as Karayuki-san, they had their photo taken together, allowing them to share the cost among themselves as photography was pricey at the time.
Records showed prostitutes operated for decades
The existence of Karayuki-san (meaning "going to China" or "going overseas") in Singapore dates back to 1877. Official Japanese data show that there were two Japanese-owned brothels on Malay Street with 14 Japanese prostitutes then.
As with all vital trades, this number grew subsequently, although details always differed.
Singapore's official records suggest 633 Japanese women were operating in 109 brothels by 1905.
The number is believed to have been far larger at over 1,000, though, with the inclusion of unlicensed prostitutes.
Other records suggest that a survey conducted in 1905, in the vicinity of Malay Street, Malabar Street, Hylam Street and Bugis Street counted 91 Japanese brothels, with close to 500 Karayuki-san.
More telling, though, was that at the turn of the 20th century, Singapore had a strong community of Japanese expatriates.
When the 1917 Alien Registration Act was enforced, it recorded 1,805 Japanese males and 947 females. The majority of these women were believed to have been prostitutes.
The number of Japanese sex workers here peaked at 2,086 in 1906, and was likely a result of famine the year before in regions in Japan. Most prostitutes here came from these places.
Who were the Karayuki-san?
Karayuki-san were Japanese peasant girls who mostly hailed from the Shimabara Peninsula in Nagasaki Prefecture and Amakusa Islands in Kumamoto Prefecture.
They were sold into the flesh trade in colonial Singapore and other parts of Southeast Asia, where a century ago, Japan was a poor country and the economic development in Meiji Japan (1868-1912) widened the gap between cities and the countryside, sparking a growth in migrant workers.
Shocking as it might be, Japanese women then became one of Japan's major exports, along with silk and coal. Their remittance helped fuel the Japanese economy.
Besides Singapore, Karayuki-san together with other Japanese women, served as prostitutes elsewhere, including Siberia, Hawaii, Australia and some parts of India and Africa.
These women were said to be the third-biggest foreign currency earner for Japan at the turn of the 20th century.
However, the Japanese sex trade began its decline in 1921, when the Japanese Consulate General in Singapore decided to ban Japanese brothels.
That, in turn, came after Japan began to view Japanese prostitutes working overseas as a national shame — particularly in light of the country's international profile moving up on the back of its victories in the Sino-Japanese War in 1894, the Russo-Japanese War in 1904 and also after it sided with the victors of World War I.
There was also a reduced need for foreign currency earned by Karayuki-san due to successful Japanese business operations in British-ruled Malaya (now known as Malaysia).
Many Karayuki-san, as a result, were forcefully repatriated to Japan.
Despite this, though, many others managed to stay in Singapore or move to other parts of Malaya, illegally selling themselves.
Although they had long ago stopped prostitution, some former Karayuki-san continued living in Singapore even as late as the 1980s.
Many who died here were buried in the Japanese Cemetery Park located at Chuan Hoe Avenue in Yio Chu Kang in unnamed graves, in order to avoid shaming their families at home.
Bugis Junction area used to be a red-light district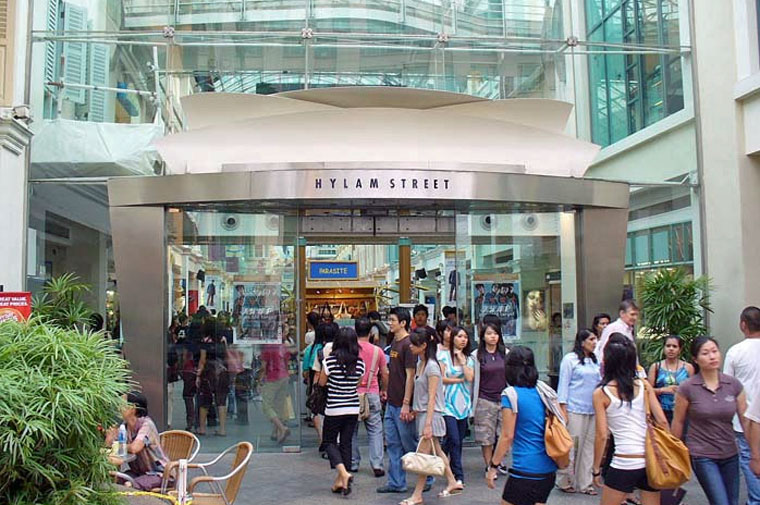 Malay Street and the nearby streets of Malabar, Hylam and Bugis grew into a big red-light district back then.
These streets no longer exist. They are now part of the Bugis Junction shopping mall. The area is bordered by Victoria Street and North Bridge Road to the north and south, and Middle Road and Rochor Street to the west and east.
What cannot be disputed though, is that combined with the far larger Chinese-dominated red-light district and other similar districts catering to different ethnic groups, Singapore was known as one of the centers of the sex industry in Asia in those days.
Top photo via
If you like what you read, follow us on Facebook and Twitter to get the latest updates.
If you like what you read, follow us on Facebook, Instagram, Twitter and Telegram to get the latest updates.