The Singapore Democratic Party (SDP) announced on Sunday morning their secretary-general Chee Soon Juan as their candidate for the Bukit Batok SMC by-election.
Since the news of ex-PAP MP David Ong's sudden resignation from his post and the party on Saturday afternoon that took everyone by surprise, the SDP has moved swiftly, announcing that same day they were going to contest the by-election, whenever it was going to be called, and long before any other party or person had responded.
Click below to watch the video of the press statements three of their members, including Chee, shared with the media on Sunday: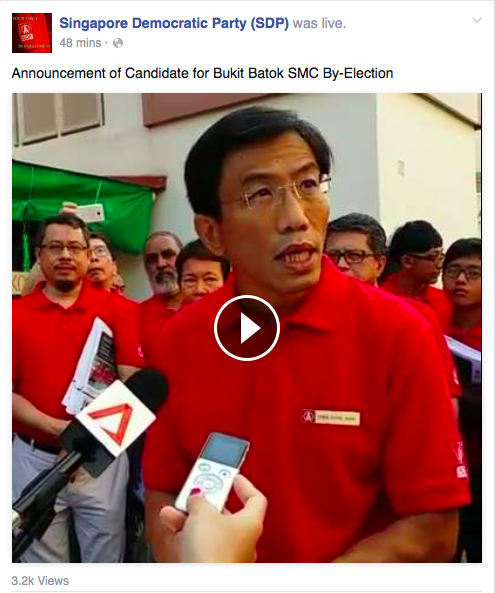 But if you haven't got the 12 minutes to spare, here's what they said in point form:
- The SDP last contested Bukit Batok in GE1991, where their candidate, Kwan Yue Keng, garnered 48.2 per cent of the valid vote, and so are pleased to return to contest this by-election.
- In GE2015, their candidate, Sadasivam Veriyah, garnered about 26.4 per cent of the vote, but considered their performance as having done "very well" despite a three-cornered fight.
Here's what Chee said in his declaration statement for candidacy:
He plans to "ensure the efficient management of Bukit Batok Town Council", with a goal to outperform his incumbent counterpart.
He wants to "pioneer a new model" of town council management involving residents to a greater degree, and says he will:
a) Announce a transition team to handle the transfer of the town council within three working days;
b) Not engage a managing agent, and personally see to the effective running of the town council;
c) Retain the bulk of existing town council staff to allow the new team to "hit the ground running"; and
d) Submit a comprehensive report of handover processes, show a clear budgetary plan, file the first interim financial report within the first 100 days, and produce a 12-month work plan for operations, among other things.
He basically spent great effort in talking about how he would run the town council, also pointing to detailed plans of how his party plans to manage the handover and run one on his party's site.
And it looks like his campaign has begun — this video has been up on the SDP's website since last weekend:
" width="560" height="315" frameborder="0" allowfullscreen="allowfullscreen">
You can read Chee's full statement of his candidacy here. We're pretty impressed by how fast they're keeping their online presence updated with the news.
With additional reporting by Ng Yi Shu
Related articles:
SDP's Chee Soon Juan may contest in Bukit Batok by-election but so are 2 other opposition candidates
Chee Soon Juan confirms SDP will contest in Bukit Batok SMC by-election
Ex-PAP MP David Ong shielded from scrutiny by social media attention & unique political system
If you like what you read, follow us on Facebook and Twitter to get the latest updates.
If you like what you read, follow us on Facebook, Instagram, Twitter and Telegram to get the latest updates.