Tharman Shanmugaratnam, who is easily the coolest man in the PAP — if not, the whole of Singapore, has admitted he pretty much hated studying and was an aimless chap in his youth.
This was revealed in a somewhat intimate and candid interview with Tabla!, on Jan. 29, 2016, which surprisingly featured a photo of his wife and four kids too.
Tharman, who is Deputy Prime Minister and Coordinating Minister for Economic and Social Policies and who is usually very private, was quoted as saying he did not want to follow in his father's footsteps as a medical professional when he was young:
"Studying medicine would have required time and academic effort, and I didn't have that at the age of 17 or 18. I was completely disinterested in my studies at the time, and was put off by the fact that medicine would require six years of hard study."
[...]
"In those days we didn't have a lot of career advice or career counselling. I had done economics in A levels and although I did double mathematics, I decided I wasn't going to go into engineering. But I never had a job in mind, no ambition in terms of career."
Even though he did not harbour any ambitions and things have turned out better than expected now, he was certainly sports-mad back then.
The Anglo-Chinese School (ACS) boy could play hockey, football, cricket, athletics, volleyball, sepak takraw and rugby, to name a few sports.
However, he faced a major issue with his health when growing up.
A 17, he was diagnosed with a severe case of anaemia, which was affecting his heart.
He continued to play for the premier hockey league for Singapore Cricket Club and Singapore Recreation Club despite his condition, but he had to consume 25 pills a day for more than four years because his body was not absorbing several nutrients.
Eventually, he effectively had to bid adieu to sports.
This abandonment of his sporting ambitions has been described by him as the "biggest setback in my life", according to the man who once had a lot of hair.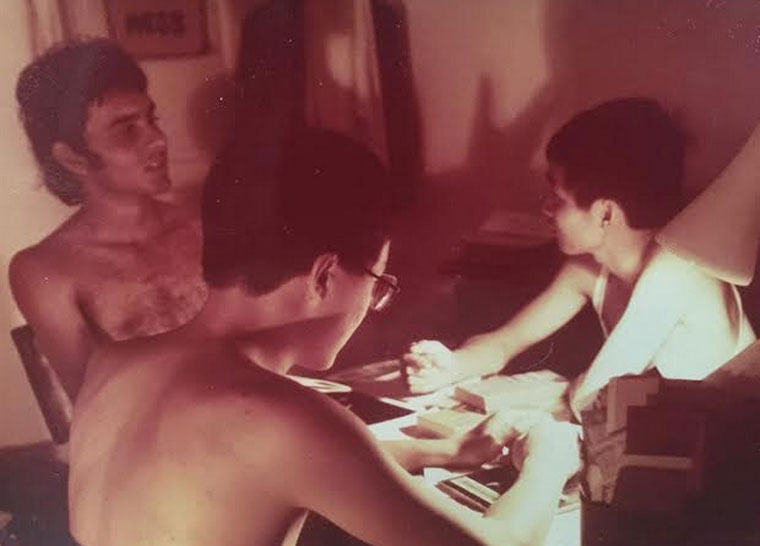 The 58-year-old closet poet said his interest then turned to reading and he developed a social conscience:
"I started reading more. I had a very strong interest in social issues after my pre-university years, so my reading was mainly about society and politics. I became quite driven by an interest in society."
Ironically, for someone who did not like studying, he proceeded to do well enough in his A levels at ACS to earn a place in the London School of Economics and graduated with a BA in Economics.
He went on to Cambridge University to do his Master's in the same discipline.
He spent most of his early professional life at the Monetary Authority of Singapore (MAS), where he was its managing director and worked under civil servants J.Y. Pillay and Lim Siong Guan.
He subsequently took up an MAS scholarship to study Public Administration at Harvard University.
The natural politician in him found its bearing and in 2001, he was elected MP for Jurong GRC and went on to serve as Minister of Education and Finance.
Said the man who did not like to study but who became Education Minister:
"I actually enjoy politics, both as a Member of Parliament and as a minister. Part of the reason is because I was always interested in politics from my student days. I spent a lot of time on student activism when I was in the UK."

"I also enjoy chatting with people, listening to them and trying to figure things out with them. You must enjoy it. If you don't enjoy politics, it can be a chore, or a cloud in your mind. But if you enjoy it, it keeps you going. Everything becomes an opportunity to help someone, an opportunity to understand an issue better so that we can find a solution, or do something novel in the community."
[...]
"I really enjoyed working with teachers and principals, who were so well motivated. It is a tremendous asset to have a well-motivated teaching force. People who themselves are willing to learn new skills, and to shape changes in the school, so they can do the best for their students."
Funnily, his outlook on education in Singapore and for his own children are the same.
On Singapore education:
"You can't impose things from the top. That's the key ingredient in a successful education system — the quality and motivation of our teaching force. I found it very rewarding, but it is also very different from other vocations because you have very little certainty of success in what you set out to do.
On his kids:
"My father told me at the end of my Pre-U years that I have to find my own way in life. And that is my attitude as well towards my children."

"Encourage them in whatever they are doing. Let them do what they enjoy. Encourage them to take it seriously, whatever it is they enjoy, and trust that they will find their own way in life. You have got to trust them."
The interview ended on a strangely portentous note.
Tharman, who is married to Jane Yumiko Ittogi, a lawyer by training, was asked how he would like to be remembered.
He said:
"As someone who worked with others, his colleagues and grassroots leaders, to make a better society, with hope for every individual. We each can only do so much in our short span of life. You've got to do the best you can. If I can be remembered as someone who served Singaporeans well, that is enough reward."
No, dear sir, you will be remembered by your people as the man who is prime minister material if not for ______ (fill in your own blank).
Related articles:
Tharman Shanmugaratnam the poet is something almost nobody knows about
Watch how DPM Tharman single-handedly turns a boring tree planting event into an immensely fun one
DPM Tharman pays tribute to David Bowie on Facebook, reveals his love for the written word
Tharman Shanmugaratnam's Jurong GRC team outdid Lee Hsien Loong's Ang Mo Kio GRC team for best result
DPM Tharman's rally speech is the only reason why people still have hope in PAP
Top photo by MCI
If you like what you read, follow us on Facebook and Twitter to get the latest updates.
If you like what you read, follow us on Facebook, Instagram, Twitter and Telegram to get the latest updates.