Plenty of stewing has been done over the recently-concluded SG50 General Election in Singapore, and everyone is almost painfully aware of how overwhelmingly well the ruling People's Action Party has performed.
Just how much better did they perform, though?
We already know who scored the A1s — PM Lee Hsien Loong, DPM Tharman Shanmugaratnam, Ministers Lim Hng Kiang, Chan Chun Sing and Gan Kim Yong.
We will now check out the 10 most-improved performers at this year's polls to see who they are and why they saw such a large increase in vote share:
10. Ang Mo Kio GRC — 9.3 per cent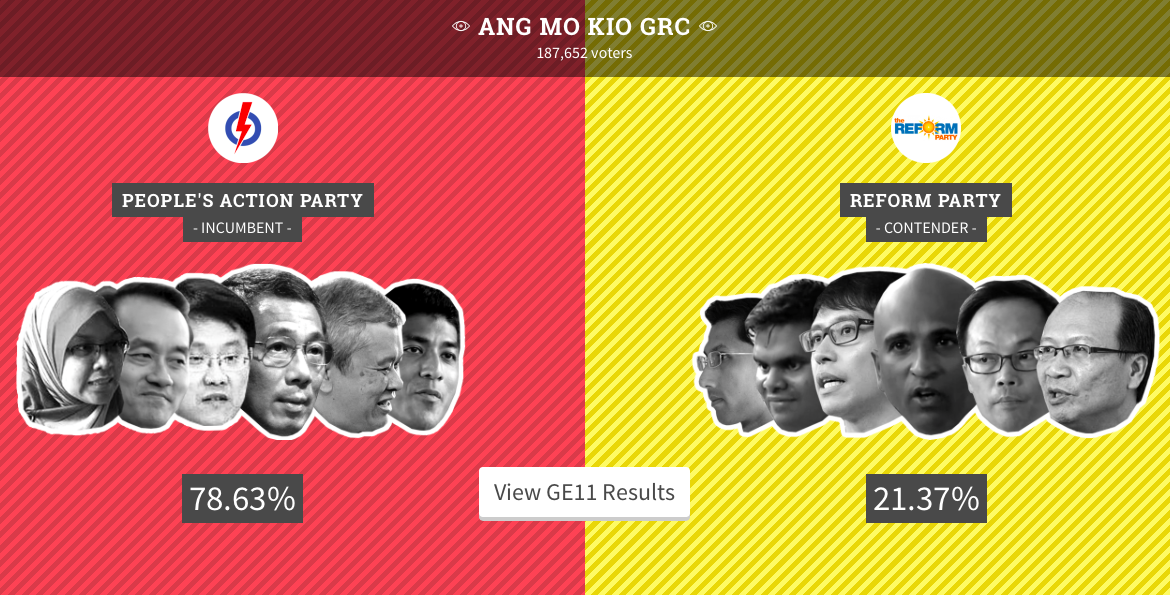 In 2011, Prime Minister Lee Hsien Loong's team scored 69.33 per cent of the valid vote against the then-fielded Reform Party team (consisting of Osman bin Sulaiman, Mansor Rahman, Arthero Lim, Alex Tan, Lim Zi Rui and Vigneswari Ramachandran), all of whom were relative unknowns.
This time round, the Reform Party fielded several faces familiar to the public — CPF blogger Roy Ngerng, human rights lawyer M Ravi and Hong Lim Park devotee Gilbert Goh alongside two unknowns Jesse Loo and Siva Chandran. The only repeated name from 2011 was Osman bin Sulaiman.
Our suspicion: Ang Mo Kio voters weren't keen to have Ngerng, M Ravi or Goh representing them in parliament, even in the event that they initially planned to cast a protest vote against the PAP. And with regard to the rest, have you listened to Loo, or indeed any of the above-mentioned three, speak at their rallies?
Besides, it would take a significant amount of anger to vote against PM Lee — even if there are a few of his running mates whom voters may not entirely like who are riding on his long coattails.
9. Radin Mas SMC — 10.15 per cent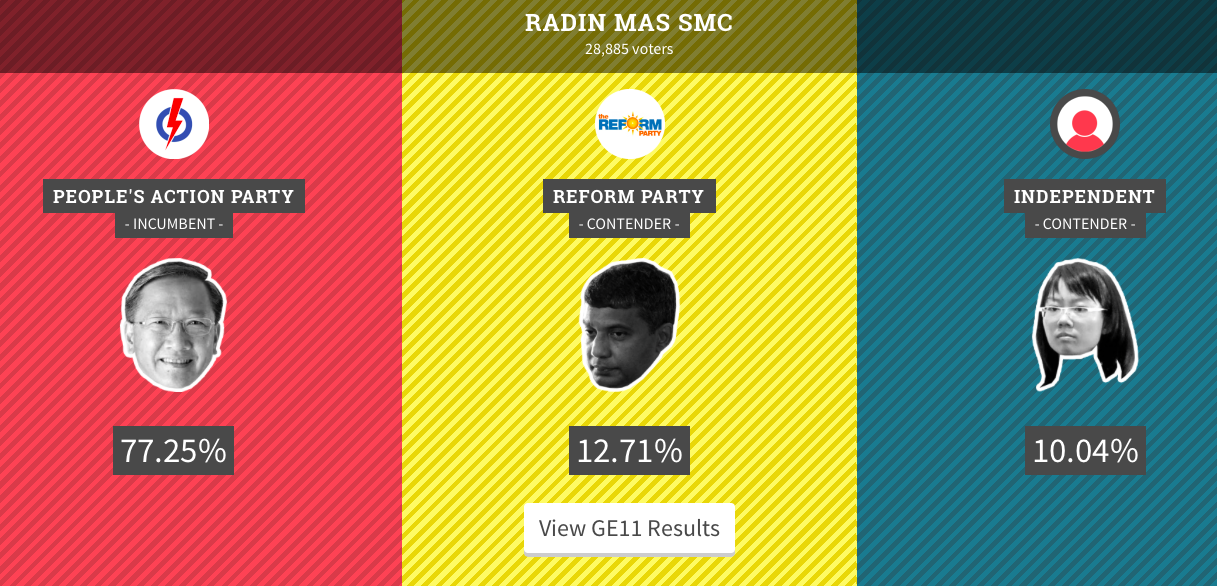 The PAP's Sam Tan in 2011 defeated Yip Yew Weng from the National Solidarity Party quite decisively (with 67.1 per cent of the valid vote). This year, he managed to make strong gains at the polls even though he faced one of this election's two three-cornered fights in his constituency. In fact, he was the top SMC vote winner.
Our suspicion: As it is, Kumar Appavoo is quite an unknown, even among the Reform Party candidates. Han Hui Hui's entry to the fray could have turned voters off choosing the opposition (or independent candidate) completely, all while Tan, a second-term MP and Minister of State, continued to build on his familiarity with residents over the past nine years.
8. West Coast GRC — 12 per cent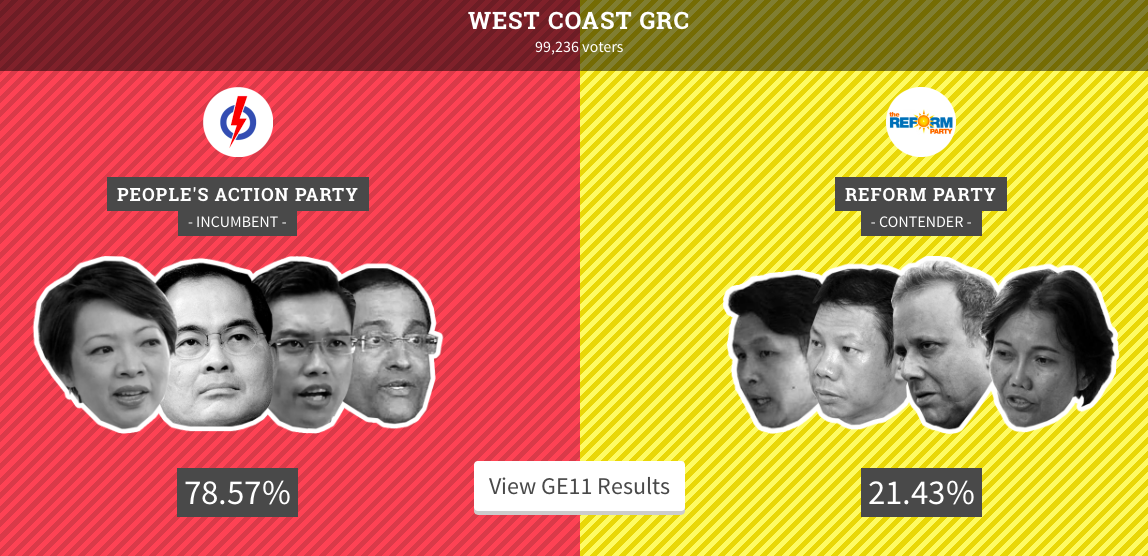 With the West region being a ruling-party stronghold, the PAP's team in West Coast already performed well enough in 2011, commanding 66.57 per cent of the vote share. Yet, they managed to vastly improve their performance to become the third-best performing constituency in this round of polls.
Fun fact, by the way: this is Lim Hng Kiang and S Iswaran's third time facing a contest — they enjoyed walkovers in the two elections preceding 2011 after facing a contest in 1997, when West Coast was formed.
Our suspicion: Kenneth Jeyaretnam again failed to convince voters that he is the true political successor to the late JBJ, perhaps this time even more so because of his antics during the hustings. Perhaps the inconsistency of the team Jeyaretnam fielded contributed to this as well — only Andy Zhu also stood with the RP's slate in 2011 apart from Jeyaretnam himself, while running mate Noraini Yunus joined the RP from the Democratic Progressive Party, which she in turn transferred to from the National Solidarity Party.
7. Jurong GRC — 12.32 per cent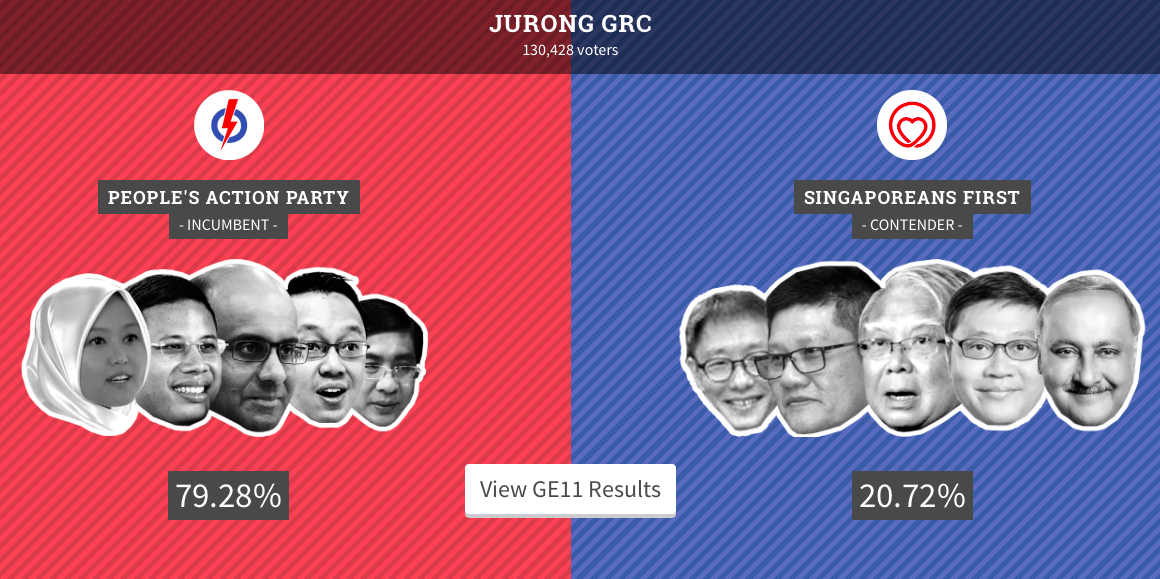 The landslide win for Deputy Prime Minister Tharman Shanmugaratnam's Jurong GRC was practically a given in this election, given his sheer success in fronting the PAP's campaign alongside PM Lee. In 2011, his team garnered a respectable 66.96 per cent of the valid vote, but this saw a 12.32 per cent jump to almost 80 per cent, catapulting his team to the top of the table in terms of performance in the recently-concluded polls.
Our suspicion: Apart from the Singaporeans First party being a debutante in this election, they also fielded in Jurong GRC what we're going to call a "suicide squad" of first-time candidates — David Foo, Sukdheu Singh, Tan Peng Ann, Wong Chee Wai and Wong Soon Hong. I mean, come on, you could've at least tried to give Tharman more of a challenge.
6. Mountbatten SMC — 13.22 per cent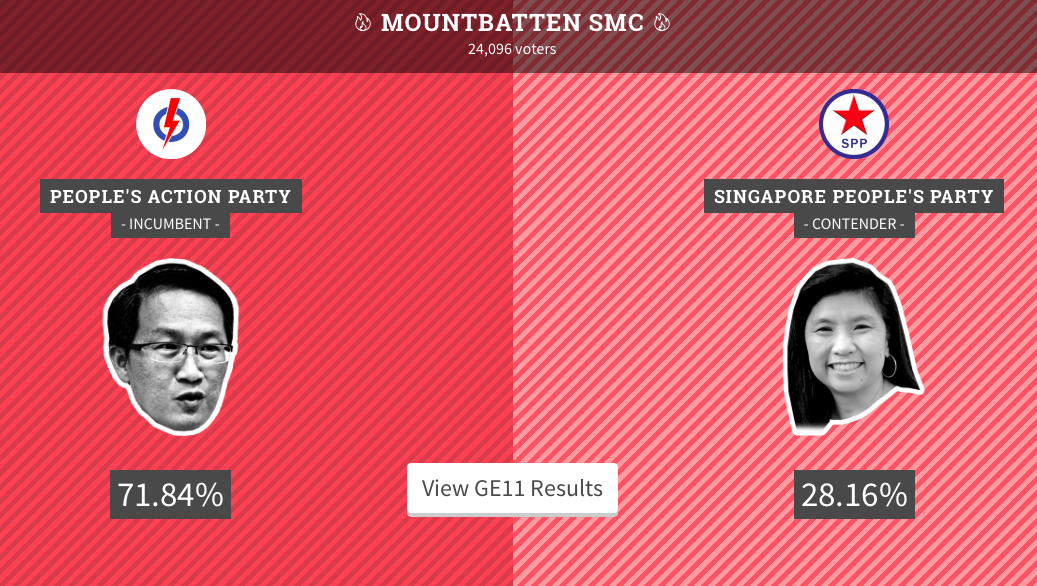 Now this was an interesting one for us — the 2011 election saw the meeting of the PAP's Lim Biow Chuan with the then-National Solidary Party's Jeannette Chong-Aruldoss. Back then, Chong-Aruldoss showed promise, but eventually at the polls failed to capture Mountbatten voters' interest, with Lim scoring a respectable 58.62 per cent mandate.
This time, oddly enough, she performed even worse despite contesting there a second time. Chong-Aruldoss found her vote share fall further, from 41.38 in 2011 to 28.16 per cent this year.
Our suspicion: It's possible residents in Mountbatten were watching Chong-Aruldoss switch from the National Solidarity Party to the Singapore People's Party, and upon Chiam See Tong's exit from politics, the SPP as a whole witnessed a significant drop in support at the polls in constituencies where they stood.
Other than that, we feel it's a bit unfortunate that she would see such a steep drop in her performance, especially considering that the few times Mountbatten made headlines were dominated by Lim criticising Chong-Aruldoss's campaign.
5. Tampines GRC — 14.84 per cent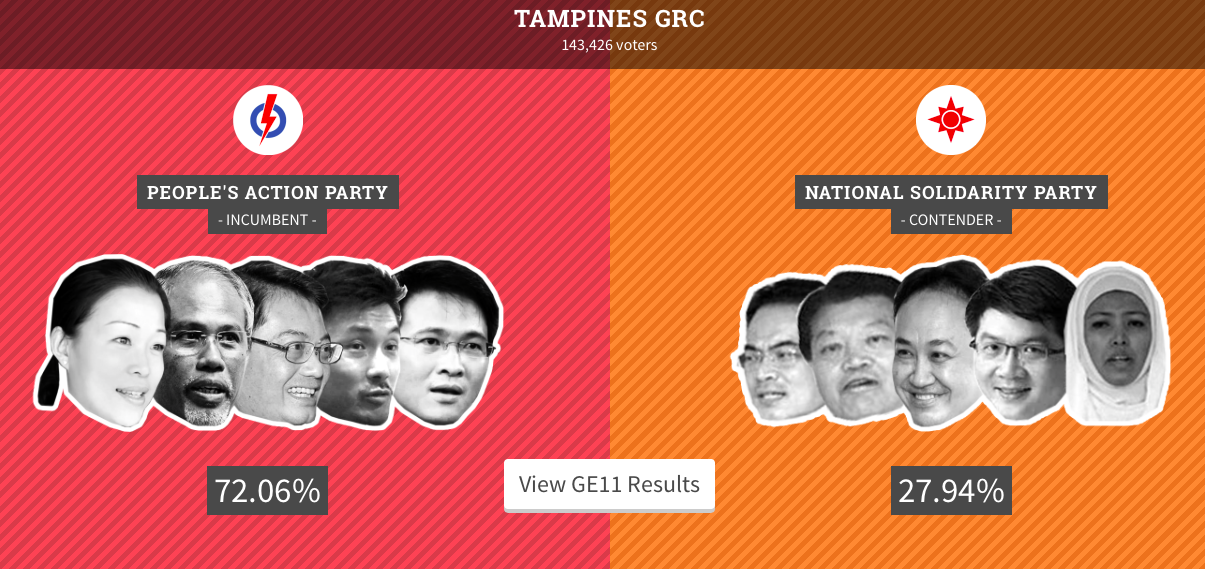 The PAP's Tampines team led by Education Minister Heng Swee Keat faced one of the closer fights in the last election, garnering 57.22 per cent of the valid vote against the NSP team, led by then-secretary general Goh Meng Seng.
This time round, though, the team of Heng, Masagos Zulkifli, the ever-photogenic Baey Yam Keng and new faces Cheng Li Hui and Desmond "Always Here For You" Choo, managed a convincing 72.06 per cent victory over the NSP team led by the party's latest sec-gen Lim Tean.
Our suspicion: Back then, we think the NSP carried greater credibility as a party thanks to members like Hazel Poa, Tony Tan, Jeannette Chong-Aruldoss and Nicole Seah. Now they're gone, though, the party's reputation — in particular thanks to the likes of Cheo Chai Chen and Choong Hon Heng — is pretty much down the toilet, effectively dooming any semblance of chances they had at the polls. Especially thanks to Choong.
4. Pioneer SMC — 15.61 per cent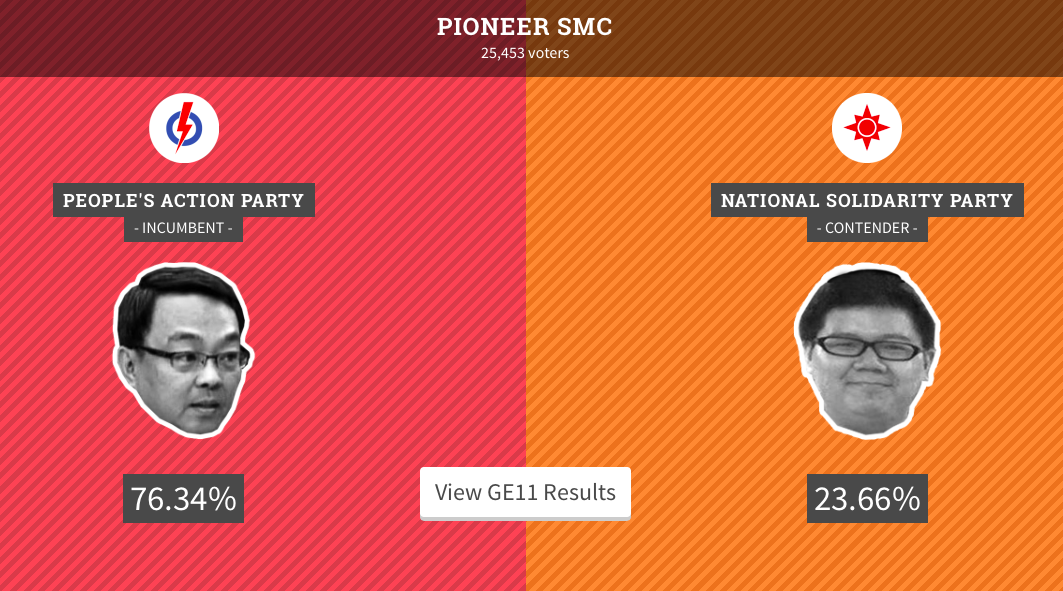 Previously, the PAP's Cedric Foo faced off against the NSP's Steve Chia when this SMC was first formed ahead of the 2011 general election, earning 60.73 per cent of the valid vote — quite a respectable figure already. Foo managed a massive increase in vote share in this latest poll, however, against newcomer Elvin Ong, who made his political debut with the Singapore Democratic Alliance in 2006, and then stood on the NSP ticket in Jurong GRC in 2011.
Our suspicion: Again, Pioneer, being firmly entrenched in the West, is a certain PAP stronghold. We think the sinking in vote share for Ong is not as much his fault as an individual as it is of his parent party, whose reputation currently, as mentioned earlier, has really fallen in the eyes of voters. Moreover, former NCMP Chia was probably a more formidable candidate than newcomer Ong.
3. Chua Chu Kang GRC — 15.69 per cent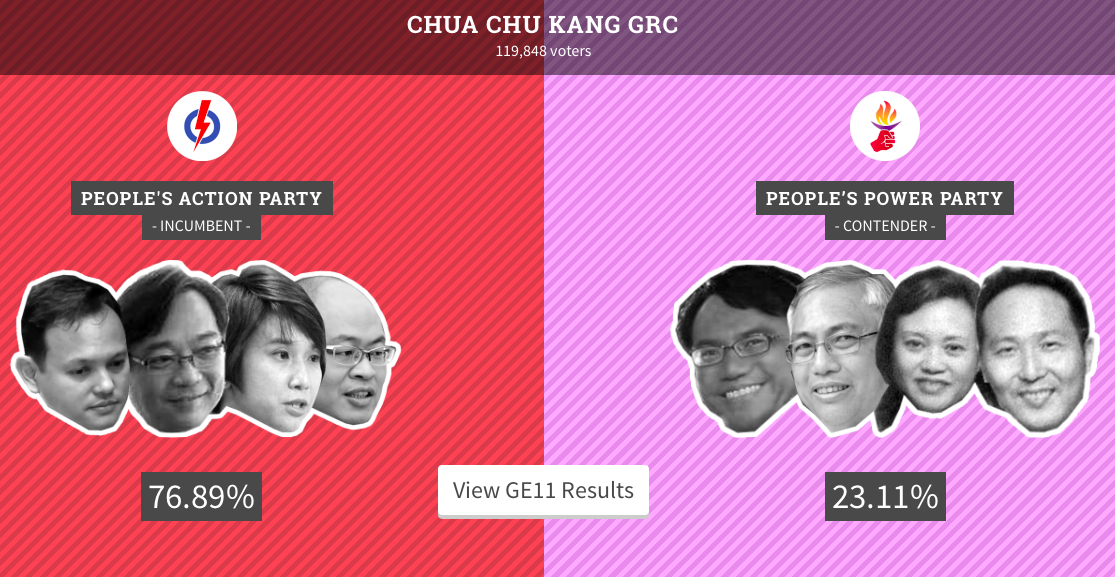 Health Minister Gan Kim Yong led the PAP's Chua Chu Kang team to a fairly convincing victory in 2011, once again over the NSP, with a respectable 61.2 per cent of the votes. This time, the same folks sans Alex Yam and Alvin Yeo, and plus new face Yee Chia Hsing, overcame the newly-formed People's Power Party team led by ex-NSP sec-gen Goh Meng Seng with a massive increase in vote share — close to 77 per cent of the votes.
Our suspicion: Choa Chu Kang voters are unlikely to remember Goh, who last contested in Tampines. And Goh is the most recognisable face of the PPP. As Goh noted after his defeat, PPP is a two-month-old party that had not mounted a branding campaign or enjoyed much media exposure.
2. Potong Pasir SMC — 16.05 per cent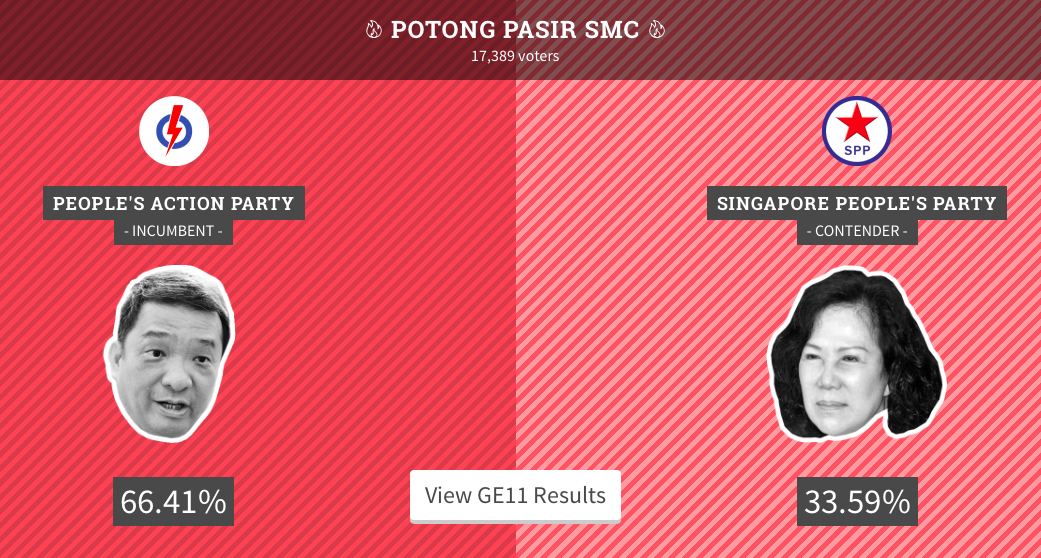 We were also pretty taken aback by the magnitude of this outcome — Lina Chiam, wife of legendary opposition parliamentarian Chiam See Tong, saw the closest-fought battle (possibly ever in Singapore's history) against the PAP's Sitoh Yih Pin, who after a decade finally succeeded in wresting the ward from her, by a precious 114 votes.
(With 242 spoilt votes, by the way, this fight informs you more than any other that your vote counts.)
Our suspicion: The glamour of voting for Chiam has all but fizzled out following the retirement of her husband from politics. He, after all, is the well-loved and respected icon of opposition politics. His wife appears not to have inherited his political stardust despite some credible parliamentary performances as an NCMP. Yet, this also surely points to the satisfaction Potong Pasir residents must have with all the long-overdue upgrading work Sitoh has carried out in his first term as MP there. Facilities and upgrading trounces opposition representation for these folks, the majority of whom perhaps are saying they've had enough of "taking one for the team".
And finally, the constituency to make the most gains in GE2015 is:
1. Bishan-Toa Payoh GRC — 16.66 per cent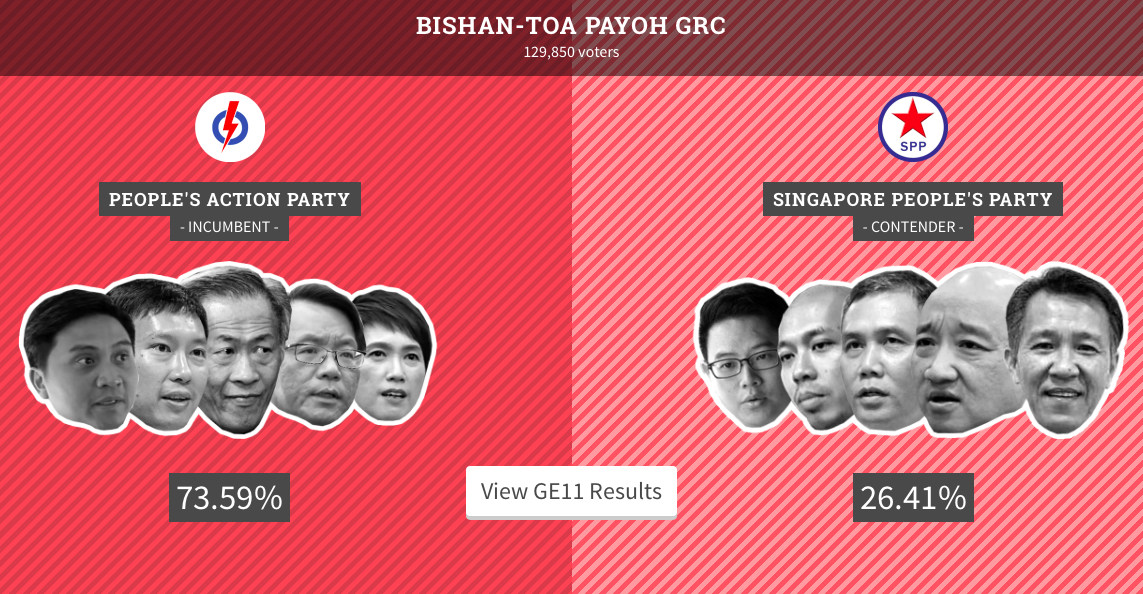 Now how did this happen? 2011 saw then-Education Minister Ng Eng Hen and then-Home Affairs Minister Wong Kan Seng lead the PAP team there to a fairly slim victory (56.93 per cent) against opposition veteran Chiam See Tong, who for the first time ventured out of Potong Pasir to take on Bishan-Toa Payoh with a team of pretty convincing-looking candidates in Benjamin Pwee et al. Now that Chiam isn't on this team anymore, though, they took a massive hit of almost 17 per cent of the votes going toward the ruling party.
Our suspicion: SPP without Chiam See Tong just isn't a party to be reckoned with anymore. To make matters worse, in Bishan-Toa Payoh, the media played out the troubles the party had with fielding enough candidates, to eventually fielding a joint team with party defectors Pwee and Mohamad Hamim bin Aliyas.
What followed were disputes and conflicting statements over how many candidates each party should field, and awkwardness at rallies they held together. It was all very weird for those of us watching it (and there weren't many people interested enough to do so), and eventually informed voters that this group isn't stable and can't be relied upon.
That's why even though Ng and Senior Minister of State Josephine Teo were the only familiar members of the Bishan-Toa Payoh team, they still made the greatest gains in this election.
Top image: Screenshot from microsite.
If you like what you read, follow us on Facebook and Twitter to get the latest updates.
If you like what you read, follow us on Facebook, Instagram, Twitter and Telegram to get the latest updates.