Photo by Edwin Koo.
PAP candidate Tin Pei Ling is probably quietly confident of her chances in MacPherson, but we don't have to hand it to her on a platter.
Unfortunately, National Solidarity Party (NSP) candidate for MacPherson Cheo Chai Chen did just that.
The former NSP Marine Parade candidate in GE 2011 scored an own-goal with the following sexist remark. Speaking to TODAY at the NSP headquarters in Jalan Besar yesterday, he said
In general, mothers love their children, so they spend a lot of time with them. If voters choose her, she might focus more on her child than on her voters. This is her weakness."
Just to ensure that the hole he is digging for himself is impossibly deep, the former Nee Soon Central MP subsequently said 'bye bye' to the youth vote with the following remark:
"My Workers' Party opponent is inexperienced, and I will work hard to get the support of voters."
Did Cheo just dismiss youth (Bernard Chen is the youngest candidate fielded by the WP) as being inexperienced? Did he not know that Chen is one of WP's longest-serving members?
Chen, 29, joined the WP in 2006 and was previously legislative assistant to WP chief Low Thia Khiang and Aljunied GRC MP Muhd Faisal Manap.
In some quick thinking, Tin responded via a Facebook post (shared below) to score a few political points. She defended working mums on how "many mums face pressures to choose between motherhood and career".
She went on to defend the youngest candidate of the three-corner fight - WP's Chen - with her endorsement of youth. She said that youth should not be seen as a disadvantage, adding that it is good that "young Singaporeans are willing to stand up for their beliefs and work hard to achieve a better future for our country".
And Cheo's response to his earlier comments on Tin this morning?
"It was a joke. I did not mean it to be taken seriously", he told The Straits Times.
It seems that damage has been done for this joke, take a look at the top comments on this The Straits Times post on the matter: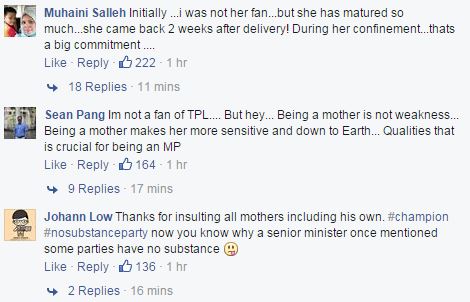 It also appears that the fastest fingers online or quickest responses may not belong to the youngest candidate, for Chen has yet to issue a response on the matter yet.
Related article:
5 observations of Tin Pei Ling and MacPherson SMC, four years on
Click here to go to our GE2015 microsite for the juiciest election-related news on Mothership.sg.
If you like what you read, follow us on Facebook, Instagram, Twitter and Telegram to get the latest updates.