Local climate advocacy group SG Climate Rally (SGCR) held its first physical rally since the Covid-19 pandemic on Sep. 23 at Hong Lim Park.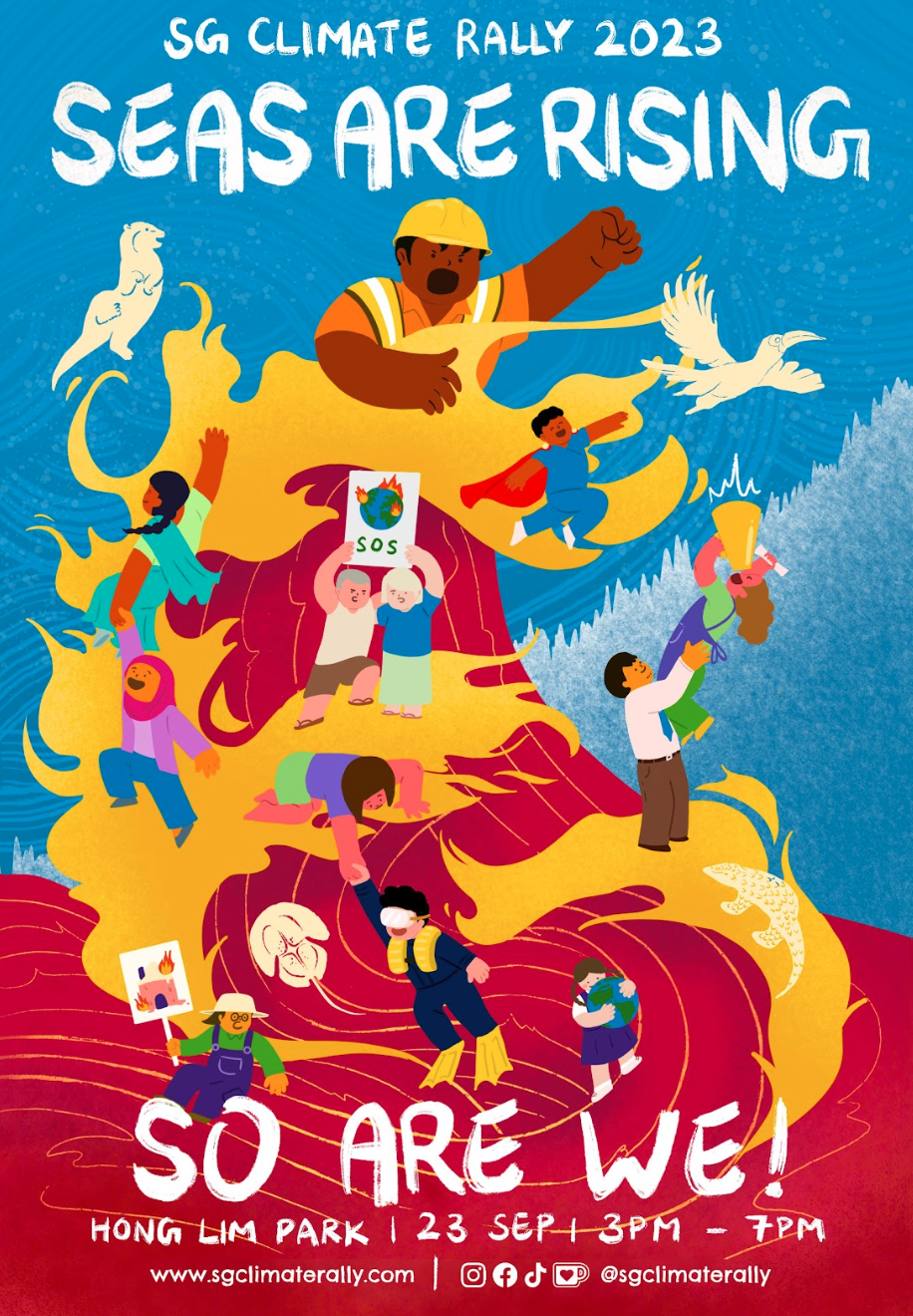 The rally called for a clear and inclusive roadmap towards the government's net-zero emissions target by 2050.
The team advocates for robust mitigation measures, biodiversity protection and empowerment of vulnerable populations.
"Climate change affects our everyday lives – from rising temperatures to our food supply chains, to oil and gas prices," Kristian-Marc James Paul, 29, a member of the organising team, said.
"This will impact people unequally. Not everyone can pay to avoid these effects," he added.
Speeches
The event featured speeches on the climate crisis from Singaporean activists, community leaders and subject matter experts.
The speeches linked the ongoing climate breakdown and "bread and butter issues" such as cost of living, healthcare and jobs.
Ho Xiang Tian, co-founder of LepakInSG, an environmental group, spoke about the need for stronger corporate climate action.
Nor Syazwan Bin Abdul Majid, the founder of Wan's Ubin Journal, a social platform that advocates for the conservation and celebration of the Orang Pulau community, culture, and heritage in Pulau Ubin, elaborated on the importance of indigenous practices as climate action.
"The roles, contributions and sacrifices that the Orang Pulau communities have made should be recognised," the 26-year-old said, adding that Singapore is "not just an island nation, but a nation of islands".
Madhu Ardhanari, a sustainability strategist and researcher, spoke about Southeast Asia's regional fight against climate change.
Former Nominated Member of Parliament (MP) Geh Min, an opthalmologist, talked about how the climate crisis impacted both human and planetary health.
Marlina Yased, a 45-year-old volunteer in a rental flat neighbourhood, emphasised how climate change disproportionately affects low-income residents.
"In rental flat communities, there is no aircon to keep residents cool in the heat, and flats are prone to flooding during heavy rainfalls," Marlina said.
"Our lives are being affected in very real ways. We need to call for urgent climate action to be taken immediately," she added.
"Postcards to My MP"
Stations such as "Postcards to My MP" allowed attendees to voice climate-related concerns to their respective MPs.
This programme first began at the 2019 SG Climate Rally, with 418 postcards sent to 80 MPs.
Seven MPs responded, including Minister for National Development Desmond Lee, MP Louis Ng, Emeritus Senior Minister Goh Chok Tong and Minister for Health Ong Ye Kung.
Community booths
Instead of  having a "die in" as a symbolic gesture at the end of the event, like what they did in 2019, the organisers set up booths to get participants involved in the rally.
Paul said they didn't want people to "expect that they're going to do a dying again", as they wanted to ensure people could be "pleasantly surprised by different things".
"The hope is that as the movement grows, and as our messaging or narrative also evolves. we want the activities to also evolve alongside us because we want everyone to be on the journey with us,"  he said. "We just wanted to keep things fresh."
The booths set up at the rally provided attendees with information on various local ground-up organisations.
Environmental groups, such as Student for a Fossil Free Future, LepakInSG, and civil society groups, such as PM.Haze and Migrant Mutual Aid SG also had booths at the park.
"We're working with diverse groups and volunteers to host a range of activities. everyone should be able to engage with climate justice in a way that is most meaningful to them at the rally," 26-year-old programme organiser Tan Heng Yeng said.
"We want people to feel empowered to take collective climate action after attending the rally," Tan added.
Turnout
Mothership observes that there are fewer people attending the rally as compared to 2019.
The number of attendees given at around 6pm was around 1,100 people. There were over 2,000 people in 2019.
When asked about the turnout, Paul said he thinks it's still decent.
"I think people coming here to try and understand climate justice is what is important," he said. "I think climate justice is not the easiest to understand."
Paul said he believes their work is still important, and they will continue to have more rallies while working with different communities.
"We also hope that the people here have been able to interact with all the different organisations," he said. "Hopefully after this, the people here go back and recognize that climate change is as important and connected to all these other socio-political issues."
The rally concluded in a closing action to convey a joint resolve to come together in the face of a climate-stricken future, led by theatre practitioner Ang Xiao Ting and embodiment facilitator Chloe Chotrani.
Top photos via Mothership/Zheng Zhangxin
---

If you like what you read, follow us on Facebook, Instagram, Twitter and Telegram to get the latest updates.