Follow us on Telegram for the latest updates: https://t.me/mothershipsg
Singapore needs to revisit having more naturalised footballers in our national team as one of the short-term fixes, said the acting president of the Football Association of Singapore (FAS) Bernard Tan, noting that Singapore has only one naturalised player over the past decade.
Tan was speaking to Mothership in an exclusive interview on Tuesday (May 23) about the various short-term and long-term fixes required to improve Singapore's overall football ecosystem.
He also shared some upcoming plans that the FAS and government have in store under the "Unleash The Roar" (UTR) national project.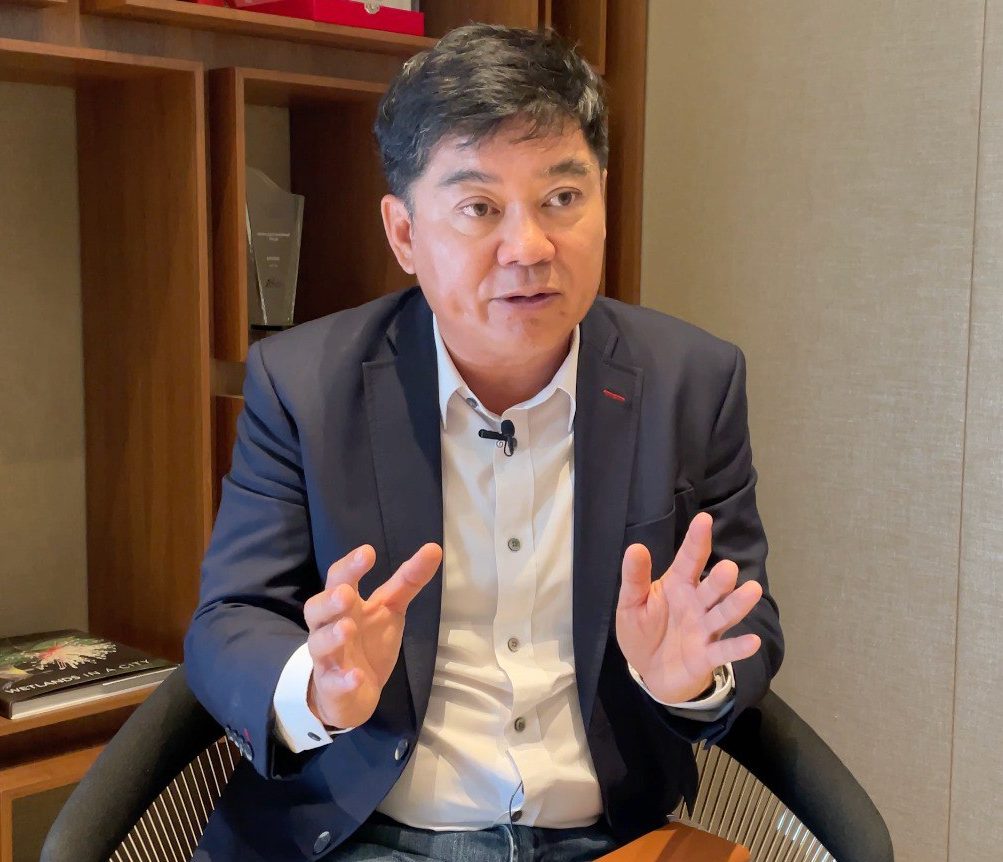 Short-term fixes
Having more naturalised talent
Singapore needs to bring in more naturalised players into its national team, said Tan.
He explained that the major footballing countries in Southeast Asia have benefited from "serious naturalisation", the most notable one being Malaysia.
Tan cited the 2022 AFF Mitsubishi Electric Cup group stage match between Malaysia and Singapore, which saw the Malaysians winning 4-1.
All of Malaysia's goal scorers were naturalised players:
Darren Lok from England

Stuart Wilkin from England

Sergio Agüero from Argentina (No, not that Agüero.)
Tan told Mothership:
"It does hit you that a lot of the [good] performances of [Malaysia's] 'A' team is due to the fact that there are naturalised talents. Philippines doesn't even hide it— almost everyone is a naturalised talent.

This is what we're up against. [Singapore has] only naturalised one [player], which is Song Ui-young, over the last 10 years. I think we need to revisit this."
While Tan emphasised the importance of naturalisation, he also noted the challenges of bringing in naturalised players into the national team.
For one, Singaporeans might not be ready to accept naturalised talents, even though some foreign players like Tampines Rovers' Kyoga Nakamura have a large local fanbase.
Tan also explained that FIFA's eligibility rules have changed in the past decade, making it increasingly difficult to register foreign players into the country.
According to FIFA's regulations, a player above 18 must have lived and played football in the country continuously for at least five years in order to be eligible for the national team.
Very few foreign players remain in the Singapore Premier League (SPL) for five years, let alone want to be naturalised, Tan said, adding that the prohibition of dual citizenship in Singapore also made things a lot harder.
"I think we have systemic issues but nevertheless, I think we can overcome them and make a concerted effort to try to naturalise players."
Tan believed that the Singapore national team needs about five to six naturalised players.
"Not all will be ready to play but if we have that kind of numbers, I think we would have a pretty strong squad," he added.
Training players to be more physically fit for international tournaments
Besides naturalisation, Tan said that changes need to be made to the SPL so that local players will be more physically fit and accustomed to the pace of international tournaments.
For example, the SPL needs to have more games in one season so that the league will be more "intense" for the players.
While there are quality players in the SPL, the tempo of the league games are low, said Tan.
"It's always my goal to raise the [SPL] to about 30 plus games [each season]. Today we are at 24 [games per season]. I need to add at least 10 to 12 more games."
After gathering feedback from the national players who were part of the recently concluded SEA Games in Cambodia, Tan found that they were not used to the high tempo and physicality of the other countries.
"If you are not playing at a high tempo and suddenly I throw you into the international game and it's very high tempo, you'll actually be quite shocked," Tan said.
He added that he noticed an emerging pattern in our national team whenever they play a tournament— they often appear tired in the last match and struggle more than usual.
On top of raising the SPL's tempo, Tan said that FAS also needs to expose the national players to trainings beyond the SPL in their preparation for international tournaments.
Using the right tactics
Tan also talked about the use of proper tactics and strategy.
The Singapore national team needs to be "quite clever in the way we play", he said.
"One of the things we must admit is that if we are playing a better team, we need to actually organise ourselves to be quite hard to beat."
Although he admitted that this "defensive" tactic might not always be ideal, he used examples of Premier League clubs who practice the same tactic when required.
Long-term fixes
FAS is also looking into long-term fixes to create a stronger pipeline in Singapore's football ecosystem, Tan told Mothership.
Bringing the average age down
Today, the average age of the Singapore national team is one of the highest in Southeast Asia.
"Our goal is to have players debuting in the SPL as early as they can," Tan said.
He added that Singapore needs to emulate a country like Thailand, which he deemed the best in ASEAN currently.
Tan explained that Thailand produces players who debut in the Thai League at age 17 to 18. These young players get to play three to four seasons in the league before they break into the national team.
In contrast, local players debut in the SPL at an average age of 20 and get limited playing time before they represent Singapore in international tournaments like the SEA Games.
Thus, Tan believes that by having players debuting in the SPL at a younger age, they will be able to get the playing time and experience they need by the time they go for international tournaments.
And as the average age of the SPL players go down, the average age of Singapore's national team will also inevitably go down, Tan added.
Singaporeans will be able to witness this change as more projects to improve the country's youth development begin to launch under the UTR.
Projects under the UTR
Tan revealed that FAS will be accrediting football academies so that they can better track the young registered players and invite them to tournaments to monitor their progress.
"Now we have a structured system. And maybe it's not perfect yet, but certainly over the years, it will come to be something."
Having talent identification is "very important", Tan said.
The FAS will also be launching a new national youth league. This will increase the number of games the young players get to play, and train them to be more competitive.
Additionally, a junior development centre will be introduced to train players aged eight to twelve.
"I know in the past we have JCOEs, but this one will have more frequency," said Tan.
"If we do this well, [the ages eight to twelve] will be very important because it will bring down the development pathway. If you only start at 12, you don't get the same kind of acceleration."
He added that a national development centre at Kallang for players aged 13 to 17 will be open soon.
"They'll be training far more intensely under a national set up. All the good players should be there and this will form the core of the age group teams."
Tan explained that there will be a renewal system each year.
This means that the players in the centre will not automatically move up.
They will have to fight for their spot in the team by proving themselves in competitions and training sessions.
Moving more players to overseas leagues
One of the main goals of UTR is to also move local players overseas at some stage in their careers, Tan said.
This will allow them to play in "better ecosystems" so that when they return to play in the national team, they can pass their knowledge to other teammates and improve the overall quality of the team.
Under UTR, Tan revealed that scholarships will be given out to potential players.
"This will help students go overseas to experience the more developed ecosystems.

For the girls, it's probably going to be the United States, where the standard for girls' football is much higher.

For the men, it's either in Europe or maybe other ecosystems like Japan where they can actually experience this. They'll go at different junctures— sometimes at 15, sometimes beyond."
FAS will also push for early national service for the boys. This will allow them to go overseas at a younger age and get the experience they need before they reach 22 years old.
"That's the kind of long term journey that we will make," said Tan, urging patience from Singaporeans as it implements these new plans.
Tan said that Singaporeans can expect to see results in age group tournaments in five to six years. The local football scene will also experience necessary changes and progress in the upcoming years.
"You will start to see more and more players debuting in the SPL at early age. You will see more and more players, like Ilhan Fandi, going to ecosystems in Europe. We have Jacob Mahler now going to Indonesia.

[...]

These are the kinds of indicators you will be able to see as we go forward. And if we fail to get there, then I think all of us need to be worried."
Related stories
Top images via Mothership & FAS/Facebook.
If you like what you read, follow us on Facebook, Instagram, Twitter and Telegram to get the latest updates.