The Land Transport Authority (LTA) announced on Nov. 4 that all e-scooters will from the next day be banned from public footpaths.
This dramatic decision came in the wake of repeated calls from members of the public, as well as parliamentarians, to curb what many have come to perceive as a reign of terror inflicted upon Singapore society by personal mobility device (PMD) — chiefly e-scooter — riders.
But what perhaps comes as more of a surprise is the fact that this comes on the back of what otherwise seemed like a rather supportive government stance toward PMDs until as recently as six months ago.
In May this year, Senior Minister of State for Transport Lam Pin Min said in very certain-sounding terms that banning PMDs from footpaths "is not the solution" to woes caused by them.
So how did we get here? We decided to track as far back as we could to see how the government's position on PMDs has evolved from its first mention till today.
Encouraging commuters to walk & cycle in 2013
We begin in 2013, when the LTA first laid out plans to facilitate more walking and cycling in its Land Transport Masterplan. In it, particular attention was paid to first- and last-mile legs of the commuting journey.
The plan entailed building more infrastructure (like covered walkways and underground link-ways) connecting public transport nodes to schools, healthcare facilities, public amenities, offices and residential developments.
Also in the works were plans to expand Singapore's cycling network and build better cycling amenities for commuters, and ultimately have a comprehensive cycling network covering all 26 HDB towns.
And while this infrastructural project was in development, LTA began its promotion of "active mobility" — the use of bicycles and PMDs as viable forms of transport for short trips.
It's no wonder, therefore, that many Singaporeans embraced PMDs. They are quick, relatively cheap, and unlike a bicycle, don't require any special skill to use.
Lui Tuck Yew in 2014: Banning e-scooters from roads too "blunt and rigid"
But alas, the growing number of e-scooters zipping around on roads and public walkways did not sit well with pedestrians.
"What enforcement action will be taken against the increasing use of electric scooters on roads and walkways?" asked Member of Parliament Lee Bee Wah in 2014, the first backbencher to raise the topic of PMDs in Parliament. 
Then-Transport Minister Lui Tuck Yew responded that regulations banning e-scooters on public roads "may be too blunt and rigid".
"We recognise that some personal mobility devices, if used appropriately, can enhance short distance travel."
There was also a reminder from Lui of the traffic police's advice that e-scooters should be used with caution on footpaths.
Faishal Ibrahim in 2015: Not sensible to ban e-scooters from footpaths
Five months later, PMDs were once again in the parliamentary spotlight when then Parliamentary Secretary to the Minister for Transport Muhammad Faishal Ibrahim talked about how they could complement Singapore's public transportation strategy.
He also discussed the need to establish and actively promote "a clear and consistent set of rules and norms on the use of bicycles and PMDs".
Interestingly enough at the time, Faishal noted that while a strict interpretation of rules could suggest that PMDs be banned from footpaths and sidewalks, he gave his opinion that it would not be "a sensible policy". And then...
A woman slipped into coma after a collision with a PMD in 2016
On Sep. 17, 2016, an accident that saw a PMD collide into a woman grabbed national attention.
Ang Liu Kiow, 53, was alighting from a bus when a polytechnic student Nicholas Ting Nai Jie hit her while travelling at about 14 to 15km/h on a PMD.
Ang was left with severe brain injuries and slipped into a month-long coma after the accident.
And the latest we've heard from her MP, Senior Minister Teo Chee Hean, is that three years on, she's still struggling to recover from the trauma of that accident,
Josephine Teo in 2016: 'Unfortunate' to allow 'careless behaviour' of minority to prevent larger community from using PMDs
The accident put PMDs under intense scrutiny in Parliament a month later on Oct. 10, 2016, with no less than seven Members of Parliament asking the Minister of Transport questions relating to the errant use of PMDs and how to ensure the safety of pedestrians.
Here's a quick list of who asked what:
Lee Bee Wah

when will the LTA start enforcement action against errant PMD riders, and what will the intensity of such action be?

whether other means like CCTV footage or investigations of public complaints would be used

whether persons who have been in accidents with PMDs can seek assistance from the LTA

whether the lack of PMD licence plates hindered investigations; and whether the LTA could introduce compulsory insurance.

Dennis Tan Lip Fong

whether there were any plans or measures to reduce the frequency of accidents caused by PMDs with pedestrians

how the Ministry can ensure that PMD users will avoid using roads

whether new measures can be introduced to ensure that all electric PMDs in use or being brought into Singapore have appropriate speed limiters and that all PMD users adhere to the prescribed speeds.

Zaqy Mohamad

how the Ministry could improve the safety of pedestrians given the recent spate of accidents involving e-scooters.
Randolph Tan

whether there had been an increase in cycling or the use of PMDs on footpaths by persons doing so in groups of two or more and whether such usage by groups was supported by the current design of footpaths.

Jessica Tan Soon Neo

what additional measures could be taken to ensure the safety of pedestrians and those who used e-scooters especially in areas of high pedestrian traffic and on public roads.

Tan Wu Meng

how many accidents involving collisions between pedestrians and bicycles or PMDs had been reported over the past one year.

whether LTA would reassess mandating compulsory insurance by owners of bicycles and PMDs to cover third party claims arising from accidents.

Ang Wei Neng

for an update on the plan to allow users of PMDs to share the pavement with pedestrians in light of recent accidents involving e-scooters;

to consider making it compulsory for users of e-scooters or the equivalent to buy insurance plans that covered third party liability and accident damage

what were the recourses available to victims involved in accidents with users of PMDs.
Josephine Teo, who at the time was Senior Minister of State for Transport, responded saying that it would be "unfortunate" to allow "the careless behaviour" of a small minority to prevent the larger community from enjoying the benefits of PMDs.
She added that in the government's mission to ensure the safe use of PMDs, the Active Mobility Advisory Panel had issued a list of recommendations that was "wholly accepted by the government".
Those recommendations would be tabled in a bill that was called...
2017: The Active Mobility Act
On Jan. 10, 2017 the Active Mobility Act (AMA) was passed in parliament, introducing regulations on the use of PMDs in Singapore.
Under the act, while PMDs were permitted on footpaths, they would have to adhere to a 15km/h speed limit — described by Teo as being comparable to "an average person's running speed".
On shared and cycling paths the speed limit would be 25km/h.
There was also the introduction of criteria for PMDs that would be permitted on public paths.
These were:
Not weighing more than 20kg

Not wider than 70cm

Have a maximum speed limit not exceeding 25km/h
At the same time, the LTA launched a public education campaign to raise awareness of the new Active Mobility rules and policies.
The AMA would officially come into force the following year on May 1, 2018.
2018 - Jan. 2019: Mandatory registration, lowering speed limit to 10km/h on footpaths
During the July 9, 2018 sitting of parliament, both Intan Azura Mokhtar and Tin Pei Ling tabled questions on the number of errant PMD riders that had been caught as a result of the AMA.
Here's what Transport Minister Khaw Boon Wan said:
"LTA's Active Mobility Enforcement Officers have stepped up efforts to strictly enforce against active mobility offences such as the riding of non-compliant devices, reckless riding and speeding. Since the AMA commenced on 1 May 2018, 297 errant PMD users between the ages of 14 and 80 have been caught for active mobility-related offences."
Khaw added that the LTA would introduce a mandatory registration regime for e-scooters in early 2019 (it was rolled out from Jan 2, 2019, and gave existing PMD users until June 30 this year to register their devices), noting further that the Active Mobility Advisory Panel was in the midst of reviewing the active mobility regulations.
The panel's recommendations were eventually submitted in Aug. 2018 and accepted by the government.
This saw the following changes to the regulations introduced in Jan. 2019:
Lowering of the speed limit on footpaths from 15km/h to 10km/h

Mandating the practice of "stop and look out for oncoming traffic" at road crossings for all active mobility device users

Mandating the wearing of helmets for active mobility device users travelling on the roads
Jul. 2019: Sale of non-UL2272-certified PMDs banned in Singapore
With the proliferation of PMDs in Singapore, a number of accidents and safety-related incidents started popping up. Especially concerning were the house fires that erupted from overcharging batteries, the overuse of PMDs, or illegal modifications.
Starting July 1 this year, retailers were barred from selling PMDs that were not certified for fire safety.
Those who had bought non-UL2272-certified PMDs prior to this deadline were given a year's grace period to ditch theirs and/or switch out to a fire-safe one — by a deadline brought forward to July 1, 2020.
The trouble was, though, that switching to a UL2272-certified PMD meant forking out much more money, and for many PMD users, that simply wasn't something they were willing to do — especially since they had time to use their existing ones anyway.
More accidents happened, and then...
Sep. 2019: Town Councils ban use of PMDs in PAP void decks
This was announced in early August by People's Action Party Town Council coordinating chairman Teo Ho Pin.
The Workers' Party-run Aljunied-Hougang Town Council said it had the powers to deter PMDs from riding in common areas, but enforcing them without evidence of their breaches would be "a challenge".
Late Sep. 2019: Death of a cyclist
Unfortunately, all these changes could not prevent the tragic death of 65-year-old cyclist Ong Bee Eng.
Ong had collided with a PMD rider in Bedok and spent four days in a coma. She passed away on Sep. 25, 2019.
The LTA revealed the the PMD in question was a non-compliant device that exceeded the weight and width limit for use on public paths.
Ong's death stoked a renewed wave of public anger, and triggered multiple petitions that renewed calls for PMDs to be banned in Singapore.
Which brings us to...
Janil Puthucheary in Oct. 2019: Warning of a complete ban
In the October parliamentary sitting that followed the accident, three MPs asked about the effectiveness of regulations on PMDs.
These were:
Alex Yam

what the public feedback since the Sep. 1 implementation of a ban on PMD use at void decks and common corridors at 15 towns has been

whether the number of reported incidents had been reduced since the implementation; and

whether the ban had any impact on food and goods delivery during the month succeeding the implementation.

Lim Biow Chuan

what was the estimated cost of LTA's early disposal incentive for e-scooters which do not meet the UL2272 safety standard and who would bear such costs.

Lee Bee Wah

how many illegally modified e-scooters had been seized

how LTA tracks e-scooter users who illegally modify their vehicles after being certified LTA-approved

whether penalties will be enhanced for owners of illegally modified e-scooters.
Senior Minister of State for Transport Janil Puthucheary cited Ong's fatal accident, observing that it had caused "public alarm over the dangers that personal mobility devices (PMDs) pose to others and has heightened fears for the safety of pedestrians using footpaths, particularly the old and the young".
"We need footpaths to be safe for pedestrians again. We are determined to improve footpath safety back to the levels we had before PMDs were allowed onto footpaths."
Janil also warned at the time that a complete ban was not out of the question:
"If their behaviour does not improve, we may have no choice but to ban their usage completely from Singapore. This would be a loss."
Since and well let's face it, even before then, PMD accidents had become an almost weekly occurrence. You can read about just a few of these here, here, and here. In fact, about 370 active mobility offenders were caught each month on average. 
And finally...
Lam Pin Min in Nov. 2019: PMDs banned from footpaths
The fires from charging PMDs continued too. Entire homes were damaged amd corridors burst into flame from PMDs charging there.
This month, Senior Minister of State for Transport Lam Pin Min revealed that a measly 20 per cent of all registered e-scooters in Singapore was UL2272-certified.
Finally, after so many years of reiterating that a footpath ban is "not sensible" and "not the solution", the government announced on Nov. 4, 2019 that e-scooters will be banned from all public footpaths from Nov. 5.
How did we get here?
Honestly, we're kind of stunned by how quickly things turned around.
Certainly, we appreciate the authorities' grave concern about what was going on — people were injured, a lady suffered brain injuries and slipped into a month-long coma. Another lady lost her life.
All these incidents, especially the gravest ones, must certainly have compelled their swift reaction — and we do get where they're coming from: their initial attempts to give retailers more time and PMD users a longer runway to switch up to safer equipment and/or dispose of the ones they had purchased and were using, taken together with the high incident count of clashes involving PMDs, seemed to show they were giving people too long, and PMD users were taking this grace period for granted.
But at the same time, is the government's vision of an "actively mobile" Singapore to be cast by the wayside just like that?
The government spent far longer working on this effort (2013 to at least somewhere last year), and on encouraging the use of PMDs for last-mile connectivity than they took to undo all their work in that direction.
In the Land Transport Masterplan 2040 announced in May this year, the government wants a Singapore that is a 45-minute city with 20-minute towns by 2040.
And this vision can be achieved using the "Walk-Cycle-Ride" modes of transport.
Under the Masterplan, "cycle" refers to travelling by bicycle or other PMDs such as e-scooters (LTMP 2040, p.7).
However, the government's "cycle" mode of transport has taken a hit with the spectacular business failures of several bike-sharing companies.
Ofo, oBike and Mobike launched between Jan-Mar 2017, with thousands of bicycles introduced to Singapore, only to close down within two years.
Now, the banning of PMDs from public footpaths will mean that its vision of "cycle" rests solely on one's personal bike, a few bike-sharing entities, and PMDs that cannot be used on footpaths, grass turfs and drain covers.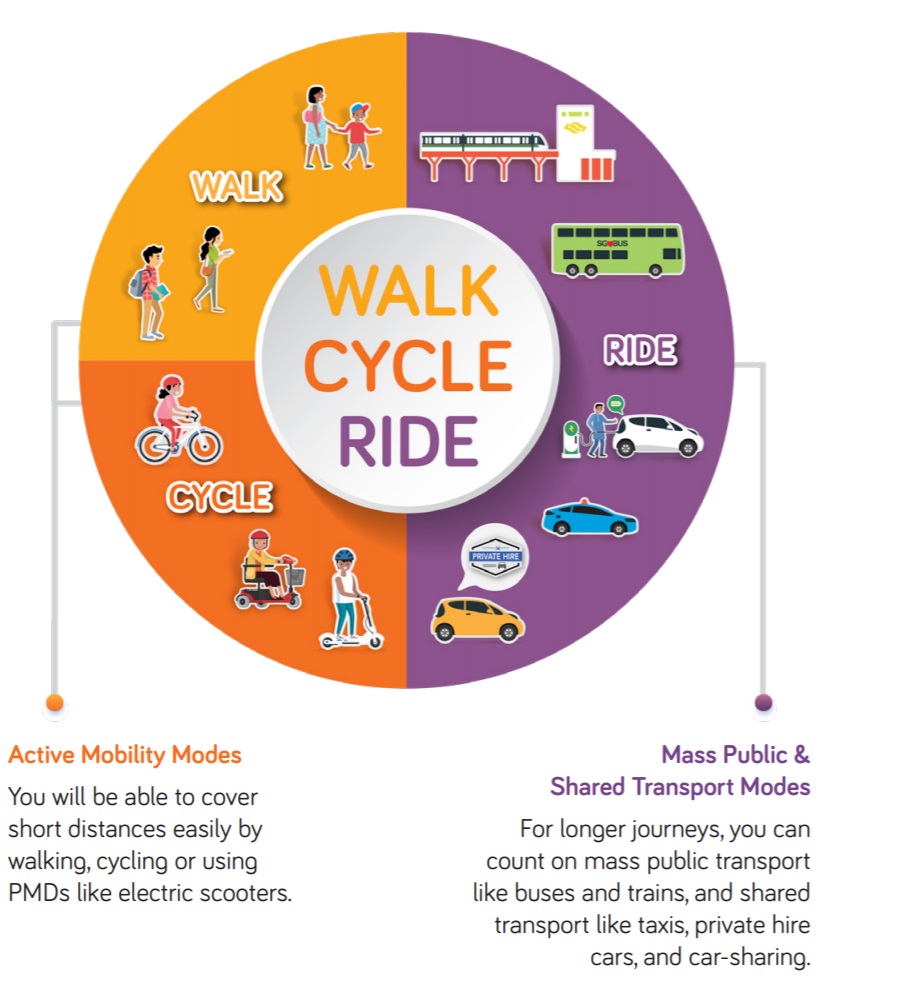 Will we ever achieve the vision of active mobility in Singapore? We're still hopeful.
But at least for now, as we return footpath safety to pre-PMD days in 2013, it looks like we've retraced our steps backward a bit.
Top image collage from Joshua Lee, Lazada, Janil Puthucheary's Facebook page, Lee Bee Wah's Facebook page, Khaw Boon Wan's Facebook page, Lam Pin Min's Facebook page
If you like what you read, follow us on Facebook, Instagram, Twitter and Telegram to get the latest updates.