Singapore has seen a number of bizarre behaviours on the road recently — whether committed by drivers or pedestrians.
This latest one just adds to this ever-growing list.
Original Facebook post removed
In a video was posted on community Facebook page 
ROADS.sg
, a man was seen running towards several cars and throwing his weight on at least two of their hoods.
According to the dashcam, the incident occurred on June 19, at 12.22am, and the Facebook caption claimed that it was along Geylang Road, near Lorong 30 to Lorong 34.
This is the original post uploaded to Facebook on June 19, which has since been removed (identity redacted by us):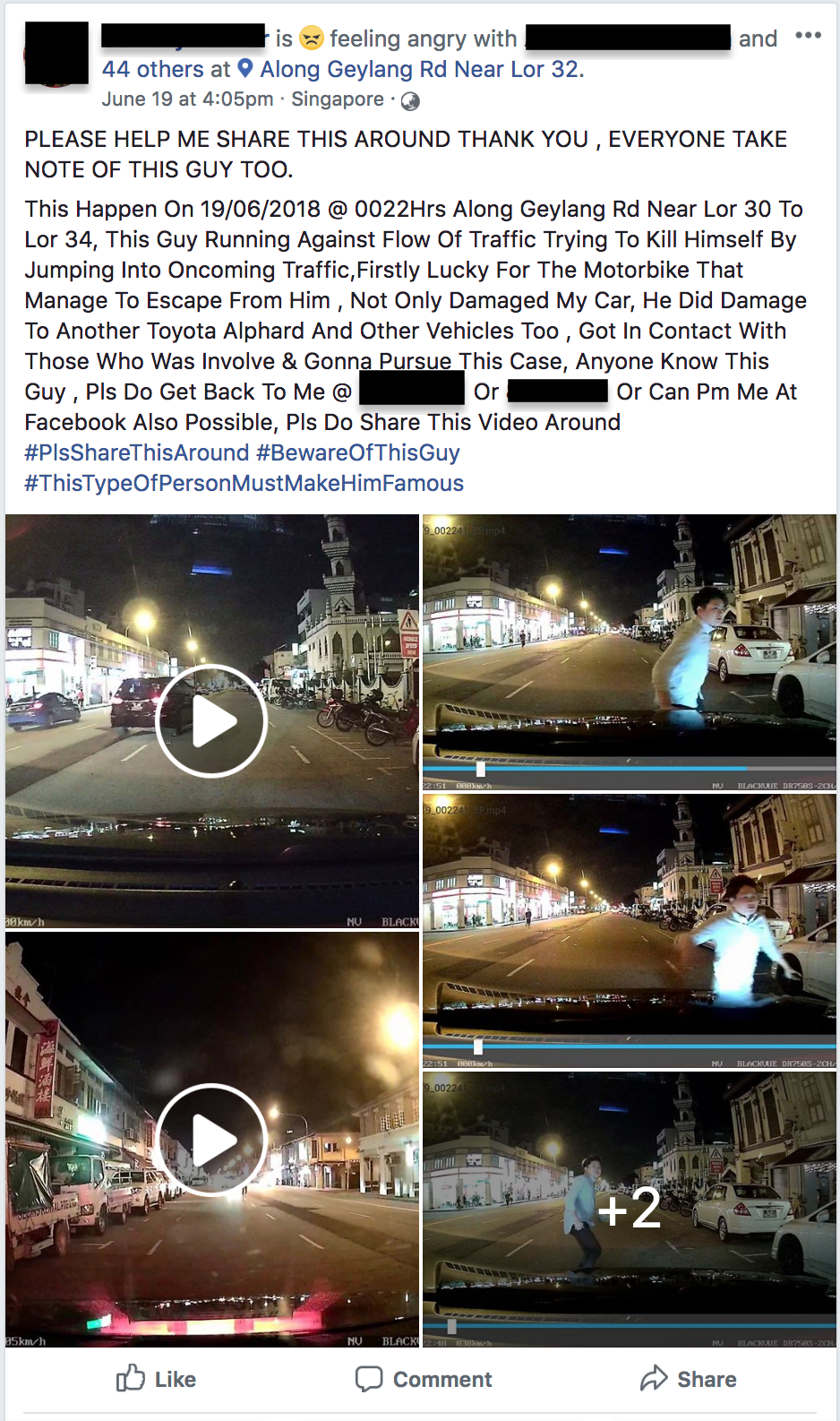 Car was not moving
In case you can't see the video, the first car (which provided the dash/rear camera video of the whole incident) came to a complete stop a few metres before the man reached it.
Despite that, the man decided to throw himself onto the bonnet of the car like this:
The man then got off the car, slapped the bonnet one more time and ran off to the back.
Another man — who seemed to have come from the same direction — was running after the "jumper":
[related_story]
Repeats same thing to cars behind
And it seems that the jumper was trying to do the same thing with another car at the back, as he continues the mad sprint right in the middle of the road.
According to the driver's Facebook post, he got in contact with some of the other car owners involved as the jumper's actions had allegedly caused "damages" to their cars.
The driver also urged anyone who knows the jumper to contact him.
Not the first time
This is not the first time that people have thrown themselves on vehicles:
We don't know what exactly motivated this man to do this, but there have been reports of fake accidents overseas.
Too bad, got dashcam ¯\_(ツ)_/¯
Top image screenshots via video
If you like what you read, follow us on Facebook, Instagram, Twitter and Telegram to get the latest updates.