A woman, who underwent a two-week basic training stint with the Singapore Armed Forces Volunteer Corps (SAFVC) has taken to Facebook to declare what a wonderful time she had roughing it out in the open and serving the nation.
The woman, a certain winsome Ruth Ho, embarked on the first part of the three-phase training programme with a continuous two-week stay in camp designed to give trainees a taste of Basic Military Training (BMT).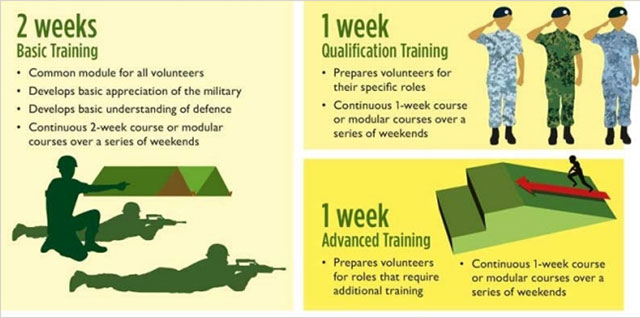 Established in October 2014, the SAF Volunteer Corps (SAFVC) is a uniformed volunteer scheme to encourage Singaporean women, first generation Permanent Residents and new immigrant or naturalised citizens to share the burden of strengthening Singapore's defence with national servicemen.
Upon successful application after a stringent selection process, mostly to make sure that those who signed up do not end up as liabilities, volunteers will receive their letters of enlistment.
SAFVC volunteers (SV) undergo a three-week basic military induction course to be educated on basic military skills and values.
There are basically two options: Volunteers can choose to complete their training at one go for extended stretches at a time or space them out over several modular courses carried out over a series of weekends.
After completing Basic Training, SVs then move on to Qualification Training, where they will be considered full-fledged SAFVC Volunteers once they are done and can begin to be deployed to SAF units.
However, some roles, such as the Auxiliary Security Trooper (AST), will require Advanced Training.
So far, even though Singapore is cultivating a deterrent force with the SAFVC as a supporting role, the takeaway message that hasn't been articulated enough but should have been is: People who have trained for war would rather live in peace.
Regardless, here is her post:
PUBLIC SERVICE ANNOUNCEMENTSome of you would have been aware of my planned absence and others might have noticed my...

Posted by Ruth Ho on Monday, 4 April 2016
In case you cannot read it, here's what she wrote:
PUBLIC SERVICE ANNOUNCEMENT

Some of you would have been aware of my planned absence and others might have noticed my disappearance over the past fortnight. To everyone who asked, I spent the last two weeks undergoing in-camp training with the Singapore Armed Forces Volunteer Corps.

Yes, you read right. I'm a volunteer soldier with the SAF.

I signed up with the SAFVC in early 2015. This stemmed from professional curiosity (I'm a User Experience practitioner), an adventure seeker's interest, capped off with an inexplicable sense of civic duty. Owing to scheduling conflicts, I was only able to do my basic training this year.

During these two weeks, I learnt that physical fitness does not equate to combat fitness, and that wearing army fatigues enables you to embrace germs, sit anywhere, as well as feel sleepy all of the time.

I also found out that if you're short on minutes and desperate enough, you will have no qualms about sitting on the toilet and using the bidet faucet to hose down before bed. Concurrent peeing and/or pooping optional.

On the fun side, I learnt how to strip and assemble the SAR 21 rifle and perform all functional checks and Immediate Action drills (i.e. what to do if your weapon malfunctions). I'm pleased to share that I can aim and shoot with relative precision and consistency, so the years of playing Counterstrike did amount to something after all...

Whipping civilians from all walks between the ages of 18 to 45 into military shape in such a short timeframe was fraught with challenges for all personnel involved. Without my buddy, section mates and our section trainer, surviving our 3D/2N field training in Pulau Tekong in particular would not have been possible for me. (For my non-Singaporean friends, Tekong is a nearby island used exclusively for military training purposes.)

Highlights of our money-can't-buy resort stay included: digging shellscrapes, building basha tents, field cooking, powder bathing, doing your bizniz in the great outdoors, wearing the same uniform for three days straight, fire and movement exercises, close quarter battle training, medical evacuation, and marching and leopard crawling in record high temperatures for what felt like forever while wearing a loaded vest, helmet and 4kg rifle. I assure you, all of us looked marvelous and smelled even better. As an aside, I'll have you know that camouflage cream works as an excellent sunscreen.

I'd like to sum up this post with a pithy impartation about my brief army experience but the truth is that I haven't yet had the time to properly reflect and figure what this all means to me. Maybe I'll have the answer soon, maybe it'll take longer. I can only say that I've got no regrets thus far and if you're so inclined to do your part for Singapore, do visit http://www.mindef.gov.sg/safvc to find out more.

Thanks for reading. PSA over.

EDITED TO ADD:

As more people share this post, I feel compelled to say that all I really did was step up and sweat it out for two weeks. None of this would have been possible without the leadership and unwavering guidance of the SAFVC regulars. Whether top brass, instructors or support staff, I send my heartfelt thanks for your remarkable patience and effort. I'm sure I speak for all at 01/16 when I say we couldn't have done it without you. Thank you.
Related article:
6 SAF Volunteer Corp vocations that sound too good to be true
If you like what you read, follow us on Facebook and Twitter to get the latest updates.
If you like what you read, follow us on Facebook, Instagram, Twitter and Telegram to get the latest updates.