1. Simon Road Market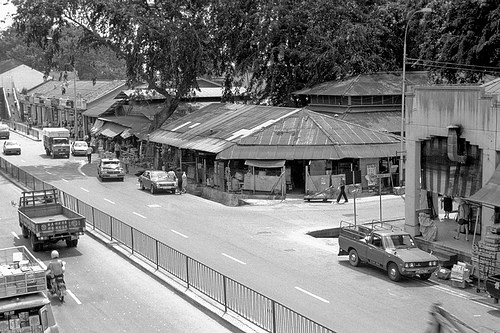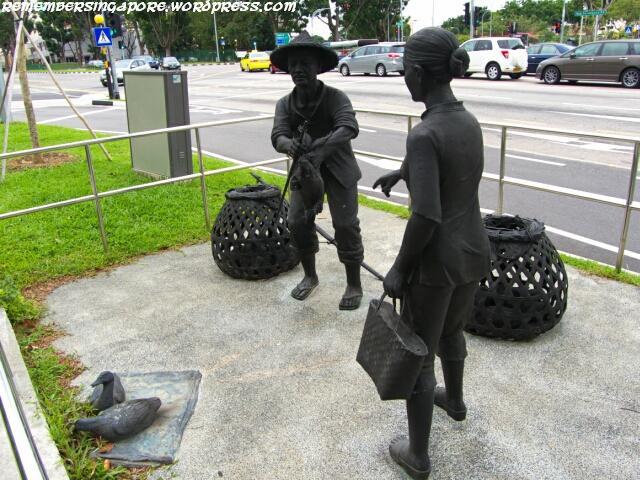 Built in 1948, Simon Road Market was fondly referred to as "ow kang lark kok jio" (roughly translated as Hougang 6th milestone). The market was best known for its mouth-watering selection of food including Hokkien mee, pork porridge, mee rebus, wanton mee and muah chee, which back in the day, was regarded as one of Singapore's finest. The muah chee stall, now located at Toa Payoh HDB Hub's food court, still continues to draw crowds today.
The market shuttered in 1999 after serving families in the area for over 50 years. In its place today are wider roads, high-rise condos and a pair of bronze sculptures – that of a chicken seller and a customer – serving as reminders of the Simon Road Market that once was.
2. Whitley Road Hawker Centre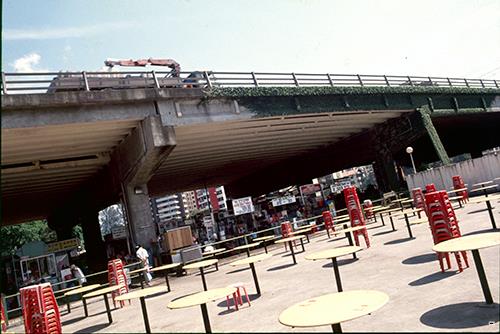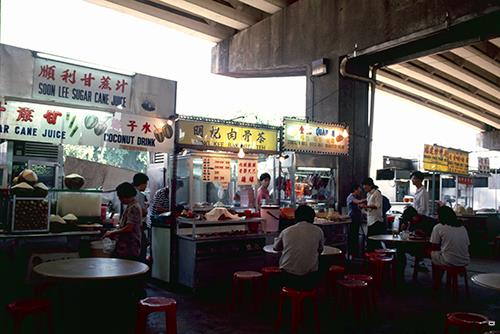 Whitley Road Hawker Centre was housed in one of the strangest parts of town -- under the huge Thomson Flyover.
Its odd location aside, the hawker centre, popularly known as "under the flyover", did a roaring business in its heyday sometime in the 1970s to early 1980s. Some of the more famous stalls sold prawn noodles, pork porridge, macaroni soup and Nasi Melayu. It was especially popular with taxi drivers and residents living around Toa Payoh, who were attracted to the hawker centre for its good food, ample parking, reasonable prices and cool, shady eating areas.
Whitley Road Hawker Centre closed in the late 1980s to early 1990s, and in its place today is a futsal complex.
3. Hill Street Food Centre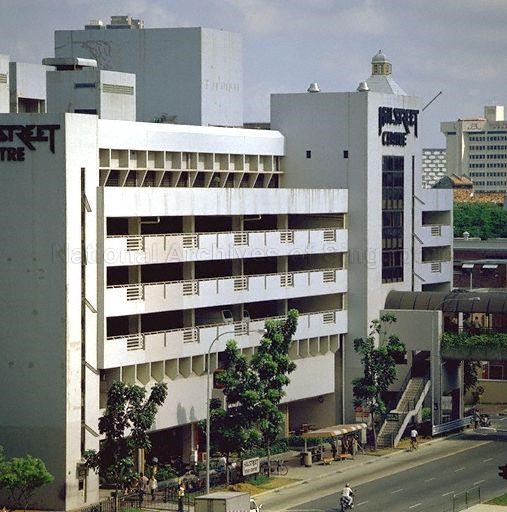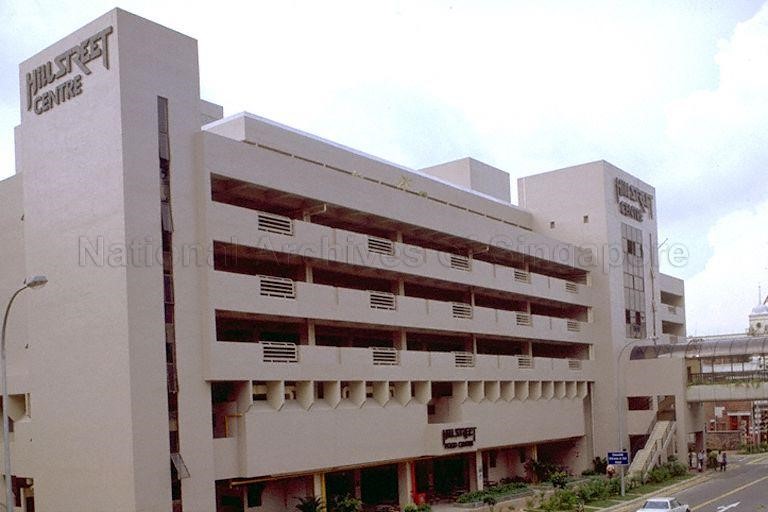 Built at a cost of about $2.2 million, Hill Street Food Centre opened in 1984 and quickly became popular with the office crowd in the civic district. The food centre occupied the first two floors of Hill Street Centre.
It was known back then as one of the places that offered the highest concentration of top local fare in Singapore, as Hill Street's stallholders consisted mainly of relocated street hawkers from the food hotspots of Wayang Street, Bugis Street and Chinatown. Some of the best-known stalls from Hill Street included those selling ngoh hiang, mee rebus, bak chor mee, char kway teow, sour lemon drink and a now rarely-seen dish of pig skin jelly and boiled shark.
In 2000, the food centre pulled down its shutters for the final time, and shortly after, Hill Street Centre was demolished to make way for new developments.
4. Siglap Market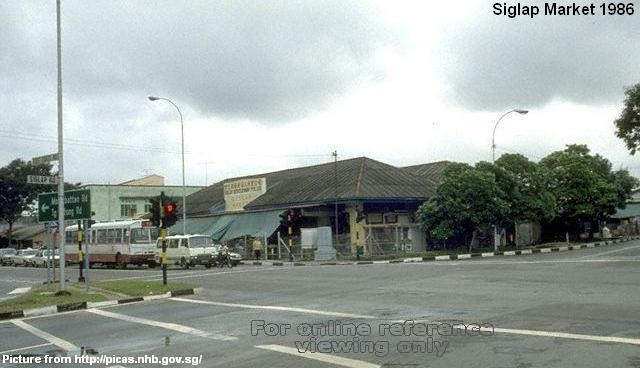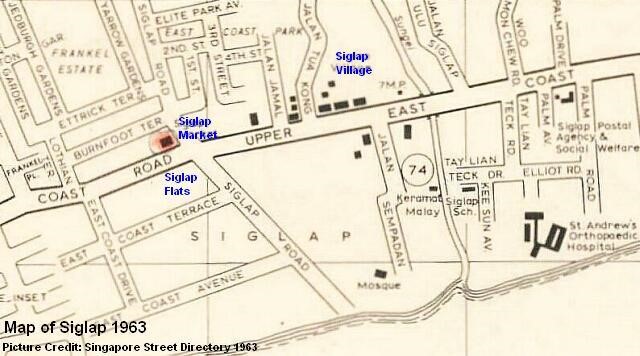 Siglap Market, built around 1945, once stood at the junction of Siglap Road and East Coast Road. It was a wet market that also housed several hawker stalls famous for Teochew fishball meepok and kway teow, carrot cake and nasi lemak.
The market went through its fair share of tumultuous times, first with a large fire that happened near the market, caused by firecrackers during the Lunar New Year period in 1962.
In 1982, the market's owner, Siglap Development Pte Ltd, informed stallholders that they had to move to make way for a new shopping centre. However, the compensation amount could not be agreed on and as a result, the stallholders and the owner became embroiled in a widely publicised court battle. It was only in 1988 that the case was settled and the hawkers finally moved out.
Today, Siglap Centre, a low-rise commercial and residential development and a landmark of the Siglap area, sits on the former site of the Siglap Market.
5. Labrador Villa Food Centre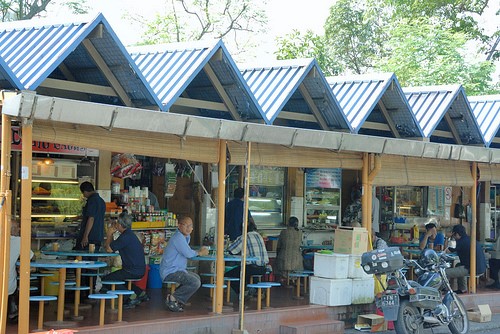 Size definitely didn't matter when it came to Labrador Villa Food Centre. Though tiny, run-down and in a rather ulu location, this food centre more than made up with its ample supply of authentic, mostly Muslim hawker fare.
With only 10 stalls dishing out the likes of mee goreng, nasi lemak, nasi biryani and lontong, it was highly popular with those working in the nearby factories and offices who came for lunch and tea.
Labrador Villa Food Centre was demolished in 2008 to make way for Labrador Park MRT, leaving behind many fans who were sad to see this old school icon go.
6. Longhouse Food Centre
A stalwart and icon in the Thomson neighbourhood, Longhouse was a popular hawker hangout for residents, office workers and the occasional local celeb, with Caldecott Hill located nearby. Drawing in the crowds were stalls that sold braised duck rice, prawn noodles, popiah, rojak and goreng pisang.
Bought by one Mr Ng Choon Gim's father in 1980 for $687,000, the Longhouse site was eventually sold for a cool $45.2 million to a developer, and the food centre closed in April 2014.
7. Empress Place Food Centre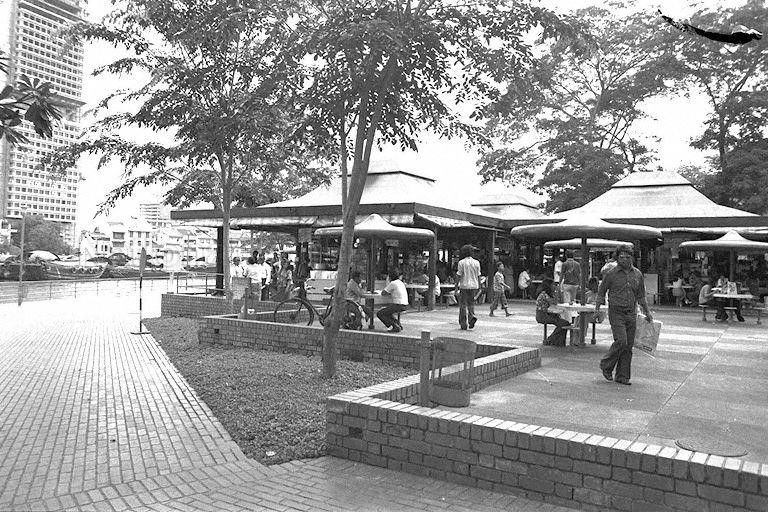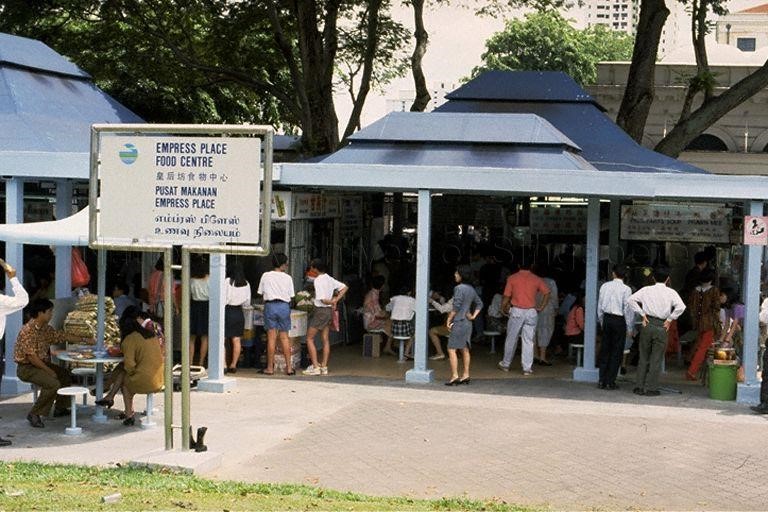 (This is the site today where the Empress Place Food Centre used to be)
Empress Place Food Centre (not to be confused with a similarly named one at Farrer Road) was located near Victoria Theatre. Built at a cost of close to $600,000, it opened in September 1973 as part of Singapore's clean up scheme to clear hawkers off the streets.
Sitting on the old Marine Police Station on the banks of the Singapore River, the food centre's 98 stalls offered cheap and delicious food and a scenic riverside hawker ambience that was particularly popular with office workers in the CBD. It served hawker favourites like braised duck kway teow and Teochew fishball noodles. Ex-street hawkers who plied their trade behind the old Malayan Bank and Chartered Bank Chambers were believed to have occupied several stalls in Empress Place Food Centre.
In 1983, a group of 42 hawkers whose stalls were affected by construction of the MRT line linking Raffles Place and City Hall stations, had to move into the nearby Empress Place Transit Food Centre temporarily. By the early 1990s, however, the Empress Place Food Centre was demolished.
8. Boat Quay Hawker Centre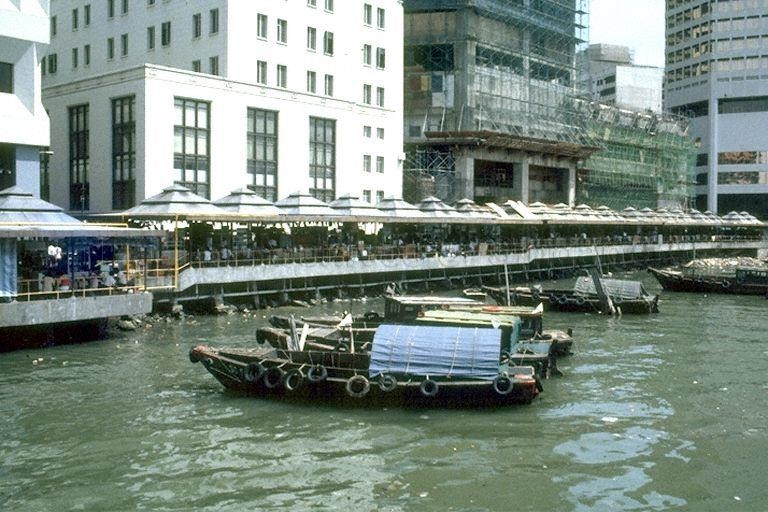 Boat Quay Hawker Centre opened in 1973 with a "riverfront facing" -- that of the Singapore River which was then filled with tongkangs (bumboats). When it opened, it was called a "super hawker centre" because of its expensive price (not to build, but because it was sitting on prime land), and a cutting edge design that blended in with its surroundings.
The hawker centre housed street hawkers who were located at the now-expunged Hallpike Street. Popular with the working crowd in the CBD, Boat Quay Hawker Centre was especially famous for its beef noodles stall.
Together with the affected hawkers from Empress Place Food Centre (see Empress Place Food Centre), 45 hawkers from Boat Quay were asked to shift in 1983 to the Empress Place Transit Food Centre due to MRT works.
In the mid-1990s, the Boat Quay Hawker Centre fell victim to redevelopment, as it had to make way for plans to turn the area into a trendy food spot.
Bonus mention: Hawker centre off mainland Singapore
9. Rasa Sentosa Food Centre
Various articles and pictures about this food centre can be viewed here, here and here.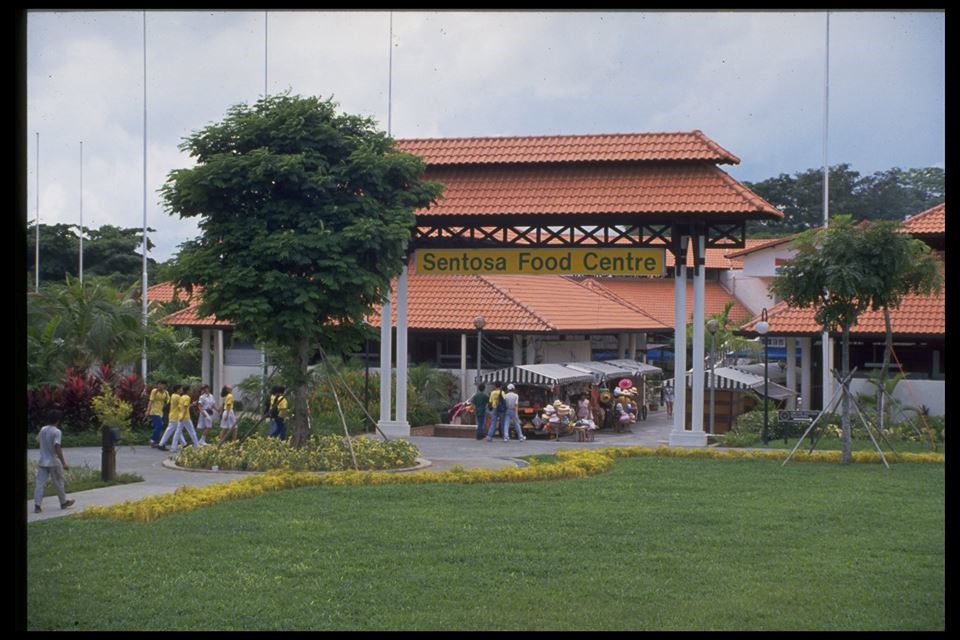 Food. The one true way to make Singaporeans willingly travel all across our island – or even out of it.
In April 1982, Sentosa opened Rasa Sentosa Food Centre, a collection about 15 stalls featuring famous hawkers on the mainland, including Albert Street Fatty Seafood, Hung Kee Chicken Rice and A1 Laksa and Prawn Noodles. The hawker centre, which cost about $200,000 to construct, was one of the projects Sentosa undertook to lure more Singaporeans to visit the island.
The project was a success as just two months later in June, Sentosa's visitor numbers increased after sundown by seven-fold year-on-year. The new food centre and the musical fountain (remember it?) were the main attractions for Singaporeans who visited. Many would have dinner first before adjourning to the fountain (which sadly closed in 2007) to watch the mesmerizing performances.
Rasa Sentosa proved so popular that a year later in 1983, island authorities planned a phase 2 extension to include more stalls (a survey done found that Singaporeans wanted more hawker fare like oyster omelette, carrot cake and turtle soup). The food centre's popularity continued soaring and by March 1987, a new 23-stall food centre called the Sentosa Island Food Centre opened to cope with demand.
However, due to redevelopment plans and building of the integrated resort, the food centres (and musical fountain) had to go.
Related article:
6 hawker centres in & around town that have gone extinct
If you like what you read, follow us on Facebook and Twitter to get the latest updates.
If you like what you read, follow us on Facebook, Instagram, Twitter and Telegram to get the latest updates.