As anyone who might have seen recent news about the struggling tech giant would know, times are tough for Yahoo. Just on Thursday this week (Feb. 18), a number of employees in its Singapore office were laid off in a string of same-day terminations.
A Yahoo spokesperson said in a statement on that day:
"In early February Yahoo shared a plan for the future, with this new plan came some very difficult decisions and changes to our business. As a result of these changes some jobs have been eliminated and those employees were notified today. We thank those employees for their outstanding service to Yahoo and will treat these employees with the respect and fairness they deserve."
According to TODAY, Marc Lourdes, Editor-in-Chief of Yahoo Singapore's news team, was among those who were retrenched.
In other words, Yahoo Singapore has witnessed the departure of two editors-in-chief in slightly more than a year -- another signal that Yahoo Singapore's news team has perhaps reached a new low.
These developments trigger the question: Has Yahoo become a has-been today? Did it peak between 2011 and 2014?
The "Yahoo rule"
Yahoo Singapore 's news operations first started as a blog - Yahoo! Fit to Post - in early 2010, Mothership.sg understands, when a content syndication agreement with Mediacorp fell through.
Despite its tough birth, it quickly grew to become part of the online staple for many political observers. Between 2009 and 2011, it had emerged among the top three online socio-political sites in Singapore, together with The Online Citizen (TOC) and the then-named Temasek Review.
But it was the 2011 General Election that really introduced Yahoo Singapore as a news organisation to the masses.
Yahoo Singapore emerged online as one of the most professional and credible non-mainstream news sites, with its extensive coverage of the political rallies. They even managed to interview two People's Action Party (PAP) politicians -- George Yeo and Ong Ye Kung -- who under normal everyday circumstances would have viewed online media then with suspicion.
The accolades came thick and fast.
In 2012, Yahoo Singapore won a SOPA award for excellence in multimedia presentation, for a series of stories, videos and a photo essay on the closure of the Tanjong Pagar railway station.
A phone survey commissioned by Today newspaper also named Yahoo Singapore the number one online news website during GE2011.
Another feather in Yahoo Singapore's cap arrived in late May 2013, when the Media Development Authority (MDA) announced that 10 online news sites would need to obtain an individual licence to operate. They would also be required to put up a performance bond of S$50,000, like all other individually-licensed broadcasters.
This scheme only applies to sites that that report regularly on issues relating to Singapore and were visited by at least 50,000 unique IP addresses from Singapore monthly, the MDA added.
Industry watchers started calling it the "Yahoo rule" because the other nine out of 10 of the online sites belonged to two local media conglomerates -- Singapore Press Holdings and Mediacorp. Yahoo Singapore was quite clearly the odd one out as the other nine sites could easily fall under other media regulations like the Newspaper and Printing Presses Act.
After a few days of deliberation, Yahoo Southeast Asia managing editor Alan Soon announced it will abide by the rules even if it considers them "redundant".
In a quid pro quo hint to the regulators, Soon added that he hoped the changes will help pave the way for full accreditation and access for his reporters.
A month later, Ministry of Communications and Information Permanent Secretary Aubeck Kam was quoted in The Straits Times, saying that Yahoo Singapore has applied for media accreditation from the Government, which is now looking at its request.
Sources told Mothership.sg that Yahoo Singapore received government accreditation in mid-2014.
Granting media accreditation was a big step: this meant Yahoo Singapore would receive official press statements and be invited to government press conferences, just like the mainstream media.
Little did we know, though, that this was the start of Yahoo Singapore's decline.
The departure of key editors
Here's what a former editor who left Yahoo last year told The Straits Times about Thursday's retrenchment exercise:
"This is best understood from a global perspective, not a local one. These events are governed by far bigger discussions in the US headquarters that have nothing to do with Singapore per se. I think you will see more cuts in Yahoo's total headcount around the world. The CEO was very clear about that in the last earnings call."
In other words, no matter how successful its news operation might be here, Yahoo Singapore is ultimately at the mercy of its parent company in the U.S.
That said, however, the departure of several of its  key editors over the past two years cannot be a good thing.
In fact, two of the editors who left were long-serving leaders who reflected the professional ethos of the Yahoo Singapore news team.
In January 2015, Jeffrey Oon left his role as the Country Editor for Singapore, after more than six years at the helm. Oon was one of the two co-founders of the Yahoo! Fit to Post blog that grew the news team to see the success it attained in the past few years.
Roughly two months later, Soon left his role as Managing Editor for India & Southeast Asia at Yahoo after almost six years at the company. Soon went on to start a newsroom consultancy called The Splice Newsroom.
And three days ago, Yahoo Singapore editor-in-chief Marc Lourdes was among the group of Yahoo Singapore staff who were retrenched. As the Editor-in-Chief, Lourdes's team handled content for Singapore, Malaysia and the Philippines.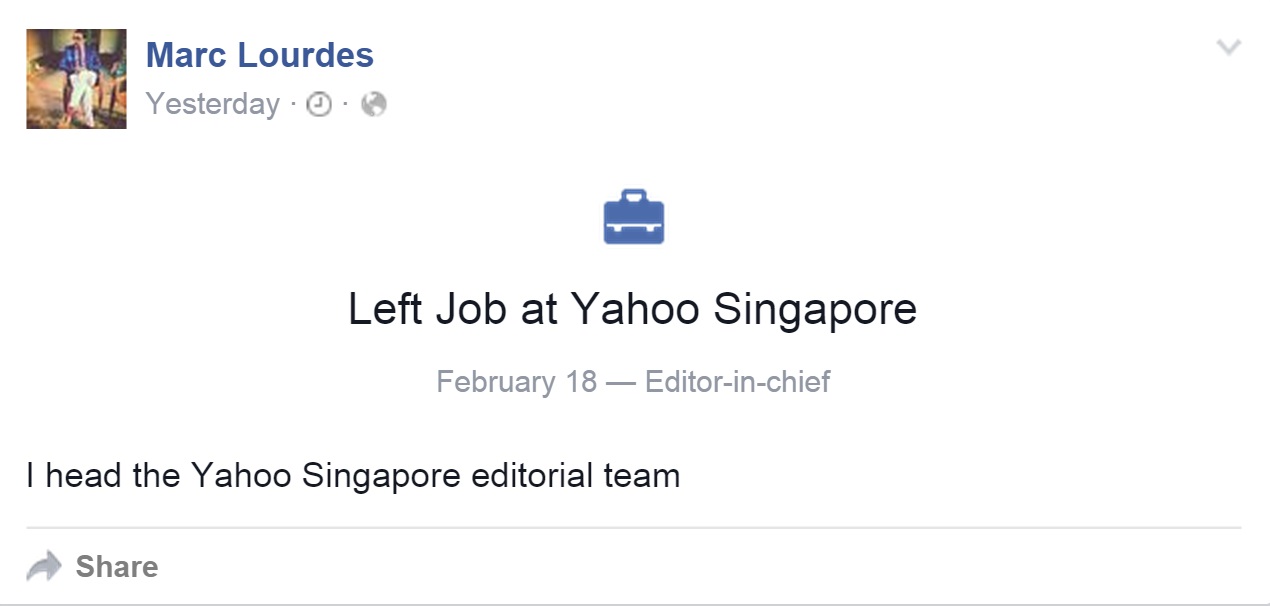 Lourdes's tenure is an odd arrangement, since Lourdes is a Malaysian. Was he in charge of leading Yahoo Singapore's coverage of Singapore politics?
According to his LinkedIn profile, Lourdes started out in Yahoo's Malaysia office in 2011, with his last-held position there being Malaysian country editor until May 2014, when he took the reins of the company's new News Digest app and subsequently moved to Singapore sometime last year.
He then took over the Singapore news team upon Oon's departure.
Yahoo's cheaper, better, faster content strategy
In a June 2015 interview with Telum Media newsletter about how Yahoo Singapore differs from its competitors, Lourdes said:
"Yahoo stands out because of the depth and breadth of its scale and content. No other media house caters to as many people and as many different tastes as we do. In that sense, Yahoo is the ultimate mass media portal. The portal is also one of the best one-stop shops for content...We create top-notch original content, but also curate some of the best content on the web. This includes the best wire services (AFP, AP and Reuters), as well as some of the most credible content websites in the region, including The Malaysian Insider and The Malay Mail Online in Malaysia, Philippine Star in the Philippines and Berita Harian, Propwise.sg and Vulcan Post in Singapore."
Maybe the former Yahoo Malaysia editor was an optimist. But the Singaporean sites he highlighted were viewed by many netizens as up-and-coming sites at most.
If Yahoo Singapore's content partners are top tier sites in Singapore, why would most of them provide free content to Yahoo Singapore in the first place?
Turning to their coverage of the 2015 election, Yahoo Singapore did not seem to have a clear content strategy, compared with 2011.
With its competitors scoring interviews with both PAP and opposition politicians, Yahoo Singapore was the only major site that did not carry any PAP candidate interviews. Due to its lack of resources, it also did not provide extensive rally coverage, unlike in GE 2011.
In a move that most candidly revealed its weakness, Yahoo Singapore decided to be part of the GE Online Alliance. This was a partnership with sites that were less than a year old -- Inconvenient Questions and The Middle Ground -- so that it can pool resources. This was something that Yahoo Singapore did not have to resort to in 2011.
In an interview with Mumbrella, it was also noteworthy that ex-managing editor Soon did not mention Yahoo Singapore when he assessed the sites that stood out for him as the best source of election news.
In fact, he praised other sites (such as Wall Street Journal and Mothership.sg) for their infographics, Facebook visuals and headline writing.
A recently published 318-page tome on GE 2015, Change in Voting: Singapore's 2015 General Election, by a group of scholars and academics, also did not include Yahoo Singapore as one of the most viewed websites.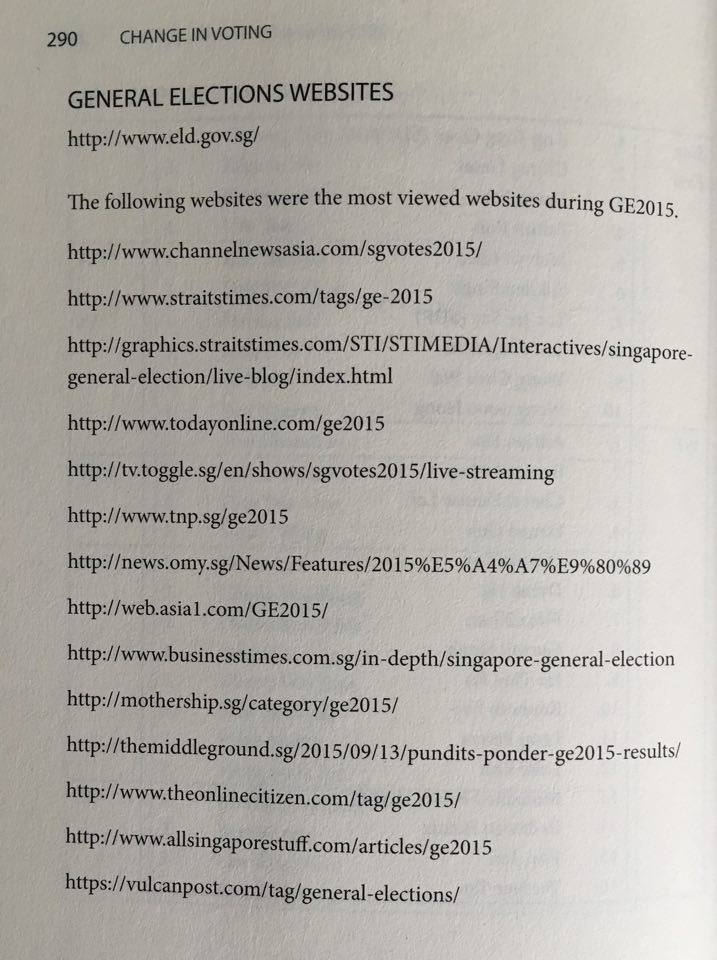 Where will Yahoo Singapore go from here?
Yahoo Singapore is at the mercy of the business decisions made by its parent company in the United States, so it's hard to predict its news operation's future here.
It will be sad to see Yahoo Singapore depart the media landscape for good, though, if that day ever comes.
While the number of alternative media sites has grown tremendously since GE2011, there is always room for diverse viewpoints and a plurality of opinions in Singapore.
While it currently does not have the resources to compete with the mainstream media in terms of news scoops, Yahoo Singapore continues to add diversity and vibrancy to the media landscape with its insightful commentaries from its guest commentators (such as former The New Paper editor PN Balji and ex-TOC editor Kirsten Han).
In fact, Yahoo Singapore has trained and nurtured many strong digital journalists, several of whom are now working for the mainstream media.
It will be a sad day if one of Yahoo Singapore's former staff has to write its obituary in the mainstream media in the years to come.
If you like what you read, follow us on Facebook and Twitter to get the latest updates.
If you like what you read, follow us on Facebook, Instagram, Twitter and Telegram to get the latest updates.