Crude oil prices were at S$165 (US$115) a barrel during mid-2014.
Since then, they have fallen by 70 percent to under S$40 (US$28) a barrel on Monday, Jan. 18, 2016, which is the lowest level since 2003.
However, motorists in Singapore will not be seeing any significant decrease in pump prices.
According to articles in The Business Times and Today, analysts, economists, wonks and the petrol industry have weighed in to remind consumers that this is because there are other factors such as currency fluctuations, petrol duties and various business costs that also play a part in determining pump prices, even though the benchmark United States crude prices have tumbled.
So why?
According to analysts, economists and wonks, there are three broad plausible-sounding reasons why pump prices are not falling as fast or ever.
Non-petrol company explanations:
1. Taxes and operating costs: A large part of petrol prices is government taxes, refinery and transport costs, and other costs of doing business such as manpower and rentals. About 25 to 33 percent of pump prices is the petrol excise tax. Operating and land costs make up one quarter of pump prices in 2011.
2. Government dissuasion: The government's position is to encourage Singaporeans to take public transport and petrol duties were increased last year.
An illustration via The Straits Times:
We have a relatively high duty on petrol, and that masks any reduction in the price.

[...]

Petrol duty was raised a year ago. This further masks the magnitude of any price adjustment.

For instance, when crude was around US$100 a barrel a few years ago, 98-octane petrol was retailing at $2.32 a litre (before discount). If you remove the duty of 44 cents per litre, the price would be $1.88.

Today, the same grade fuel is $2.17 a litre. Minus duty of 66 cents a litre and you get $1.51.

Now, $1.88 - $1.51 = 19.7 per cent price drop.

If we do not take out the duty portion, the drop would work out to 6.5 per cent.
3. Crude price fall not as sharp as before: The current drop in crude oil price is not as sharp or significant as in end-2014. The drop was from US$100 per barrel to less than US$50 back then, while today it went from US$40 to US$30.
Petrol company explanations:
i. Price-matching?: A Chevron (Caltex) spokesperson said it "closely monitors the competitive landscape", and considers factors such as refined product prices as well as supply and demand.
ii. Currency fluctuations: Apart from production costs, an ExxonMobil (Esso) spokesperson noted the US dollar "is the determining currency for product costs". For instance, between February and December last year, the US dollar went up against the Singapore dollar.
iIi. Other costs besides crude oil: An Singapore Petroleum Company (SPC) spokesperson said the company takes into account factors such as investment costs, selling and market costs, and logistics and distribution costs.
Petrol companies quick to add they have lowered prices
All three main petrol companies, Chevron (Caltex), ExxonMobil (Esso) and Singapore Petroleum Company (SPC), have also reiterated that they have been adjusting prices downwards, some as early as late last year.
Chevron said it made four pump decreases since last month.
ExxonMobil said it made five rounds of downward adjustments "in the last two months" to pump prices of gasoline and diesel.
SPC said it has adjusted pump prices downwards twice since the start of the year.
Lowered by how much?
Take a look at the pump prices: If you pumped your petrol at SPC, you would notice the price for 95-Octane petrol falling from S$2.18 to S$2.05 to S$1.96 to S$1.88 in the months of June 2015, September 2015, December 2015 and January 2016 respectively.
June 2015:

September 2015:

December 2015

January 2016

Petrol price movement vs Crude oil price movement
But if you plot petrol price movements against crude oil prices over 2015, the fall is minuscule once you can see it visually.
From April to July 2015 (Both prices stable):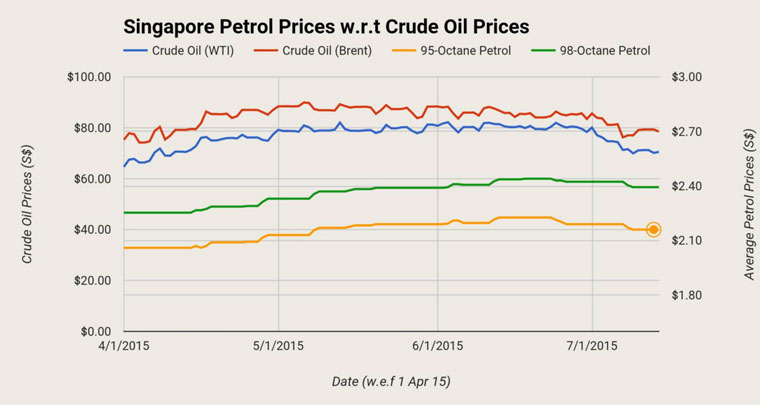 From April to December 2015 (Crude oil tumbles but petrol price barely falls, yet resistant to spikes in September 2015):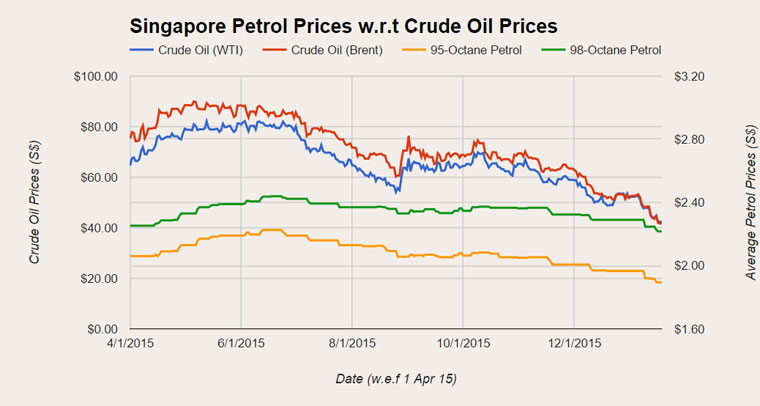 H/T Today
Top photo via
If you like what you read, follow us on Facebook and Twitter to get the latest updates.
If you like what you read, follow us on Facebook, Instagram, Twitter and Telegram to get the latest updates.