A number of years ago, NUS adjunct constitutional law professor and historian Kevin Tan wrote a pretty comprehensive biography of Singapore's first Chief Minister, David Marshall.
It happened to carry an interesting factoid: it was Marshall, and not anyone from the current ruling People's Action Party, who was the first to organise what we now know as Meet-the-People Sessions (MPS).
A little bit of background: In Prof Tan's book, he quoted a speech Marshall made after getting elected as Chief Minister in 1955:
"I said to you that if elected, I would dedicate a day in every week to receive the people of Singapore, whether voters or not, whether from Cairnhill or not. Rich or poor, in order to enable me to understand your problems, to receive your advice, and to assist where I can asist. I did not then realise; I did not anticipate, that I would shortly receive the privilege of the responsibility of dedicating 7 days a week to your welfare and probably many nights of that week. But I will still keep faith with you in spire of the onerous nature of the duties of the Chief Minister.

And insofar as the pressure of my official duties permit, I shall receive you one day a week, with or without appointment. The time and the day of the week would be indicated in the press and so far as it lies within the power of human endurance and my other duties, I shall do everything to assist all."
These Saturday meetings started with between 100 and 150 people attending, in an air-conditioned room (indeed, it existed in 1955!) at what is now the Arts House (then called the Assembly House). Marshall would sit at the head of a table with several interpreters for Malay, Tamil and various Chinese dialects, and later got his cabinet ministers to hold similar ones in the various other districts.
Why are we suddenly talking about this, you might wonder?
It's because Saturday, December 12, happens to be the 20th year since he died, and on Sunday morning, Singapore's opposition Workers' Party (WP), which Marshall founded, shared this interesting tidbit in an article posted to their site.
Anyhoo, we decided to check out what MPS used to look like in Singapore decades past — thanks to the greatness that is the National Archives, we discovered some pretty fascinating things:
Here's what David Marshall's first MPSes looked like, for starters: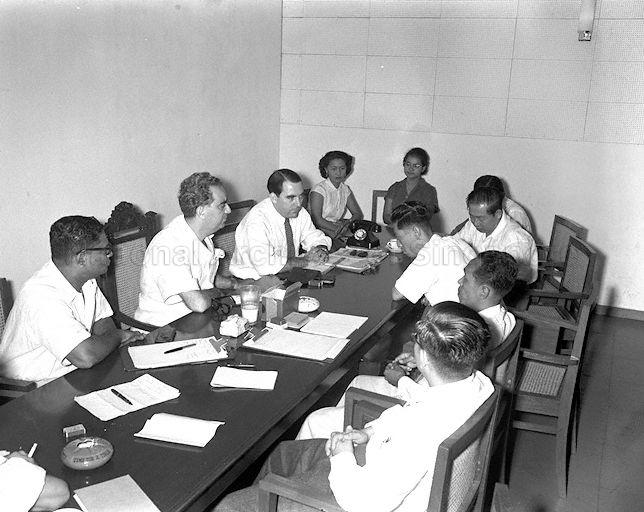 This photo was dated September 24, 1955.
The folks who today are volunteers and who took up the roughly 60 to 70 unresolved cases each week came under a special team called the Public Advisory Bureau, whose offices were on the first floor of the Assembly House. The cool bit: Marshall paid their salaries out of his own pocket, as they weren't a constitutionally-sanctioned or official institution.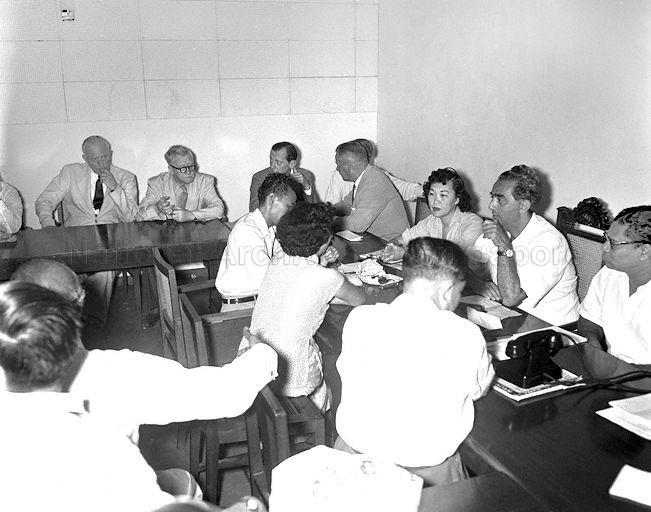 David held his final MPS on June 2 1956, also a Saturday. After he resigned as Chief Minister, the PAB closed down on Nov. 3 1956.
By 1960, they had resurfaced as a People's Action Party fixture.
And they certainly were popular. This was the queue to see then-Minister of National Development Ong Eng Guan in January 1960, for instance: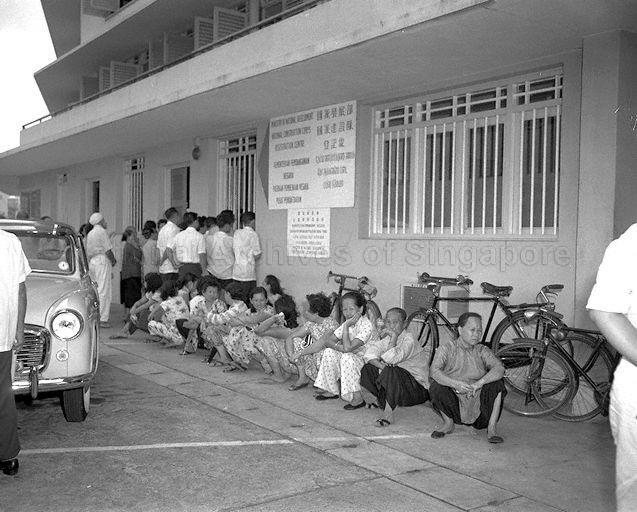 And here's a pic of then-Finance Minister, the late Dr Goh Keng Swee eating, possibly between residents (or maybe even while listening to one) at his MPS on Feb 2, 1961: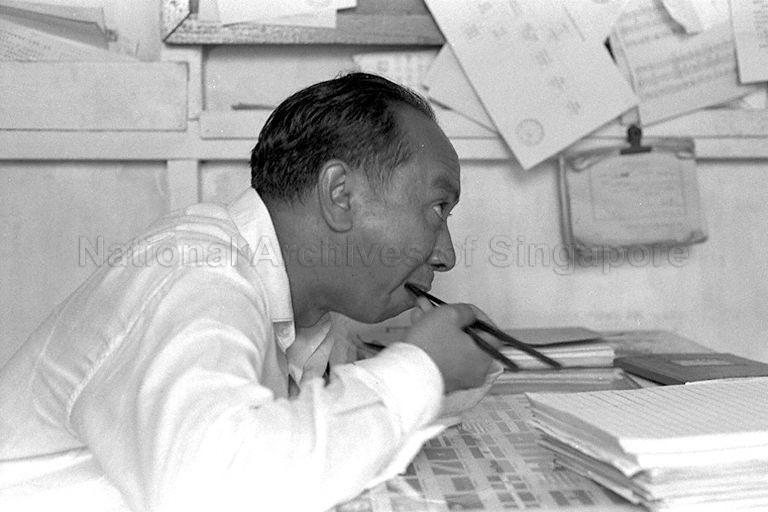 And here's a poster advertising his MPS in September 1962, by the way: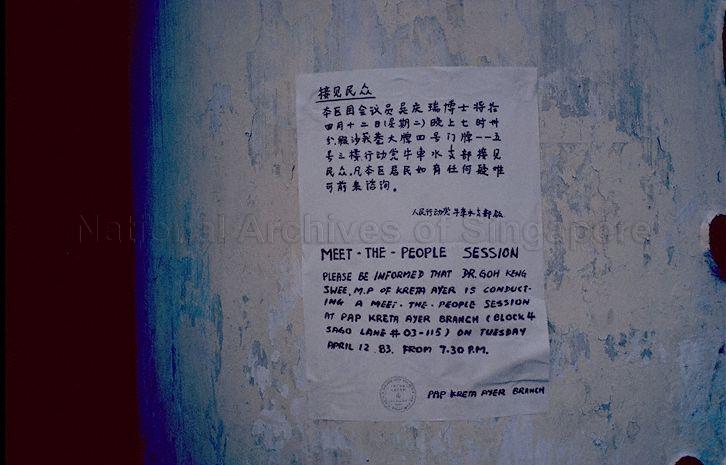 And don't even get us started on the late Lee Kuan Yew's: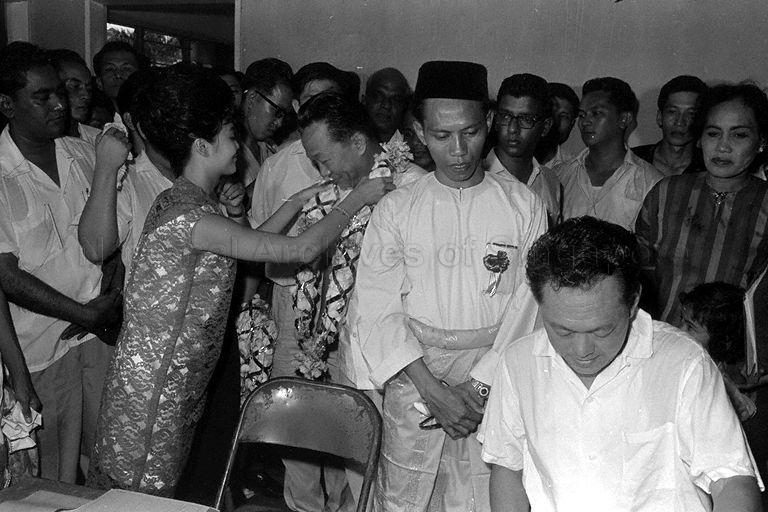 Garland siol.
Reminds us of modern-day election press conferences.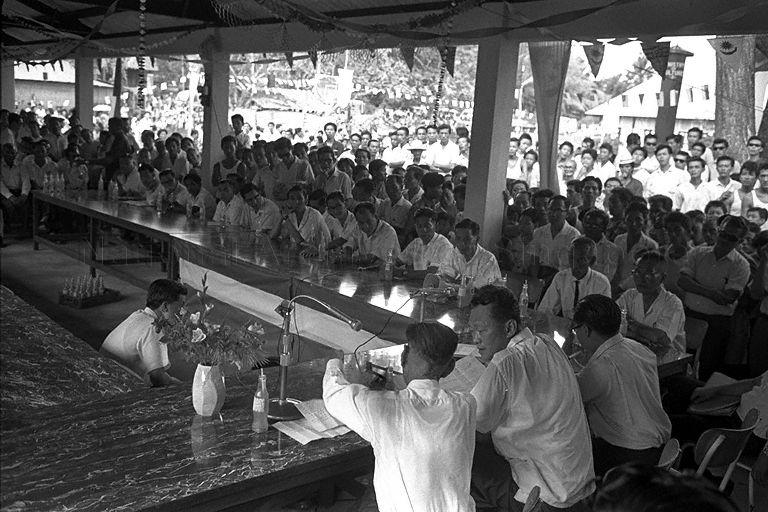 In the early 60s, the founding Prime Minister conducted tours around various districts and held MPSes with each one he went to, so hordes of people came to listen to him. He would make a speech at some, and then take some questions from residents.
In the words of Professor Tan, "Once David (Marshall) had opened the floodgates of populist democracy and broken down the elitism of governance, there was no turning back".
As the decades passed, we saw it shrink back to the sizes we are more familiar with. Here's an Ong Teng Cheong (one of our former Presidents, by the way) MPS in 1978, for instance: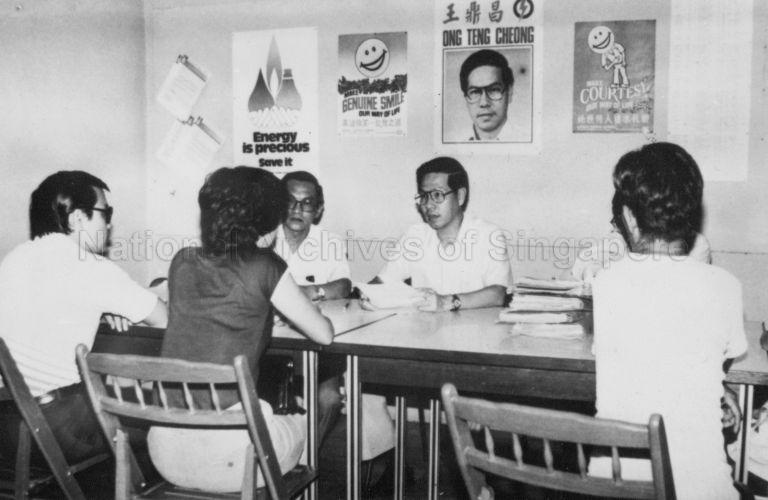 And another familiar sight, volunteers in 1992 (ooh colour):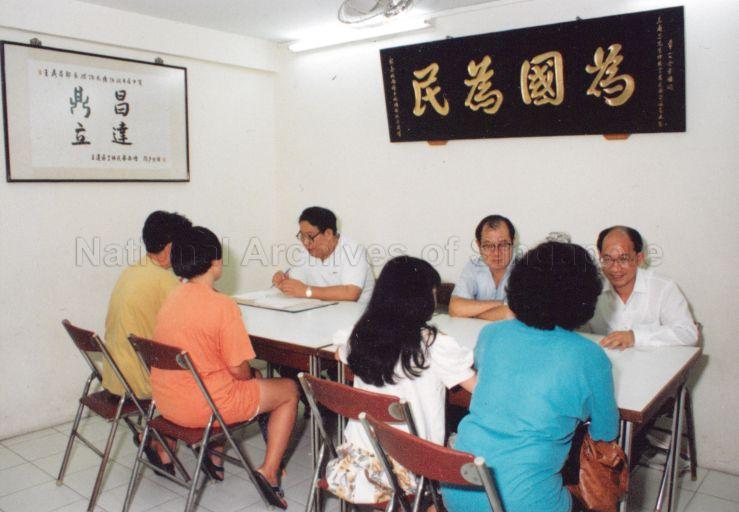 We couldn't resist adding in the fact that there actually were MPSes in Pulau Ubin too. Here's an ad-hoc one conducted by Teo Chong Tee in September 1988, while touring the island: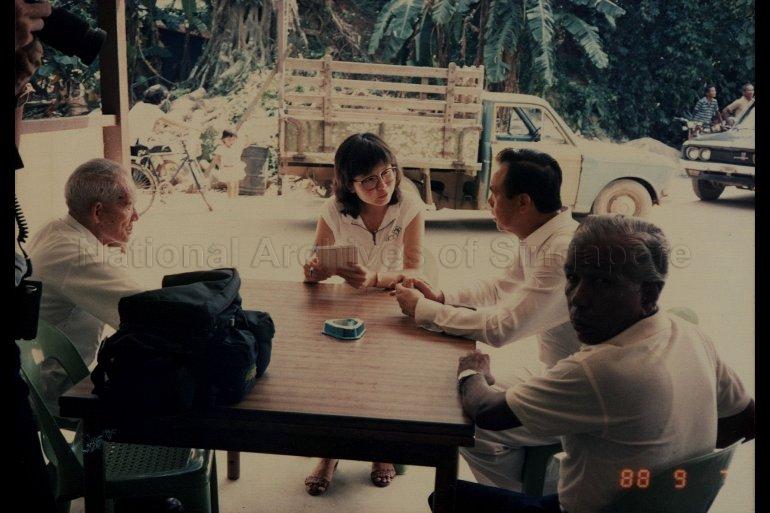 May be time to bring them back, eh, Dr Maliki? :)
Top photo from the National Archives of Singapore.
If you like what you read, follow us on Facebook and Twitter to get the latest updates.
If you like what you read, follow us on Facebook, Instagram, Twitter and Telegram to get the latest updates.