Long story short:
Pann Lim and his wife Claire, have two kids, Aira, nine and Renn, 11 (pictured above).
Lim heads advertising and design firm Kinetic, while Mrs Lim is a homemaker.
The super creative family of four come together to produce their own family magazines and art exhibitions. Art is used to educate the two young children, because the parents believe there are other important aspects that the school curriculum cannot teach.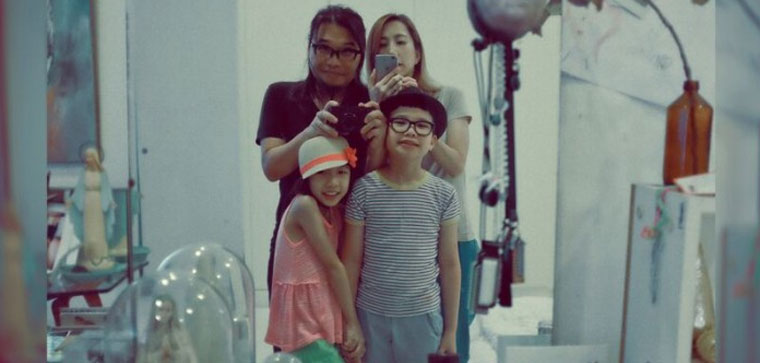 The family spends a lot of quality time together, bouncing quirky ideas off one another and putting forward proposals that either get accepted or rejected, a process, which the kids admit, is tiring but rewarding.
Lim said, via Business Times:
"Although Claire and I do not really want them to be artists, doing what we do now is our way of collaborating with them, it is our way to educate them in a fun and more tactile way where commitment and discipline become more important than just academic results."
The family is known as Holycrap, their moniker which is partly made up of the initials of their names (Claire, Renn, Aira and Pann).
Since 2011, the family has put up annual art exhibitions. And for the past two years, they have been working on the bi-annual Rubbish Famzine, their family magazine.
And here's what just happened: The latest exhibition, When Renndom Met Airany A Visual Duologue by Renn and Aira Lim was supposed to run from Nov. 24 to Jan. 24, 2016 at Gallery and Co at National Gallery Singapore.
The exhibition is about the kids growing up together, never separated even for a day and how they inspire one another in their art and lives.
However, after just four days, the Lim family were told they had to cut down 19 pieces of their art work to just four and this was due to some miscommunication and bureaucracy that has not been entirely spelt out (at least not to the public).
This, unsurprisingly, broke the kids' hearts as they worked through the pieces every weekend since late July, with Renn having to juggle his PSLE studies at the same time.
The Lim parents wrote:
This morning I was talked down like a fourth class citizen by one of the directors of the gallery because I am a nobody. But I chose to stay composed because I am way pass this phase in my life to be confrontational because raising your voice does not make you right. This week has taught us a lot. Maybe a little too much for you 2 kids, at this tender age to be emotionally crushed by giants, but that's how ugly the world is sometimes. Kids, always remember people at the top have the birds eye view but at most times they will never understand how people move on the ground. And the higher they fly the harder they will fall one day. I am not saying don't climb higher, but the higher we climb the more humble we should remain. And now I say we move forward. We are better than this.
Below are three posts that informed the public, friends and family the When Renndom Met Airany has been taken down on Nov. 28, just four days into its run: