Some S$3.6 million of church members' donations were reportedly pocketed by City Harvest Church founder Kong Hee and his wife Sun Ho, with a bulk of it being spent on travel, food, hair and make-up.
This was revealed in an AsiaOne report on Nov. 8, 2015.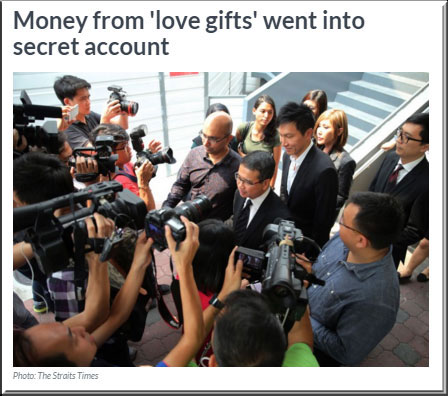 The money came from a multi-purpose account (MPA) made up of church members' donations. It was a private fund set up in 2006 and was meant to support the livelihoods of Kong and Ho.
This was after Kong publicly went off the church's payroll in 2005, where he reportedly earned an S$8,000 monthly salary -- a figure that he provided the media previously -- while making an average of S$500,000 per year from his speaking engagements, which does not take into account the money he made from merchandise sales.
Around 40 of Kong and Ho's closest supporters made regular donations to the MPA and they contributed nearly $3 million from 2006 to 2009.
Between 2007 and 2009 alone, they deposited over $700,000 into the MPA each year.
However, the MPA's full amount or how the money was used was never fully disclosed, to the extent that the donors did not know how the money was spent.
But what is known is that Ho had pocketed about $450,000 in "salaries, bonuses and royalties" from the MPA each year from 2007 till 2009.
Court documents also revealed that the couple earned a total of around S$1.4 million between 2006 and 2009 from her music artiste salary, royalties and bonuses -- money that was derived from the MPA.
Kong admitted this in court in August last year during the criminal trial involving him and five other CHC leaders, when he was cross-examined by former CHC fund manager Chew Eng Han.
Chew was one of the donors who had given to the MPA.
Kong said in court previously: "All the donors, they knew that it's a freewill giving, we didn't coerce them, we didn't force them."
"Some of them did indicate that we should use it for nothing else except for our own livelihood. We always treated this as a third-party fund with accountability... We do not use it in a cavalier fashion."
Love gifts
Cavalier or not, to Kong and Sun, the MPA was regarded as "love gifts", which paid for their expenses.
One document showed between 2006 and 2009, more than S$300,000 was spent on travel, more than S$100,000 on food and close to S$100,000 on hair and make-up.
Interestingly, Kong had admitted in court that the donors did not know exactly how much Ho had earned.
This was after Chew had charged that Kong kept the donors in the dark about the details of the MPA in 2010 by hiding the royalties, salaries and bonuses from the spreadsheet shown to donors and indicated a deficit instead, so that they would be willing to give more as a result.
Kong had said he hid the figures from donors in 2008 because he did not have a chance to check with his wife if she was comfortable revealing her salaries and royalties.
Kong said: "We do have a culture in CHC, as in many companies, that we keep our income as confidential."
Both of them were not paid with money from Ho's artiste management firms, Xtron Productions and Ultimate Assets, as the earnings were to be reinvested back into the companies.
The Inland Revenue Authority of Singapore has also clarified with The New Paper on Sunday that while donations to a church fund or a private trust fund are not taxed, "love gifts" received by religious leaders are.
Related article:
12 years ago, City Harvest Church threatened to sue whistleblower Roland Poon Swee Kay. They owe him an apology.
Top photo via Kong Hee Twitter
If you like what you read, follow us on Facebook and Twitter to get the latest updates.
If you like what you read, follow us on Facebook, Instagram, Twitter and Telegram to get the latest updates.