With additional reporting and photos by Lim Weixiang.
The Singapore Democratic Party (SDP) had its maiden rally in the 2015 election period on Thursday, and a sizeable crowd of 5,000 (number of people) turned up to witness the proceedings — likely, in particular, SDP chief Chee Soon Juan's widely-anticipated return to the rally stage.
A total of seven party members took to the podium at Chua Chu Kang stadium, where the SDP is fielding a team in the new Marsiling-Yew Tee GRC — but we found that the only two people really worth listening to were the A-team Holland-Bukit Timah candidates Paul Tambyah and Chee.
From this first rally, we present 5 reasons why we're convinced the SDP's entire GE2015 campaign rides on these two men:
1. Tambyah speaks about health issues with ease and could possibly spar confidently with the Health Minister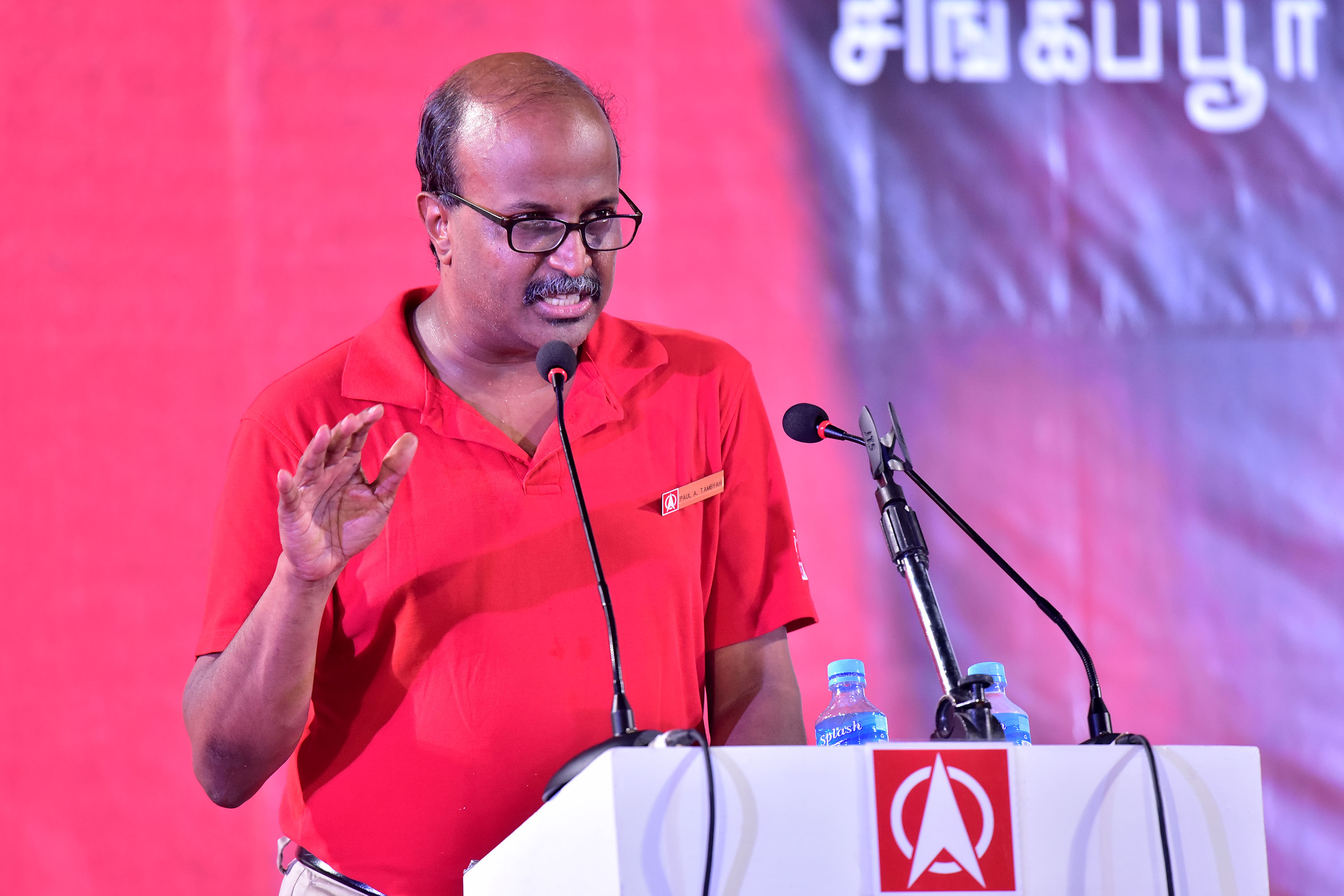 Not only does he have the solid qualifications, Prof Tambyah also speaks with authority and a steady credibility we find refreshing. You want to take this man seriously.
He's probably the key brains behind one of the party's most legit and comprehensive alternative proposals: their healthcare plan, which proposes universal healthcare system, based on his decades of experience in academia and the medical sector.
Prof Tambyah addressed the rally with a wit, humour and sensibility that made the initially slightly-sleepy crowd not only sit up and take notice, but really pay attention to him.
Don't believe us? See the rapt audience in this ST video:
" width="760" height="428" frameborder="0" allowfullscreen="allowfullscreen">
2. For the most part of his speech, Chee fell back to the familiar pattern of blaming the PAP for societal ills, but boy could he werk the crowd.
And werk it he most definitely did — well, in the way one might expect a 53-year-old to, anyway.
It was almost like he didn't spend 15 years out of the election game: he strode on stage confidently, thanked the crowd for their presence and warm reception ("I am humbled"), and promptly went on to speak in no less than seven languages — Mandarin, Hokkien, Teochew, Cantonese, Malay, even a sentence in Tamil, and finally English.
.@yourSDP's Chee Soon Joon is speaking in many languages—Chinese, Hokkien, Teochew, Cantonese, Malay so far. #GE2015 pic.twitter.com/XVWakwcOZe

— Mothership (@MothershipSG) September 3, 2015
Even before he started speaking, he walked around the stage, waving to everyone, great big grin on his face, like a man just out of jail.
.@yourSDP chief Chee Soon Juan makes his first rally speech in 15 years, to cheers of "Chee Soon Juan!" #GE2015 pic.twitter.com/eEPvv8FeEW — Mothership (@MothershipSG) September 3, 2015
3. Also, Chee is, basically, a rockstar...
Just look at how the people responded to his name being announced as the next speaker:
Think it ends there? The SDP's rally ended not with the candidates and crowds leaving, but with attendees — both young and old, by the way — crowding around him for photos. In fact, it was a veritable celebrity book-signing:
A long queue is forming after the #SDPrally to get Dr Chee's autograph and take photos with him. #GE2015 pic.twitter.com/ZTjrs6fQ3O — Louisa Tang (@LouisaTODAY) September 3, 2015
And our photographer, Weixiang, who was at the rally, took this panorama of the scene after it ended:
4. … who basically broke the internet.
And that's not all — Thursday night saw rallies in six different places: WP in Jalan Besar, PAP in Pasir Ris-Punggol and East Coast, SingFirst in Jurong and Han Hui Hui in Radin Mas, apart from the SDP's rally in Chua Chu Kang.
Check out the top trending hashtag on Twitter, though: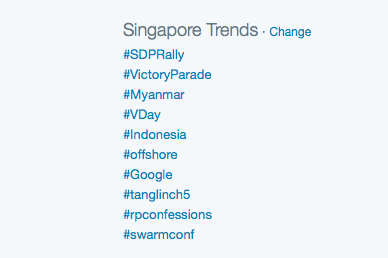 The action extends beyond social media and on the ground — it seems online interest in the party and its plans (perhaps his plug of the party website in his speech was what did it in) has crashed the SDP's website: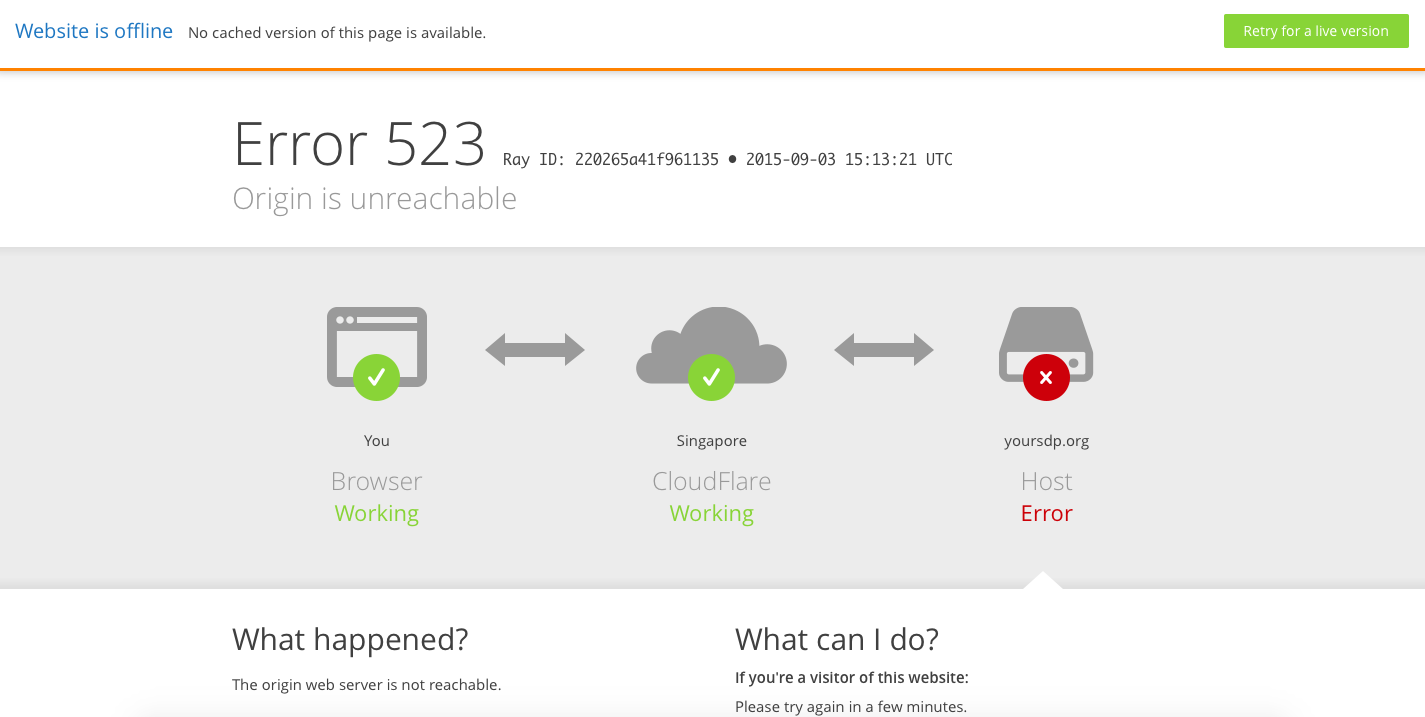 5. Chee and Tambyah, like many noteworthy politicians, are highly quotable
Examples from Tambyah:
- "There are many ways to reduce costs (in the army) — some said one way is by sending more generals to take part in elections."
- "Healthcare is not a business."
- "(More opposition) is what we need: something to break up the groupthink that has paralysed Singapore."
- "(On fellow candidate John Tan) He is not someone who believes you have to be either rich or corrupt to work without pay."
Examples from Chee:
- "Already Sim Ann and Lawrence Wong are bringing up... issues that happened in the last century. Their idea is to attack me and to see if I will respond and if I will defend myself, and if I do they will attack even more. And by the time they're done with the campaign the whole election will be over and they'll have achieved their objective, which is to prevent us from talking about the real issues… and to distract you from the real problems you face."
And all preacher-style, he suddenly quoted the biblical Gospel of Mark:
- "I want to tell Lawrence Wong and Sim Ann. (Gutter politics is) not worth... for what profit a man to gain the whole world yet lose his soul?"
- "I know what it's like to count your every dollar."
- "This is a party that has so many millionaire ministers that they don't know what its like to be poor. they are completely out of touch with the real Singapore."
- "There is no greater danger than a government that is out of touch with reality."
- "I want political leaders who serve the people, not just themselves."
- "The SDP is more than a party, it is an idea, a way of life, a vision that can transform the way of life for people in Singapore."
Top image by Lim Weixiang. 
Click here to go to our GE2015 microsite for the juiciest election-related news on Mothership.sg.
If you like what you read, follow us on Facebook, Instagram, Twitter and Telegram to get the latest updates.