Although Prime Minister Lee Hsien Loong is tipped to name his key players in the new Cabinet very soon, everyone just wants to know one thing:
Who's the next Transport Minister?
In recent years, this ministry has borne similarities to our constantly breaking down train system, as Minister after Minister (Yeo Cheow Tong [2001-2006], Raymond Lim [2006-2011], Lui Tuck Yew [2011-2015]) retired from the portfolio after serving just one parliamentary term.
When the late Mr Lee Kuan Yew asked to meet former Transport Minister Raymond Lim to discuss various matters relating to transport, he ended the discussion with:
"Raymond, this is a thankless job...but somebody has to do it!"
" width="560" height="315" frameborder="0" allowfullscreen="allowfullscreen">
If you ask us who will be savvy and seasoned enough to "do it", our money is on the current National Development Minister Khaw Boon Wan.
Sure, he told The New Paper recently that he will not volunteer for the transport portfolio.
Khaw said that he spent "many hours" walking in Sembawang Park to de-stress and to think about solutions to housing problems and prefer not to be "camping there all day" to handle the transport portfolio.
But that does not stop PM Lee from throwing his arrows.
Here are five reasons why we think he's going to be the next Transport Minister.
1. He's a fixer
Remember this guy from Pulp Fiction?
Khaw had a smiliar spirit when he volunteered to take over the problematic housing portfolio from former National Development Minister Mah Bow Tan after GE 2011.
During his 4-year tenure as National Development Minister, he kinda disregarded the spirit of Build-to-Order (BTO) flats and constructed 100,000 new flats.
Instead of assessing whether there was any demand before committing to construction, HDB simply built first and talked later. His strategy worked and the government successfully cleared the backlog of BTO applicants who were trapped in pre-2011 no-man's land: oversubscription of BTO flats and resale flats with sky-high cash over valuation (COV), which was at a median high of $36,000 in the third quarter of 2011.
Speaking of which, the COV was later scrapped from the resale flat-buying process in March 2014. Buyers and sellers now have to agree on a price first before getting an evaluation.
Khaw also oversaw the cooling of the red-hot housing market with a slew of initiatives like as the Additional Buyers' Stamp Duty (a levy of 15 per cent for foreigners and 7 per cent for locals for a second property, although there were calls from some quarters recently to remove it) and Total Debt Servicing Ratio, which prohibits borrowers from taking home loans that will bring the total monthly debt repayments (ie: credit card bills, car loans) to over 60% of their gross monthly incomes.
Could he be the wolf that PM Lee is looking for?
2. He's so confident...
That he has no qualms with committing harakiri — figuratively, of course.
He famously said in Parliament when the Aljunied-Hougang-Punggol East Town Council was the talk of the town in February this year:
"In Japan, the CEO and board of directors will call a press conference and take a deep bow, and in the good old days, they may even commit hara-kiri. Where there are breaches of the Companies Act, both the company as well as the individuals responsible will be charged, and if found guilty, punished with fines and/or jail terms for the individuals."
We are pretty sure that Khaw is the practice-what-he-preaches kind of Minister too.
3. Bypass sounds a lot like a transportation term
Jokes aside, he was all over the news for just paying $8 for his heart bypass surgery in 2010. Although honestly, many people conveniently overlooked the fact that he had signed up for MediShield and had extra coverage from his personal private insurance.
He not only highlighted the policies but also introduced his writing skills to the mainstream media, which brings us to the next point.
4. He's an online influencer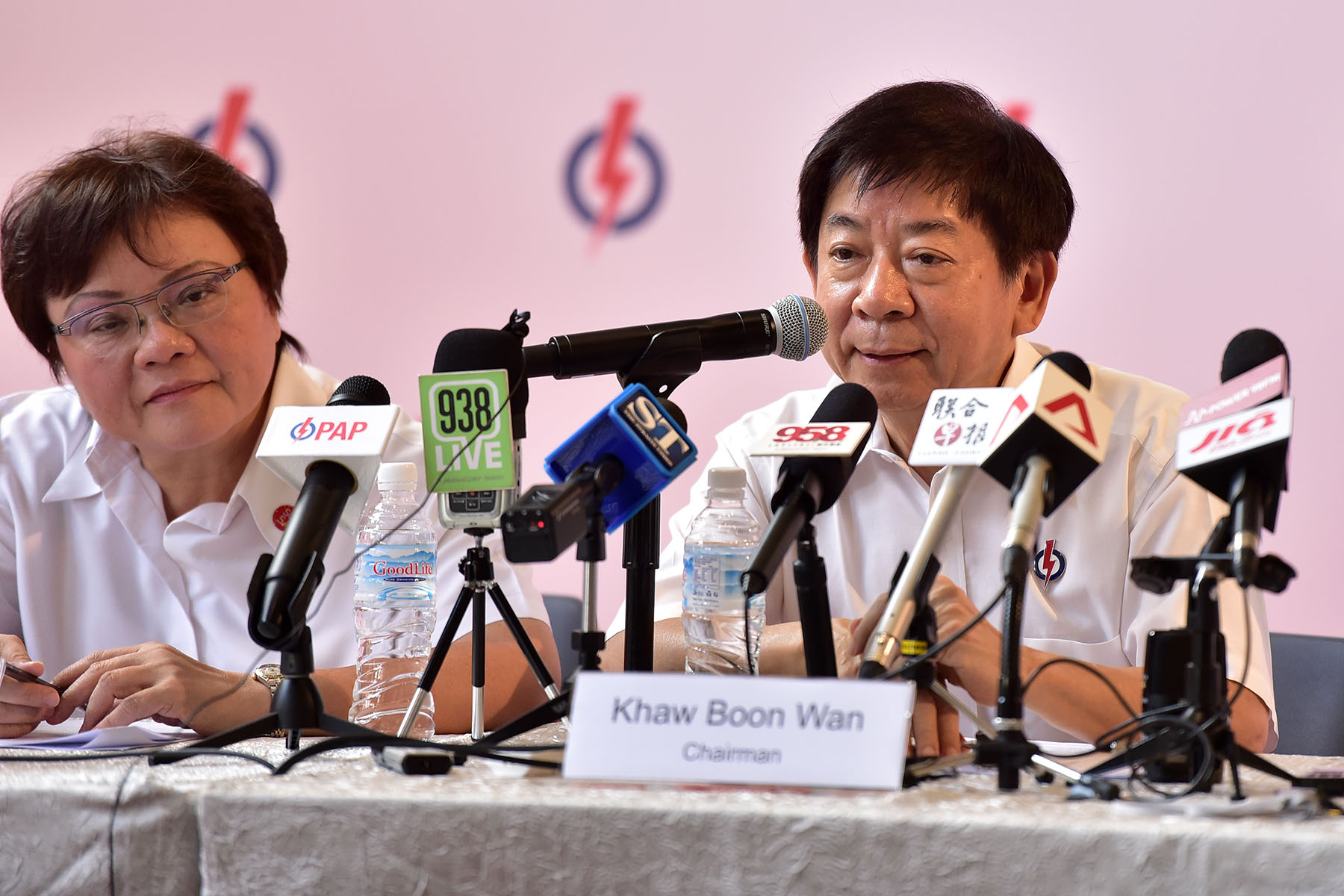 He's one of the first few politicians to start a popular blog. The convenient and useful (facts, figures galore) information got journalists eating out of his hand. He doesn't blog that often but when he does post something, it almost always becomes a news story.
His heart bypass surgery? You heard it from his blog first. The cooling of the resale market? Yup, that too.
The latest case in point? His announcement that the 25-year-old Park Connector Network (PCN) programme is some 300km long with the inclusion of the newest connector – the 36km Central Urban Loop.
5. He has grown the Park Connecter Network as a possible transport alternative
Other than fixing the seemingly-unsolvable housing conundrum, Khaw also found the time to make the rather less important Park Connector his business.
In four years, he extended the network from 180km to 300km. He does indeed seem to believe that the PCN could become a viable alternative to public transportation, even looking up to the success stories of Copenhagen and Amsterdam in an Oct 2014 blog post:
"We must now go beyond cycling for recreation. We want it to be a viable transport option for short trips to the supermarket, coffee shop, hawker centre or the nearest MRT station."

[...]

"Our National Cycling Plan envisions a cycling network of 700km by 2030, including intra town and inter town networks."
Could his appointment as Transport Minister be the final push that propels Singapore's Cycling Plan to the levels of Copenhagen and Amsterdam?
Or we can always cycle home when the train breaks down again.
--
It might not be all doom and gloom for the next Transport Minister though.
The Straits Times' transport correspondent Christopher Tan wrote that Lui's plans will take a few years to bear fruit and the next Transport Minister will enjoy the harvest.
Top photo by Lim Weixiang.
If you like what you read, follow us on Facebook, Instagram, Twitter and Telegram to get the latest updates.