I arrived at the People's Action Party (PAP) Aljunied's rally on Sep. 4 with a clicker in hand expecting the speakers to again bash Workers' Party's (WP) management of the Aljunied Hougang Punggol East town council (AHPETC).
Alas, it was not to be as the spotlight was pretty much focused on how the candidates would work hard to improve the lives of the residents.
Anyway, here are five observations of the night's proceedings.
1. The arrival of PM Lee had a major uplift on the crowd's mood.
At first they were:
"Yeah, yeah, whatever"
Then they were like:
"Lee Hsien Loong is here??"
Then they were like -
No, serious, the number of cameras that went up upon his arrival was pretty much like this.
Honestly, I was amazed that he made an appearance to lend his clout to the rally. Props.
2. The absence of the AHPETC saga
Just when you thought you'd be hearing more AHPETC (hence my clicker), the candidates didn't dwell too much on the issue. In fact, the number of times they mentioned AHPETC or town council was so insignificant.
PM Lee this morning indicated that as the hustings reached midpoint, the focus should be about choosing the right government and people with right conscience.
He had this to say about the AHPETC issue: "We have made our points. Voters are clear-eyed and we will leave it to them."
3. All you need is a loudhailer
While PAP rallies might lack the raw numbers in terms of a crowd, their supporters make up the deficit with technology. Combined with a dedicated cheer squad, it's bound to raise the energy levels of an otherwise listless (and quiet) crowd.
However it's still some way off the WWE-esque hype of a WP rally.
4. Speaking in a language other than your own
What better way to win over a crowd than to speak in another language? At the Aljunied PAP rally, Aljunied candidate Muralidharan Pillai (above) spoke in pretty impressive Mandarin to woo the Chinese-majority crowd. Many in the crowd welcomed Murali's effort to speak in Mandarin as they cheered him on during his speech.
5. Warming up the crowd before starting your speech
If there's one thing that is always consistent with any politically rally it would be to always ask the crowd if they are doing well in Hokkien or Teochew in order to induce the "Ho!" response.
Works every time without fail and does great to get the crowd in the mood. Make sure to pump your fist in the air for added emphasis.
6. New Balance - Choice Footwear for the Lees
The old school new balance shoes that I wore in army had some epic comfort levels once you broke them in.
It looks like PM Lee has followed the late Lee Kuan Yew's taste for New Balance kicks as well.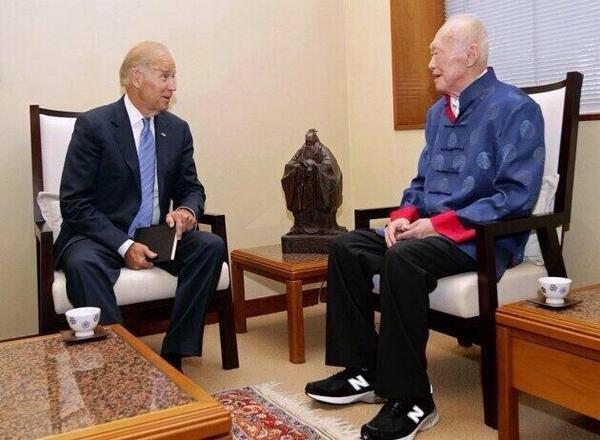 If you like what you read, follow us on Facebook, Instagram, Twitter and Telegram to get the latest updates.