With his epic ponytail, rock and roll persona and poetic tattoos, Josephus Tan is probably the most unlikely potential PAP candidate ever.
Just check out his badass ink: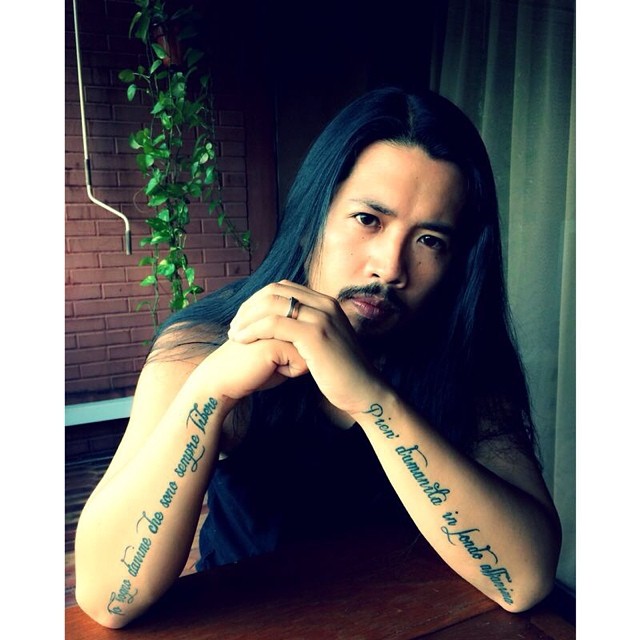 First things first, he's definitely not the typical PAP elite *ahem Ng Chee Meng*.
The 35-year-old spent his teenage years as a gangster with a drinking problem and almost killed his girlfriend during a alcohol-induced rage.
From that nadir, he quit drinking and slowly began climbing up. Against the odds, he attained his law degree and till date, he has completed over 5,000 hours of pro bono work for youths and helped out at legal clinics around the island. His epic turnaround not only gave him a new lease of life but also a new moniker: Gangster Lawyer.
Foreign and Law Minister K Shanmugam, who is also MP for Chong Pang, even praised him on Facebook.
Josephus Tan was featured in Channel 8 current affairs programme Tuesday Report Voices of the Heartlast week. Josephus...

Posted by K Shanmugam Sc on Thursday, 20 February 2014
His life story was so dramatic that only a TV series about his life story could do justice to it. And just last month, he was bestowed the Singapore Youth Award.
Come to think about it, he is exactly the kind of candidate the PAP needs; someone who can empathise and connect with the common man.
According to Lianhe Zaobao, Tan is a potential candidate at Choa Chu Kang GRC.
So we did some snooping around for some potential evidence that he will be running in the upcoming GE and here's what we found.
1. He did something very unrocker-ish.
Given his taste for rock music...
And his stylo-milo image.
It must hurt like crazy to do the Great Singapore Workout with aunties.
2. He's pretty chummy with Choa Chua Kang anchor minister Gan Kim Yong.
Besides doing the Great Singapore Workout with the Health Minister, he's also posing with him at a photo booth.
You know, just accompanying the minister to the LKY musical.
Just happen to distribute funpacks with the minister.
And just happen to bump into him in Malacca.
[related_story]
3. He's been helping out at the grassroots level.
He even received a Certificate of Appreciation from the Minister of Law & Foreign Affairs Mr K Shanmugam, MP for Chong Pang ward for helping out at his weekly Meet-the-People session.
He's been helping out at Choa Chu Kang GRC since June this year.
4. He's buying white clothes.
He posted this along with the photo:
"Today marks a new chapter of my pro bono mission! Yes, today is my 1st day helping out at Chua Chu Kang and I can't wait to get a feel of this part of Singapore! Finally can complete the missing piece to my personal puzzle!

As some of you might be aware, I've been doing my rounds at the legal clinics located round the island - from Paya Lebar, Henderson, Cheng San, to Marine Parade, and Chong Pang! It's on a weekly basis and most are committed for a minimum 6 months to 1 year period! These were undertaken in addition to my pro bono case load. Sibei siao (Hokkien for mad) right?

When I started legal practice some 6 years ago, I had this weird idea of using my skill set to raise legal literacy for our community by traveling to all the 5 precincts. I thought to myself that I should not limit my legal knowledge to the courtroom. So from those organised by the Law Society of Singapore and then to those organised by the grassroots, charities, and non-profit organizations, I managed to cover the North, South, East, and Central...

And now... *drum rolls*...the West! Yay!

Fun Fact: The last time I wore white pants/jeans was during secondary school. And this is also my first pair of skinny jeans and sneakers in years! Feeling excited like a kid before Chinese New Year! Heh heh heh!"
Choa Chu Kang GRC will be shrunk from a five-MP constituency to a four-MP one. Out of the five current MPs, Alex Yam will be affected as his current Yew Tee ward will be subsumed under the newly carved out Marsiling-Yew Tee GRC.
The remaining MPs are:
1. Health Minister Gan Kim Yong (anchor minister)
2. Mayor of South West District Low Yen Ling (1st term)
3. Zaqy Mohamad (2nd term, minority)
4. Alvin Yeo (2nd term)
Could Tan be replacing lawyer Alvin Yeo,  who was accused by Susan Lim's husband of overcharging in a lawsuit about, erm, overcharging?
All photos from Josephus Tan's social media accounts.
If you like what you read, follow us on Facebook, Instagram, Twitter and Telegram to get the latest updates.