The election period really kicked off yesterday (Aug 19) with a dialogue at the National University of Singapore Society (NUSS), which all ten political parties running in the upcoming General Election (GE) attended.
The dialogue, which was moderated by ex-Nominated Member of Parliament (NMP) Viswa Sadasivan, saw a full house, as the opposition parties - outnumbering the ruling People's Action Party (PAP) by nine to one - began to criticise the incumbent for major issues, like immigration, town council management, and transport.
Here are five takeaways from the dialogue:
1. The opposition tried to balance between distinguishing themselves and presenting a united front
The nine opposition parties in the dialogue attempted to distinguish themselves in their opening statements, with each party delegate jostling for space on an ideological spectrum dominated by the incumbent.
In the three minutes given to the delegates to summarise their party's stand, the nine parties focused on varying issues, such as stress (National Solidarity Party's Steve Chia), families (SingFirst's Tan Jee Say), transparency and clarity on government finances (Reform Party's Kenneth Jeyaretnam), separation of powers (People's Power Party's Goh Meng Seng), and social progress (Singapore People's Party's Jeannette Chong-Aruldoss).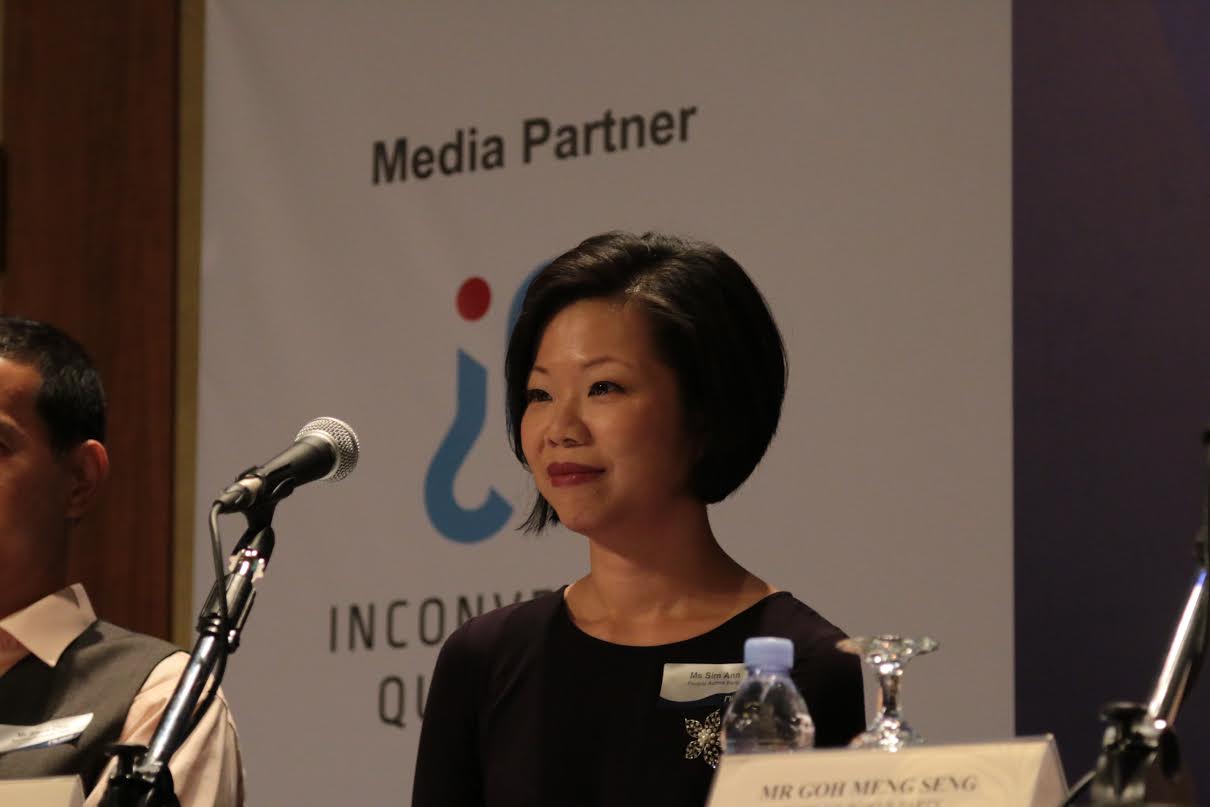 Still, the varying parties made a united effort to attack the PAP - represented by Minister of State Sim Ann - about transparency and accountability issues, as well as bread and butter issues.
SPP's Chong-Aruldoss slammed the PAP about being economical with their explanations regarding breakdowns in the transport system.
She was followed by SDA's Harminder Singh, who obliquely referenced the slew of Singapore Armed Forces (SAF) generals entering politics and added that their candidates would not have "the same kind of background" and "same (kind of) thinking (and) structural training".
After Singh, RP's Jeyaretnam referred to the government's lack of transparency on its reserves and asked why the government was against collecting CPF payouts at 55.
2. The PAP is still having to defend the Population White Paper
Nearly three years after the Population White Paper was first announced, the PAP is still having to defend it, with many opposition party delegates - some of them major political personalities at the Population White Paper protests - bringing up the 6.9 million figure.
RP's Jeyaretnam attributed the slow down on immigration to the global economy, instead of the PAP's policies. He predicted that once the economy picks up, the foreign worker inflow would pick up as well.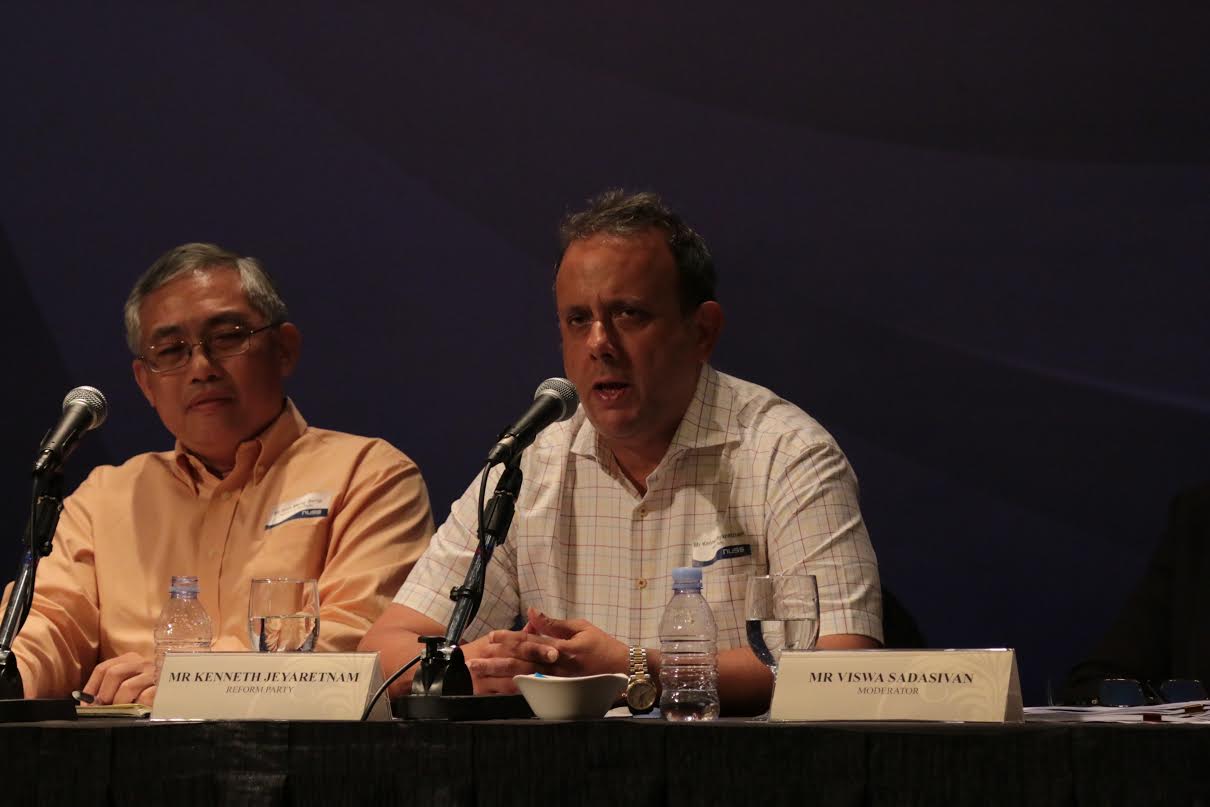 This was later followed by PPP's Goh, who told the room that population growth is the mother of all problems for Singaporeans. Goh was followed by SingFirst's Tan, who accused the PAP of using new immigrants to prop up their vote share.
"They (the PAP) are not sincere at all when they say they will moderate the growth of foreign workers," Tan said.
Workers' Party's Gerald Giam said that the WP had came up with a proposal to limit the population to 5.8 million, but conceded that the population issue was a 'challenging' one - while it is easy to say that we should get rid of foreigners, employers had real constraints too, he added.
"That's why it's important for the government to step in… to really help (employers) to improve productivity," Giam said, adding that 260 Employment Pass applications per week were made within seven days of the mandatory 14-day period that a job had to be listed in the Jobs Bank under the Fair Consideration Framework.
Sim defended the Population White Paper's 6.9 million figure by reiterating the government's stand that it is a planning parameter in response to the rapidly ageing population.
"As much as we wish to, we aren't getting any younger," she said. "How do we continue to generate the kind of economic activity that's going to support the services and amenities Singaporeans have come to enjoy and expect, and in fact, hope to see more of?"
On Tan's accusations, Sim denied that the government had any plan to bring in new citizens based on their political allegiances. "If you look at their numbers, it doesn't work out at all… Singaporeans, born and bred Singaporeans, remain the majority of the electorate," she said, adding that the number of new citizens and PRs was already reduced back in 2009.
The tightening of immigration inflow was being felt on the ground, she added. She had faced a lot of immigration-related requests as an MP. "To even stay within 6.9 million means having to say no to many Singaporeans who are asking for foreigners to stay and to make their home in Singapore for one reason or another," Sim said.
"6.9 million is not a target, it is not a stretch scenario - it is a very very controlled scenario in which we have to restrain ourselves and in a very disciplined way," she added.
3. The town councils are back on the table
WP's Giam and PAP's Sim also sparred in a heated exchange over the town council issue.
Giam - whose party runs the beleaguered Aljunied-Hougang-Punggol East Town Council (AHPETC) - said that they had "done comparatively well" than any other town council when it came to issues that mattered to residents.
"We didn't see a need to constantly respond to every single time the government repeats the issue," Giam said. "We are still in the process of releasing our final year of audited statements and the people can judge from there whether we have done a good job."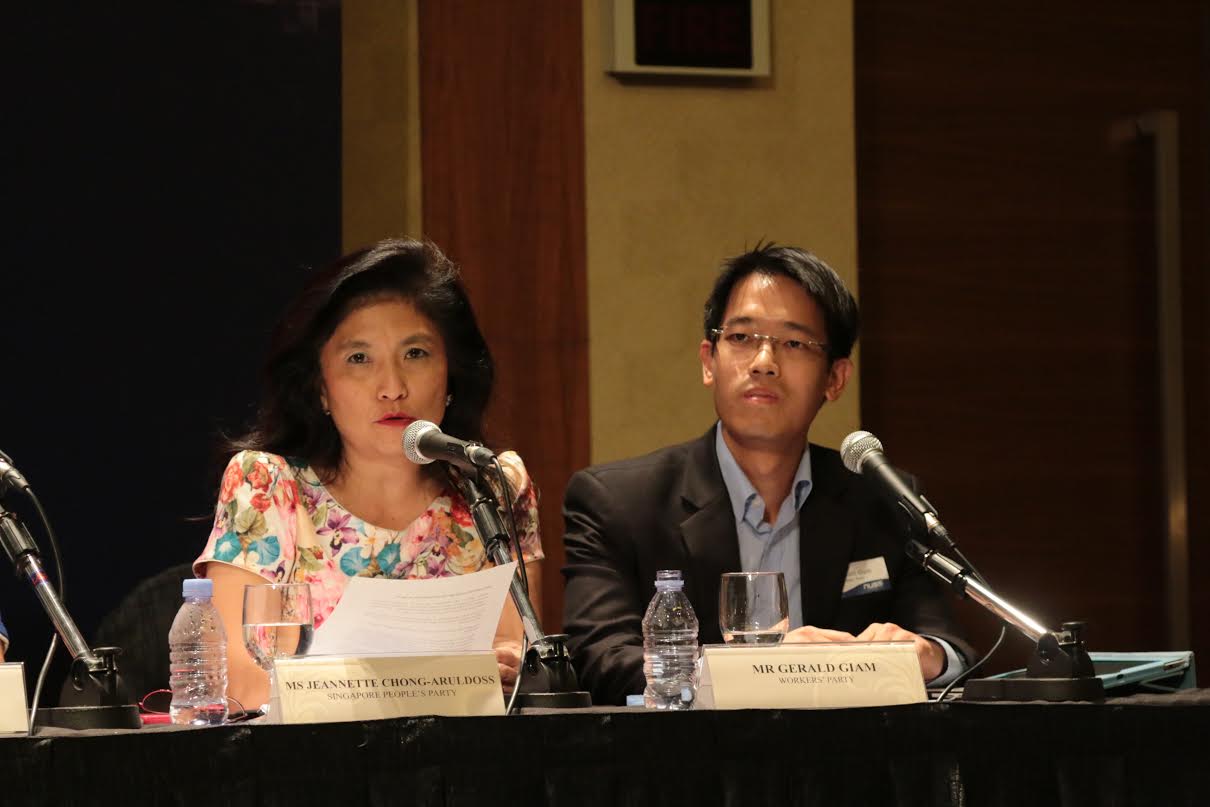 SPP's Chong-Aruldoss came to the WP's defence - she said that AHPETC's predecessors also had something to answer for with regards to the handing over of town council management. She slammed the PAP government for its muted responses to lapses highlighted in the Auditor-General's Report.
Sim responded by saying that the government's reaction had been swift, but the response by WP's AHPETC had been lengthy. Processes have been lacking, she said.
"I wish that more answers had been forthcoming," Sim said. "We would have wasted much less time on the issue."
Several parties mentioned town councils in their opening statements, with some flaunting their parties' expertise.
SPP's Chong-Aruldoss had said in her opening statement that the SPP had had 23 years of running Potong Pasir. When the SPP left power in 2011, Chiam had also left a town council with a surplus, Chong-Aruldoss said.
SDA's Singh, too, also said that their party chairman, Desmond Lim, had had 14 years of experience as the right hand man of Chiam See Tong.
SDP's Tambyah said, however, in his opening statements that MPs should be more than estate managers. "We wanted someone to lead the country, not someone to clear the drains," Tambyah said, referring to EW Barker, his MP when he was a child.
4. The opposition still isn't making a play to become the next government
Like GEs of the past, it seems that the opposition is not aiming to become the next government.
NSP's Chia spoke about how the increasing complexity of issues in modern metropolitan Singapore required more effective discussion. This was where the NSP differed from the others, said Chia.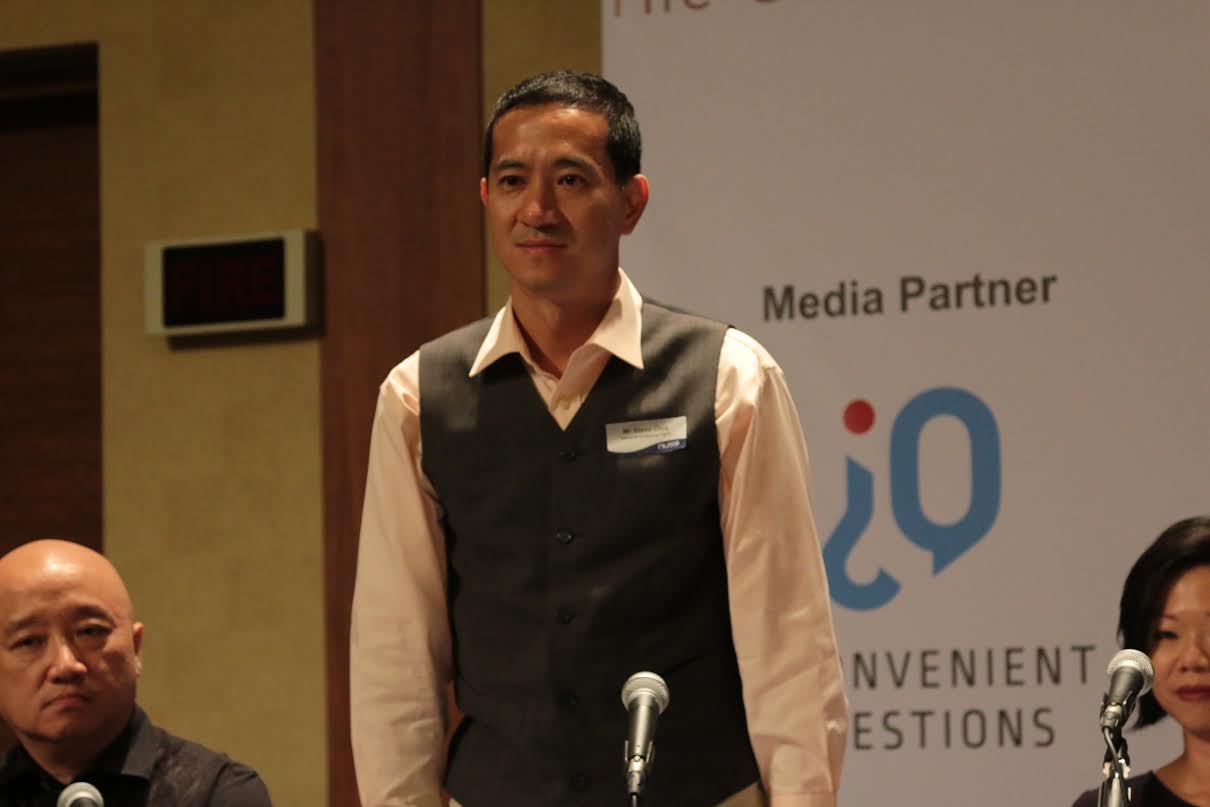 "We are not going to talk about taking over the government," Chia said, adding: "I don't think we are ready. We are talking about reducing the PAP's majority in Parliament."
The DPP's Pwee took a strikingly similar stand, calling for the PAP to play along collaborative lines, as the PAP does not have a monopoly on power.
"Singapore will not survive if the PAP continues to think that solutions come from within them," Pwee said. "We need to bring in the best qualities across all the parties you see here into Parliament - everybody (should) work collaboratively to solve (for) solutions together."
WP's Giam made a case for more checks and balances in a post-LKY Singapore.
Moving forward, it was important to have another party in power who could study the issues and propose alternative solutions to be implemented, Giam said. "If we are able to achieve that, I think we would have a much more effective government that what we are having right now."
A notable exception to this was SDA's Singh, who was very animated in attempting to convince the audience that the PAP needed to be voted out of power.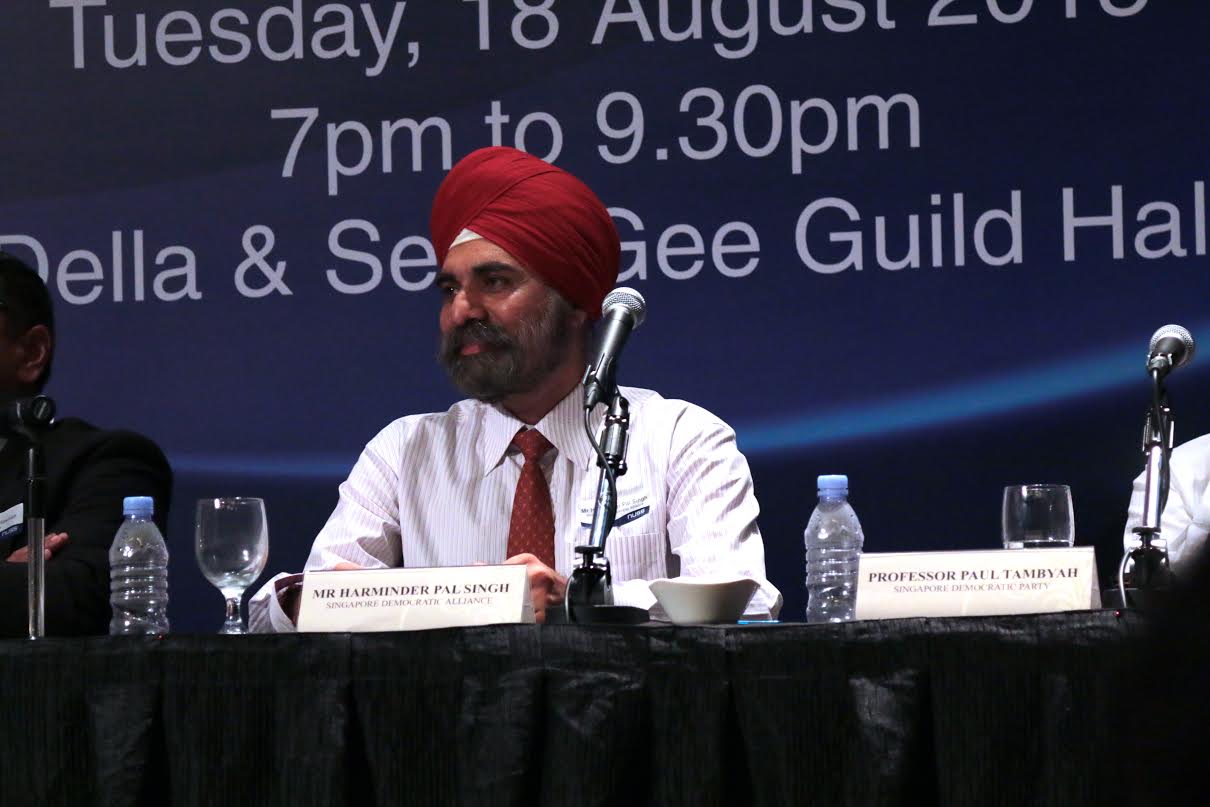 "The issues that were raised four years ago, and the issues that we're still fighting about this time, will be still there in another 10, 15 elections, unless the people of Singapore say enough and enough and take action," Singh said, to raucous applause. "Put us in power… unless we are in power, nothing will actually change."
5. Sim Ann was most obvious in playing the LKY card
The upcoming GE - in the wake of founding Prime Minister Lee Kuan Yew's death and the Golden Jubilee celebrations - was bound to see complaints of the incumbent playing the nostalgia card.
In response to a passing remark by one of the delegates on whether she could read the minds of the current PM or the founding PM, Sim said that the current government was one that had always put Singaporeans front and centre.
"We have just sent off Mr Lee Kuan Yew a few months ago," Sim said. "I think many of us have gone back and reviewed the journey he has brought us on, ever since 1965, when we were forced to become independent."
Before she could finish her statement and go on to discuss Singapore's post-LKY identity, moderator Viswa Sadasivan cut her off, saying that she had already made her point.
Sim was not the only one who played the LKY card, however - WP's Giam, PPP's Goh, SDP's Tambyah and SDA's Singh also referred to LKY, mostly in support of arguments that Singapore needs change.
The full dialogue will be uploaded to socio-political site Inconvenient Questions at 12pm tomorrow.
All photos by Ng Yi Shu.
If you like what you read, follow us on Facebook and Twitter to get the latest updates.
If you like what you read, follow us on Facebook, Instagram, Twitter and Telegram to get the latest updates.