Photos by Lim Weixiang unless otherwise stated.
The ruling People's Action Party (PAP) unveiled its candidates for Jurong GRC and Bukit Batok SMC on Thursday (August 20) at the PAP's Clementi Avenue 2 branch.
Deputy Prime Minister Tharman Shanmugaratnam, the anchor Minister for Jurong GRC, will be joined by MPs Ang Wei Neng Minister of State Desmond Lee, as well as two new candidates: Tan Wu Meng, a doctor, and Rahayu Binte Mahzam, a lawyer. Existing Jurong MP David Ong will be defending his seat at the newly-formed Bukit Batok SMC.
Here are the 5 things that caught our attention at the unveiling:
1. This is the Tharman Show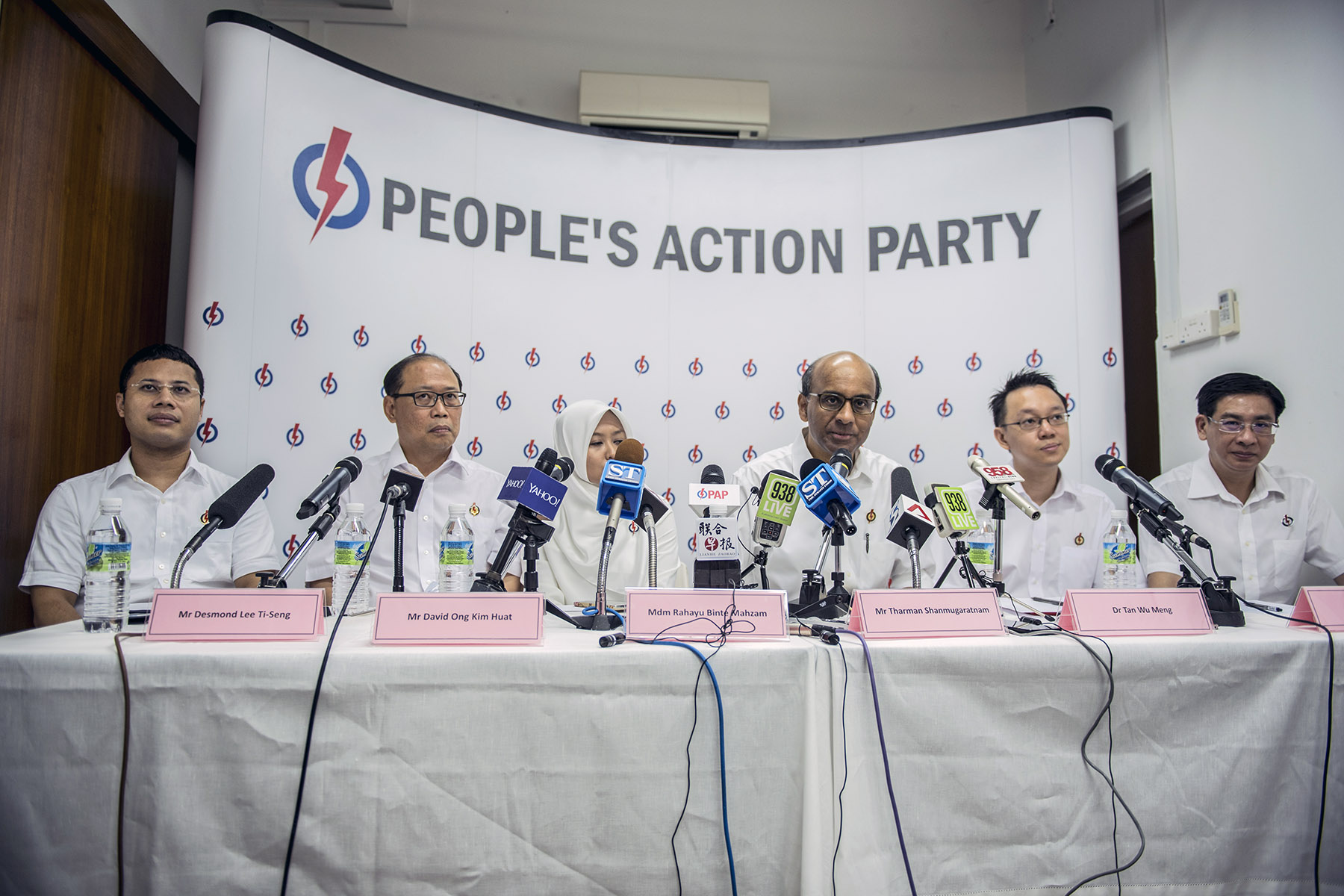 With four terms as an MP under his belt, there is no doubt DPM Tharman is the most experienced politician on his team. In fact, he has single-handedly served more terms as an MP than all his teammates combined (Lee, Ong and Ang have all served only one term each).
Beyond that, DPM Tharman was also the most surefooted among the candidates when speaking or fielding questions from the media.
He was to-the-point, did not beat around the bush, and provided many quotable soundbites. Our favourite soundbite from him was, ironically, "We are not soundbite people" (for context, he was talking about how his team are doers who walk the ground and they "do it without cameras, do it with heart").
Some of the pretty decent things he said include:
a) "Doing things without show/without cameras"
"The way we do is is that we do it. Do things on the ground. Do it quietly, do it without show, do it without cameras. Do it with a heart. That's our stance."
 b) "We don't think we have a natural advantage"
"But an election is always a battle for hearts and minds, and we don't take any Singaporean for granted. We don't take any Singaporean for granted. We think we've got a strong track record, but we go into this election not as a party that thinks it's got some natural advantage over the opposition. We don't. We go in for this election with our record, with our plans, and we hope that we win hearts and minds."
c) Tackling a direct question from a Zaobao reporter — how close are we to the election?
"Well you can't seriously expect me to answer that. But I think we are rolling out our candidates step by step in different parts of Singapore. We want them to be recognised in election. Most of them are familiar faces, and even the new faces are frankly quite familiar on the ground now. We'll have to wait for the PM to decide and make his announcement."
d) He even apologises for the extremely cramped and narrow location at the party's branch office in Clementi
"Finally I'd just like to say as my way of an apology for you being cramped in this room — it just happens that our branch structure has two separate rooms, we use it for MPS in Clementi, the other room has a pillar right in the middle of it and it wasn't ideal, and we're happy that everyone has managed to fit in here, with some cooperation amongst yourselves."
He then cleverly adds:
I should also say quite frankly that our action in Jurong doesn't take place in the branch, except during MPS. It takes things outside the branch, and we just believe in being on the ground all the time. We don't bring residents here, we go out to them. That's another reason why our premises are like this.
He also initially declined questions from Mothership.sg after the press conference, saying he preferred to let his younger teammates take front and centre, but he later answered a question from a CNA reporter about his choice of running mates:
" width="760" height="428" frameborder="0" allowfullscreen="allowfullscreen">
2. Huge amount of emphasis on walking the ground and helping residents
National issues definitely took a back seat at Thursday's press conference.
The message of the day from the Jurong GRC team was that the MPs have been walking the ground for many years, listening to issues raised by residents, following up on their feedback, and solving problems for them.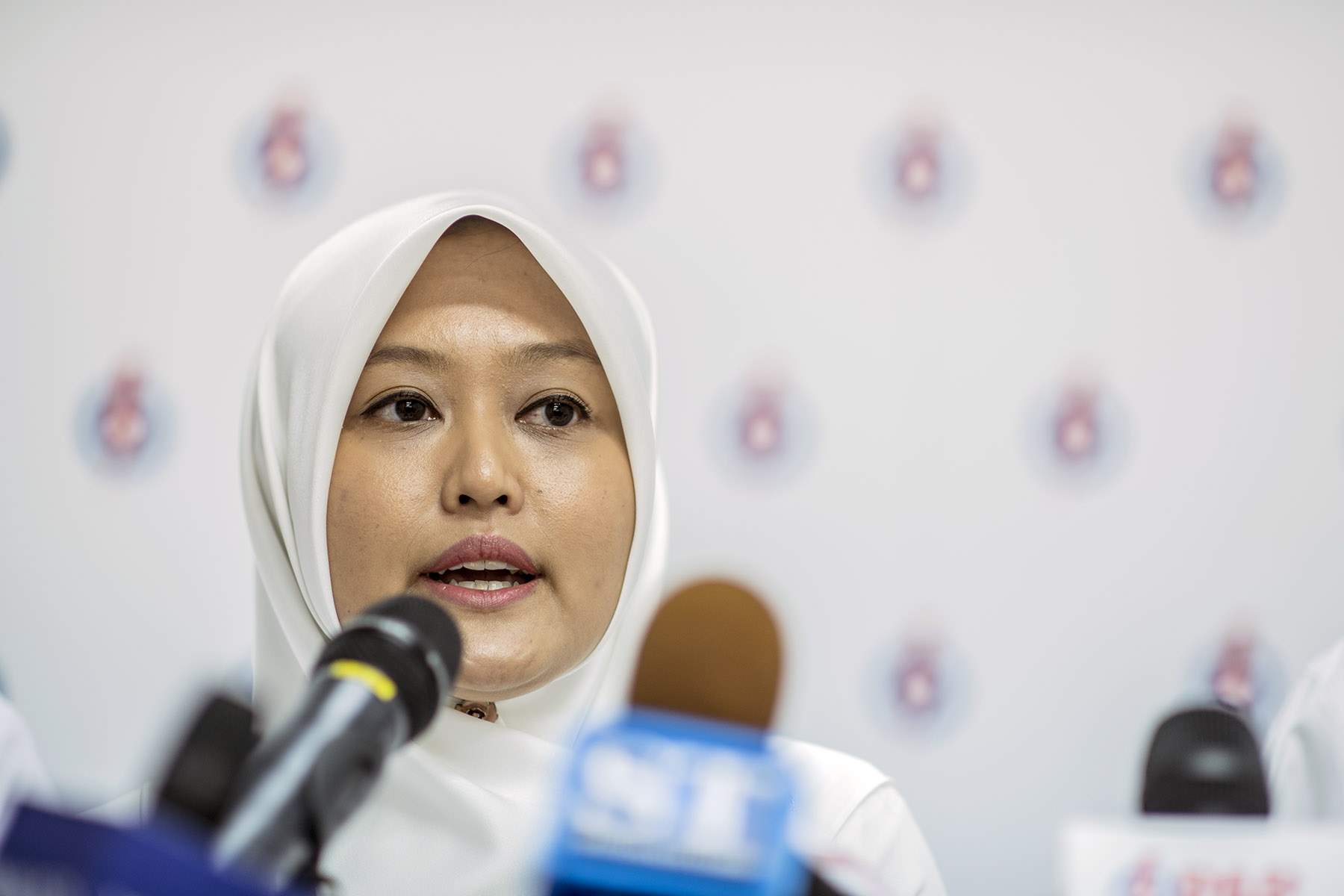 New candidate Rahayu Binte Mahzam, for instance, played up her many years of volunteer work, having started at the Malay Youth Literary Association when she was just 17 years old.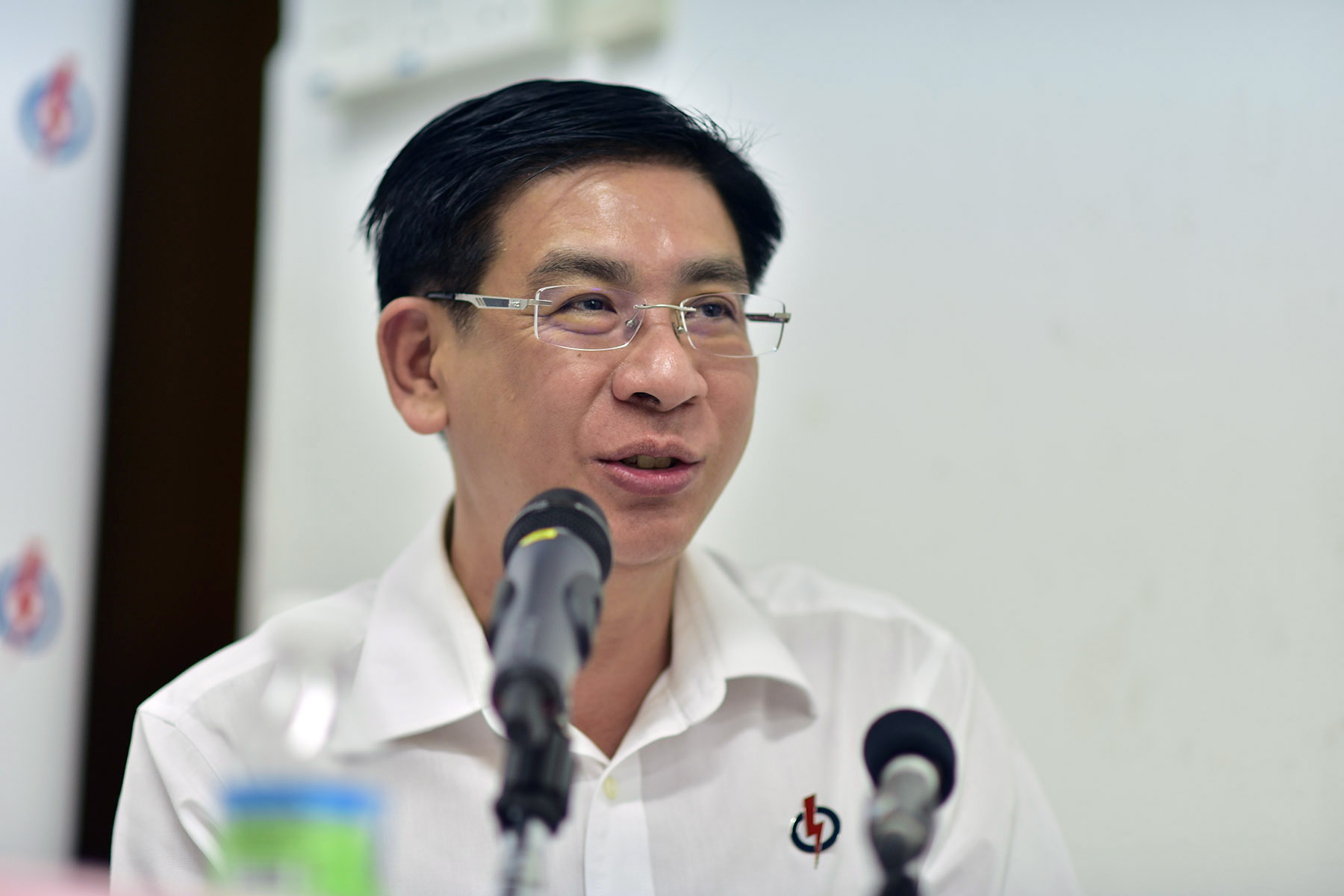 Also, when asked what each candidate's pet issues to champion in parliament are, both DPM Tharman and current MP Ang Wei Neng opted to instead reiterate the significance of house visits done by the MPs to learn more about issues faced by residents.
Plenty of time was spent dwelling on the residents' "kampong spirit", on "building a volunteer base" and more, with DPM Tharman promising to personally spend time on the ground in Clementi  — a new addition to Jurong GRC, despite his ward being Taman Jurong.
"Clementi is a new ward, and I take it very seriously," he stressed multiple times, saying this is partly the reason for a planned change of names in the GRC's existing town council from Jurong to Jurong-Clementi Town Council should they win the election.
3. New candidate Tan's going big on social media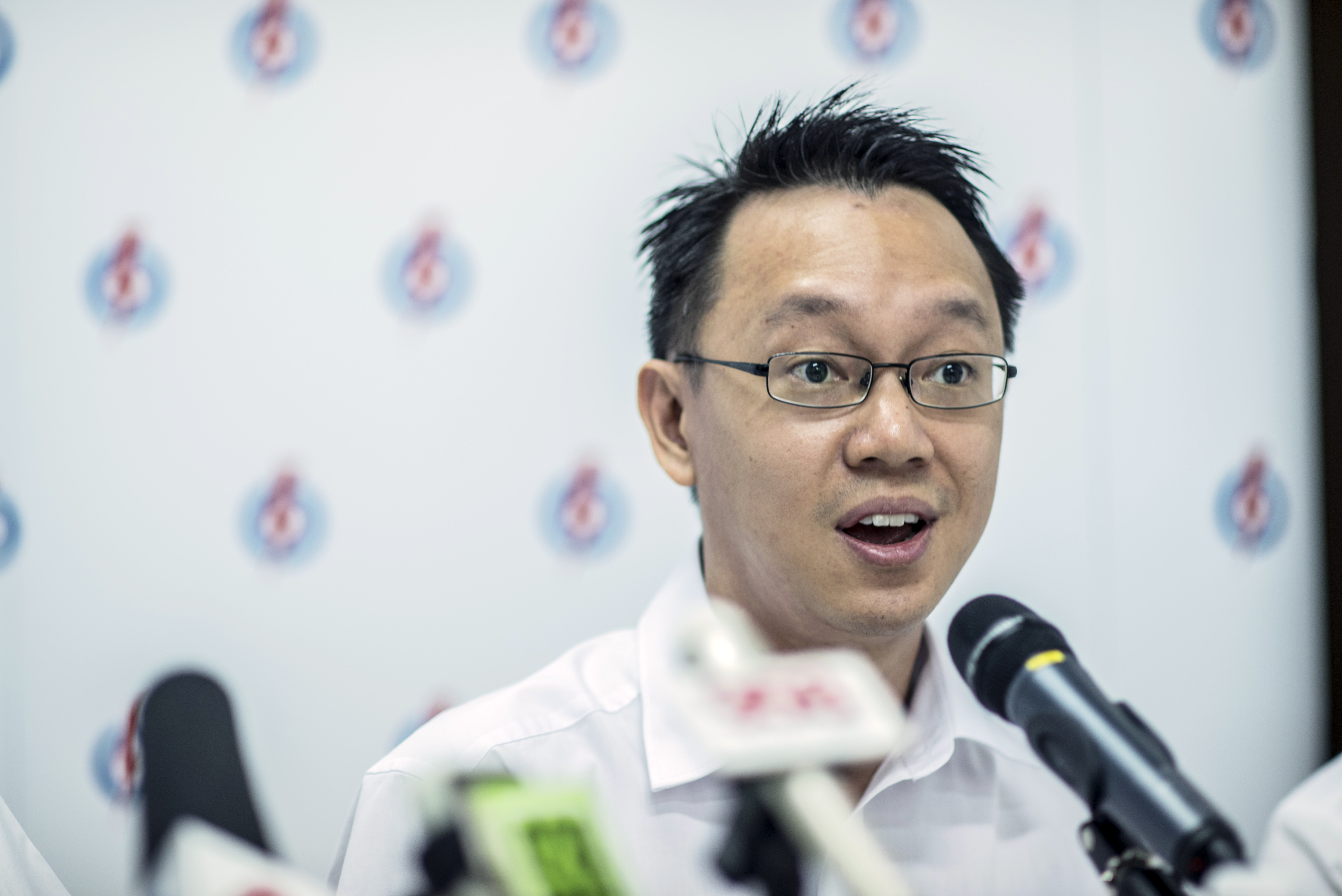 We noticed that Tan, a Cambridge-educated specialist in medical oncology (cancer doctor lah) at Parkway Cancer Centre, also happens to be pretty social media savvy, despite currently still being a relative unknown.
Apart from having written two pieces of commentary work for us (here, and here), and also contributing letters to The Straits Times and Today forum pages, people don't know all that much about him — so naturally, one reporter asked him for his number.
In response to his repeated urging, however, he asked the reporter to "like" his Facebook page, and write to him there — he would then provide his contact number.
So intense is his social media campaign, in fact, that he even has an online domain "http://tanwumeng.sg" which redirects to his Facebook page — maybe he'll turn it into a legit website soon. Stay tuned.
4. Does new candidate Rahayu know the food in her ward?
" width="760" height="428" frameborder="0" allowfullscreen="allowfullscreen">
As with the usual custom that has developed at these PAP candidate introductions, the media clustered round both of the GRC team's new candidates, Tan and Rahayu, for doorstop interviews.
Perhaps in a sneaky bid to "test" the candidates' familiarity with the ground, a reporter from The New Paper asked her their standard question: where a visitor to her potential future ward, Bukit Batok East, should go for food and shopping.
She said (her answer starts at 1:15) that she's been to the area a lot and likes it, and then...
"There are a lot of coffee shops between Blocks 273 and 272 in Bukit Batok East, I would recommend it if you need to look for things. It's a one-stop shop. You can buy things, you can have your lunch and dinner, yeah. Do your shopping there. (Reporter: So the best makan there?) Best makan, don't let me... uh (laughs) that one you've got to try it for yourself, because there are a lot of shops there."
Maybe she had a brief moment of amnesia. Or perhaps there's just too much awesome food to be had at Bukit Batok East?
5. The team is missing the heavyweight presence of Halimah Yacob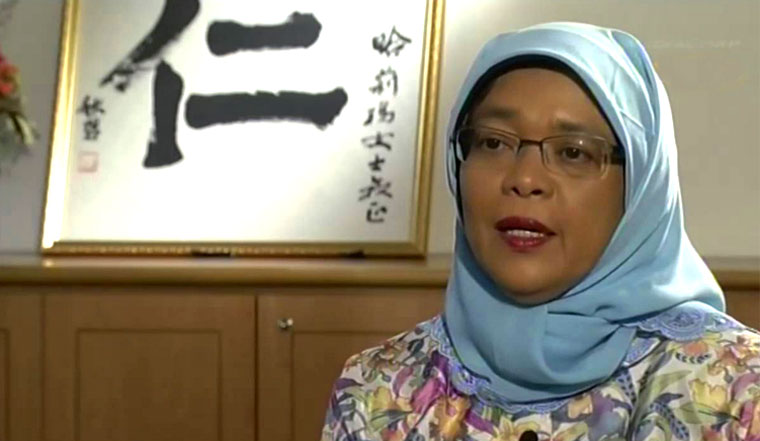 We think everyone would have noticed this for sure. As much as DPM Tharman insists it is "by chance" that Rahayu is also a Malay-Muslim female, in replacing outgoing MP and Speaker of Parliament Halimah Yacob, her exit will definitely weaken the strength of the Jurong GRC team.
While this poses nary a challenge to DPM Tharman, who is likely the most definite shoo-in candidate in the coming election (apart from PM Lee Hsien Loong, perhaps?), it might be an uphill climb for the rest of his team to pull their weight and avoid riding on his very long coattails.
That said, we suppose Halimah would not be leaving Rahayu in the lurch. Here's what Rahayu shared about Halimah's parting tips given to her:
"Firstly she (hasn't) left (Jurong GRC yet), she's still working very hard because she's still the MP there, and from our conversations, basically they're very simple tips: just be yourself, really be on the ground, really understand and listen to people's problems. So it's just a very simple guideline which I've been following very closely, and I've been walking around Bukit Batok East a lot and that's really something that has just been ringing in my head because it's been very useful, because I think it's not about the show of walking to show, it's not ... it's really about finding out what their needs are, and Mdm Halimah's tip has really gone a long way in helping me connect to the residents."
We hope there's more Halimah shared with Rahayu that perhaps she kept from us, owing to them being "trade secrets", because we don't know about you, but that doesn't look like a whole lot to go on.
If you like what you read, follow us on Facebook and Twitter to get the latest updates.
If you like what you read, follow us on Facebook, Instagram, Twitter and Telegram to get the latest updates.