All photos by Lim Weixiang unless otherwise stated.
Who is Kahar Hassan? That will be the reaction of most Singaporeans unless you are a Kaki Bukit resident in Opposition-held Aljunied GRC.
We know about Kahar a month ago when he announced his stepping down as the Chairman of People's Action Party (PAP) Kaki Bukit Branch.
In other words, the Business Development Director with an engineering company was a prospective PAP candidate for its "suicide squad" in Aljunied until last month. His stepping down certainly raised some eyebrows among politicians and political observers because Kahar had been working on the ground for 16 months.
Former PAP Minister Lim Boon Heng, who announced current PAP candidate Shamsul Kamar's "take-over" of Kaki Bukit to the grassroots leaders, told the media on Aug 1 that the decision to replace Kahar was "not because he's done anything criminal or there's a scandal". (Thanks for putting this negative thought in our minds, Minister!)
After the sharing of Kahar's Facebook post on July 31, it has been difficult to connect with him. We suspect it is probably an effort by Kahar to remain low profile for the time being. In fact, he told me that he preferred not to accept any media interviews during the GE campaigning period.
With a sighting of him at a Workers' Party (WP) event and murmurs that Kahar was "hardworking" but perhaps did not build up rapport with his Kaki Bukit residents, Kahar finally relented and decided to share his side of the story and life after stepping down as a PAP chairman.
Mothership.sg met Kahar last weekend to talk about his previous role as the Chairman of PAP Kaki Bukit Branch, his strategy to reach out to the residents in the Opposition ward and why he is a "Teochew porridge".
1. Tell us about your previous role as Chairman of PAP Kaki Bukit Branch.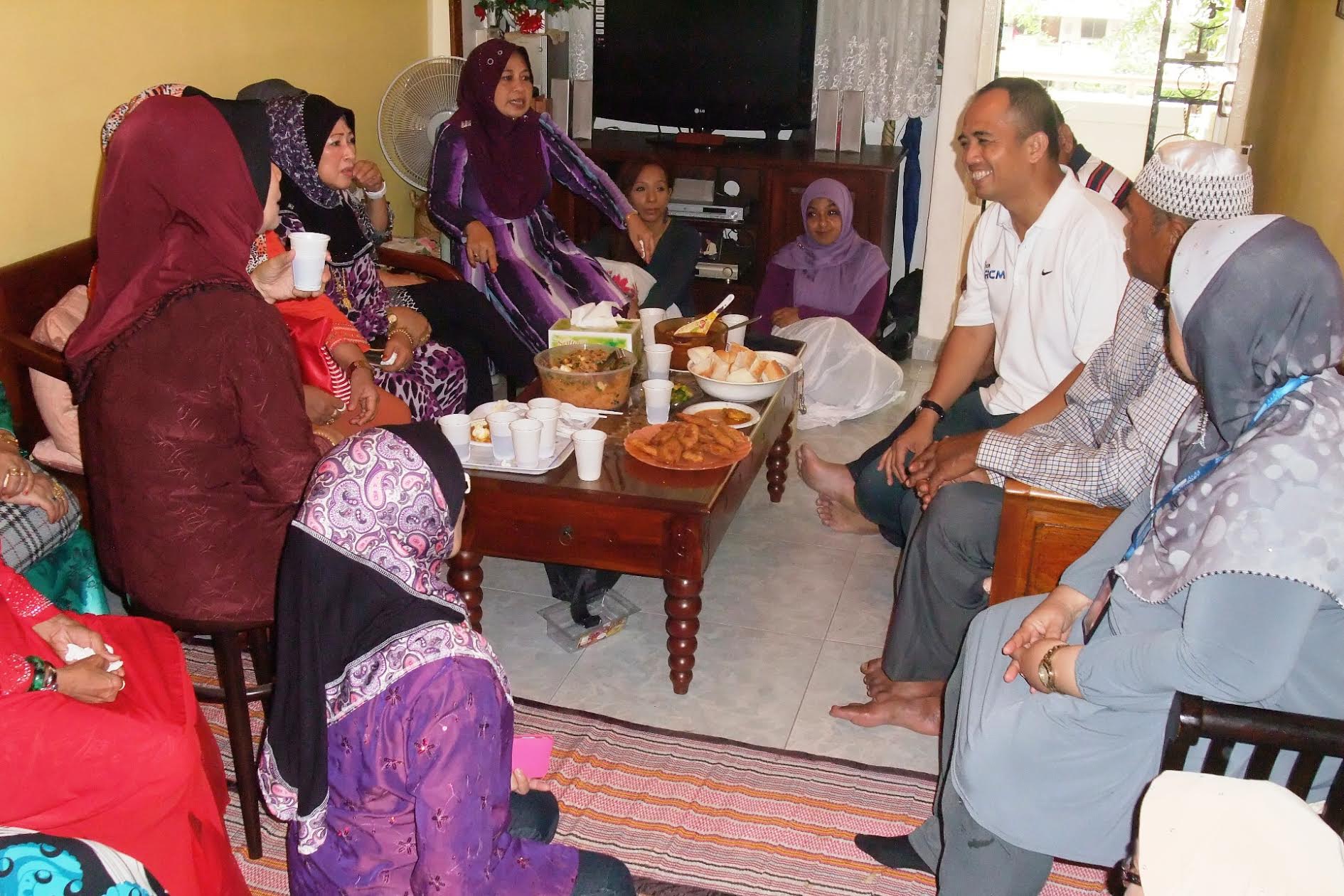 As a PAP Branch Chairman in an opposition ward, I do not have the luxury of learning the ropes from an incumbent PAP MP. I was immediately thrown into the deep end of the pool having to make decisions for the Branch and the activists. I have to also raise funds for both my Branch and the PCF to ensure its sustenance.
My priority when I first came to Kaki Bukit, was to increase residents' awareness of PAP's presence in an opposition ward. I found out that a good way for me to embark on this, is through organising exercise groups, overseas tours, local outings and events to engage our residents and make PAP's presence felt.
I also conducted house-to-house visits in my capacity as a PAP Branch Chairman and helped explain government policies and programs such as the PGP, Silver Support Scheme, Medishield Life etc to our residents.
Being a deep advocate of Design Thinking (an innovation process), the key step to innovation is empathy. With empathy, one will naturally be sincere, be willing to listen and be able to come up with the right solutions to solve a problem, or in this case, help the residents.
I restarted the weekly Meet-the-People Session (MPS) on 5 May 2014 at Blk 519 PCF Kaki Bukit to help residents, and was attending to 5 to 7 cases every Monday. In less than 4 months, our MPS cases increased. During my tenure as Branch Chairman, I attended to approximately 30 to 35 MPS cases every week.
I have also launched the "Milk & Diapers Program" to help needy families. From my daily house-to-house visits, I met needy families with elderly or bedridden members, many of whom could not afford consumables such as powdered milk and diapers. Similarly, these consumables are also a huge financial burden on underprivileged families with toddlers and newborns. The program thus helped reduced these families financial burdens and ensured that no one is deprived of such necessities.
Nonetheless, in the midst of showcasing PAP's presence, I have not forgotten that Kaki Bukit is an opposition ward. Therefore, I also made sure that I gave due respect to the elected MP, Mr Faisal Manap, who has been given the mandate to run the ward by the residents.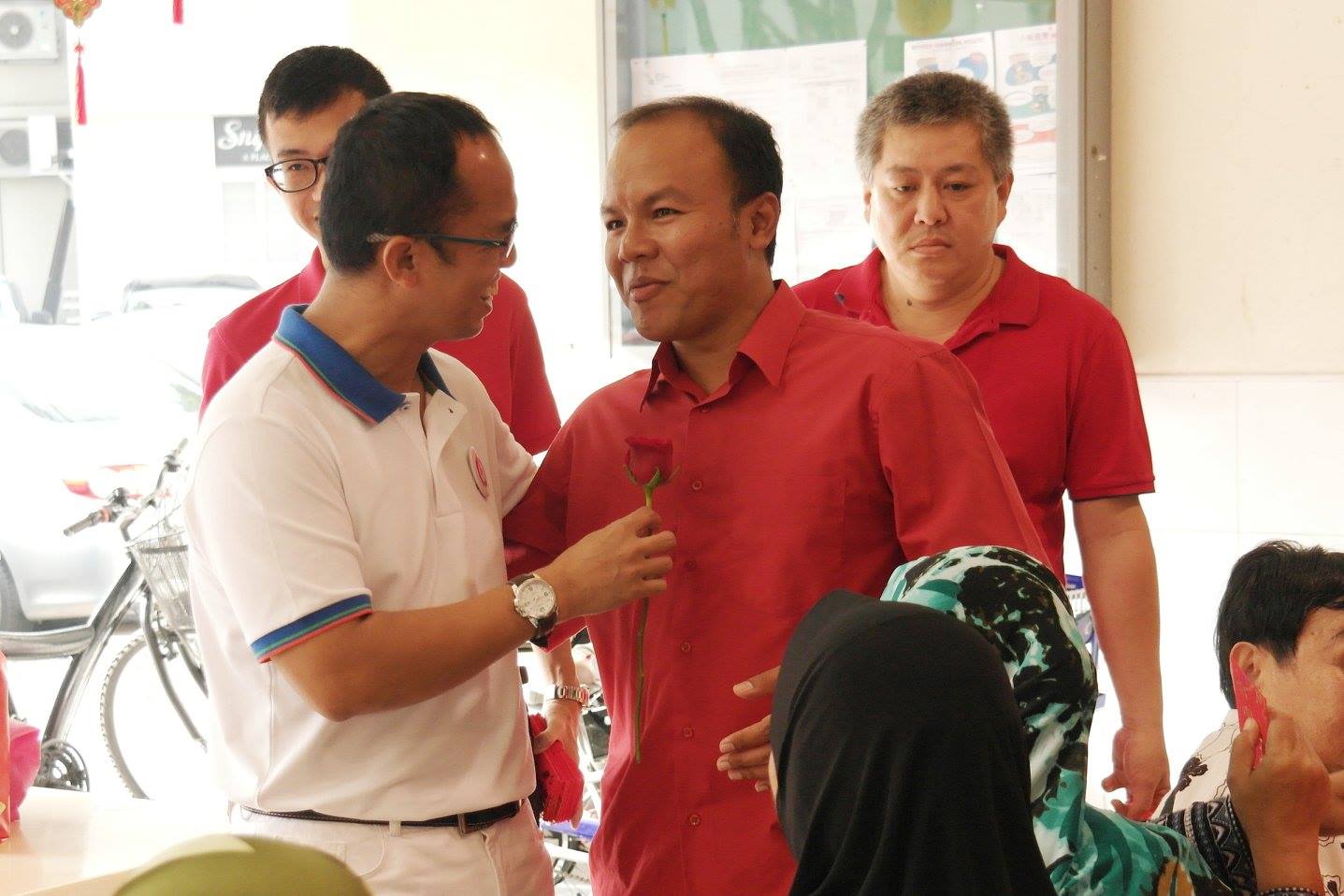 2. How did you reach out to residents in the Kaki Bukit ward?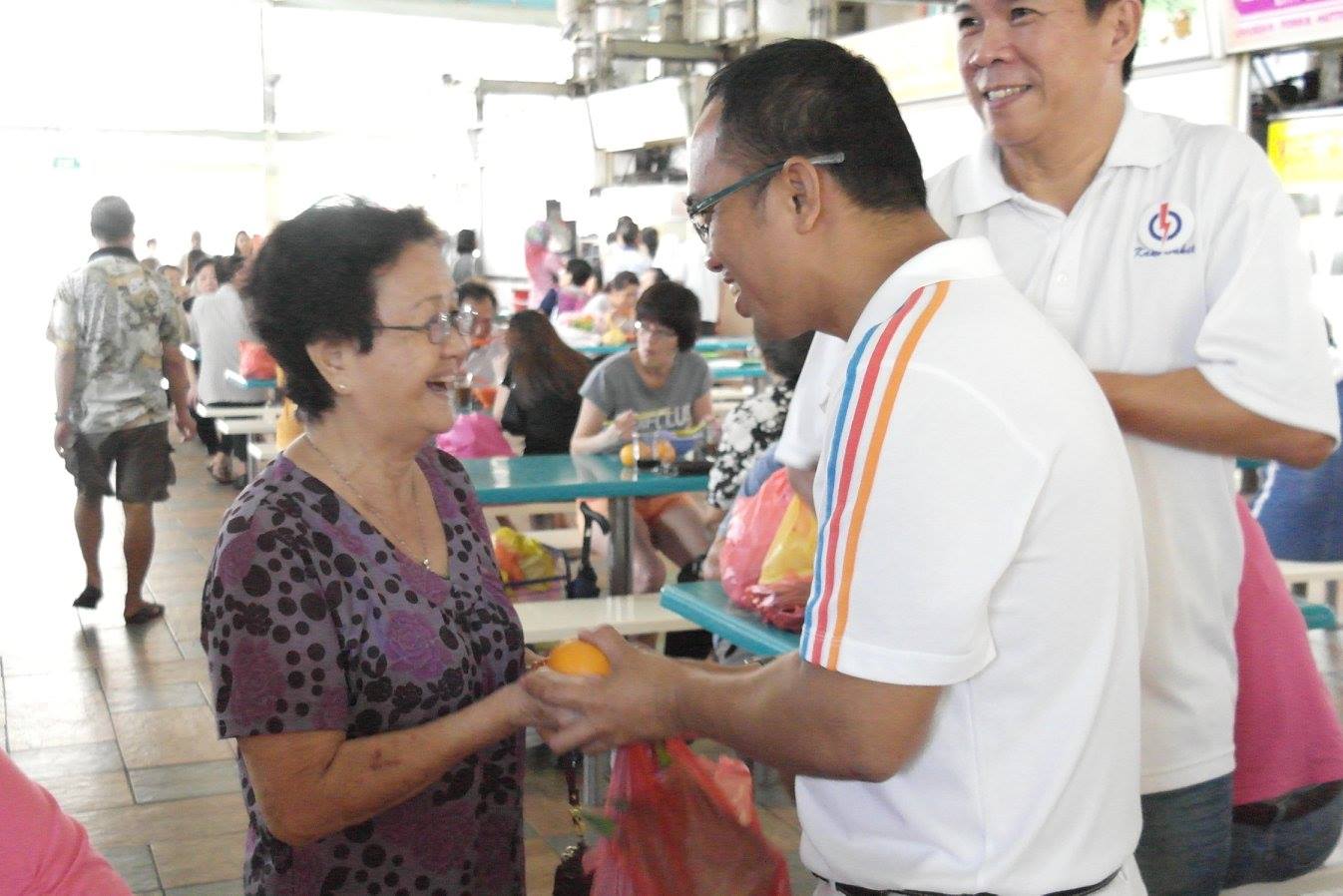 17 months ago, when I was told to go to Kaki Bukit, I thought about how I could appeal to the hearts and minds of the residents. I believe "it's not about doing different things but doing things differently". I know I would not be able to expect a different result if I were to replicate the same modus-operandi as when Kaki Bukit was still a PAP incumbent ward.
I asked myself 2 questions, "How did WP win Aljunied GRC in GE2011?" and "What is Mdm Halimah Yacob's winning formula which makes her a household name among many Singaporeans?".
With that in mind, I approached Mdm Halimah (Speaker of Parliament) to be my mentor which she graciously agreed. I followed Mdm Halimah on her block visits and learnt how she manages her ward in Bukit Batok East. I am not shy to say that I emulated what Mdm Halimah has done as her methods have proven to be successful. Occasionally, I would seek her advice and opinions on certain issues.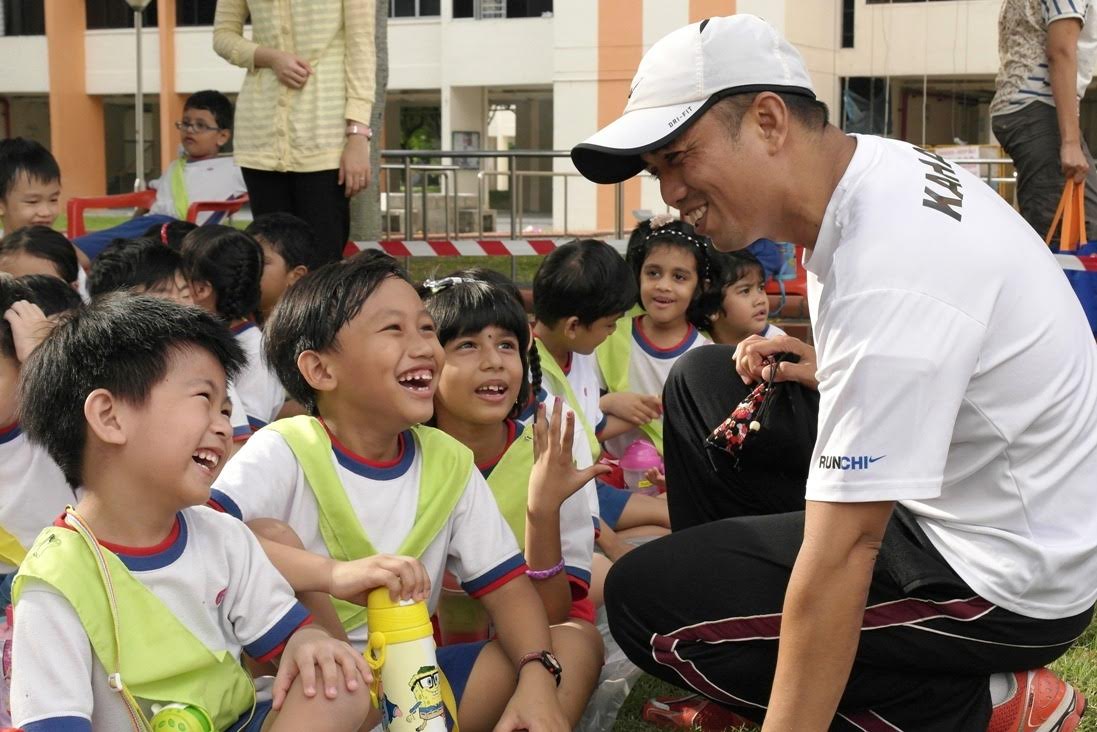 Back in Kaki Bukit, I told myself, my aim is to get to know every single resident. As such, after finishing my day job at 5pm, I conducted house-to-house visits 2 times a day (5.30pm-7pm & 8pm-9.30pm) every Monday to Friday. On weekends or public holidays, I would have market or coffeeshop visits in the morning, followed by 1 session of house-to-house visit in the afternoon or evening. These visits are not hi-and-bye sessions. I took time to listen to each resident's concerns and offered them advice on-the-spot. For issues which cannot be resolved immediately, I would invite them to our Meet-the-People Session (MPS) so that we could explore other ways to assist them.
I have since completed 2 rounds of house-to-house visits within Kaki Bukit and was about to commence on my 3rd round prior to being asked to step down.
I intentionally conduct these house and market visits in my capacity as PAP Branch Chairman with only 2 or 3 Branch activists so that I could have deeper interaction with the residents at their doors and also to encourage the residents to approach me freely at the market to share any issues or concerns which they might have. I do not fancy having a big entourage with me at the coffeeshop or market, as that only creates unnecessary congestion and inconvenienced the business owners and diners.
I also make it a point to attend all wakes in Kaki Bukit to extend my condolences and assistance to the bereaved families. It is very sad to learn that some of these residents who have passed on, are residents whom I have met and spoken to during my earlier house visits.
Besides house-to-house visits, I attend community events and functions to interact and mingle with residents. The residents have grown so accustomed to my presence at these events that they have started asking my former activists why they no longer see me around in Kaki Bukit now.
I must say these outreach and establishment of relationship and rapport with residents cannot be achieved overnight. Most importantly, it requires long-term commitment and it is not something that you can try to outsource.
3. In your Facebook posting message on Jul 31, you mentioned that "the Party leaders have made the decision last Saturday, for me to step down as Chairman of PAP Kaki Bukit Branch". Did they explain to you the reasons behind their decision?
No reasons given. I was told to step down to make way for Shamsul Kamar (PAP candidate for Kaki Bukit in Aljunied GRC).
4. How was the ground sentiment when residents found out about your departure from Kaki Bukit?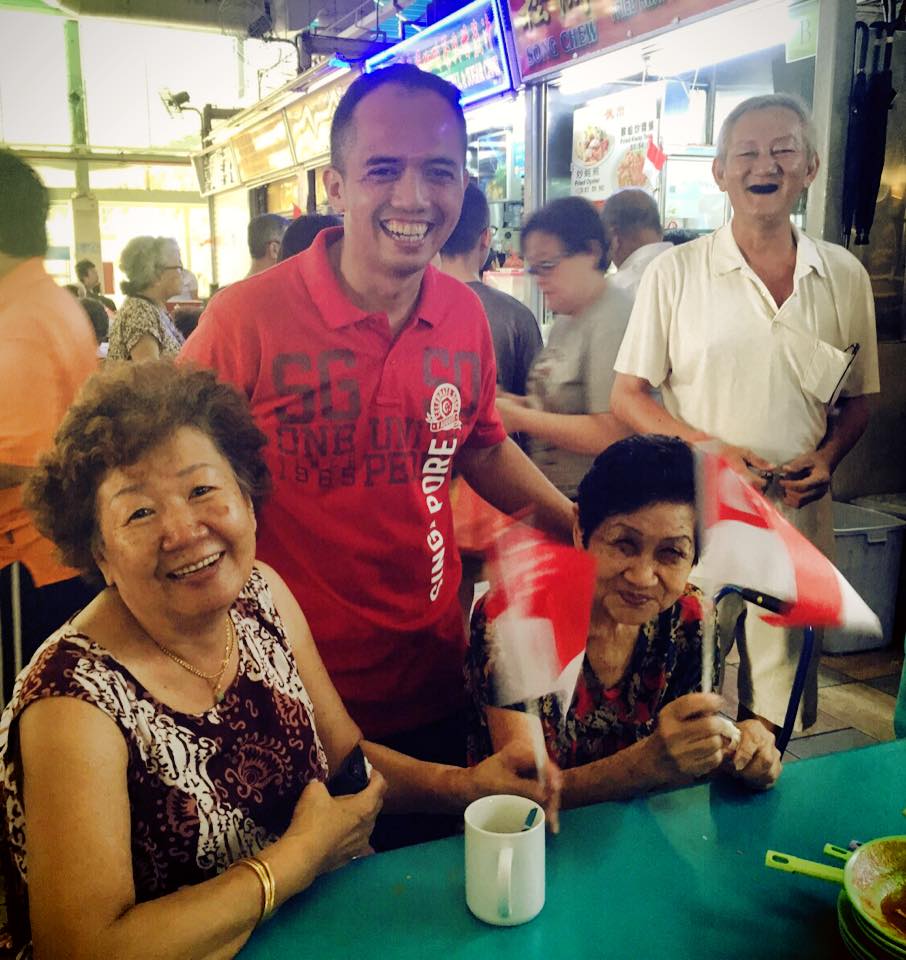 I was told several elderly residents at Blk 509B cried and many residents were very upset that I could no longer be around for them. Residents have posted messages on my Facebook page (both private and public), encouraging me, thanking me for my contributions and telling me that they missed me. Some mentioned that they have written to the Prime Minister.
" width="560" height="315" frameborder="0" allowfullscreen="allowfullscreen">
Many residents who are not internet-savvy have also approached my former Kaki Bukit activists, asking them to help convey to me how much they missed me, with some asking if I could still go on organised tours with them?
I must say I am really blessed to have been posted to Kaki Bukit and get to know such warm and loving residents.
5. Former Minister Lim Boon Heng told the press on Aug 1 about replacing you with Shamsul. He explained that the PAP will deploy who it believes would be able to deliver the "best possible performance" on the ground, and that you could be "placed in a better role somewhere else". Did he contact you about the role?
No.
6. Have you been tasked to remain and help the current team in this upcoming election?
No.
7. At the press conference of the unveiling of the PAP Aljunied slate, Lim said that PAP "felt that it needed a change, even though Mr Kahar had been a "very hardworking person". He thanked you for your work at Kaki Bukit and for letting residents know that the party has "not forgotten about them". We were at the press conference and we didn't see you. Did the party forget to invite you to the PAP Aljunied press conference or did you forget to attend?
I was not informed about this Press Conference.
8. Did PAP forget to invite you for the launch of the PAP's manifesto last Saturday?
I was not informed about the launch of PAP's manifesto.
9. PAP's campaign slogan is ""With you, for you, for Singapore". Are you still with PAP, for PAP, for Singapore?
Yes, I have been a PAP member for almost 20 years, and I am proud to be a Singaporean.
10. Anway, it seems like you haven't been invited to PAP-related events since Aug 1! When was the last time you were invited to a WP event?
I was invited to WP's Hari Raya event which was held in Kaki Bukit on Aug 2 2015.
11. This event took place 2 days after you announced your stepping down as PAP Branch Chairman, why did you still turn up for the event?
This invitation was extended to me by the MP of Kaki Bukit ward, Mr Faisal Manap, and I had accepted his invitation a few weeks before I was told to step down.
Because this event was held in Kaki Bukit, and also as a form of respect to the MP elected by the residents of Kaki Bukit, I thought it would be rude not to turn up merely because I had stepped down.
There is a Malay saying, "Rezeki jangan ditolak, Musuh jangan dicari" (loosely translated to mean, don't push away goodwill and create animosity).
As Muslims, we are discouraged from rejecting invitations extended to us. In any case, I sat amongst our Kaki Bukit residents at the event for only 20 minutes, as I had to rush to another event.
12. We ask this question to every person we're interviewing for this GE — if you were a Singapore hawker food dish, which would you be and why?
Teochew Porridge. I eat this at home all the time as it is one of my favourite foods.
It is a comfort food; plain and simple, and goes so well with any dishes, be it steamed fish, tofu, salted egg, braised meats or fried vegetables. (I have yet to find a halal version of this at hawker centres).
Teochew Porridge reflects my simple personality and people feel comfortable talking to me, as I can relate to just about anyone; whether they are young children, old folks or young adults who have just embarked on their careers.
Related articles:
Sorry Aljunied GRC residents, an anchor Minister will probably not be leading the PAP team
Potential PAP candidate for Aljunied GRC asked to step down as chairman of PAP Kaki Bukit Branch
Top photo by Lim Weixiang.
If you like what you read, follow us on Facebook and Twitter to get the latest updates.