Singapore can easily be summed up in one word: food.
Food nourishes us, excites us, and eating has become our national past time. Singaporeans, particularly the younger ones, are always on the hunt for the tastiest or most new-fangled food.
And I'm not just talking about any food, but our very own local food. We are so proud of how delicious and diverse it is that we've made it our unique selling point, inviting tourists to come and sample it themselves.
Yes, we really really love our food. Yet, the sad irony is that we - especially the millennials - are the ones responsible for its slow but eventual death.
1. Nobody wants to be a hawker anymore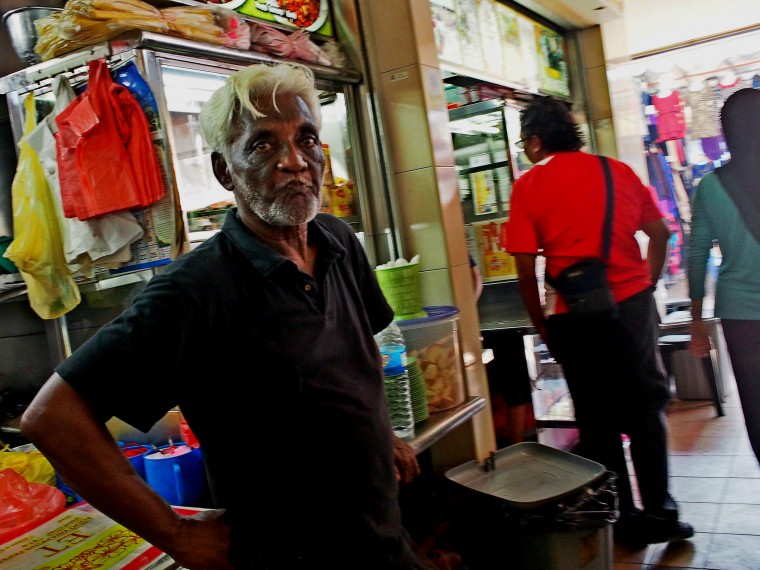 The first and most obvious reason for this is that young people no longer want to or have to work in our hawkers centres.
During one of my recent trips to Kuala Lumpur, I realised one startling difference between their kopitiams and ours: theirs are staffed by young locals while ours are either managed by either the pioneer generation or foreign workers.
Sure, this doesn't make our food any less tasty, but, what it means is that many of the most delicious – which at the same time is the most closely guarded – recipes will die with the older generation: just like our Prime Minister's favourite char kway teow from Zion Road.
This is inevitable because as our society developed and became more educated, we will always choose being tucked comfortably in an air-conditioned office over toiling long hours in the a kitchen with no ventilation.
Honestly, that is what parents want for their children as well. Hence, many of the hawkers would rather their kids concentrate on their studies and secure a well-paying job so that they'd have an "easy life" ahead instead of following in their footsteps - filled with hard work and long hours in front of the wok.
And with the recent brouhaha over $2.70 fishball noodles, it's even harder to see more of us as hawkers.
2. Even if they do, it's probably not going to be local food
Today, someone in his 20s choosing to become a hawkers has become such an anomaly that it has become newsworthy. Decades ago, it would've been a non-event.
Even if they are interested in the F&B business, they are probably more interested in whipping up foreign dishes (e.g. pasta) or fusion food (e.g. salted egg yolk on everything local).
Millennials, like me, hate being the same as everyone else more than an anything - we need to stand out. Thus, if we do go into F&B business, it'll be to whip up a dish that nobody has.
Moreover, as mentioned, Singaporeans are always on the hunt for new and interesting food; that's also why many choose to sell unique food because they practically market themselves.
3. It's no longer just about the food
Also, as there is an abundance of food in first world countries, a phenomenon has surfaced: eating is now a hobby.
We no longer eat to fill our tummies; instead, we continue eating even after we are full because food makes us happy - today, it has transformed into a form of hedonism.
We are no longer happy with just delicious food. The full gastronomic experience which includes service, innovation and ambience is now a must.
And this is exactly where our kopitiams lose out because they are not able to match up to the experiences that the restaurants offer, the novelty of new franchises or the Instagram worthiness of cafes.
That is why when Singaporean youth choose where to have their dinner, they'd rather somewhere quieter with air-condition and plushier seats so that they can unwind from a long day at work as they chat comfortably for hours on end with their family or friends.
4. We are more health conscious
Most local food are fatty because it provided the energy needed for our forefathers, who were mostly hard labourers. However, our jobs today entails mostly of us sitting in the office and staring at the computer with minimal (and sometimes absolutely no) physical exertion.
As keeping fit (or more accurately look fit) is the trend these days, as painful as it is, we have reserved our favourite prata and nasi lemak only to our "cheat days" because we want to watch our waist.
We've also become much more educated about diet-related diseases; that's why Singaporeans have started to actively source out healthier food: in addition to just less oil or salt, we now look for food that is gluten free or uses more complex starches (whatever that means). For hawker food that has to keep their prices low in order to remain competitive, it'd be unsustainable for them to use these expensive ingredients.
--
It is well know that we always had an unspoken rivalry with Malaysia when it comes to food: on whose is tastier and who cooked up what first. (We obviously invented chilli crab.)
This debate has been going for decades and we may ever be able to settle the latter but in the foreseeable future, I predict Malaysia will emerge victorious when it comes to taste.
In hindsight, I realised what my Malaysian friend said is true: although restaurant-standard food in Singapore is tastier, Malaysia does hawker food better. (Although I vehemently rejected this initially because of blind patriotism.)
This is because the quality of ingredients is secondary in many of our dishes; what's most important is how seasoned the wok is.
With none of us wanting to take over the hawker business from our predecessors, soon, the only places we can find our hokkien mee and carrot cakes are coffeshops chains that can afford to hire foreign workers to cook standard and run-of-the-mill recipes that has no unique characteristics or flavour.
In our eternal pursuit for the 5Cs (condo, cash, credit card, country club and car), we have paid the ultimate price - in the form of carrot cake, char kway teow, chendol, curry and chicken rice.
Related article:
What kind of $2.70 fishball noodle would you like?
Top photo from here.
If you like what you read, follow us on Facebook, Instagram, Twitter and Telegram to get the latest updates.