How would you react if you had encountered this tattooed man lying on a pavement at 2 a.m.?
Most people would have simply walked away. A tragedy-in-waiting was possibly averted when a local Samaritan by the name of Cai Yinzhou chose to stop and offer his aid to the absolute stranger.
After noticing that something was amiss, Cai called for an ambulance and rendered further assistance to the stranger. In the process, Cai learnt that the man was an Argentinean named Lucas and had likely suffered from a recurrent stroke. Cai subsequently informed the paramedics about the situation.
With a simple act of compassion, Cai had possibly saved a life. He shared his experience in a Facebook post which has since gone viral.
The post is below
a heavily tattooed and buff man lying by the side of the pavement along Nicoll Highway at 2am and had thought he...
Posted by Cai Yinzhou on Thursday, 2 July 2015
A short conversation with the Samaritan
We got in touch with Cai and learned that the 25 year-old is the founder of a social enterprise named Geylang Adventures.
We asked him what went through his mind when he first spotted Lucas sprawled on the ground, to which he replied "I initially thought that he was drunk...".
"I stared at him for a while and thought that I can't leave him like that. That's why I decided to approach and see if he was okay."
Cai added that he could not contact Lucas' friends or kin as the Argentinean's cellphone was locked.
We understand that Cai has yet to receive updates on Lucas' condition. Cai did however hand the paramedics a namecard and informed them to pass it to Lucas, in hopes that the Argentinean would call him when he gets better.
At the end of our short conversation, we asked Cai what compelled him to help the man, to which he said,"It is my duty as citizen check on someone if he or she looks to be in distress. I would say it is an instinctive thing".
Unnecessary flak?
Although Cai's viral Facebook post had received close to 3,000 likes, some were clearly unimpressed. At least one user commented that Cai should not have taken a picture of Lucas and questioned his intentions for doing so.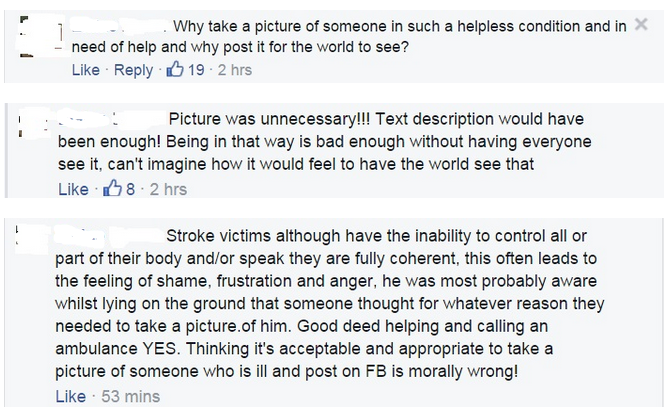 We're not quite sure about Cai's intentions but here are the other things that Cai is involved in:
Offering free hair-cuts to migrant workers at Geylang (he's the one of the extreme left)
Being a part of the Singapore Nepal Relief Community:
Taking into consideration his deeds, this guy deserves to post all the photos he likes of the good he has done.
If you see him on the streets, give him a pat on the back.
Photos taken from Cai Yinzhou's Facebook page.
If you like what you read, follow us on Facebook and Twitter to get the latest updates.