So, Prime Minister Lee Hsien Loong said in Parliament on Monday that he convened his electoral boundaries review committee two months ago.
Since they took "about four months" to complete their artwork in the lead-up to the two previous elections in 2006 and 2011, we can safely assume that this upcoming General Election is likely to happen as soon as in two months' time.
Apart from that detail, PM Lee revealed he has also instructed the committee to shrink the sizes of the existing 15 Group Representation Constituencies (GRCs) to an "average size... of below five", and to ensure there are at least 12 Single-Member Constituencies (SMCs) in the new picture.
Now we've got that out of the way, here are Mothership.sg's five predictions of the key changes that are likely to be made in the new electoral boundaries map:
1. Joo Chiat and Potong Pasir SMCs will disappear...
Well, hey. You can't be surprised by this if it happens.
Recall that these two, after all, had the narrowest vote margins in the 2011 General Election — for Potong Pasir, between Sitoh Yih Pin and Lina Chiam (with a razor-thin 114 vote difference) and in Joo Chiat, between Charles Chong and the Workers' Party's Yee Jenn Jong (their vote difference was 388).
Both the losing candidates became non-constituency MPs (NCMPs) in Parliament.
We would be surprised if the committee doesn't immediately absorb these into neighbouring GRCs — Bishan-Toa Payoh isn't that large, anyway, and Joo Chiat's already enveloped by Marine Parade GRC.
2. ... and be replaced by two new SMCs in the West.
The western part of Singapore has long been a ruling party-stronghold, and we won't be surprised if it stays that way in the upcoming polls.
What better way to cement it — and also stay comfortably in the 12-SMC quota — than to spawn two new SMCs in that side of Singapore?
We've even thought of two perfect candidates to stand confidently in them:
- current Speaker of Parliament Halimah Yacob, who is currently in the Jurong GRC team, and
- minister of state for trade and industry Teo Ser Luck, whom we feel could well sail through the ballot on his own despite currently being in Pasir Ris-Punggol GRC (please refer to our prediction at point 5 below for more on this).
3. Aljunied GRC, as well as Hougang and Punggol East SMCs, will stay as they are.
The boundaries of two opposition wards, Hougang and Potong Pasir, had remained relatively unchanged between 1991 to 2011.
Correspondingly, to dispel allegations of gerrymandering, the Electoral Boundaries Review Committee is likely to leave the opposition wards mentioned above (Aljunied, Hougang and Punggol East) as they are, unless there are huge population shifts in the past four years.
Moreover, the PAP "suicide squad" headed into Aljunied GRC (from left to right) — Victor Lye, Chan Hui Yuh, Kahar Hassan, Chua Eng Leong, and K. Muralidharan Pillai — appears raring to go.
It will be a shame if they are not given the opportunity to appreciate how popular they really are in Aljuned GRC.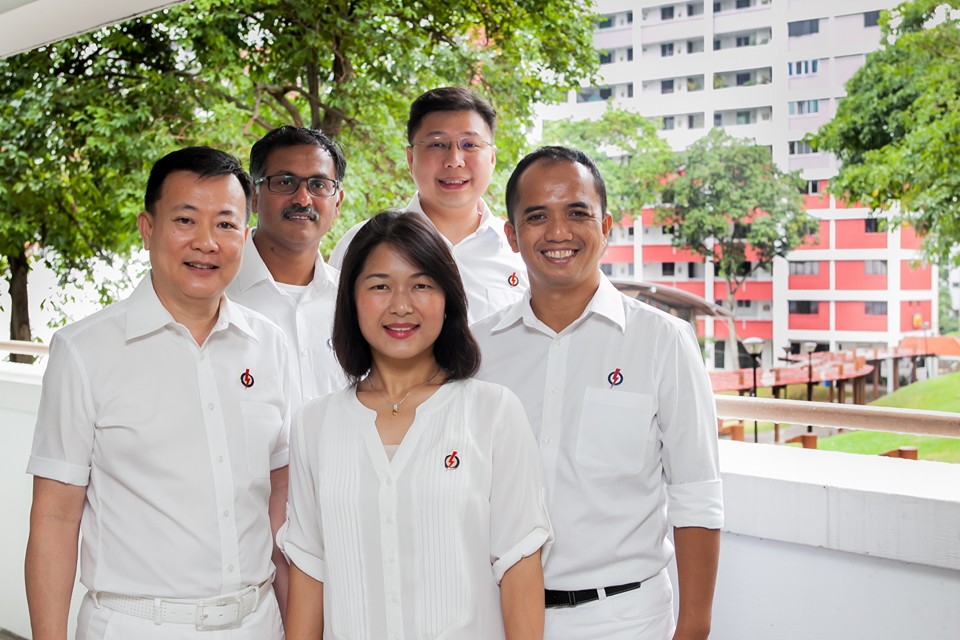 4. East Coast GRC will shrink.
Five-member East Coast GRC was one of the poorest-performing GRCs at 54.83%. This has resulted in WP's Gerald Giam becoming one of the three NCMPs in parliament.
Last December, Manpower Minister Lim Swee Say announced in a talk show on MediaCorp's Channel 8 that he would again contest in East Coast GRC.
Lim, who is a popular MP in his constituency, will stand a higher chance of retaining the East Coast GRC if it is split into two smaller three-member GRCs.
This probably means that WP has to split its resources to compete in two GRCs. They will also stand a higher chance of winning the East Coast ward that is not led by the Manpower Minister.
5. The six-member GRCs (Ang Mo Kio and Pasir Ris-Punggol) will shrink.
In his parliamentary reply, PM Lee tasked the committee to have smaller GRCs, "so as to reduce the average size of the GRCs below five".
There are currently two six-person GRCs led by PM Lee and DPM Teo Chee Hean in Ang Mo Kio and Pasir Ris-Punggol respectively.
Both GRCs are considered relatively safe seats.
PM Lee's Ang Mo Kio GRC was the best-performing GRC in the last GE, winning 69.33% of the vote share.
DPM Teo's Pasir Ris-Punggol GRC scored 64.79%, higher than PAP's overall performance of 60.14%.
However, much has changed within a year. The neighbouring SMC of Punggol East suffered a vote swing of 10.81% when then-Speaker Michael Palmer resigned from his seat.
If you like what you read, follow us on Facebook and Twitter to get the latest updates.
If you like what you read, follow us on Facebook, Instagram, Twitter and Telegram to get the latest updates.