Four animals were caught in fishing nets off Lazarus Island in two separate incidents on Nov. 18, including two green turtles, one hawksbill turtle and a blue-spotted ribbontail stingray.
One of the green turtles, which are considered critically endangered locally, unfortunately died soon after rescue.
Two turtles caught off Eagle Bay
Speaking to Mothership, Nazri, 30, a yacht captain from Infinity Sails, said that he was out at sea with 24 passengers when he brought them to Eagle Bay, near Lazarus Island.
Infinity Sails offers yacht cruises along the southern waters of Singapore and neighbouring islands.
At around 5pm, when the weather turned stormy, Nazri noticed a 100-metre long fishing net nearby.
He intended to remove the net to prevent boat propellers from getting entangled in them, and said that the fishing net posed a safety hazard to swimmers and marine life.
While pulling the net towards him, he discovered a huge turtle floating in the net. He immediately tried to cut it out of the net to save it.
"It was alive but in pain," he said, "I realised it needed to be treated immediately."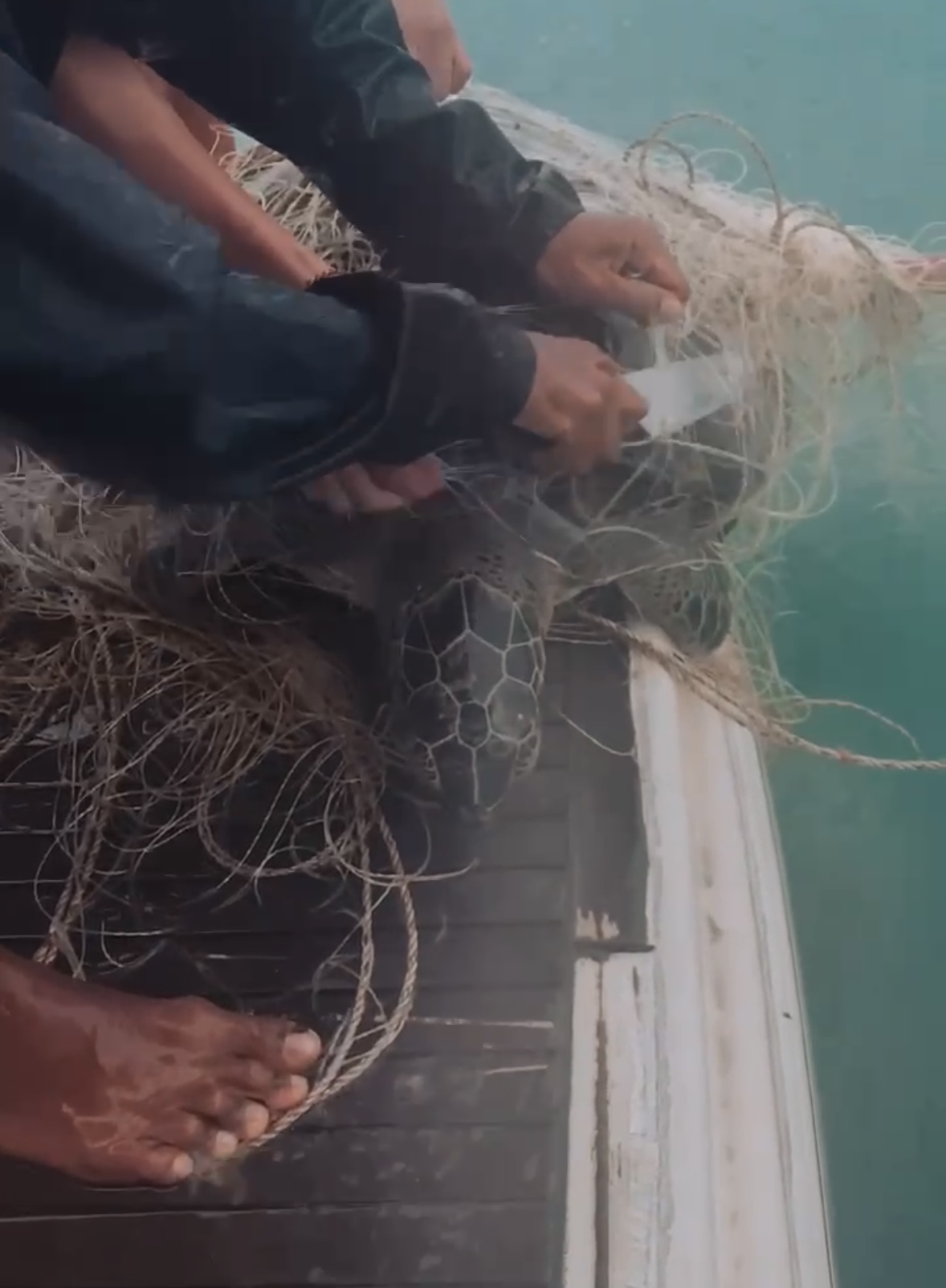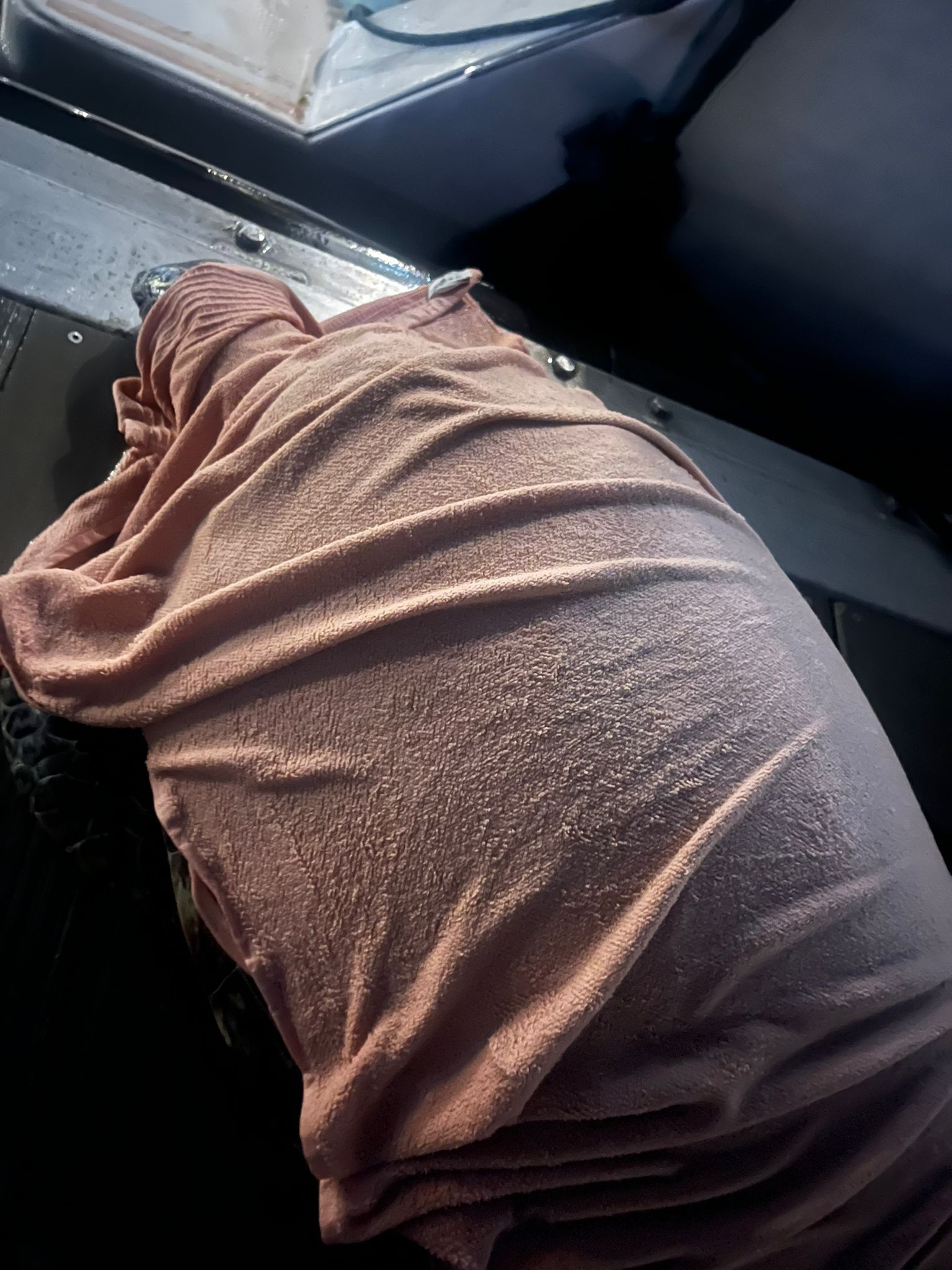 He planned to bring the turtle back to hand it over to the Animal Concerns Research and Education Society (ACRES).
As he continued to reel in the net, Nazri found another big turtle that was "badly entangled" and "dying" in it.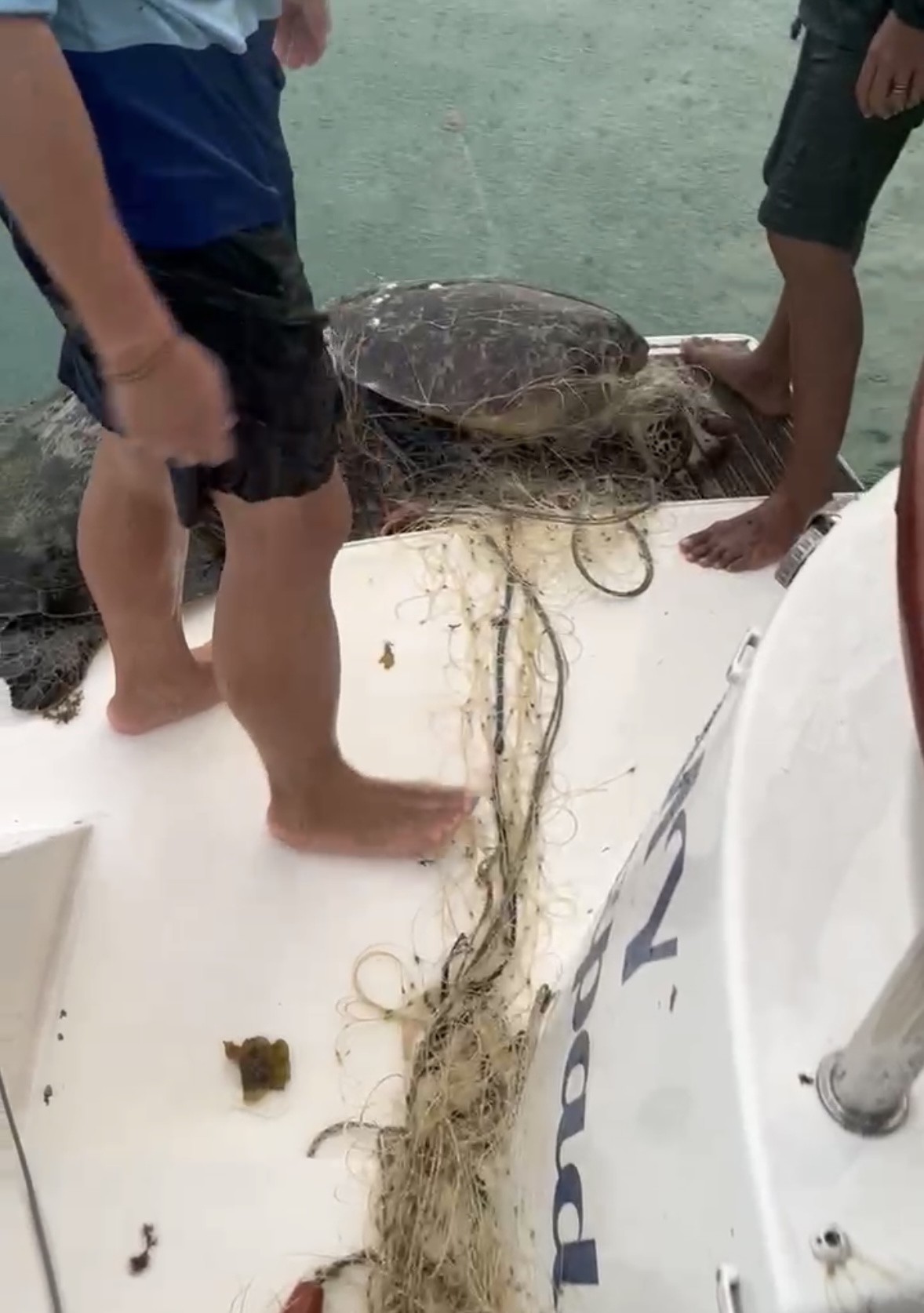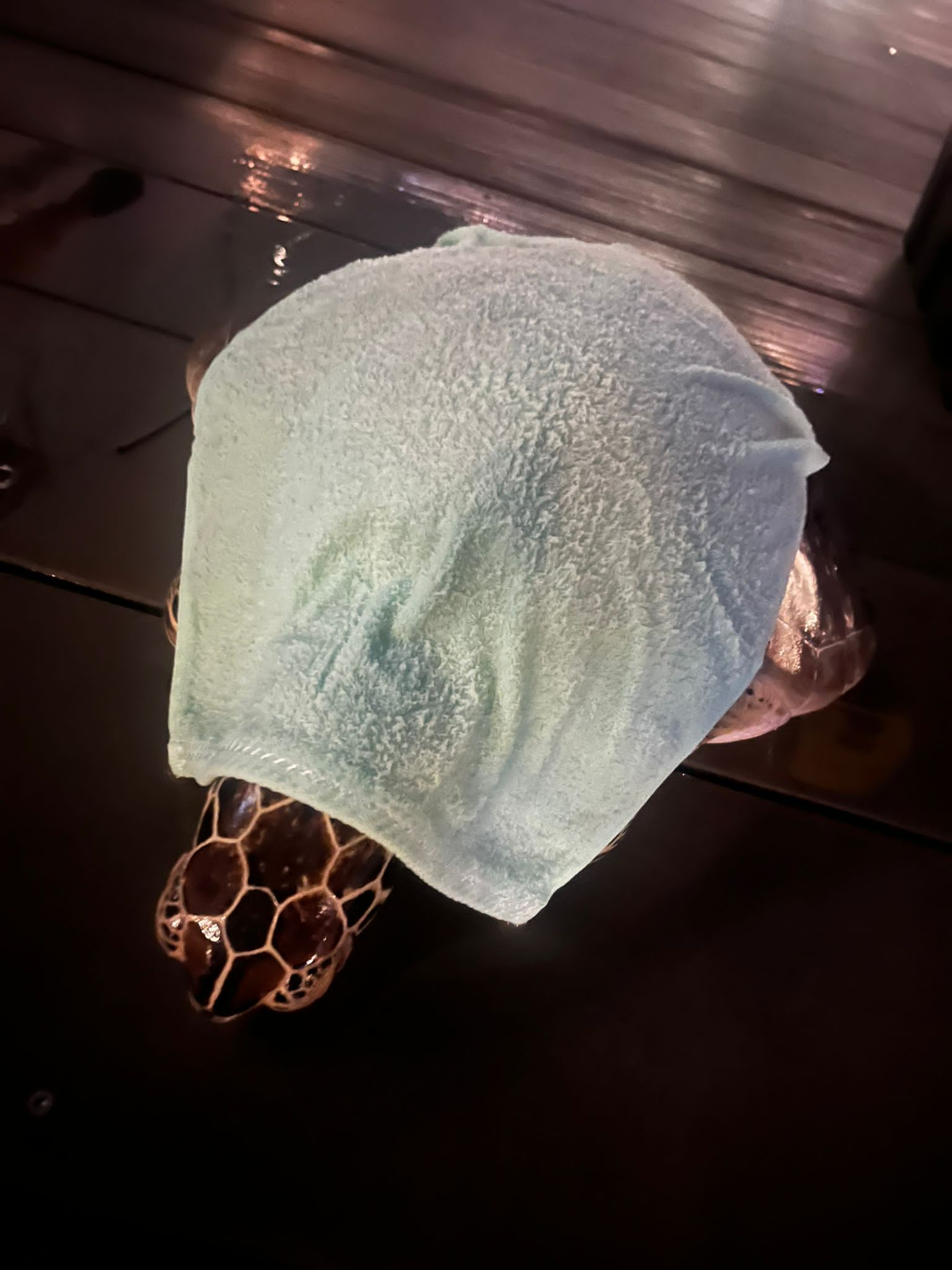 He immediately left the area and rushed back to the marina until ACRES arrived.
"It took me more than an hour to remove the netting," he said.
He revealed that the second turtle died before ACRES arrived at around 8:40pm.
"I have been working out at sea for seven years and this was my first time that such cruel incidents happened to the marine life animals, especially when Lazarus and nearby island are a sacred place for sea turtles," Nazri shared.
A video of the incident was posted onto Marine Stewards' Facebook page.
Marine Stewards are an environmental conservation organisation.
The green turtle is listed as a critically endangered species locally.
Turtle and stingray release from net that morning
The Straits Times (ST) reported that another turtle and a blue-spotted ribbontail stingray were freed from a fishing net off Lazarus Island on the same day at 7:30am.
On the morning of Nov. 18, two men, Andrew Kemp and Scott Tucker spotted the turtle caught in a 100m-long fishing net.
Kemp was on his yacht and Tucker was on a jet ski. The men, who did not know each other prior, tried to free the turtle.
Kemp told ST that the turtle was a large hawksbill turtle, and describe it as being 1.5m from tip to tail.
The hawskbill turtle is also a critically endangered species locally. Female turtles have been spotted coming ashore to East Coast Park to lay their eggs, and their hatching season falls between June and September each year.
The animal was thrashing about in the net, and its head, flippers and back were trapped.
While Kemp dived into the water to cut the turtle loose, Tucker pulled the net to the side of his jet ski to hold the turtle still.
The men said that it took them about 30 minutes to free the turtle from the heavy net.
After the men freed the turtle, it got caught again further down the top line of the net.
Upon seeing this, the two men then tried to remove the net, which was 50m from the beach, out of the sea.
Although the task looked simple, it took another half-hour, and the two men eventually decided to cut the net in half before pulling it to shore.
During the task, Kemp saw a blue-spotted stingray also caught in the net, and proceeded to free it.
Mothership has contacted ACRES for comment.
Net fishing in Singapore
According to National Parks (NParks), destructive fishing methods such as gill-netting, long-line fishing and driftnets are discouraged.
These methods tend to trap fish and sea creatures that are not being targeted. These animals include dolphins, sharks and turtles that may be endangered species, and may drown after being caught.
In addition, net fishing and wire mesh traps are not allowed in areas managed by NParks.
NParks currently manages 12 coastal parks and areas.
Fishing is strictly prohibited in four of these areas – Admiralty Park, Coney Island Park, Sisters' Islands Marine Park and Sungei Buloh Wetland Reserve.
Top photo via Nazri
---

If you like what you read, follow us on Facebook, Instagram, Twitter and Telegram to get the latest updates.