A peculiar primate, first spotted in a park in Clementi in September, has been seen hanging around in Chinatown.
Monkey was scared
Gabrielle Tan came across the monkey at Upper Cross Street yesterday (Nov. 15), and shared photos on the Facebook group Singapore Wildlife Sightings.
Speaking to Mothership, Tan said she was on the way home from a spin class when she saw the monkey on the pedestrian path at around 1:50pm.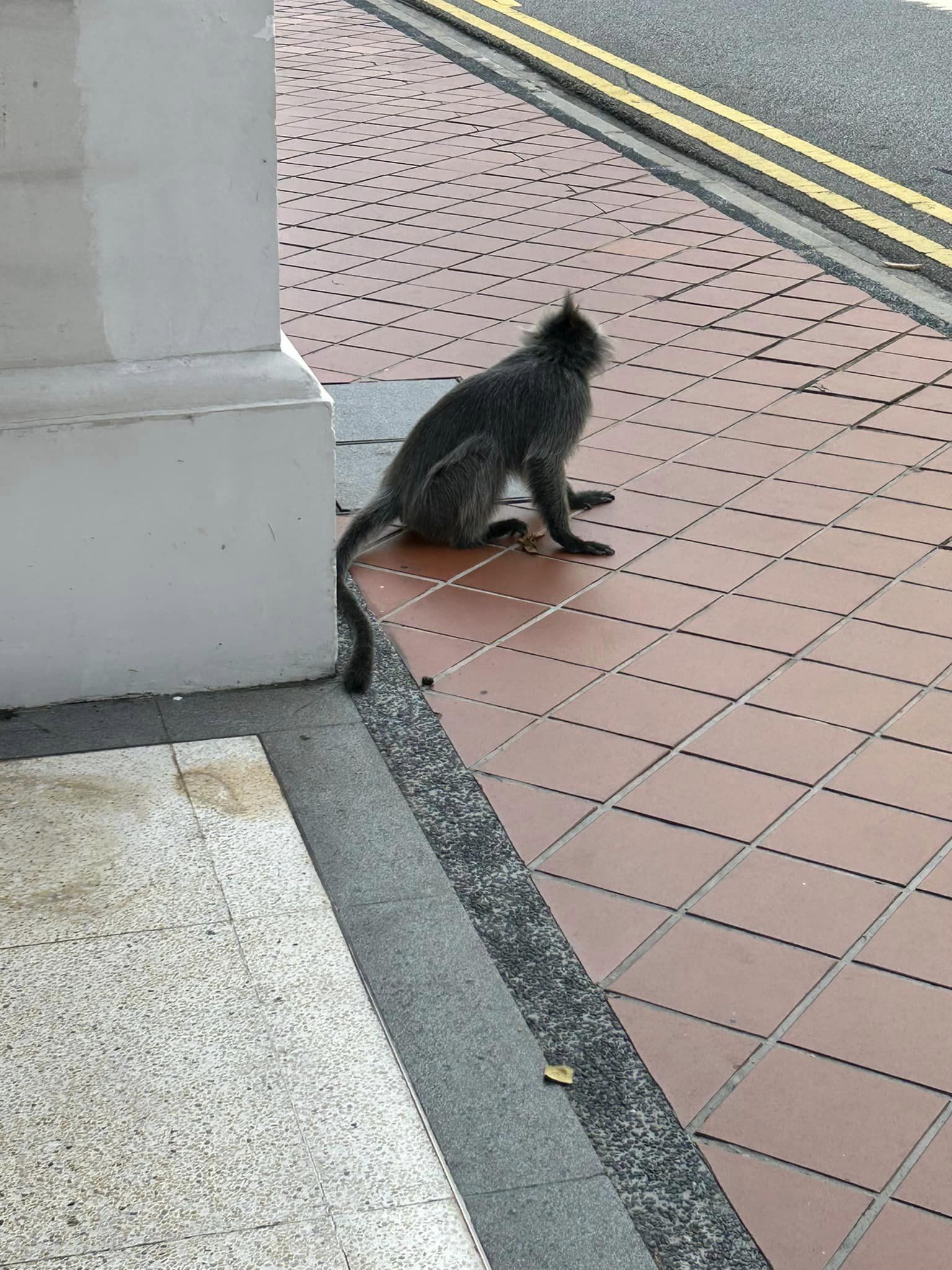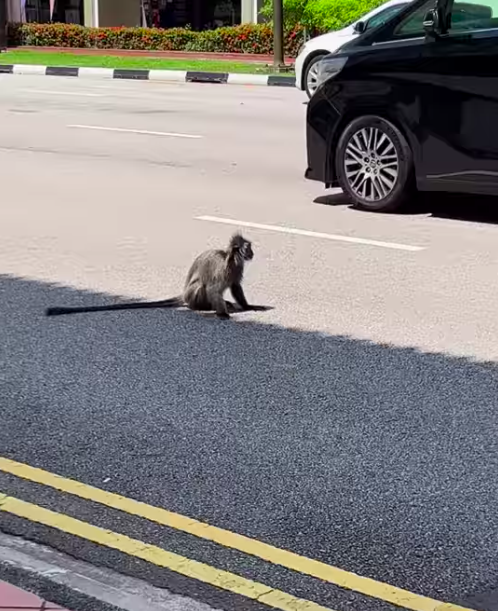 A bus honked loudly for a long time at the langur to prompt it to move away from the oncoming traffic, and she said it was "hard" for her to see it on the "busy road".
"The langur appeared very scared by the cars and repeatedly climbed up the street lamps for refuge and a better vantage point."
Tan described the langur as "cautiously moving" around. It also stayed on the street lamp and looked around.
As she watched on, she feared that the monkey was going to be scratched or injured by the sharp bird prevention spikes on the building.
As the few people around her who were taking photos did not appear to be calling NParks, she took the initiative to dial the hotline to help relocate the monkey.
She observed the langur for about 10 minutes. The monkey later disappeared from her line of sight while she was sending photos and videos to NParks.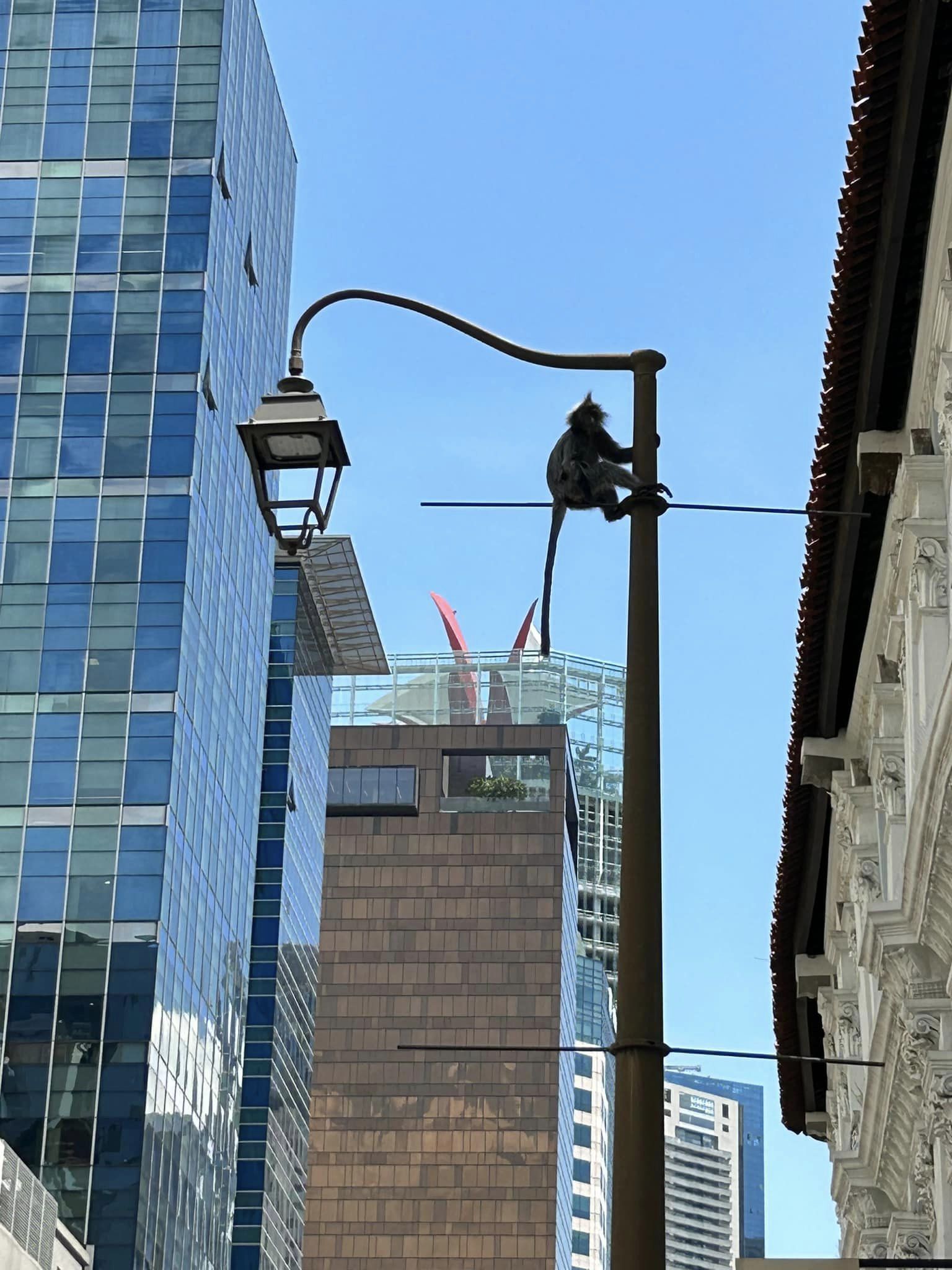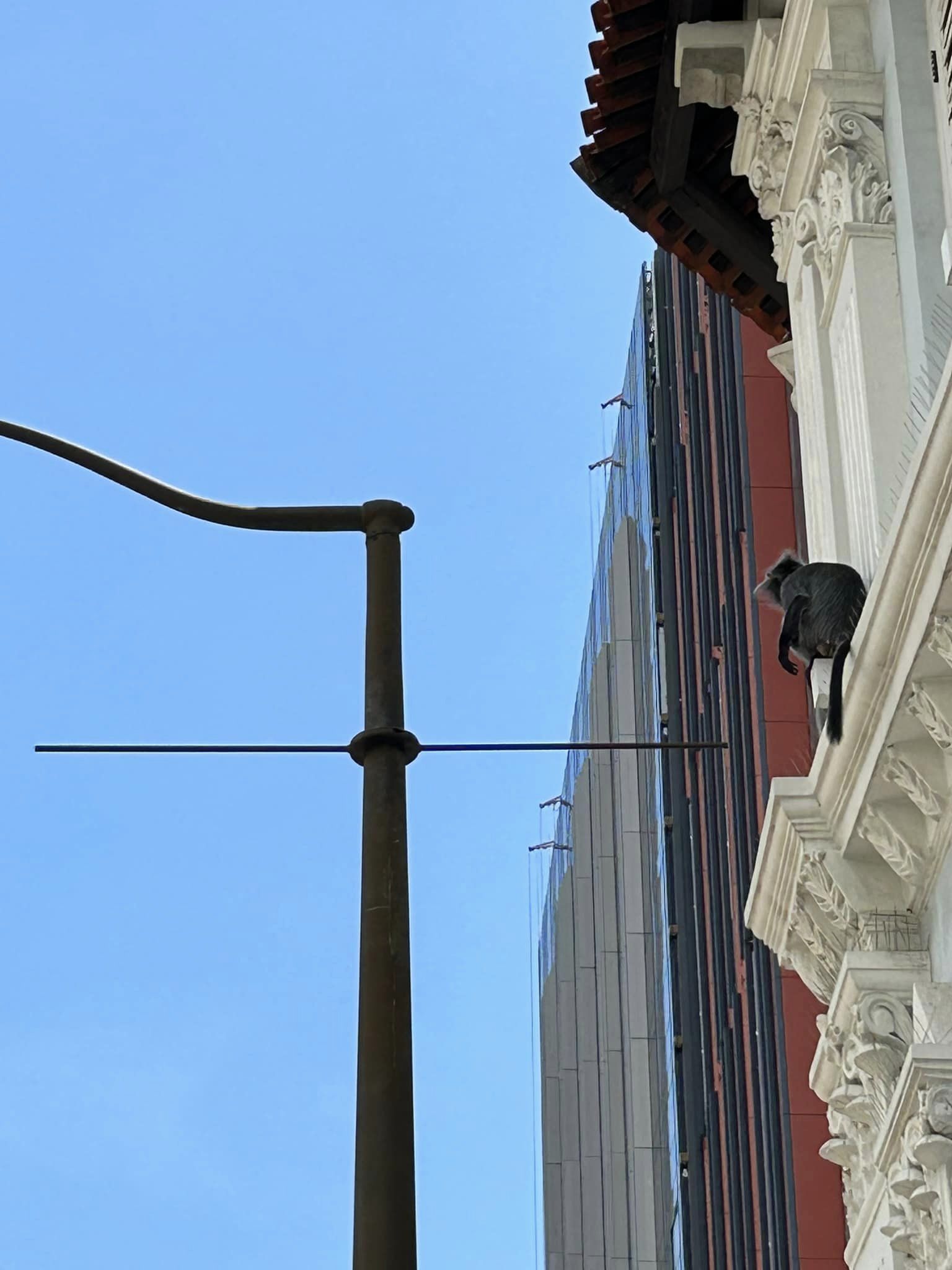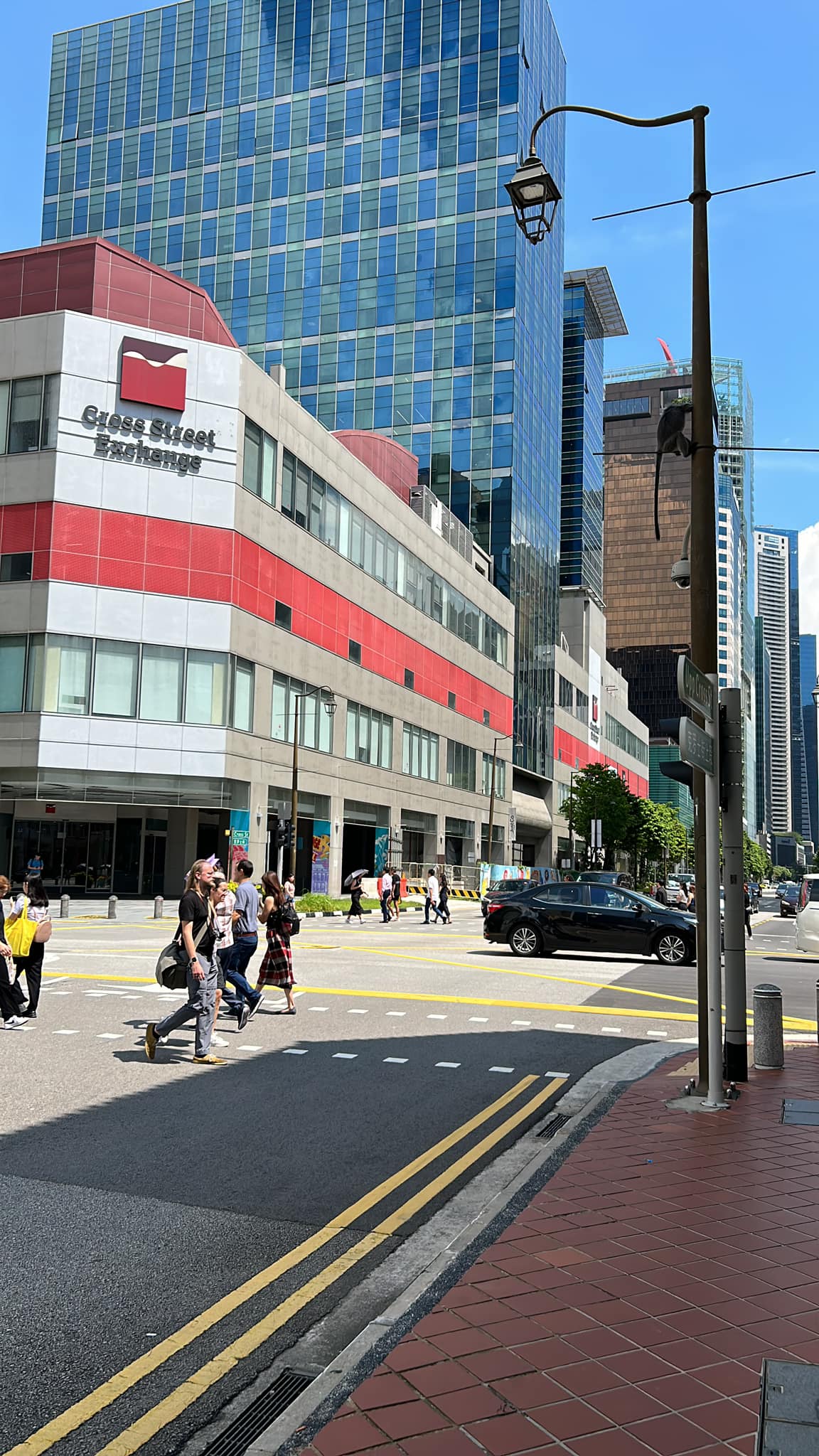 A "special monkey"
Tan, who moved to Singapore a year ago, said she instantly knew that the monkey was not just a common macaque when she saw it.
She shared that she is "elated" to observe this "special monkey" and did a bit of research to figure out the species.
She was initially confident that it was a Raffles' banded langur, a critically endangered species with about 75 individuals locally, because of its triangular-shaped head.
When commenters pointed out that it was a silvered langur, she realised she had encountered a "one of a kind" monkey and went from feeling "pretty darn lucky" to "mind-blowingly lucky".
"Still buzzing at the memory, one day later," she added.
Unable to find langur after it left Chinatown
This langur is believed to be the same individual that was recorded for the first time in Singapore just two months ago.
Local primatologist Andie Ang shared with Mothership that it is "unfortunate" that the langur has reached the central area in the city.
After it was sighted at Chinatown, the langur could not be located, she added.
She explained that tracking the individual has been challenging as the langur is "very mobile" and it is difficult to find it without clues.
In addition to such efforts, she urged the public to report sightings of the individual to NParks.
How to identify a silvered langur?
To tell the silvered langur apart, here's a quick rundown of the monkeys you can find in Singapore:
The commonly seen Long-tailed macaque and the critically endangered Raffles' banded langurs are the two native primates in Singapore. They have a brown and black coat, respectively.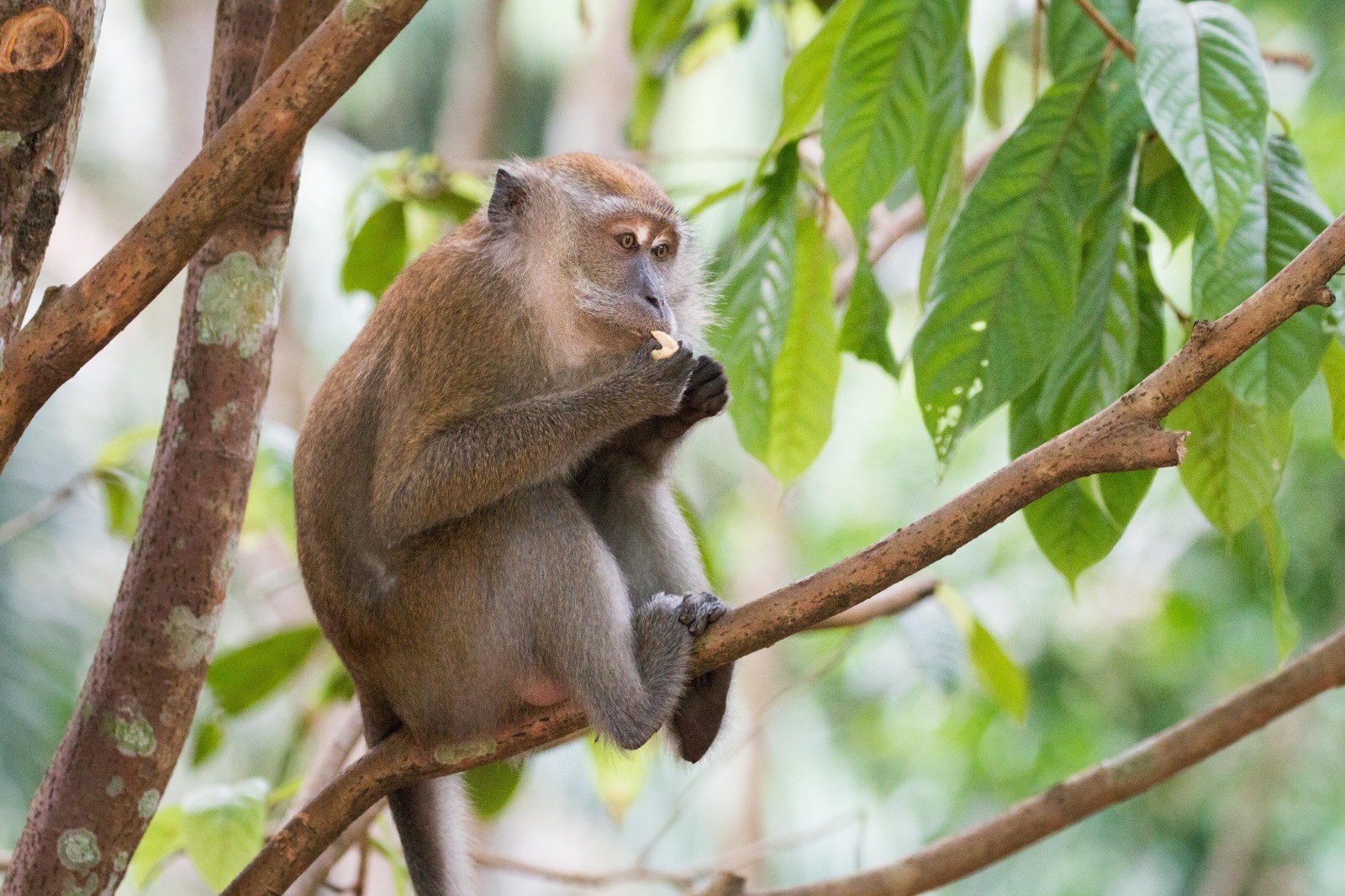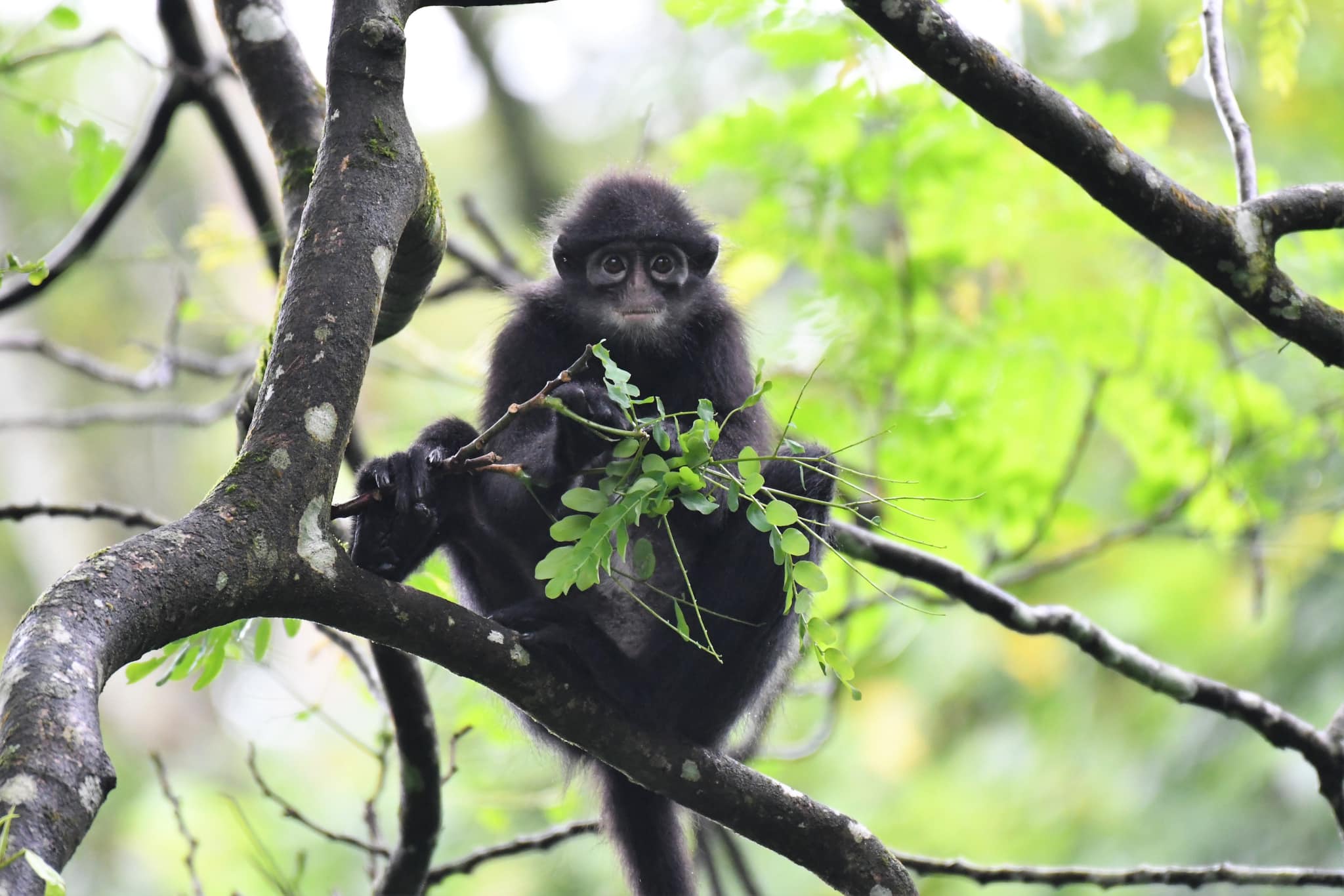 One other non-native resident that can be found in Singapore is the Dusky langur, which is more greyish.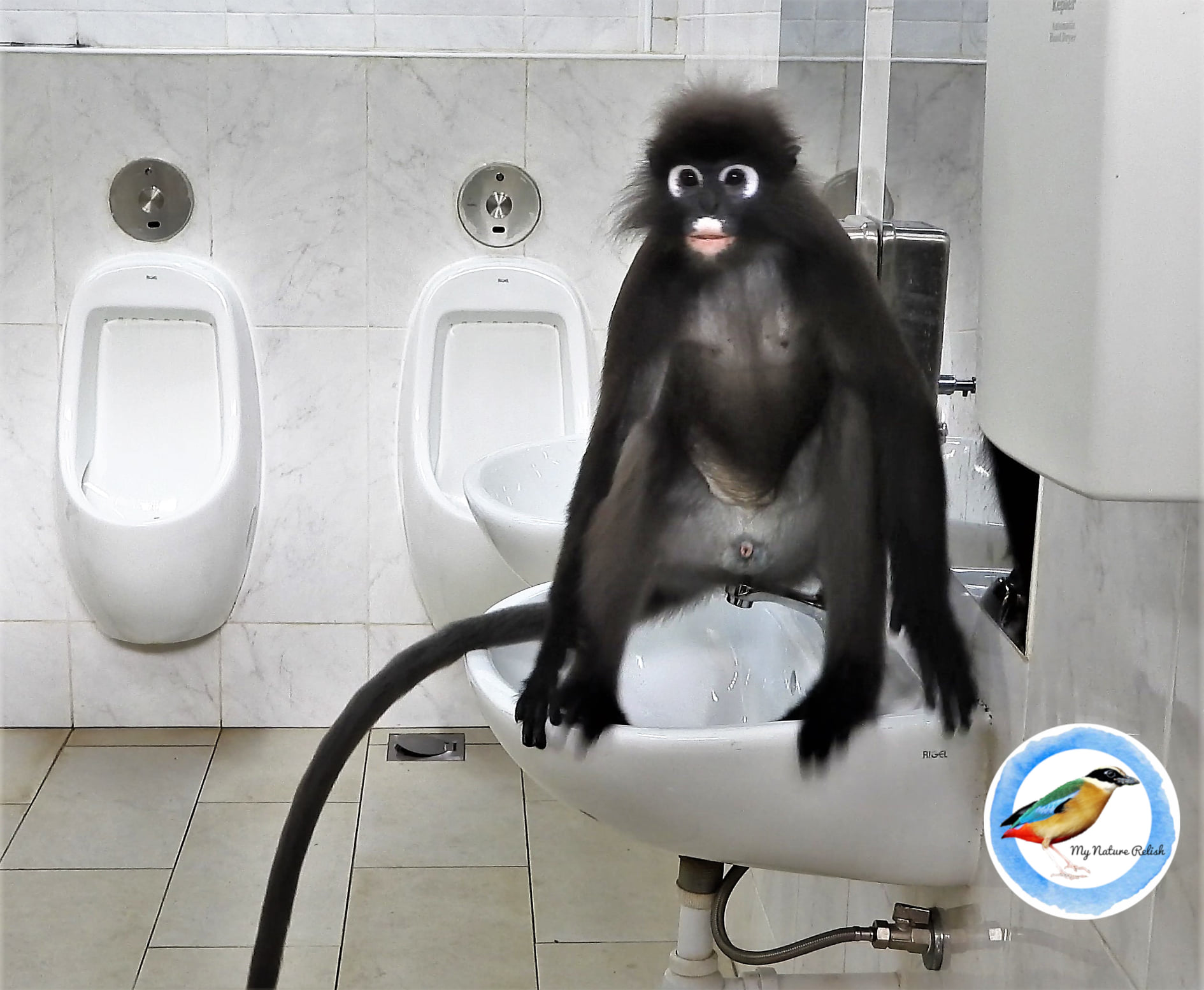 The non-native silvered langur, pictured below, is has a more silvery-black coat.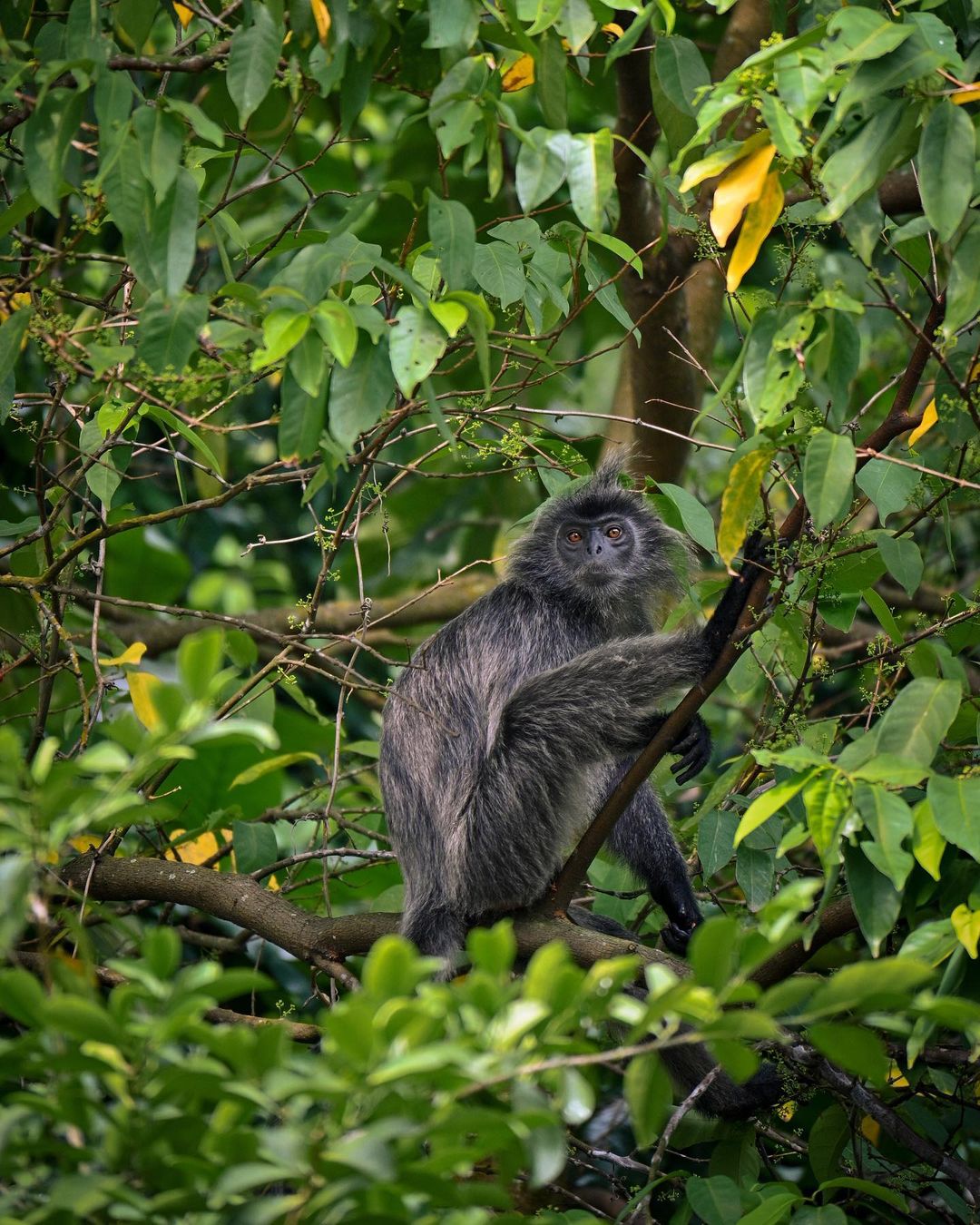 Not a species found in Singapore
Ang previously told Mothership the individual could be one of two species of silvered langurs — Trachypithecus selangorensis or Trachypithecus cristatus.
The former, also known as the Selangor silvered langur, inhabits west Malaysia in areas such as Selangor and Malacca. Currently, whether it has a presence in Johor is unconfirmed.
The latter species can be found in Sumatra, Batam, Bintan and Borneo.
They are almost identical appearance-wise, and can only be identified by collecting DNA via its faeces.
Ang's hypothesis is that the langur reached Singapore by swimming across the sea, or it might have been a stowaway on a ship, transporting it from Malaysia or Indonesia to Singapore.
She believes that it is not likely to be a pet as it appears healthy. Typically, infant or juvenile langurs typically captured for the pet trade do not do well under human care to survive till adulthood.
Managing the silvered langur
Ang, the Head of the Primate Conservation and Singapore Programmes under Mandai Nature and Chairperson of Raffles' Banded Langur Working Group, previously shared that the group and its citizen scientists are currently monitoring the langur's movements, as well as exploring options with the NParks on how to manage this individual.
In September, NParks said it will continue to monitor and assess the langur's behaviour with nature groups.
The silvered langur is generally shy, and is not likely to approach humans.
Members of the public who encounter the langur is advised to keep a respectful distance of at least five metres and are discouraged from flash photography.
As with any wildlife, do not feed them as they will become used to the presence of humans.
Monkeys spotted in Singapore
Top images by Gabrielle Tan

If you like what you read, follow us on Facebook, Instagram, Twitter and Telegram to get the latest updates.