A first-of-its-kind farm was unveiled on Nov. 19 morning, just a stone's throw away from Tampines Round Market and Food Centre by members of parliament (MPs) for Tampines GRC. 
This urban fish farm housed in a shipping container is a product of local startup Aqualita Ecotechnology.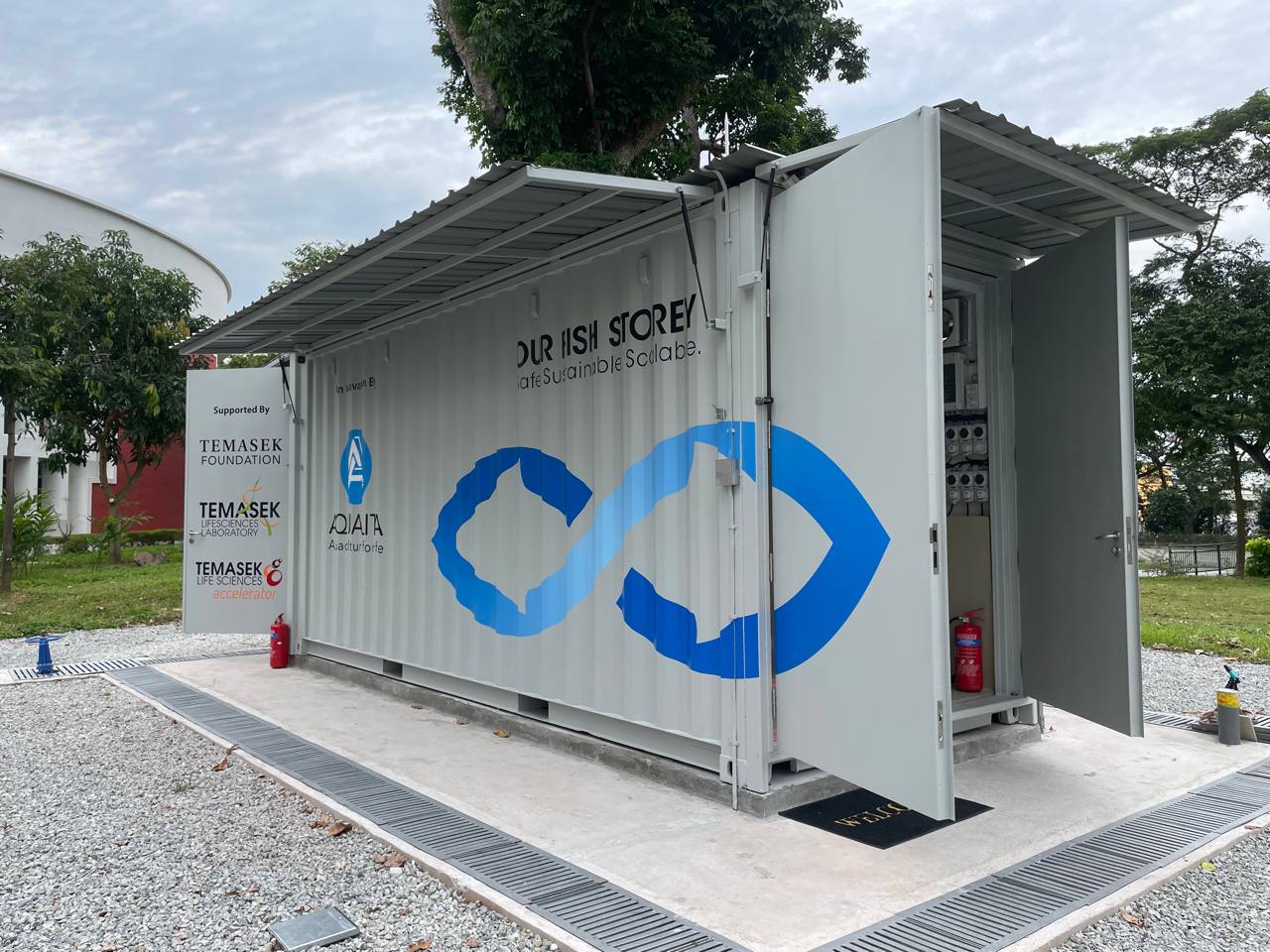 Fish farming next to the market
The two-year project is a collaboration between Aqualita and Tampines Town Council, as a "litmus test" to gauge consumers' interest in products from the containerised fish farm.
Named "Our Fish Storey", this is the first deployment of a containerised fish farm next to a market.
The 6m container farm joins a tilapia fish farm and a rooftop vegetable farm in Tampines, as part of the town's commitment to make "farm-to-table a way of living for all residents".
The town supports local farms by identifying underutilised spaces where climate-resilient and resource-efficient urban farming methods can be tested and implemented.
By farming the fish right next to the market, it reduces delivery time and transport costs, said the town council and Aqualita in a shared press release.
In addition to being fresh, the technology also ensures that the fish is traceable, safe and farmed without antibiotics.
"With modern urban farming being implemented in Tampines, we hope to contribute to the nation's "30 by 30" food goal," said Desmond Choo, mayor of North East District and chairman of Tampines Town Council.
Aqualita was spun off from Temasek Life Sciences Laboratory in 2021, and the project was born from more than 15 years of research innovation in aquaculture.
Our Fish Storey is supported by the Temasek Foundation.
First harvest in four to six months
Aqualita plans for the first harvest to be ready in four to six months, which will be sold at cost price to local fishmongers.
According to Aqualita, six fish varieties can be farmed in the containers:
Jade perch

Barramundi

Red Snapper

Hybrid grouper

Tilapia

Murray cod
Currently, the team is only focusing on Jade perch, an Australian freshwater fish that is in demand for its high Omega-3 content.
The startup estimates that the farm, which occupies just 15m2, can produce up to 1,400 kg of jade perch annually.
For a start, the team is looking to sell 100kg of fish every two to three months.
Higher productivity
Unlike other container concepts, Our Fish Storey is not made from repurposed shipping containers.
Rather, it is specially manufactured using food grade material to minimise microplastics.
Aqualita claims the container farm can produce at least 25 per cent more fish by weight compared to traditional fish farms.
The novel system also boasts a harvest time that is 15 per cent shorter due to improved feed, disease management and control over farming parameters.
It also employs more sustainable fish farming methods, as about 98 per cent of water is recirculated.
The remaining two per cent, about 200 litres of water, is discharged on average per day, which can be repurposed as fertiliser.
To reduce its carbon footprint, the company is also considering to tap on renewable energy by installing solar panels on top of the container.
Compact and modular
Aqualita plans to sell these systems for urban fish farmers to operate fish farms in "small and novel spaces" around Singapore.
Instead of being restricted to designated farming sites such as Lim Chu Kang, they could be located in the heartlands like Tampines.
The container was designed to be modular, such that can be stacked up to four levels like Legos.
Beyond this project, Aqualita is also running a commercial pilot for a 6-in-1 container-based farm, which is even more productive and efficient than the single container.
Top images via Kow Zi Shan.

If you like what you read, follow us on Facebook, Instagram, Twitter and Telegram to get the latest updates.