U.S. president Joe Biden has once again called China president Xi Jinping a "dictator" right after meeting Xi.
Back when Biden made this remark in June, China's foreign ministry denounced Biden's remark as "absurd" and "provocative".
This time, the ministry criticised his remark as "extremely wrong" and "irresponsible" on Nov. 16, CNA reported.
Both leaders were meeting on the sidelines of the Asia-Pacific Economic Cooperation Summit in the U.S.
Biden & Xi met after one year of no direct interaction
Back in June, the leaders had not yet directly met since their previous encounter last year on Nov. 14.
When Xi finally met Biden on Nov. 15 this year in the U.S, their interactions were marked with some light-heartedness.
Upon meeting, both leaders appeared to warmly shake each other's hands.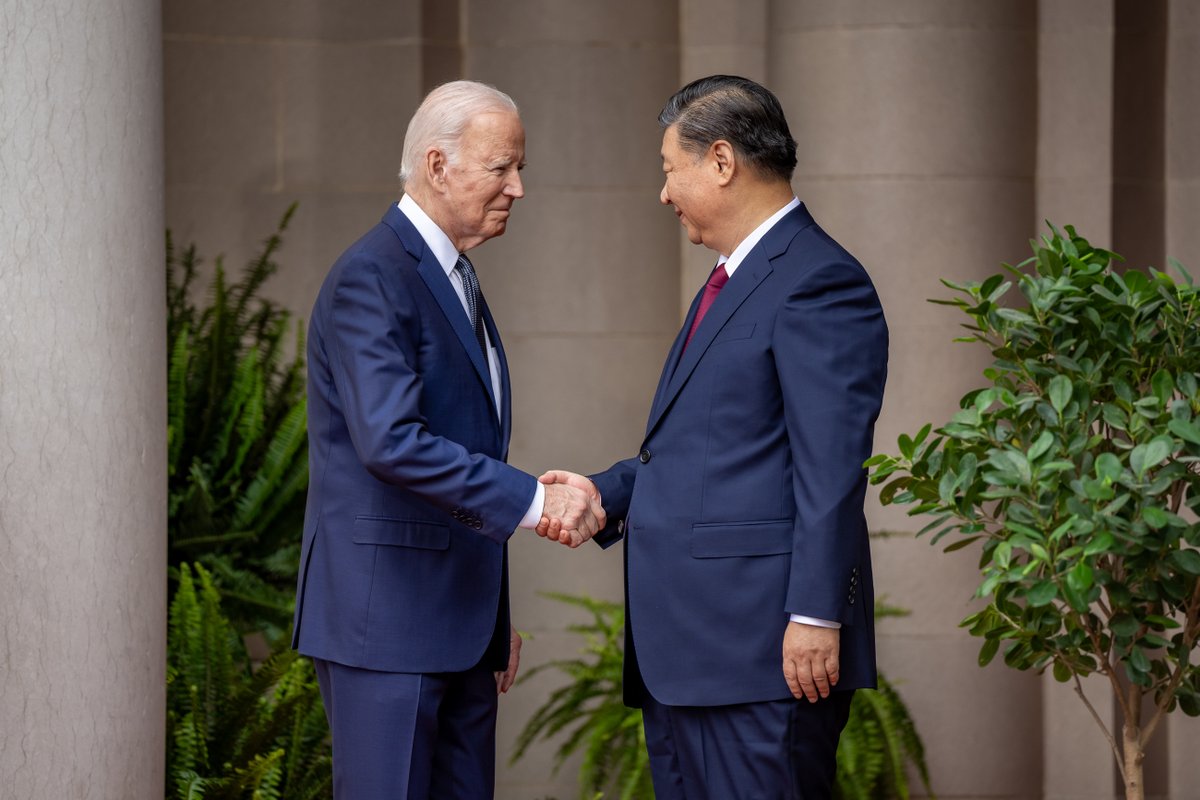 Taking Xi down memory lane
At some point, Biden showed Xi a photograph of a younger Xi in front of the Golden Gate Bridge, according to China's foreign ministry spokeswoman Hua Chunying.
"Do you know this young man?" Biden asked Xi.
"Oh yes," said Xi, according to Hua. "This was 38 years ago."
Pointing to a photo in his phone with the Golden Gate Bridge in the background, President Biden asked President Xi, "Do you know this young man?" "Oh yes," said President Xi, "this was 38 years ago."🌞 pic.twitter.com/r65Em6Z7oS

— Hua Chunying 华春莹 (@SpokespersonCHN) November 16, 2023
Xi also remarked that Biden's upcoming birthday reminded him of his wife's birthday, a U.S. official told Bloomberg.
'It's a beautiful vehicle': Biden
Biden then accompanied Xi to the latter's presidential sedan following their meeting.
"It's a beautiful vehicle," said Biden, according to China Central TV on Weibo.
"It's a Hongqi car, made in China," replied Xi.
The American leader took a quick peek inside Xi's sedan before comparing it to his own American Cadillac sedan.
Biden accompanied Xi to his car following their meeting. "It's a beautiful vehicle," he remarked. "It's a Hongqi car, made in China," Xi replied. This brief moment became top trending on Weibo today, where it received over 270 million views. pic.twitter.com/piyhUlCxr6

— Manya Koetse (@manyapan) November 16, 2023
4 hours of talks
Both Xi and Biden held four hours of talks, had lunch together, and took a stroll in the gardens of the Californian estate.
During the talks, both sides discussed about Taiwan, fentanyl, and improving bilateral relations.
They also agreed to improve communications on artificial intelligence, and resume high-level military communications.
In what looked like a positive uptick in their relations, Biden said that he had "some of the most constructive and productive discussions" with Xi.
Biden still believes Xi is a 'dictator'
Right after meeting Xi, Biden shared during a press conference about his trust (or lack thereof) in him as reported by Bloomberg, "Trust but verify, as the old saying goes, that's where I am."
An American journalist then asked Biden if he still stood by his "dictator" comment in June.
"Well, look, he is. I mean he's a dictator in the sense that he is the guy who runs a country which is a communist country based on a form of government totally different from ours."
Biden's remark 'extremely incorrect & irresponsible': China
China responded during a regular press briefing on Nov. 16 in Beijing, according to CNA.
China's foreign ministry spokesperson Mao Ning said:
"This kind of speech is extremely wrong and is irresponsible political manipulation. China firmly opposes it.

I need to point out that there are always some people with ulterior motives attempting to sow discord and wreck China-U.S. relations, and this too will not succeed."
When requested to clarify who she was referring to, Mao responded, "I think whoever is trying to undermine and sow discord between China and the United States knows it."
The foreign affairs government website readout of Mao's press conference on Nov. 16 does not include the question about Biden's remark, nor her response.
Meanwhile, John Kirby, spokesperson for the U.S. National Security Council, said he did not expect Biden's remark to undo progress made during the meeting, ABC News reported.
Top image from Hua Chunying 华春莹/X.
Related stories
---

If you like what you read, follow us on Facebook, Instagram, Twitter and Telegram to get the latest updates.