"I trust Singaporeans. We know our identity and, most importantly, we understand what our long-term national interests are. It is not to be anybody's vassal state or proxy," said Minister of Foreign Affairs Vivian Balakrishnan.
Vivian was responding to a question on how seriously the Singapore Government takes reports that China is trying to influence ethnic Chinese populations across South-east Asia, including in Singapore.
He was speaking in an interview with CNN International anchor Christiane Amanpour in New York on Sep. 20.
During the interview, he discussed about Singapore's stance in worsening China-U.S. tensions as well as its policy on mandatory death penalty for drug trafficking offences.
'I trust Singaporeans': Vivian
Amanpour referred to a quote in Washington Post on Jul. 24 by Bilahari Kausikan, Singapore's former permanent secretary of MFA.
Bilahari said that if too many Chinese Singaporeans embrace Xi's "China Dream", this could permanently harm Singapore's multiracial cohesion.
In response, Vivian emphasised that Singapore is "multiracial (and) multilingual", with its people being united by a "very strong sense of a Singapore identity".
Singapore, he said, does not view the world in binary terms. He explained that Singapore values cultural diversity and linguistic proficiency as strategic assets, which help Singaporeans to navigate opportunities in Western and Eastern contexts.
On external influences that could cause Singapore's identity to be misaligned, Vivian said,
"I trust Singaporeans."
He added that Singaporeans know their identity and the country's long-term national interests, which is to "play a constructive, honest broker role" with the U.S. and China.
On worsening China-U.S. tensions
Lack of strategic trust
"There is no substitute [for] eyeball to eyeball, handshake to handshake, and having honest to goodness conversations," said Vivian on recommending more direct face-to-face interactions between two countries to address the China-U.S. tensions.
Vivian said that neither the US nor China is spoiling for a fight, adding that the fundamental problem is the lack of strategic trust.
'Global leadership' needed to tackle global challenges: Vivian
Vivian is currently in New York to attend the 78th Session of the United Nations General Assembly (UNGA) in New York, Sep. 17 to 23.
Except for the U.S. President Joe Biden, the other Permanent Five Members - China, France, Russia, and the UK - have been conspicuously absent from the UNGA, in the face of rising China-U.S. tensions.
China president Xi Jinping has refused to attend not only the UNGA, but also the recent G20 and Asean summits.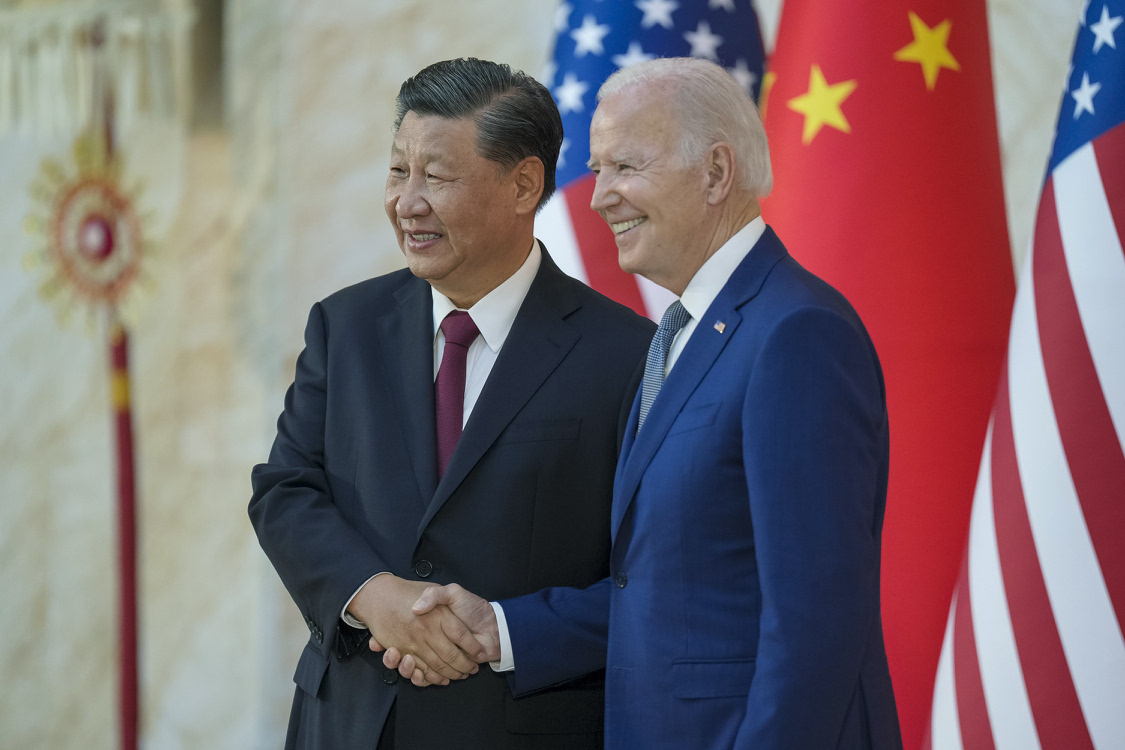 China president Xi Jinping and the U.S. president Joe Biden in November 2022. Image via President Biden/X.
When asked by Amanpour about the "pressure" faced by Singapore amid these tensions, Vivian said that Singapore is a "tiny city state" that needs "global leadership".
Singapore is, as he said, not immune to the global challenges such as the Russia-Ukraine war, food and energy insecurity, climate change, the digital revolution, and the risk of artificial intelligence (AI).
Among these issues, he said that the world is "behind time" to achieve the Sustainable Development Goals (SDGs) and the Paris Agreement commitments.
Likewise, he said that the ongoing Russia-Ukraine war is a threat to small city states like Singapore.
Summarising the impact of these issues on Singapore, Vivian said,
"A world which is hotter is a world which is hostile to a place like [Singapore]."
So, he stressed on the importance of all countries, big or small, to cooperate together.
He said,
"Now more than ever before, we need global leadership.

The problems are beyond that of just the United States or China or Europe. In fact, you need the whole world together.

What we are seeing here at the UN (United Nations) now is an organisation that is showing it is capable of walking and chewing gum."
Ideal world is where 'the two big boys' work together well: Vivian
While Amanpour acknowledges that Singapore has to navigate a "rather tricky bridge" between the U.S and China, Vivian said that Singapore enjoys "great relations" with the two superpowers.
The U.S. is Singapore's largest foreign investor and service trading partner. According to Singstat, the U.S. direct investment in Singapore stood at S$597.8 billion in 2021.
Meanwhile, China is Singapore's biggest trading partner and a significant investor. Singapore's total merchandise trade value with China was at S$175.0 billion in 2022.
Hence, for Singapore, Vivian said,
"The best possible world is one in which the two big boys get along."
While neither superpower are keen to start a war, Vivian however observed that the underlying issue of "the lack of strategic trust" between both countries is leading to protectionism and an "escalatory spiral".
To reduce this tension, Vivian suggested the two major superpowers to have "a lot more direct face-to-face interaction" to build "strategic trust" with each other.
On mandatory death penalty for drug trafficking offences
On the sidelines, Amanpour also asked Vivian about the latest series of executions in Singapore for drug trafficking offences, including a Malaysian man with an IQ of 69.
Acknowledging Singapore's "draconian" measures on drug trafficking offences, Vivian said that he derives "no joy" for every execution case.
However, he explained that Singapore is a place where its trading volume is three times its gross domestic product (GDP).
If Singapore does not take a firm position on drug trafficking, the nation would be a "nexus" and this would in turn affect the U.S. which also has a drug problem, he said.
Cooperation efforts between 3G & G20
On Sep. 20, the Global Governance Group (3G) held its 16th Ministerial Meeting. With Singapore being a 3G member, Vivian attended the meeting.
The 3G and the Group of 20 (G20) commended India's leadership as the 2023 G20 president. The two groups also discussed on cooperations to address global challenges, which include sustainability, climate change, rules-based multilateralism, rising tensions, and protectionism.
Both 3G and G20 also aimed to collaborate to help developing countries achieve the SDGs.
Brazil will be the next G20 president in 2024.
Top image from Ministry of Foreign Affairs, Singapore.
Related stories
---

If you like what you read, follow us on Facebook, Instagram, Twitter and Telegram to get the latest updates.