UPDATE on Sep. 18 at 11:45pm: This article was updated with a statement from NParks.
---
In what is likely to be a first for Singapore wildlife, a silvered langur was recently spotted by its lonesome at Clementi Woods Park.
Thus far, there have been no records of such a monkey on the island, and it is uncertain how exactly it ended up here.
Unusual monkey
The unusual monkey was first sighted by photographer Tony Ng on Sep. 5.
Ng told Mothership that it was his first time visiting Clementi Woods Park, and he had made a "last minute" decision to visit as he happened to be nearby at the National University of Singapore (NUS) campus that day.
He shared in an Instagram post that he was walking along the path when he heard some grunting noises.
He initially believed the noises came from a wild boar, but was surprised to find that it belonged to a monkey in the trees.
This individual clearly looked different from the existing species in Singapore, which are the Long-tailed macaque, Dusky langur and Raffles' banded langur.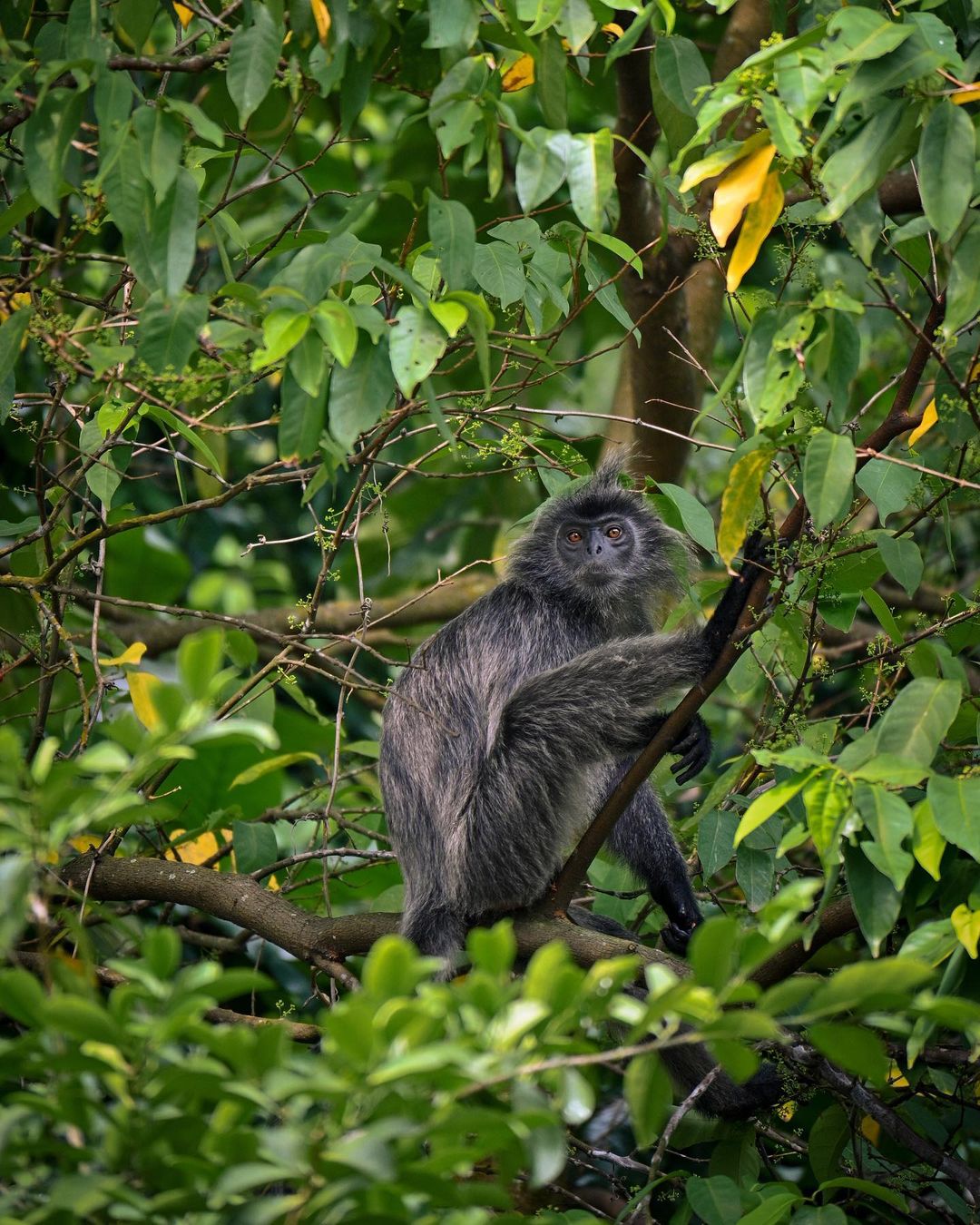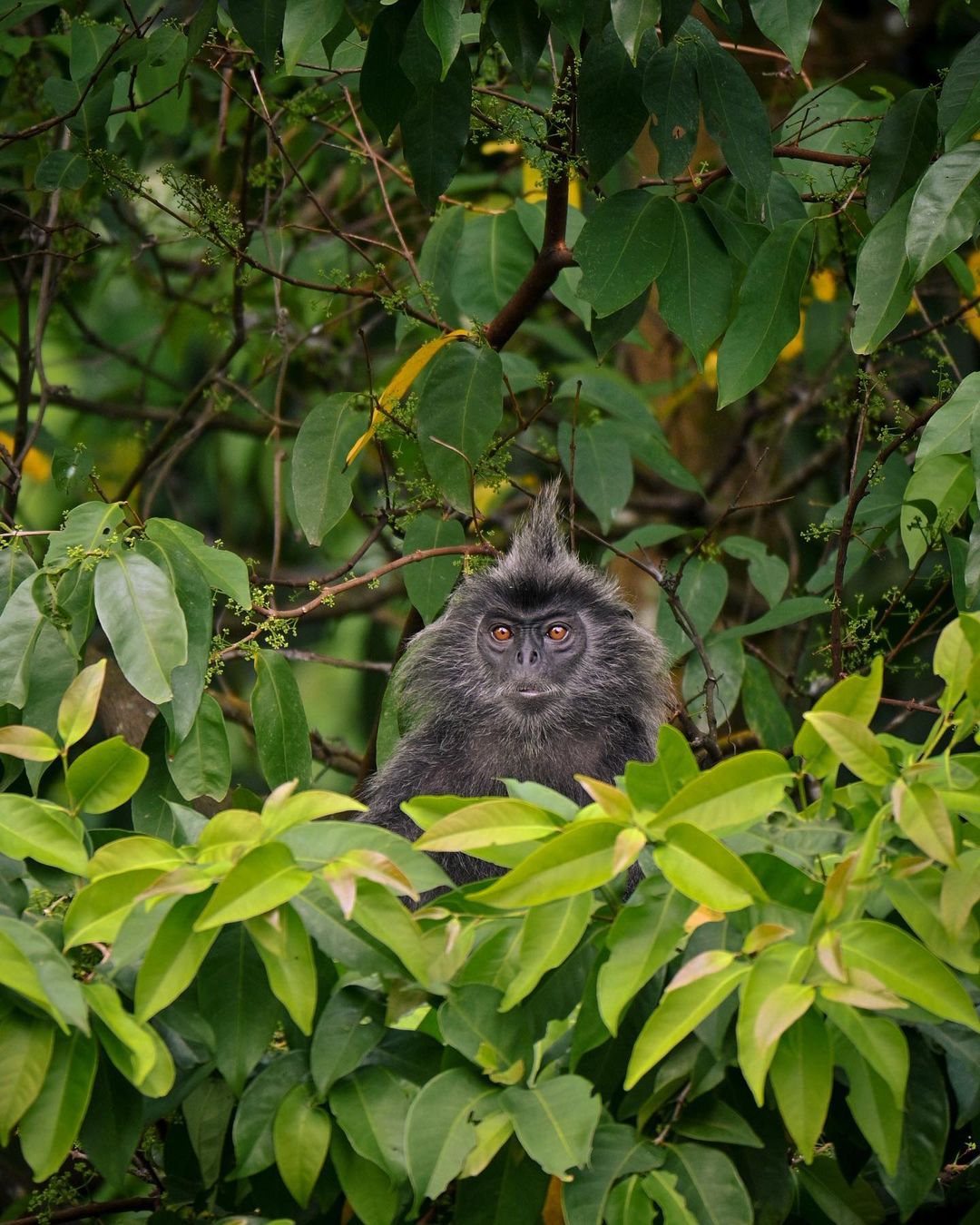 Ng observed the monkey for about 30 minutes, during which it remained on the same tree, "either climbing about or sitting on some branches while looking around".
He also noted that the monkey was by itself.
Exact species not confirmed
Local primatologist Andie Ang confirmed with Mothership that the monkey Ng saw is one that has never been sighted here before.
The individual could be one of two species of silvered langurs, Ang said — Trachypithecus selangorensis or Trachypithecus cristatus.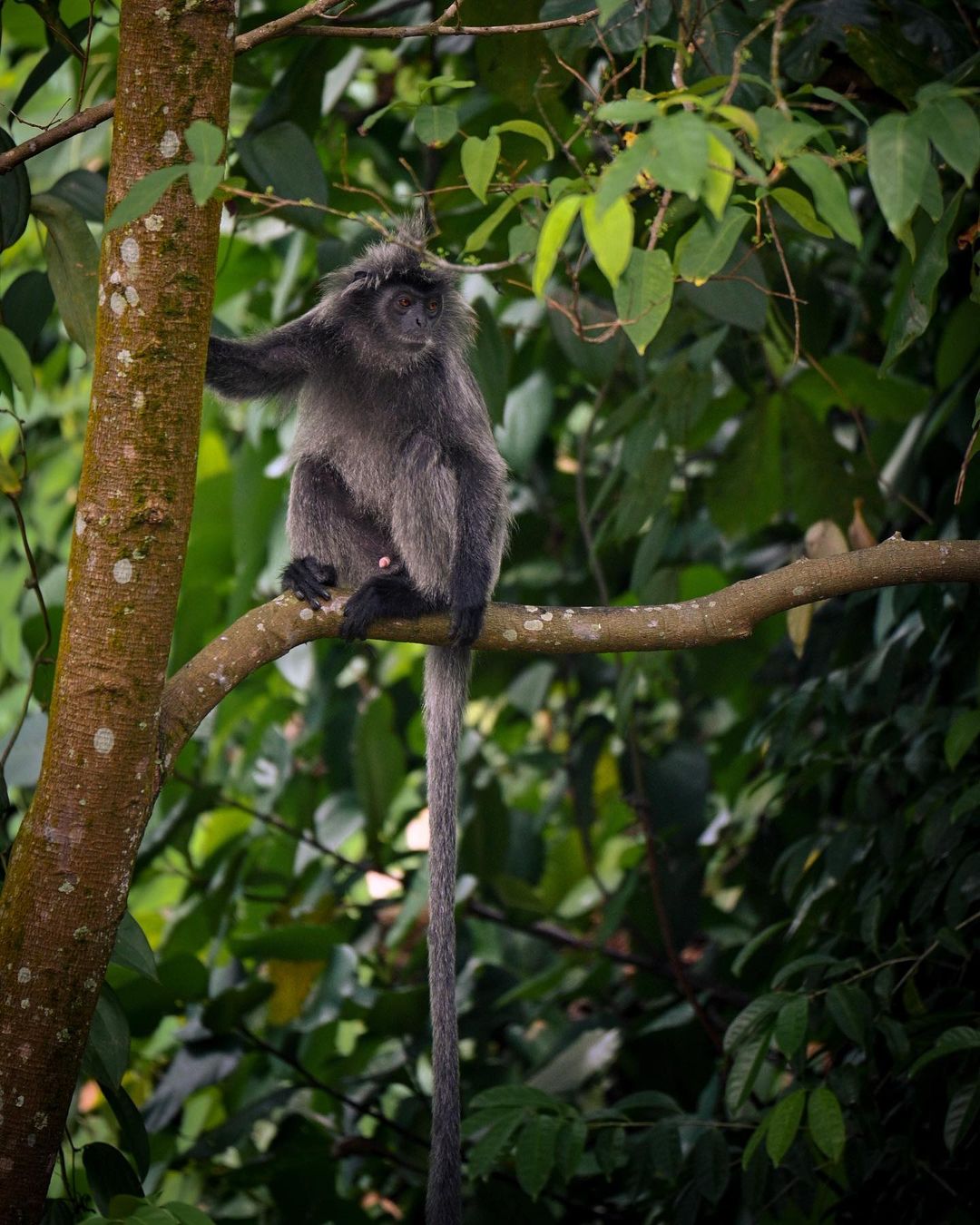 The former, also known as the Selangor silvered langur, inhabits west Malaysia in areas such as Selangor (thus its name) and Malacca. Currently, whether it has a presence in Johor is unconfirmed.
Meanwhile, the latter species can be found in Sumatra, Batam, Bintan and Borneo.
As both species' physical appearances are almost identical though, Ang will have to collect the langur's DNA via its faeces in order to identify its exact species.
Both species have silvery fur, while the babies have orange fur like the babies of the Dusky langurs.
How did it arrive in Singapore?
Ang hypothesised that the langur could have made its own way to Singapore by swimming across the sea.
Another theory she has is that the silvered langur might have been a stowaway on a ship, transporting it from Malaysia or Indonesia to Singapore.
Could it be an escaped pet though? Ang finds this improbable as the adult male langur seems to be healthy — infants and juveniles are typically captured for the pet trade, and they do not do well under human care to survive till adulthood.
The langur was last sighted by several students near NUS's Ridge View Residential College.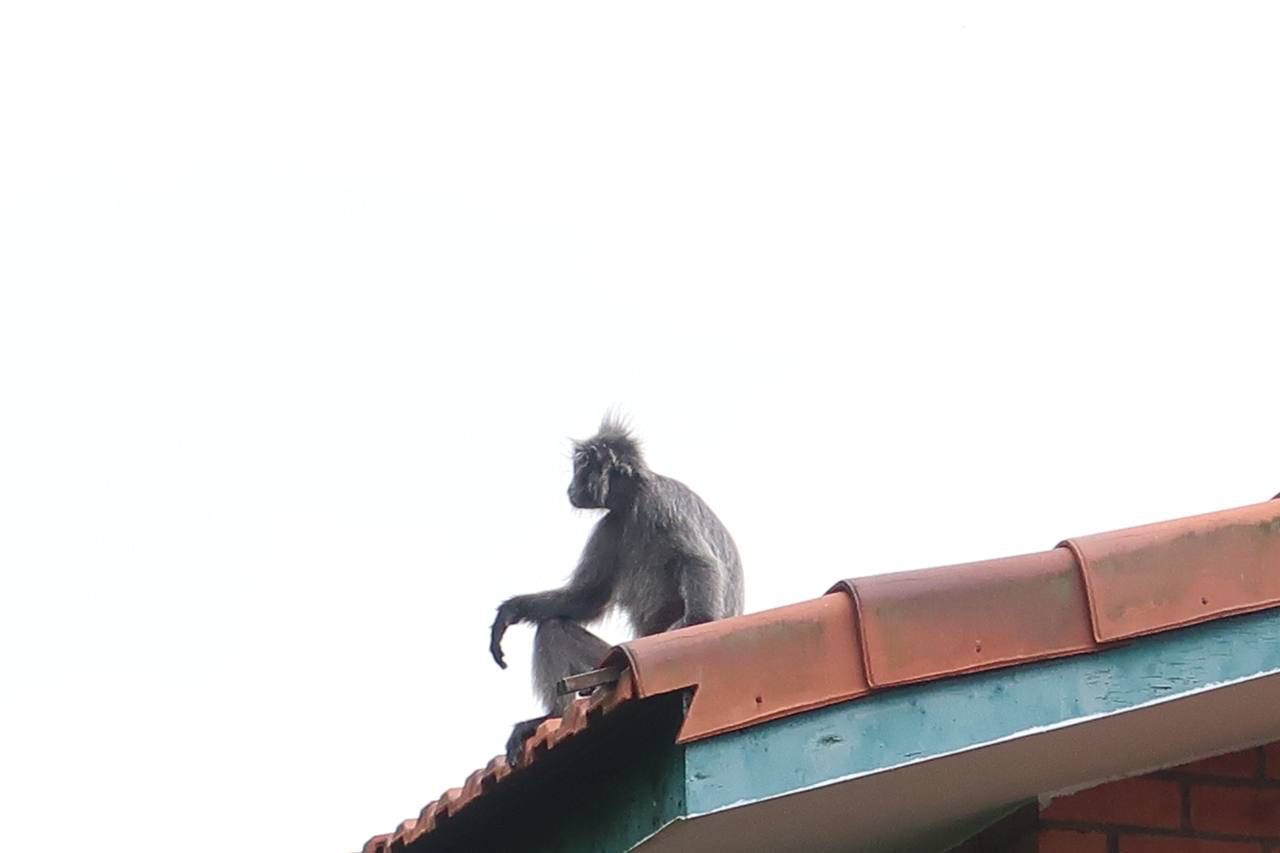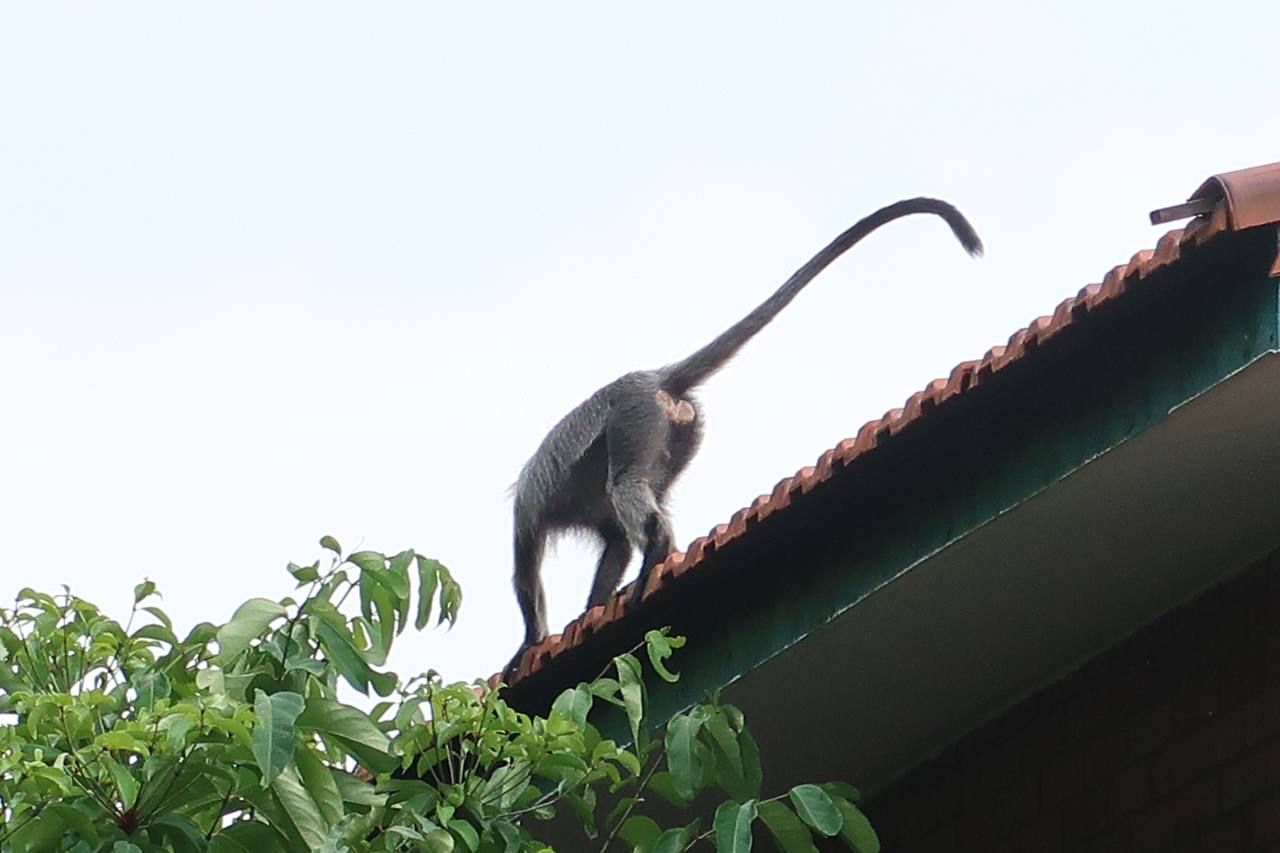 As the Head of the Primate Conservation & Singapore Programmes under Mandai Nature, the conservation arm of Mandai Wildlife Group, Ang shared that the group and its citizen scientists are currently monitoring the langur's movements, as well as exploring options with the National Parks Board (NParks) on how to manage this individual.
In response to Mothership's queries, NParks' Director of Wildlife Management & Outreach How Choon Beng said that the agency is aware of the sighting of a silvered langur in the Clementi area.
It was first reported to be sighted at Clementi Woods Park earlier this month.
The silvered langur is found in Brunei, Indonesia and Malaysia.
NParks confirmed that there have been no records of the species in Singapore.
NParks will continue to monitor and assess the langur's behaviour with nature groups.
Do not approach or feed the langur
The silvered langur is generally shy, and is not likely to approach humans, How stated.
Members of the public who encounter the langurs are advised to keep a respectful distance of at least five metres.
Flash photography should be avoided as it may scare them.
As with any wildlife, do not feed them as they will become used to the presence of humans.
More rare wildlife
Top photo courtesy of Tony Ng and Pauline Ng 
---

If you like what you read, follow us on Facebook, Instagram, Twitter and Telegram to get the latest updates.